5+ Online Form Builders | Create Professional Forms Without Coding
Once in a while, almost all the webmasters have experienced the need of incorporating some kind of online forms on their websites. Higher the need for such forms, more complex is the procedure of creating them.
That's why to ease out the process of creating forms of multiple varieties, form builders have always been in great demand as they are the only effective tools to create dynamic online forms for your website.
---
---
Online form builders help you to create unlimited forms for any purpose within few clicks. Moreover, you can create forms and embed them on other websites or social networking sites. The online forms created by these form builders will include many vital features. Integration of email marketing apps like MailGet, MailChimp, conditional logic technique, secure payment gateways like PayPal & Stripe etc. In this article, you will find the list of best online form builders with their major attributes & pricing details.
Best Online Form Builders
Through some of the form builders mentioned below, you can add videos in the forms which can really engage its viewers. And with lots of color customizers, third-party integrations, autoresponders & many more features which can really give a new look to your form. In order to find more features like them, all you have to do is to read out this article & choose the best online form builder software according to your needs!
Have a look on these worth reading articles as well-
---
1. FormGet – Best Online Form Builder
FormGet has turned out to be one of the most bankable form builder software. You can create any type of online forms for your website with this tool. For example – contact us forms, inquiry forms, hotel booking, travels booking etc. This software is a bliss for a novice, as you just have to drag-n-drop the fields that you want to have in your form
.
And if you don't want to start from the scratch, use the pre-built form templates to make your form in a snap.
---

---
Pricing
FormGet offers a FREE trial plan, through which you can create unlimited forms with access to all the pro features.
Starters Plan at $5/month – With this plan, you can embed the form into 10 domains, have 1 payment account & 12k form views/month.
Rookie Plan at $35/month – It facilitates you to embed the form into 35 domains, get 5 payment accounts, 100k form views/month available & 260+ ready templates.
Pro Plan at $79/month – This pricing plan allows you to embed the form into 75 domains, have 15 payment accounts, 250k form views/month & get priority support.
Advance Plan at $99/month – With this plan, you can embed the form into unlimited domains, have unlimited payment accounts & form views/month & get agents/clients dashboard.
Features
You can create a user-friendly form via using conditional logic. This will branch out the fields only on the basis of selection made by a user on the input field.
This software gives you the liberty to create a multilingual form & embed it on various websites. Further, you can parallelly manage all the forms from a single location.
It also facilitates a user to integrate various email marketing applications with the form like MailGet, MailChimp, AWeber etc. to collect more leads.
You can create a form that accepts one-time and recurring payment from the users using secure gateways like PayPal & Stripe.
---
2. Pabbly Forms – Perfect Form Creator Software
With Pabbly Forms, you can end your search for an effective online form maker tool. This online form builder allows you to construct forms for multiple purposes like membership forms, customer review forms, product order form to name a few. Use variants like design templates, form colors, custom header, customize the footer setting in order to create a new kind of web form every time. You can build a form that can do custom branding of your product by adding a logo, brand image, links etc. This will make your product more recognizable among the customers.
---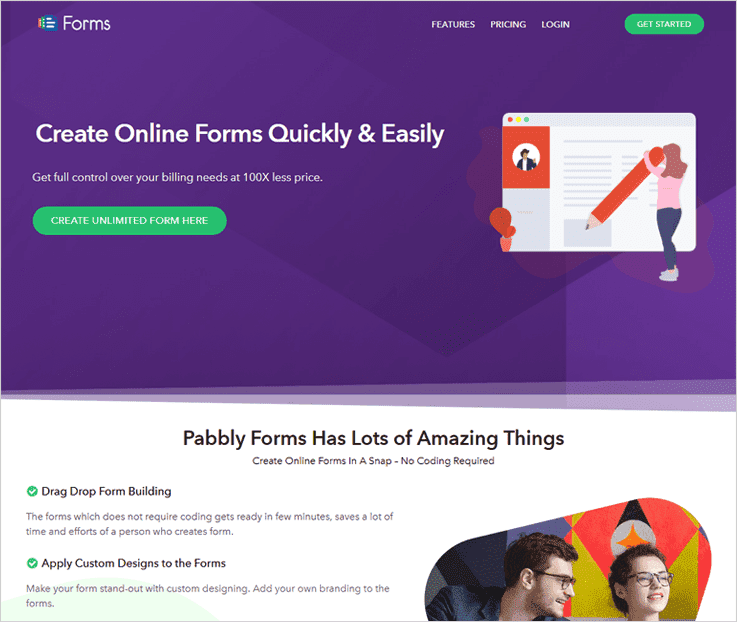 ---
Pricing
Starters Plan at $5/month – This plan includes 1200 submissions per month, sliding/pop-up forms & 20 MB file uploads option.
Rookie Plan at $35/month – You will get 25k submissions per month, submission report, live chat & 2 GB file uploads option.
Pro Plan at $79/month – The Pro plan allows 60k Submissions per month, canned replies, 18 months upload storage facility & 7 GB file uploads.
Advance Plan at $99/month – With this plan, you get unlimited submissions, lifetime upload storage, SSL encryption & 10GB file uploads option.
Features
Admin can band together with the team members and provide them selected form access. This collaboration helps to manage the form processing easily.
With this form builder, admin can view all the form submissions at one place. This facility helps to check all the received messages & their status from a single dashboard.
Pabbly Forms support multi-language translator feature for your form. This feature helps to increase the form usability to different regions with different languages.
The autoresponders provide immediate email notification to the users on successful form submission, payment transaction etc.
---
3. 123FormBuilder – Popular Tool To Create Web Forms
This form builder lets you create a variety of forms to serve almost all kinds of purpose. Be it HTML forms, contact forms, email forms, order forms, event registration forms and much more. And the best part is, you don't have to be a coder to construct such forms. Simply drag and drop the required fields and you are ready with the fully functional online forms.
---

---
Pricing
Basic Plan at $0 for lifetime – It's a free plan which provides 5 forms, 10 form fields and 100 submissions per month.
Gold Plan at $24.99/month – This plan lets you avail 20 forms, unlimited form fields, 5000 submissions/month. You will also get unlimited API calls per day.
Platinum Plan at $44.99/month – You can get unlimited forms in this pricing plan along with unlimited form fields. Plus, you can avail internal technical support.
Corporate Plan at $84.99/month – This plan provides you with unlimited forms & unlimited API calls, custom favicons & form templates collection.
Features
This form builder allows you to track the online form performance on websites through data analytics. Further, it also provides admin a graphical report for data mining.
The form builder provides high-end security to the forms as you also create a password protected contact form. It also includes SSL technology & captcha to filter out bots.
You can carry out the transaction via integrating reliable payment processors. PayPal, Stripe, Authorize.net, and Square are the best payment gateway options provided if you have a payment form.
You can also connect these web forms with the different famous CRM platforms such as Salesforce, MailChimp etc.
---
4. Formstack – Ideal Form Maker Solution 
Formstack is a powerful tool to produce highly functional online forms that can be integrated on a website easily. Users can auto-fill the form using their social account details (Google+ and Facebook accounts) of name, address, and email address. This cuts down the redundancy of filling same entries again and again. The software is integrated with popular A/B testing tool. This allows you to compare different elements of 2 forms and find which one is better. It eventually helps you to boost the conversion rate for your website.
---

---
Pricing
Bronze Plan at $19/month – This plan includes 5 mobile friendly forms, 700 submissions & 500 MB storage.
Silver Plan at $39/month – With this plan, you can avail 20 forms,1000 submissions, 1 GB storage & custom submission messages.
Gold Plan at $99/month – Gold plan provides you 100 forms, 10000 submissions, 2 GB storage, advanced PDFs & HubSpot integration.
Platinum Plan at $249/month – With this plan, you will get 1000 forms, 1,00,000 submissions, 10 GB storage, HubSpot, and Salesforce integration.
Features
The form builder ensures Save & Resume feature so the user doesn't have to fill the form in one go. That means the user can anytime resume their form filling and all their previously filled information will be saved.
Formstack intuitive data routing technique uses conditional logic to route the form data to different team members for additional data processing.
The form builder ensures high security for the data via data encryption option. It also adds invisible captcha on the form to prevent spam and bots interference.
You can easily populate your form data to PDF files that can be downloaded and shared with other team members to work upon.
---
5. Formogram – Leading Form Generator Tool
This online form generator has become a popular choice for amateurs as well as experienced professionals. As it lets you create advanced forms with various field types in a few clicks. You can simply drag & drop the required fields and review the created form parallelly in real time. Design the form via choosing various font sizes, font colors, background colors, images, etc. You can even add custom, formatted text and images to make your form entirely of your requirement. You can anytime export the form data in various formats to process the data entries in software like Microsoft Excel or Qlikview.
---

---
Pricing
Starter Plan at $0 for the lifetime – With this free plan you will get 3 active forms, 50 entries, SSL encryption & 25 emails/month.
Piccoli Plan at $23.16/month – In this plan, you can avail 10 active forms, 300 entries, fantastic email support & 1000 emails/month.
Medio Plan at $46.25 – Medio plan facilitates you with 50 active forms, 1000 entries, public file uploads, unlimited form fields & 4500 emails/month.
Grande Plan at $57.83 – You will get unlimited active forms, entries, form fields, 20,000 emails/month, SSL encryption by choosing this plan.
Features
The software uses 256-bit SSL encryption technology to secure your form data. Further, the acquired data is stored safely in data center & continuously backed up.
You can easily create and send eye-catching, graphic emails to the people from whom you want to collect feedback.
Further, you can schedule a reminder email to those contacts who have not responded to your invites.
Add payment option in your forms for collecting charges for all variety of goods. For this, you are facilitated with a secure and reliable Payson payment gateway.
---
6. Formlets – Quality Online Form Builder
This amazing form builder software facilitates you to create various kinds of online forms such as contact forms, order forms, surveys etc. Formlets allows the users to select their country's time zone, after which the form will automatically include the country with its respective time zone in the form. The high-end customization offers 'right-to-left' element alignment on the form as per admin preference. You can also set the minimum and maximum file size and image dimension to be uploaded. Formlets forms are CSRF (Cross-Site Request Forgery) protected which will help to prevent data submission from spams and bots.
---

---
Pricing
Personal Plan at $0 -With this plan, you can get admin email notifications, 5000 form views/month & 500+ app integrations.
Small Business Plan at $18/month – The plan lets you avail respondent email notifications, 3GB space for file upload, unlimited form views & unlimited responses.
Professional Plan at $48/month – This plan allows you to publish 50 forms, 20GB space for file upload, 10 team users & GDPR compliant.
Enterprise Plan at $260/month – With enterprise plan you can have 50GB space for file upload, unlimited team users, upload file size up to 2 GB & PayPal and Stripe payment option.
Features
The software follows GDPR regulation very seriously. Hence, the forms created are GDPR compliant in order to protect the personal data and privacy of the users.
It is integrated with the popular online automation tool – Zapier. With this, you can connect the form with multiple email marketing apps such as MailChimp, Slack etc.
You can upload multiple files in the form. Moreover, this form builder has async file upload control which accepts large files uploads up to 2 TB.
This form builder allows you to embed the form on your website or other social sites via iFrame and Modal element.
---
Conclusion
Above mentioned are few best online form builders which will empower you to create forms for any purpose. Moreover, you don't need to hassle around with the hardcore coding to implement these forms. You can simply embed them on any website. Almost all of them have the perfect features which can really help you in your business. So I'd suggest you finalize the best tool as per your requirements & boost the growth of your work! Still, find any query or suggestion regarding any of the services that we discussed? Feel free to drop a comment in the below section. Thanks and regards