Zapier Review: Everything You Need to Know
View Listing
Editor Rating: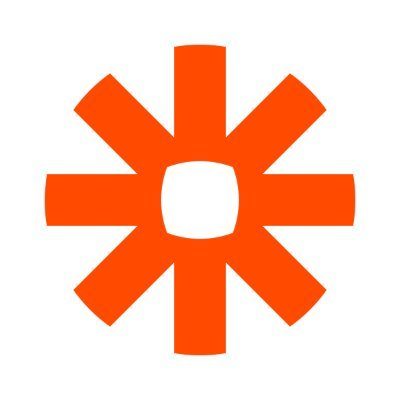 What is Zapier? How does it work? Can this tool save you time by automating workflows? What integrations are available on Zapier? These are just some of the questions that most people who are new to this tool ask. This Zapier review will answer these questions and more.
You'll get to find out precisely what Zapier can do for your business and whether or not it's an ideal investment.
---
What is Zapier?
It's a workplace automation tool that's used to connect 2,000+ apps. To connect tools through Zapier you set up triggers, telling the apps what you would like them to do when a specific action occurs.
It may sound a little bit complicated but it isn't, and as we get into it a little more you'll see why.
In a nutshell, it will save you time that you can dedicate to other issues in your business. Instead of spending hours each day trying to get different apps to do what you want, you connect them all through this software, set up whatever triggers you need and the rest goes like clockwork.
This software eliminates the need for coders to keep workflows connected. It provides a simple and effective way for businesses to save on payroll costs, and makes managing workflows easier.
Nothing falls through the cracks when you use Zapier as all apps are coordinated through a single platform.
This tool has the added advantage of providing a unified blueprint for teams to work from.

---
What Can You Use Zapier For?
When some people encounter this tool for the first time they are skeptical; can it really save you time and automate workflows by connecting thousands of apps?
The answer is yes – it can.
Here are a few examples of workflows you can automate with Zapier.
You can automatically create tasks on Trello. If a task is sent through Gmail or another emailing app you can set up a trigger that sends it to Trello.
Transfer sign-ups to a Google Sheet that you can share with the team. Many different apps collect email addresses from websites. You can use the software to set up an action that sends all new sign-ups to a spreadsheet that can be shared with the team.
You can connect time tracking apps to your Google Calendar and invoicing software to prepare client bills automatically.
After-sales follow-up is easy with this tool. You can connect a host of apps to send alerts and emails once an item has been shipped or invoiced.
Set up a survey tool with your purchase app so that once a purchase is complete an email is automatically sent out requesting the customer for feedback.
These are just a few examples. If you didn't have an automation tool like Zapier all these tasks would require some coordinating. You would need to spend hours each day to get these tasks done, but Zapier sets up trigger after trigger and the processes go on automatically in the background with little need for human intervention.
---
Zapier Features
You can set up triggers and actions to automate functions within your business.
The software comes with a good number of Zaps already set up. Check which ones may apply to your business and activate them.
Use the on-going sync function to make sure apps share data throughout.
Set up apps to update automatically.
Sync the software with Google Calendar and keep everyone in the team informed.
It has an activity dashboard that shows you all the Zaps at a glance.
You can edit Zaps to accommodate growing needs.
If you no longer need a Zap there is a quick On/Off funtion to turn it off.
The APIs are continually maintained and updated to ensure they are up to date.
---
Why Zapier?
There are many automation tools in the market, so why should you choose this particular one? Because there are several things that it does that no other app can do – at least not yet:
You can Zap just about any business app. This is one of the things that makes this tool unique. You can connect 2,000+ apps. They are sorted into categories, so finding what you want to connect is easy. If you would like to connect an app and it isn't available on the list contact the support team and they will add it for you.
It is very easy to use. The tool has an easy user interface and you don't need technical know-how or coding skills to get it to work. Setting it up is easy, and there are detailed instructions for those who may need assistance.
You can set up multi-step actions or Zaps. The examples given above involve one or two triggers, but you can set up complex and customized triggers for your business. This may not seem easy when you first start to use the tool, but as you get familiar with it you'll be able to set up complex commands that make your work even easier.
---
Common Zapier Terms You Need to Know
When using this software there are certain terms you'll come across frequently.
Zap: A Zap is a Zapier workflow. When you connect two or more apps that can prompt actions within each other you create a Zap. Zaps comprise of triggers and actions. The number of Zaps you get depends on the subscription you buy.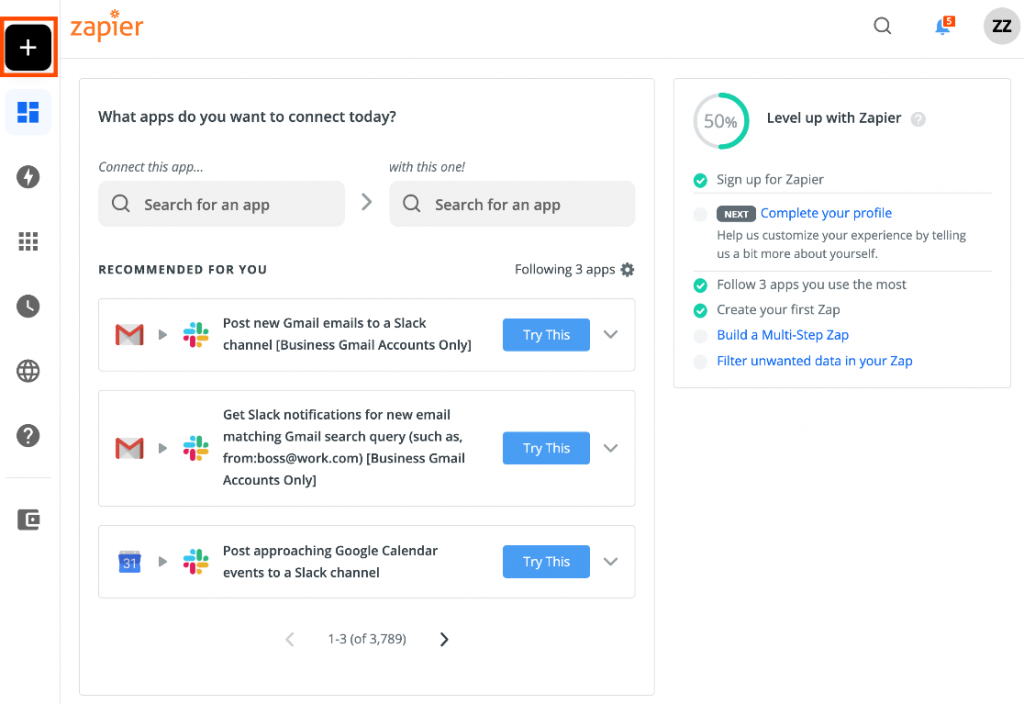 Trigger: This is an event within an app that initiates a workflow. You need to think carefully about what your triggers should be before you set them up. After you input triggers Zapier automatically looks for them, and applies them where they are required.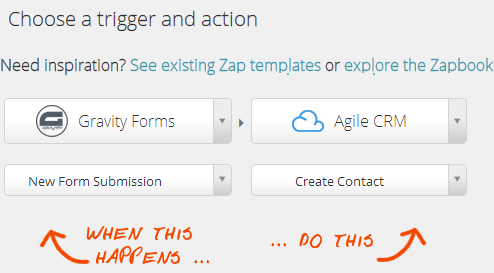 Action: This is what happens when Zapier finds a trigger. Your subscription level will determine the complexity of actions you can set up.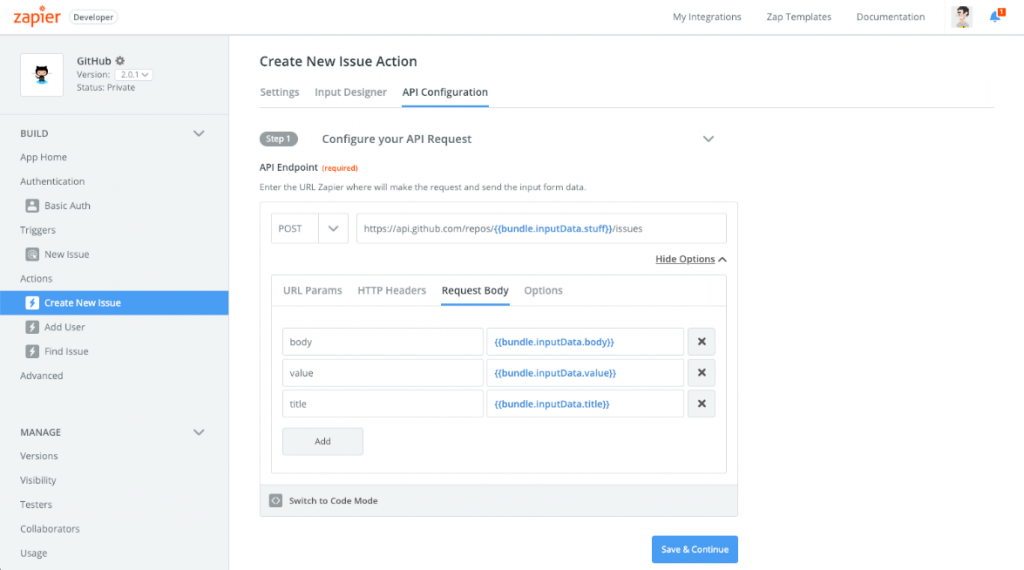 Task: Something happens after a trigger is initiated and an action is taken. For example, if 10 entries are put into Trello from Gmail, those are counted as 10 tasks. Your subscription determines the number of tasks you can complete each month. A free account allows 100 tasks a month, and if you pay you can go as high as 100,000 tasks or more.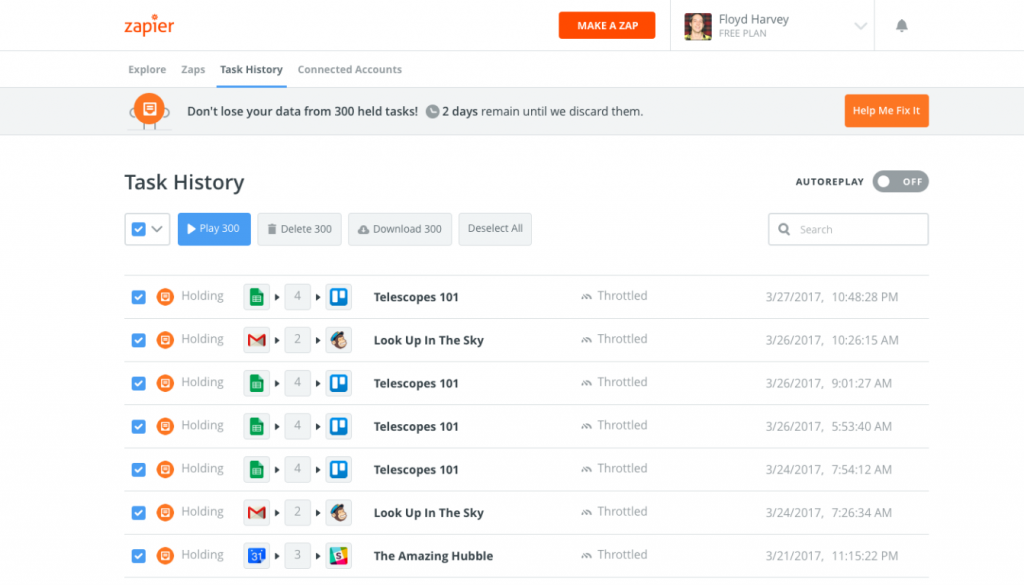 ---
What Apps Can You Integrate with Zapier?
There are thousands, as you will see here. Some of the common ones for business include:
Google Sheets
Gmail
Google Calendar
Google Drive
Slack
Trello
Social media apps – Facebook, Twitter, Pinterest, LinkedIn and more
Cloud storage apps – Dropbox, Box and more
WooCommerce apps – Shopify
Email marketing apps
Lead conversion apps
Accounting apps
Customer relationship management apps
Microsoft Office programs
Payment processors like PayPal
The list is too long for this Zapier review, and if there is a particular app you'd like to connect visit the site to see whether it's included. If it isn't you can contact the team and request that they add it for you.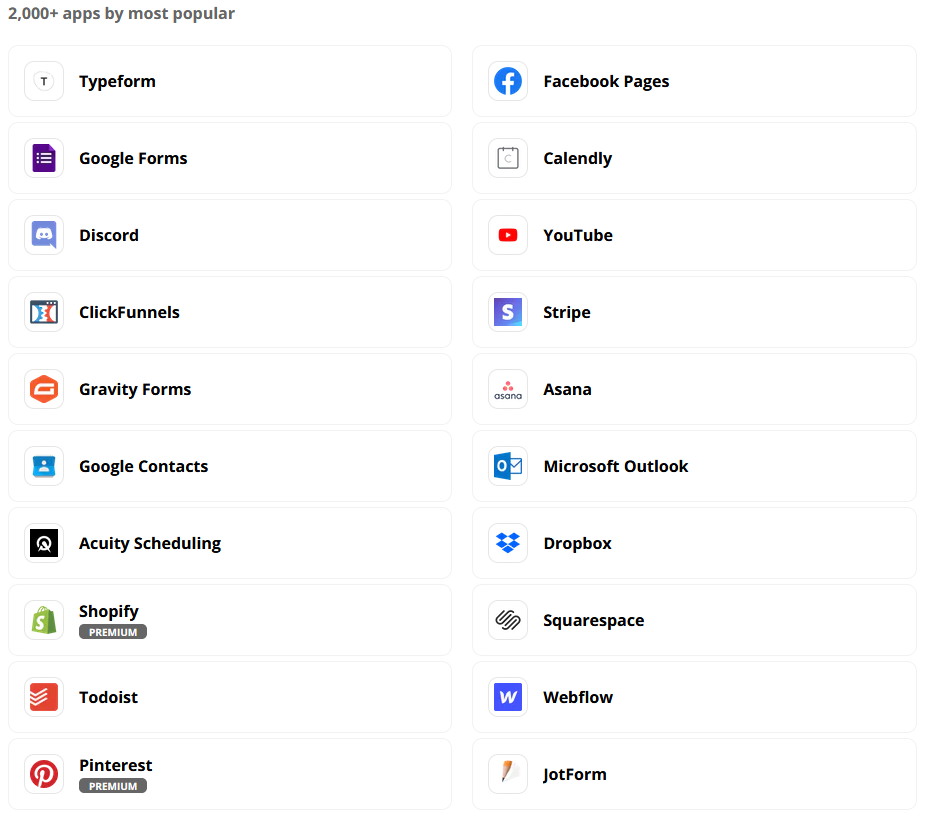 ---
What are the Drawbacks of Zapier?
No Zapier app review is complete without drawbacks. We enjoy using this tool and we find that it introduces efficiency and makes for massive time savings. However, there are certain things we think can be better:
Zaps sometimes result in errors and you have to set them up all over again.
Some apps provide limited functionality.
Updating existing records within tools in Zapier isn't always very easy.
The free version of this tool accommodates the most basic apps. High-value apps are only available for paying customers.
---
Zapier Pricing
Choose from 4 paid plans, and each offer different capabilities.
Starter Plan
For this you pay $19.99/month and you can do up to 750 tasks. You also get multi-step apps and you can connect 3 premium apps.
Professional Plan
This one costs $49/month. You get up to 2,000 tasks, unlimited Zaps, multi-step Zaps and more.
Team Plan
It costs $299/month and permits up to 50,000 tasks a month. You also get unlimited Zaps, connect any number of premium apps and create multi-step Zaps.
Company Plan
This is the most expensive plan and it goes for $599/month. You start with a minimum of 100,000 tasks, unlimited Zaps, can use any premium app that's available on Zapier and much more.

---
Conclusion
If you run a progressive online business you know the value of apps; they can do in a split second what would take hours, days or even weeks to accomplish. As a business grows and functions and processes become more complex, even more apps are needed to keep up with all the information and data.
Getting these apps to communicate isn't easy, as different companies build them for different functions. Software like Zapier comes in handy.
It connects however many apps you have in your business and ensures that they can communicate smoothly. It eliminates the need for double or triple data entry and ensures every team member is on the same page for efficiency throughout the business.
This software is built on a platform that's easy to learn and doesn't require much user input. Once you create the necessary Zaps, or connections, your system will run like clockwork.
By reading this Zapier review you know what this software can do, and you can decide whether or not it is a necessary addition to your business. In our opinion, unless you use only 2 or 3 or the most basic business apps, it is a must-have.