The 5 Best WooCommerce CRM in 2022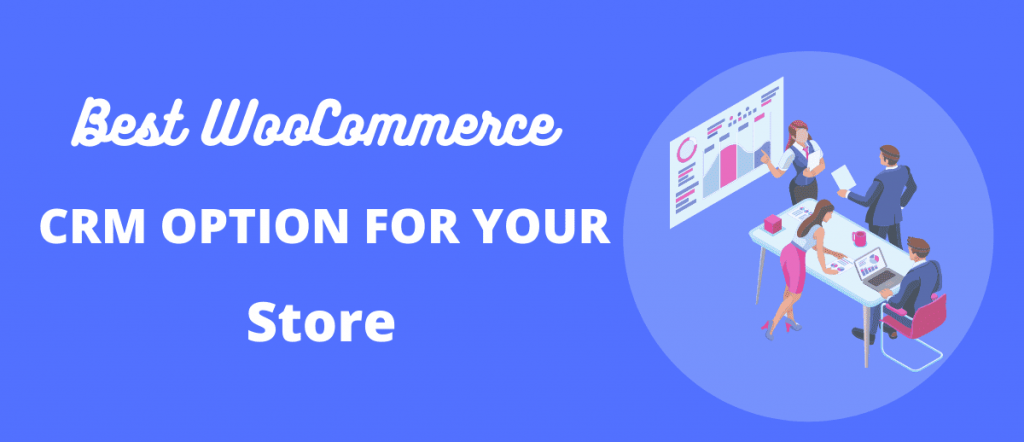 If you've run a WooCommerce store for any length of time you understand just how much customer data this type of business generates every day.
Without the right software online business owners often find themselves overwhelmed; things start to get muddled and before long they start to lose potential sales.
Those who use a WooCommerce platform can avoid this if they invest in good WooCommerce CRM software.
Not only will they be better able to manage customer data, they'll also increase revenues, better manage inventory and increase customer retention.
This post looks at all you need to know about CRM WooCommerce software. We'll look at what is CRM, how it works for WooCommerce, its benefits and features. We'll also look at the best CRM software for small and medium businesses and answer some frequently asked questions.
---
What is a CRM?
Every business needs customers to be successful. For eCommerce businesses, the ability to attract new customers every day and manage their data is critical.
Properly set up, they attract lots and lots of leads. Each lead is a potential sale, but only if it's handled strategically.
There's no better way to do that than with CRM software. CRM stands for Customer Relationship Management. As the name suggests, it's software that you use to manage customers.
CRM software helps you capture leads and guide them through the sales funnel until you make a sale and even afterward, to ensure that they return and buy again.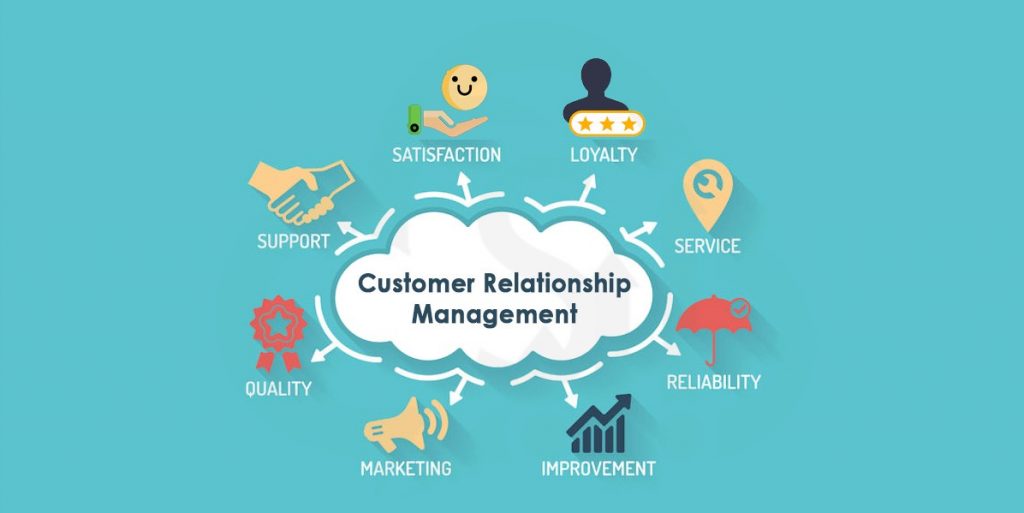 There are CRMs for different types of businesses. WooCommerce CRM software is designed to organize and manage all retail aspects of the business.
That includes capturing customer information, purchasing and checkout, shipping and delivery, support and customer service.
---
What is a WooCommerce CRM?
About 30% of online retail businesses use WooCommerce to set up their shops. WooCommerce CRM is for customer management for WooCommerce businesses. It helps manage all details related to customer activities.
The best CRM for eCommerce software helps users keep track of vital KPIs and produces detailed reports that can be used to improve marketing strategy.
---
eCommerce CRM vs. Traditional CRM
Can you use an ordinary CRM for your WooCommerce business? Yes, you can. However, if you want to make the most of customer data, streamline processes and build customer relationships, you should invest in eCommerce CRM.
There are some key differences between a traditional CRM and an eCommerce CRM:
| | |
| --- | --- |
| Traditional CRM | WooCommerce CRM |
| Designed to bring salespeople closer to potential leads usually with sales pitches. | Designed to bring a brand closer to the customer with personalized experiences. |
| Systems aren't always user-friendly and can have a long learning curve. | They come with an easy-to-use interface and are intuitive. Are also easy to navigate and provide loads of resources and customer support. |
| Many of these tend to focus on traditional methods of sales – phone calls and emails. They show customer profiles, contact and purchase history. | Most tools use more modern methods of communication. You can use them to create and track tailored ads, personalized pop-ups, personalized emails and other techniques that speak directly to the customer. |
If you're still not sure whether you should go with a traditional CRM or an eCommerce CRM, there's one question that can help make up your mind: what level of personal interaction do you want your business to have with customers?
A traditional CRM is great for organizing data and information but the purpose of a WooCommerce CRM is to close as many sales as possible.
These tools are designed to "humanize" eCommerce and make customers feel like you're taking them through the buying journey yourself.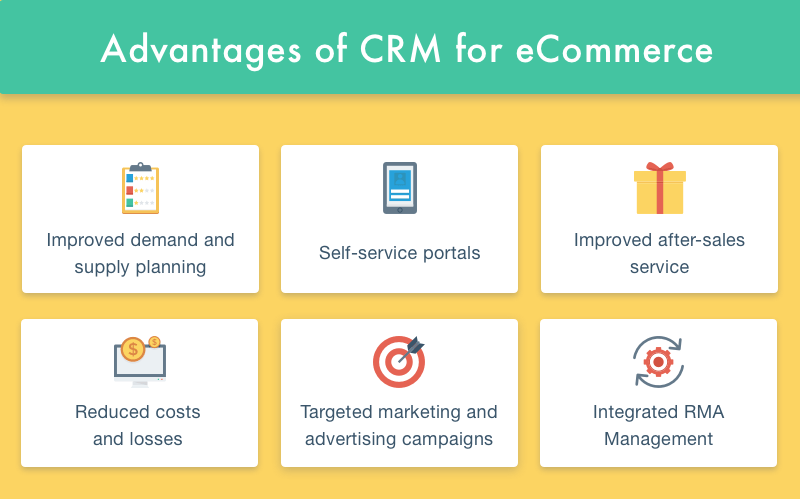 If you want to get to a really personal level with prospects, you'll be better served by an eCommerce CRM.
---
Why Your Online Store Needs a CRM
Do you need to spend money on CRM WooCommerce software? Is it a worthwhile investment? Your online retail business needs a CRM for the following reasons:
It helps you understand who your customers are so that you can give them what they are looking for.
You can see how much each customer is worth and focus on the most valuable leads.
WooCommerce CRM software helps you see and track every transaction in your pipeline. If a customer stops before they complete a purchase you can nudge them and get them to check out.
You can see all orders and their status.
No lead falls through the cracks with eCommerce CRM software. You can see and communicate with each lead and you know where they are in the sales pipeline. You can also see communication history.
Customer service and support are easy with WooCommerce CRM software.
eCommerce CRM helps you beyond the sales pipeline. It can track and monitor shipments and follow up to encourage customers to re-purchase.
Use this kind of software to market products that your customers are likely to buy. Using website pop-ups and personalized email campaigns you can tell potential customers about tangential products that may be of value to them.
---
What Are The Benefits of a CRM System For WooCommerce?
All the above are short-term benefits of investing in CRM for WooCommerce software. Are there any long-term benefits? Indeed there are:
You're able to maintain centralized records for your business. You no longer have different databases for customer orders, advertising, website analytics and email marketing. All this information will be in a central CRM database.
You never have to manually update or sync customer records. All information is updated into the CRM database as it's captured.
You have a better understanding of the customer life cycle in your eCommerce business. Knowing how long it takes for a potential customer to buy, their average purchase value and how often they buy helps you design more effective marketing campaigns. You're also able to focus on your most valuable leads.
These systems help you automate your business. Manual, repetitive tasks will be eliminated and you can focus on other activities that grow your business.
They offer unparalleled segmentation options that allow you to create more targeted campaigns based on customer behavior.
You can see which items customers buy most frequently, the ones that are often left in abandoned carts and the ones that don't move at all. This information helps you improve your inventory.
---
What to Look For in WooCommerce CRM
What criteria did we use to bring you the best CRM for WooCommerce? Here is what you should be looking for:
Syncing – it should be able to sync data automatically in the background and bring you the most up-to-date information at all times.
Activity tracking –you should be able to track each lead through the sales cycle. If they stop moving through the channel you'll be able to send out the right communication to nudge them along.
Segmentation – good CRM for WooCommerce allows you to segment data based on user behavior and doesn't limit the number of rules you can set up.
Automations – this is one of the most important features of WooCommerce CRM software. If it doesn't automate a significant number of processes it isn't worth investing in.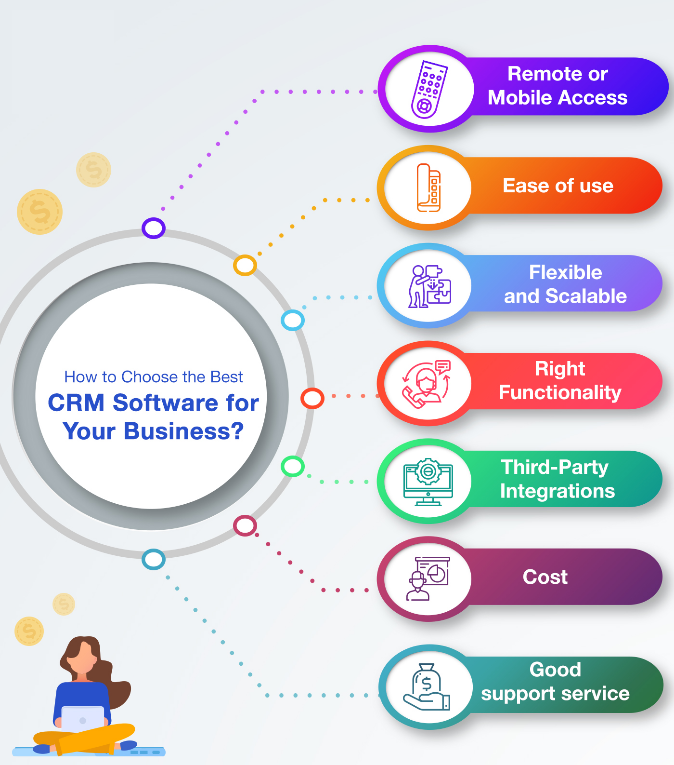 ---
Finding The Best CRM For Your Online Store
Not all WooCommerce CRM software is ideal for every online store. Before you choose, think about the following:
Cloud vs. On-premise: small businesses are better off leveraging the power of cloud-based or SaaS systems. On-premise software is generally more expensive and requires additional resources to maintain. You can read more about SaaS vs. On-premise software here.
Number of employees: how many people will use the software? Many of these tools are designed to be used by one or multiple users, but if you want to add the number of users you usually have to pay an additional fee. Can your business afford it?
User Experience: studies have shown that users consider the UX of a CRM system before anything else. If you choose software that's complex, clunky and difficult to learn it will be a waste of everyone's time. Time that could have been spent doing more productive tasks will go to learning difficult software.
Customization – every business has unique needs and the more customizable software is, the better.
Your particular business needs – no software is a "one-size-fits-all". Before you invest make sure that the software suits your business's particular needs.
Integrations: choose software that will seamlessly fit with your existing set-up and other future tools you may acquire.
---
Best WooCommerce CRM
Read Review
View Listing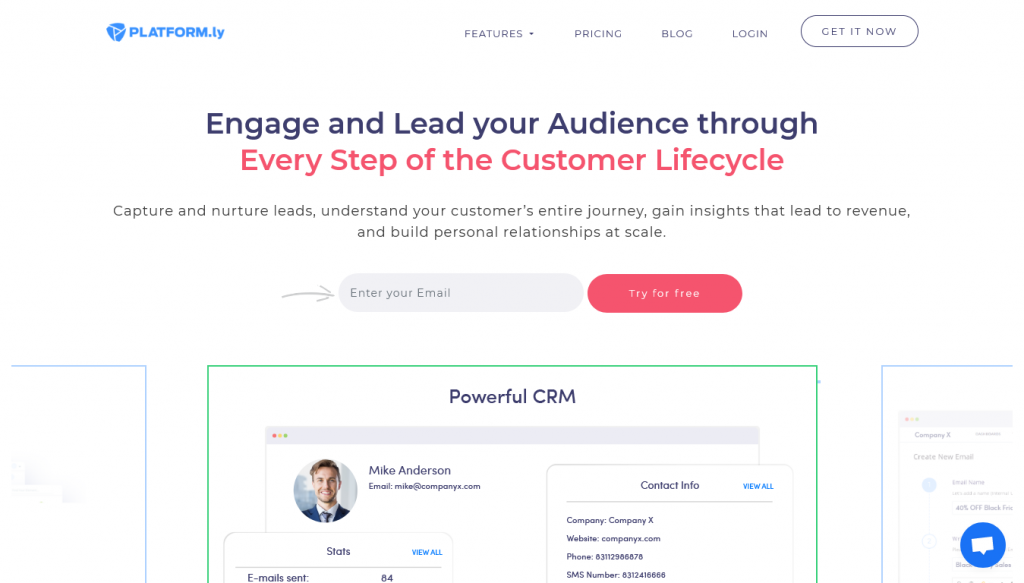 Platformly is a leading customer management software that you can add to any WordPress website to turn it into an eCommerce store. Once added, you can use it for CRM to track all leads and customers, keep an eye on sales and get an in-depth understanding of customer data so that you can create more targeted campaigns.
All you need to do is download and activate the Platformly plug-in into a WordPress site. After entering your API key you can select a Project and a Processor and you're ready to go.
This software has lots of features that are invaluable to any eCommerce business.
Features
Email Automation – this is one of the most important features in any WooCommerce CRM, and Platformly makes it easy and convenient. You can create automated emails using the drag-and-drop editor and schedule them to go out at any point in the sales cycle. You can, for example, design an email for abandoned carts and schedule it to go out a certain number of hours after the customer abandons the purchase.
Add product information to emails – an image of the product along with a product description increase email open rates as well as conversion rates.
Detailed customer reports – you can track the performance of each lead and your whole business from a single dashboard. You can, for example, see the total and net incomes for a given period, see the income breakdown, see what leads are most profitable, see the lifetime value of each lead and more.
Platformly Tracking System – generate a link, add it to your payment processor and see which channels are most profitable. You can focus on them and stop wasting time on channels that aren't helping your eCommerce business grow.
Feature-rich CRM – here, you'll find a whole host of modules that help generate and manage leads. The Lead Scoring System helps you score leads and focus on your best prospects. Rich Profiles Data gives you vital information about each lead that you can lead to push the right products to prospects. It collects information from Twitter, Facebook and other popular sites.
Platformly is SaaS software which makes it ideal for small and medium-sized businesses. It is well supported with new features added all the time. It's designed to scale, and you can add new modules as your business grows. Platformly integrates with commonly used sales and marketing software.
---
View Listing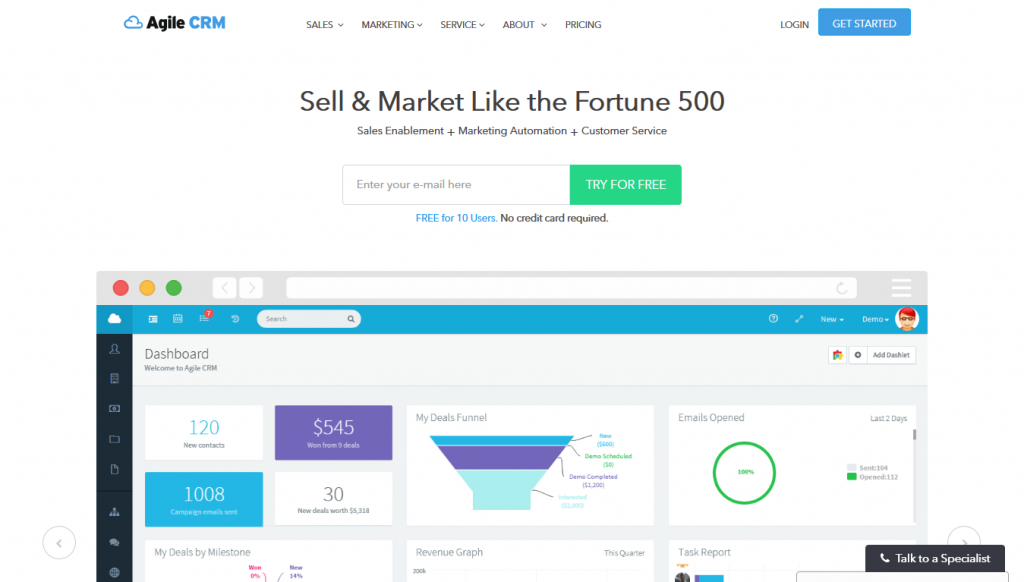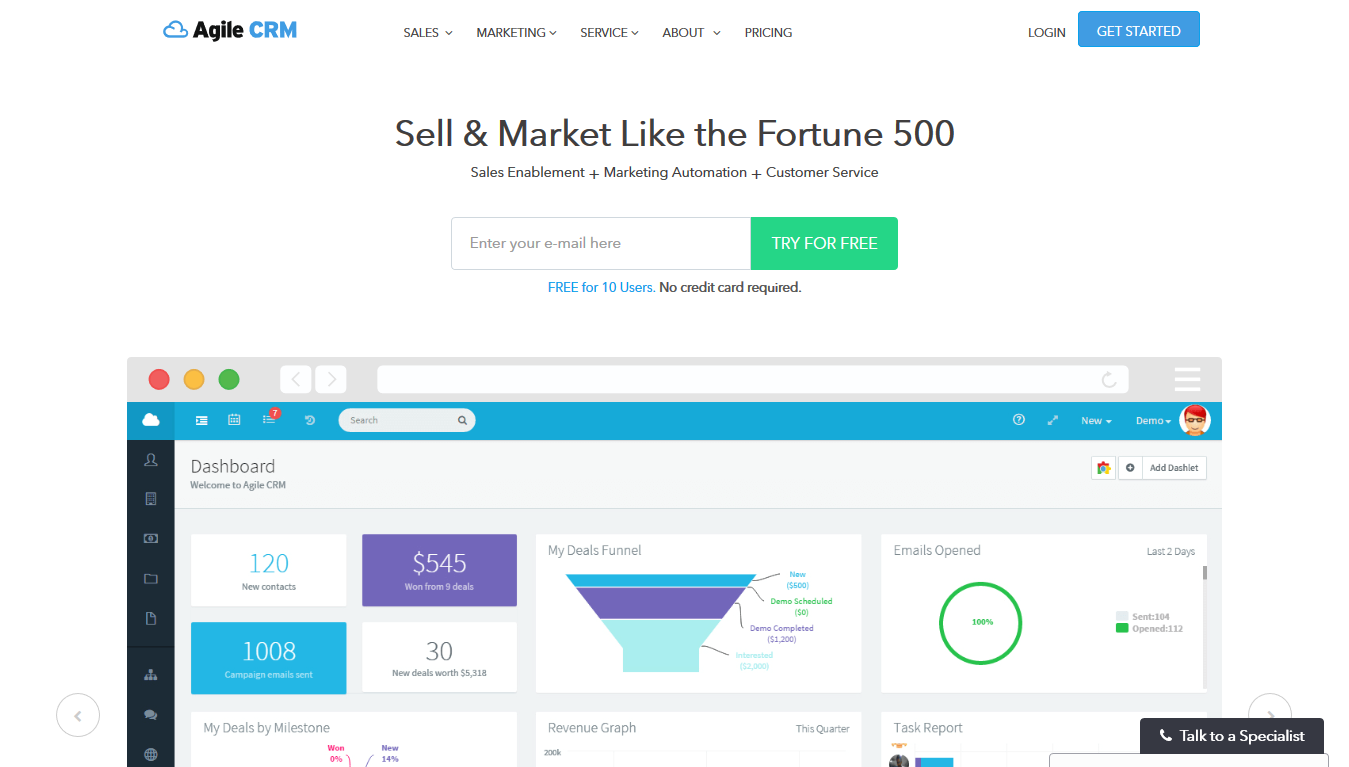 Agile CRM offers an all-in-one solution for WooCommerce businesses. You can use it to track metrics, increase sales, customer retention and engagement. You'll be able to manage customers more efficiently, reduce cart abandonment rates, run data-guided campaigns, automate processes and more.
Features
Customer Management – this module allows you to collect and segment customer data send out invoices and perform bulk actions. You can add events and schedule automated emails. You can also filter contacts based on score, star value, date acquired and other values.
Smart Campaigns – use this Agile CRM module to create behavior-based campaigns that are more likely to convert leads into sales. You can do automatic follow-ups to reduce cart abandonment rates.
Web Engagement – here you have a selection of website pop-ups that you can display based on visitor behavior. It helps reduce bounce rates and increase subscription rates.
Activity Tracking – see what your website visitors are doing on your site and present them with the right offers at the right time.
Agile CRM is more than WooCommerce CRM. It is a feature-rich marketing software that's affordable for small and medium businesses. It's SaaS-based, so well within the budget of most eCommerce website owners.
---
View Listing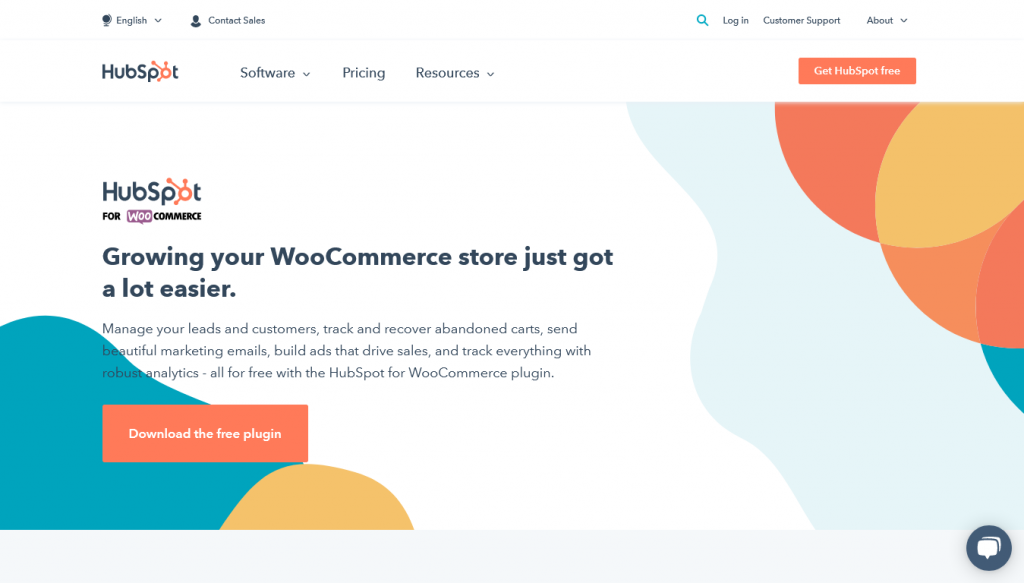 Hubspot brings together sales, marketing and customer service software for businesses of all sizes. The CRM feature has everything you need to manage eCommerce leads. It handles lead generation, marketing automation, scheduling, customer feedback and more.
Features
Sync – this feature syncs WooCommerce data to HubSpot. You can see lead data as it's captured.
Comprehensive Profiles – it shows you all customer information on one screen as well as their activities. You can see their orders, abandoned carts, completed sales, items viewed and more.
List Segmentation – create list segments so that you can design more targeted campaigns.
Abandoned Cart Recovery – see when customers abandon carts and send emails that persuade them to return and complete their purchase.
Email Automation – you can set up emails to go out at pre-determined times in the sales cycle.
Analytics – see where your marketing efforts are bringing in the highest ROI. You can also view overall store performance and optimize the customer experience at every stage.
Ad Creation and Management – this module allows you to create ads and track them to see which ones have the highest ROI.
Hubspot is one of the leading CRMs in the market and comes with lots of features that can take your WooCommerce shop to the next level. It's well supported and affordable.
Visit Hubspot For WooCommerce Now
---
View Listing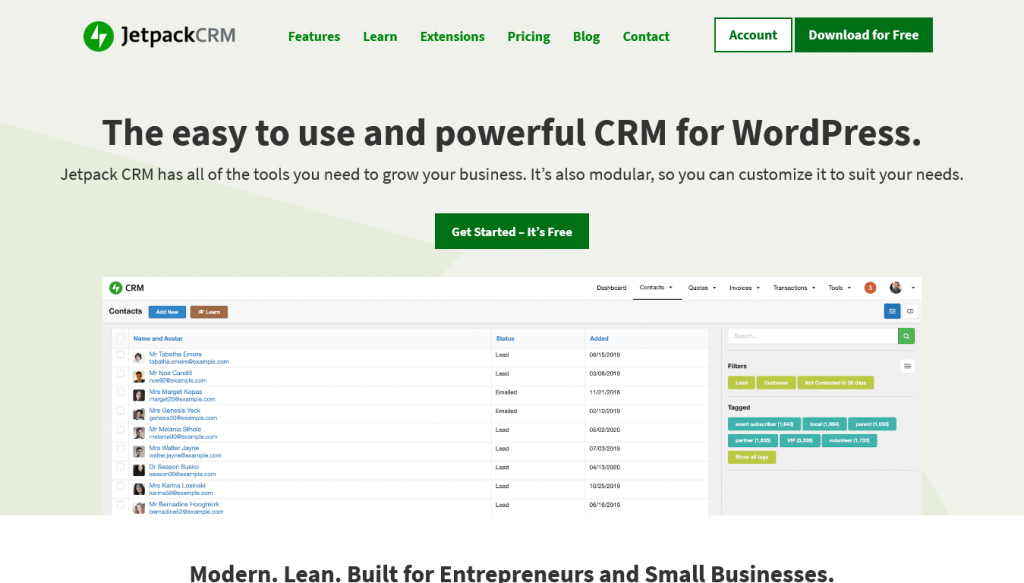 Jetpack CRM prides itself in showing you all your critical business data in one location. You can view all the information about a contact and their order history. A dashboard shows you a snapshot of business performance which includes gross and net revenue, new contacts, total contacts and discounts.
Features
Contacts – you can see all client information on one screen. It shows you their contact information and a history of their interactions with your business.
Dashboard – this shows you your sales funnel and revenues on a single dashboard. You can customize the dashboards to suit your needs.
Forms – lead capture forms make generating new leads easier, and all information is merged into the database.
Invoices, proposals, quotes – you can send them all to customers directly from within the software.
This software may not be as feature-rich as the others discussed here but it is ideal especially for eCommerce businesses in the early stages. It is also quite cheap. You can start your business with it and then upgrade to Hubspot or Platformly or Agile CRM as your business grows.
---
View Listing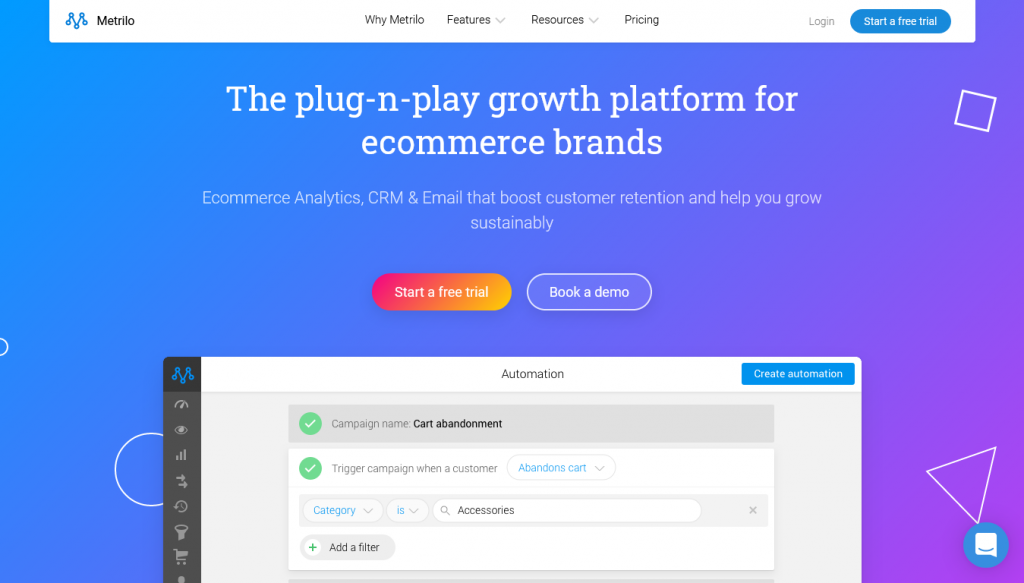 Metrilo helps you understand your customers and get insights into how they experience your store. You can connect with them through email automation, segment your lists for targeted marketing and manage interactions much better.
Features
Dashboard – it gives you a snapshot of the whole business including revenue, number of visitors, conversion rate, new customers, top-performing products and your best customers.
Analytics – drill deeper into your metrics with this module. It shows you the revenue breakdown, marketing performance, retention analysis, funnel reports and product reports.
Import Customers – import customers from your eCommerce store into Metrillo and see detailed information on their activities.
Detailed Filter rules – you can set filters by actions performed and not performed, carts abandoned, product interactions and categories, coupon usage and more. You can filter customers by revenue, orders, sessions, location and tags.
Automated email – schedule and send emails at any stage within the sales funnel. The drag-and-drop editor allows you to create emails quickly and there are many templates to choose from.
Metrillo may not have as many features as other tools in this list but it has enough to support an eCommerce business in the early stages. As your online shop grows you can upgrade to more complex software with advanced features.
---
FAQ
Can you use WooCommerce as a CRM?
It's not a good idea. WooCommerce provides some information, like customer orders, but it doesn't go to the depths of a WooCommerce CRM. You need separate tools for analytics, advertising and email marketing. A proper CRM has all these modules under one roof and data can be synced across the system.
A proper customer relationship management system also shows you the worth of each customer. You can see your interactions with them, the value of their purchases for a given period, where they are, how much they spend per transaction and more.
You cannot get all this information from WooCommerce. If you opt not to use a WooCommerce CRM you'll need to install several other pieces of software to obtain all this information.
Where is WooCommerce customer information stored?
It's not a good idea. WooCommerce provides some information, like customer orders, but it doesn't go to the depths of a WooCommerce CRM. You need separate tools for analytics, advertising and email marketing. A proper CRM has all these modules under one roof and data can be synced across the system.
A proper customer relationship management system also shows you the worth of each customer. You can see your interactions with them, the value of their purchases for a given period, where they are, how much they spend per transaction and more.
You cannot get all this information from WooCommerce. If you opt not to use a WooCommerce CRM you'll need to install several other pieces of software to obtain all this information.
Is WooCommerce safe for online shops?
WooCommerce sites have different security needs from ordinary websites. WordPress and WooCommerce come with some in-built security measures but there are some things you can do to ensure your online shop is safe at all times.
Choose a reputable host that provides added security layers for websites, create strong passwords, enable 2-factor authentication and install a plug-in that has extra security for websites.
You should regularly back up your store so that in case of a breach you don't lose much.
How many products can WooCommerce handle?
As many as you want. Some WooCommerce shops have more than 100,000 products in their listing and handle thousands of transactions every minute.
To run that many products you need very reliable hosting and a dedicated team to ensure your website is optimized at all times.
Which is better: Shopify vs. WooCommerce?
Each has pros and cons. Many people choose WooCommerce because it's free and very well supported. It can be used to turn any WordPress site into an online store. However, you need to pay for hosting and security.
Shopify is easy to use, has beautiful templates and is also well supported, but it's not free. They charge a monthly fee but websites come with everything included.
The one you choose depends on what kind of store you're looking to build and how much you can afford.
You can read more about WooCommerce vs. Shopify here.
---
Conclusion
How well you manage customer relationships in an eCommerce business will determine how fast you grow. Choosing the right WooCommerce CRM helps you manage leads and build customer relationships that last.
You need to think carefully about what your business needs. What do you need the software to do for you? Making a list of your needs makes it easier to settle on the right one.
All the ones discussed here are ideal for most small and medium businesses. If we had to choose one it would be Platformly.
Not only does it put together powerful CRM features for growing business, but it also provides marketing tools, lead capture and detailed reporting features that every business needs.
You can use this WooCommerce CRM software to manage leads right from the moment you capture them until conversion and even after. It's well supported and the team continually adds new features.
---
Best WooCommerce CRM Software in 2022