What is Unlocator?
Editor Rating:





User Ratings:





(12)
The internet has revolutionized the way we consume content. Today, most TV networks hold content online. The problem is, the content is not accessible to all. In certain regions, users are restricted when it comes to what they can access. Hence the need for a Smart DNS service.
DNS stands for Domain Name Server. In a nutshell, with this kind of technology you are able to bypass any restrictions that have been put in place and access content on different online channels. We will get into how it works in a bit, but for now let us look at some of the common questions regarding online content and geo-restrictions.
Why am I blocked from online channels?
There are a couple of reasons why you may be blocked. The most common type of blocking is called geo-blocking. This is when a government decides that certain content is harmful or offensive and bans it. It happens in place like China and Russia where governments are keen to control what their citizens are able to view.
The other reason why you may be blocked from accessing content online has to do with distribution rights. Netflix, for example, may not have secured rights to distribute content in certain regions, so they are blocked.
The way companies distribute content also forces people to seek ways to bypass restrictions. Netflix US, for example, has a library of about 1,400 TV shows, while Netflix UK has about half that.
UK users want to have access to shows that are available to US users and vice versa. In some cases, users are forced to pay for certain shows in some regions, whereas they can access them for free in others.
With a Smart DNS service, you are able to override these restrictions and complications, and hide your location at the same time.
Is using a Smart DNS legal?
This is a gray area; Netflix and other media houses don't like it when users are able to access restricted content, but they are yet to do anything about it. In fact, hundreds of thousands of Netflix subscribers use VPNs (which rely on the same sort of technology) without any problems.
However, some VPNs, especially ones that rely on older technology, have been blocked by Netflix, BBC iPlayer and others. Smart DNS services don't usually have this problem. They are able to access most content, and even when they are flagged they find new ways of overcoming restrictions.
What is Unlocator?





Unlocator is a service that allows you to bypass geo-restrictions imposed by content platforms. Once you install it on a device, you can watch all your favorite shows from any channel from anywhere in the world.
With Unlocator, you can unlock 216 websites and services on 58 different types of devices from 50 virtual locations.
How does Unlocator work?
The premise is rather simple; the software re-routes streaming traffic through servers in different locations and spoofs your IP address allowing you to stream content that would otherwise be blocked.
Imagine, for example, that you are somewhere in Asia and would like to view a show that's only available on Netflix US. When you try to stream, the streaming service will read your IP address and because you are in Asia you will be blocked right away.
With Unlocator, your request to stream will be re-routed through a proxy server in the US, and the streaming service will read your IP address as one in the US. Since you appear as a US user you will be able to access all content on Netflix US.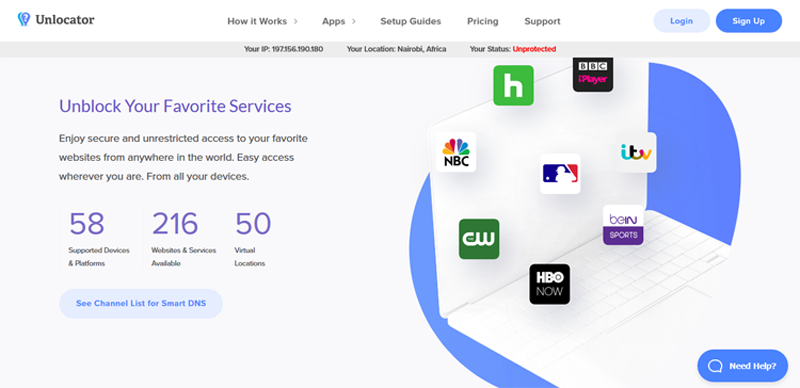 30-Day Money Back Guarantee
What are the benefits of using Unlocator
Many users are quite pleased with their choice to buy Unlocator. It comes with several benefits:
You don't need to buy any special hardware or software to get it to work. When you buy Unlocator you are given a guide on how to change the DNS settings on your device to be able to stream content with ease.
Unlocator offers reliable, stable speeds. This is one area where Unlocator beats VPN software. Because it only deals with streamed content there is no speed loss, and you can download your favorite shows and movies without any glitches.
You can use Unlocator on a wide number of devices. It works on Windows devices, iOS devices, Amazon Fire TV, Android, Apple TV, Google TV, Kindle Fire, Sony Smart TV, Panasonic Smart TV, Toshiba Smart TV, Mac OS, Samsung Smart TV, Sharp Smart TV, NOW TV Box, Wii, Wii U, Xbox One and Xbox 360.
Unlocator offers excellent user support. On the website there is detailed documentation on how to set up and use the service on different devices. The live chat is fast, with an experienced team.
It is very easy to sign up for Unlocator. All you need is an email address and a password. You will be given directions on how to change your DNS address and start streaming.
Get a 7-day free trial, and you don't need to submit credit card details.
You can change your location as desired.
Drawbacks of Unlocator
Unlocator has one major and obvious disadvantage – it doesn't encrypt traffic. In other words, unlike a VPN, it doesn't offer security. But here is the thing: all traffic that is routed through Unlocator is content, which means there is no need for privacy. Once you have it installed no one can tell where you are streaming from, which means they cannot find you.
Looking at the Unlocator website you will find that they don't mention Netflix at all. This is because it was flagged in 2016, and for a while you couldn't stream Netflix content. However, they were able to overcome the restrictions, and today you can access Netflix content if you follow certain steps.
What is Unlocator VPN?





Unlocator VPN is a new service. Ideally, it allows users to stay private while online, secure your Wi-Fi against intrusion and allow you to access restricted websites.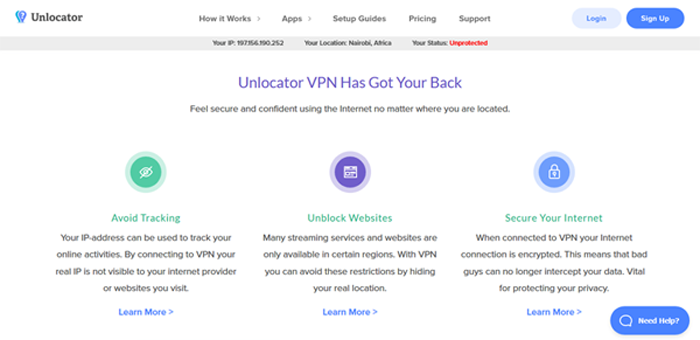 30-Day Money Back Guarantee
Features of Unlocator VPN
You get a 7-day free trial.
The service has 41 servers spread across 36 countries.
You can use Unlocator VPN on Android, iOS, Mac or Windows.
It uses AES-256 encryption.
Unlocator has a strict no-logs policy. The little information submitted on signing up is deleted within 24 hours.
It has a simple user interface, is easy to install and use.
Drawbacks of Unlocator VPN
This service is designed to work like services such as Nord VPN, IP Vanish or VyprVPN. However, on testing find that it isn't as efficient as many of the top dedicated VPNs. Although it works, it has several problems.
The first is that it doesn't encrypt data as well as other VPNs. It does offer some level of encryption, but if this is your main concern you may want to try other options.
The other problem with Unlocator VPN is that it is based in Denmark. Although the country takes consumer privacy seriously, it falls within both the 9 Eyes and 14 Eyes jurisdictions, and can share data if it's deemed necessary.
Conclusion
Unlocator serves as both a Smart DNS and VPN service. It is one of the best software for streaming software, giving you access to more than 200 channels. You can view content on dozens of different types of devices.
Unlocator VPN is rather young, and it may be fair to say that they are still ironing out the kinds.
We highly recommend Unlocator's Smart DNS; you will probably not get a more reliable, easy-to-use streaming software. However, Unlocator VPN isn't as robust as other VPNs.