The Benefits of Video Popups & The 4 Best Video Popup Builders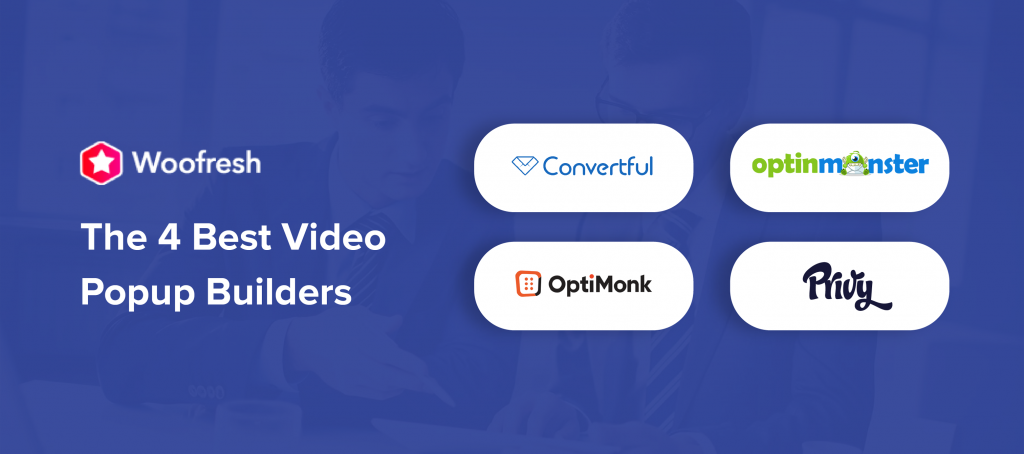 What is a video popup builder and why do they matter?
Videos reign supreme. Those who understand how to use them have managed to gather a huge online following. How can you make them work for your business? One of the easiest ways is by creating video popups for your website.
This article tells you all about video popups, their benefits, how to create them and the best popup builders or software you can use.
---
What is a Video Popup?
It is exactly what it sounds like: a video popup that appears on your website when a user clicks on your link or when they have spent a certain amount of time on a page.
Video popups are a great way to increase user engagement because they allow you to take advantage of this medium's popularity.
To make a popup video you need a video popup builder or software.
It is a plugin that allows you to embed a video and select the proper settings. The builder plays the video based on your settings. Think of it as an in-site video player that you can use to show videos when you want, how you want.
Popup builder software isn't created the same. As you'll discover when you try to embed videos on your site, the process can be complicated. You need a tool that's been tried and tested to add videos that work and have the intended effect of increasing engagement.
Some people prefer to video popup WordPress software (made specifically for WordPress). However, there are software options that aren't limited to this platform.
---
Benefits of Adding Video Popups to Your Website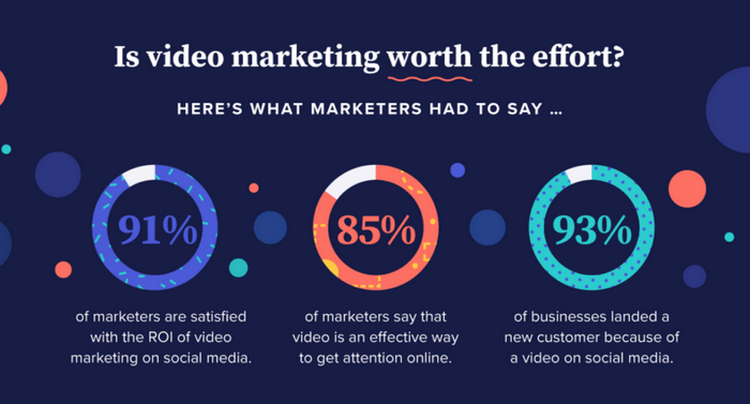 Why should you bother with website videos, especially if you can attract leads through other means? There are several reasons. The following five video statistics show just how effective a medium video is.
According to a report by Zenith, consumption of videos online grew by 91% between 2015 and 2017. It keeps growing and the trend is expected to continue.
According to a 2020 article by Oberlo, 85% of internet users in the United States watch videos online each month. In Saudi Arabia and Turkey, the numbers are even higher, with 95% regularly consuming online video content.
54% of online buyers want to see more video content from brands they engage with.
According to Animoto's 2018 report on social video marketer trends, 73% of online buyers say they were influenced into a purchasing a product or service by a video they saw on social media.
80% of video marketers say that they are happy with the ROI they get on their videos.
With numbers like this, it's obvious that you may lose a significant number of leads and customers if you aren't using video popups.
There are other benefits of adding video to your landing pages: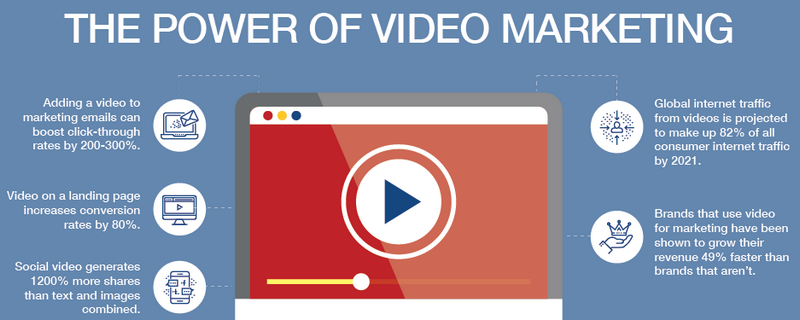 Your competitors are already using video. If nothing else, this alone should convince you to make videos a part of your website content. Imagine you're a user looking to buy a product. Which site are you more likely to engage with, one that has video or one that doesn't?
Videos make users stay on a website longer which gives you a chance to sell more. Websites that have video on them tend to have a lower bounce rate.
Numerous studies have shown that videos increase engagement. You're likely to get site visitors to pay attention and stay with you if you use video instead of just text.
Video has SEO benefits. Some studies show that websites with embedded videos are about 50% more likely to show up on page one of SERPs.
Embedded video is a great way to introduce new products. You're likely to get higher uptake if you can showcase new products with video than if you use only text.
Create lead magnets for your website today by clicking here…
---
How to Create Highly Converting Video Popups
Making videos is easy; just point a camera and shoot. Creating videos that drive views is another thing altogether. You may have the right video popup builer but if you don't know the steps to take to embed a video you'll not get this strategy to work.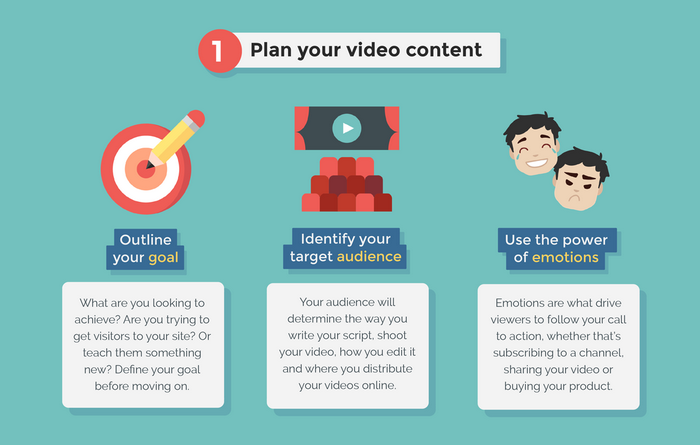 If you're making a WordPress video popup, use the following steps to get it right from the beginning:
1. Choose the Right Platform
The first step to creating a video is finding a host. When it comes to video popups, you want a host that provides plenty of customization options. Look at what the host allows you to do and then choose the one that aligns with your strategy.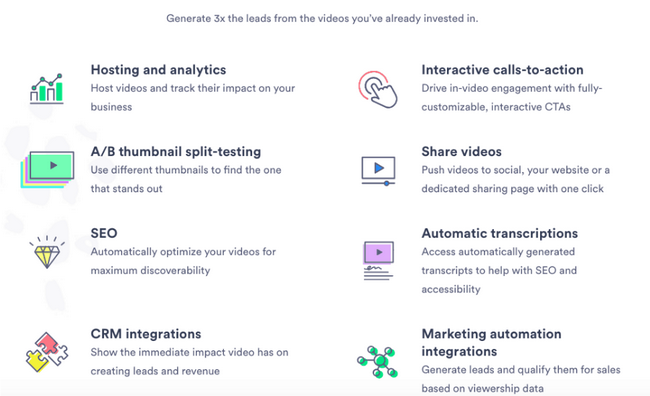 Three popular hosts offer video hosting, but they differ when it comes to customization options.
YouTube is the most popular video host, and its main benefit is that most users are already using it anyway. However, it isn't ideal for website video popups. YouTube's revenue comes from ads, so it puts ads in as many videos as possible and they are almost impossible to remove. The same goes for suggestions (the ones that come at the end of every video giving you recommendations on what to watch next). Because of these limitations YouTube isn't recommended for business.
Vimeo is much better for embedded videos than YouTube. You have greater control over customization, there are no suggestions at the end of videos and it has a friendly user interface that's easy to use.
Wistia is even better than Vimeo. It is built with small businesses in mind. It provides plenty of customization options; you can redirect viewers at the end of each video and use it to collect email addresses. It also provides valuable statistical data about your viewers.
2. Adjust popup video settings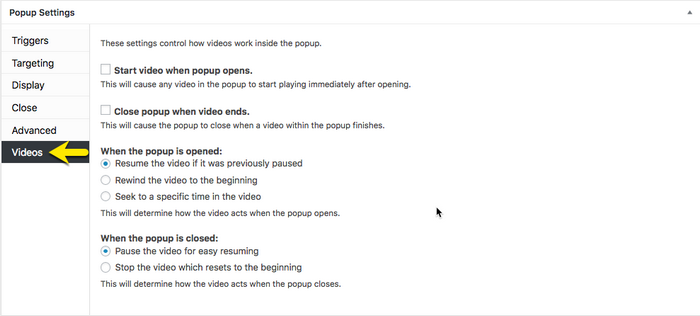 After you've created a video you'll need to select the proper settings before you embed it. The most important setting is size.
Find out which size is best for desktop videos. For mobile, keep in mind that screen sizes vary greatly and you want your video to render on as many of them as possible.
You can set videos to autoplay on desktop but never on mobile. Most browsers for desktop now play videos automatically with the sound muted, and the user can decide whether they want to listen or not.
Don't forget to turn off recommendations if you are using YouTube.
3. Choose when to display the video
You have to decide who you want to see the video to know when to display it. To get all site visitors to see it, set it to play when a visitor clicks on your link.
You can allow visitors to read some content and then see the video by playing it after they have perused the content and right before they exit the site.
If you want to showcase additional products with video, play it just before visitors exit.
4. Check frequency settings
You don't want your video popup appearing every time a visitor comes to your website. If they've watched it once, they should ideally not see it again. If you have to show the video more than once make sure to space out the duration.
5. Get the design right
Getting the design right is very important. An overlay makes for easier viewing. It dims the background to help visitors focus on the video. Include a closing option for the video that's easily accessible for those who don't want to watch.
Some advertising sites use video to display ads, and this can confuse visitors. Add branding and website colors and fonts so that your video is distinguishable from adverts.
6. Get the mobile version right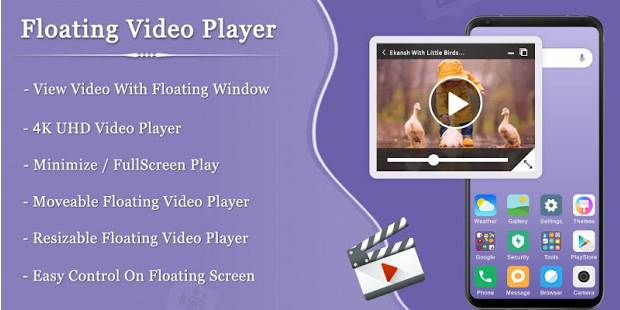 You get more viewers on mobile devices than on desktop so make sure that you optimize for mobile. Google has provided rules that you should follow if you want to create mobile-responsive videos:
Video popups should appear on the second page, not the landing page.
They should not take up more than 30% of the screen height.
Use a CTA in a corner of your site that triggers the popup.
---
Example Use Cases for Videos
Product Showcase: You can use videos to show new products, their benefits and how they work.
Testimonials: Get a customer to make a video about what they think about your business or a specific product.
Tutorials: These are very popular as they help users solve real problems. Tutorials teach how to use whatever it is you're selling or how to solve problems.
Announcements: If you have an event like a price reduction coming up, highlight it with a short video and let users know how to take advantage of it.
---
Best Video Popup Builders
Read Review
View Listing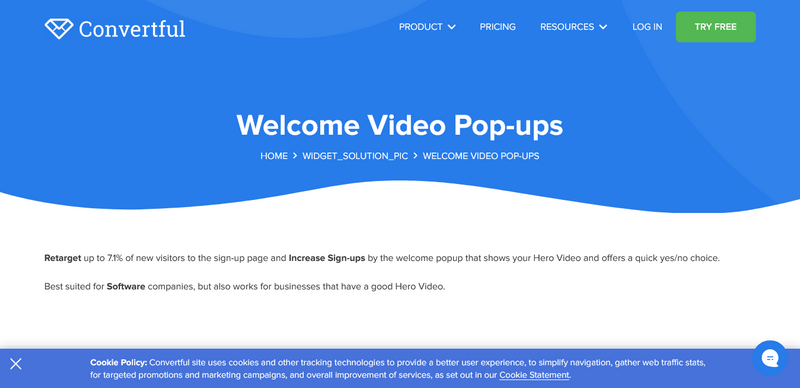 The Convertful video popup builder is an excellent choice if you are looking to embed YouTube, Wistia, Vimeo and Vooplayer videos. You can use it to create a WordPress video popup on page load or at any time during the site visit.
Here are some reasons why Convertful is such a good choice for a video popup player:
You can increase your sign-up rate by more than 7% using Convertful popup videos.
One of the reasons why many marketers choose Convertful is its ability to present the right offer to the right audience at the right time. Trigger a video to show just before a user exits, after a certain amount of time spent on a page, when they click on an element, when they scroll to a certain point or after a period of inactivity.
Convertful makes it easy to collect user data that you can use for laser-focused targeting. It shows you history, location, technology platform, referring URL and more. With this type of information offers that are more likely to convert.
Convertful is more than video popup software. It is the ultimate conversion tool, packed full of features to bring in more leads and convert them into sales. Integrations include MailChimp, ActiveCampaign, AWeber, Constant Contact, Hubspot and Klaviyo among others.
---
View Listing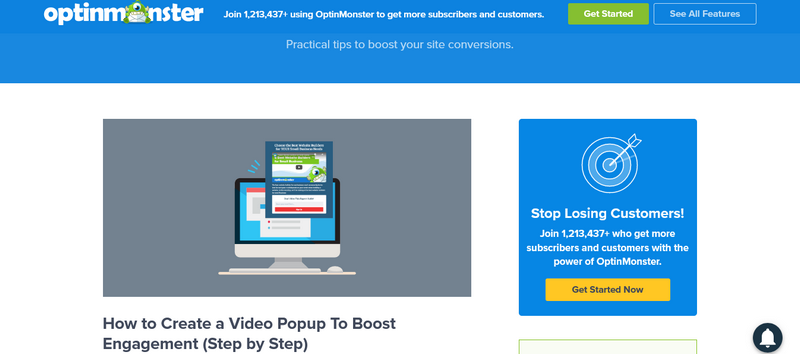 With the OptinMonster video popup builder, you can create responsive popup videos that can be viewed on desktop and mobile. The software uses advanced targeting to help you reach the right users with the right offer at the right time. Videos aren't hosted on your site, so your speed remains unaffected.
You can use OptinMonster to create more than video popups. Additional features include lightbox popups, welcome mats, scroll boxes, floating bars, countdown timers, coupon wheels and embeddable forms.
Just like Convertful, OptinMonster has advanced triggering options. You can target users just before they exit your site, when they have been inactive for some time, after spending X seconds on a page and more.
OptinMonster works with a variety of software including MailChimp, SalesForce, Shopify and Constant Contact.
---
View Listing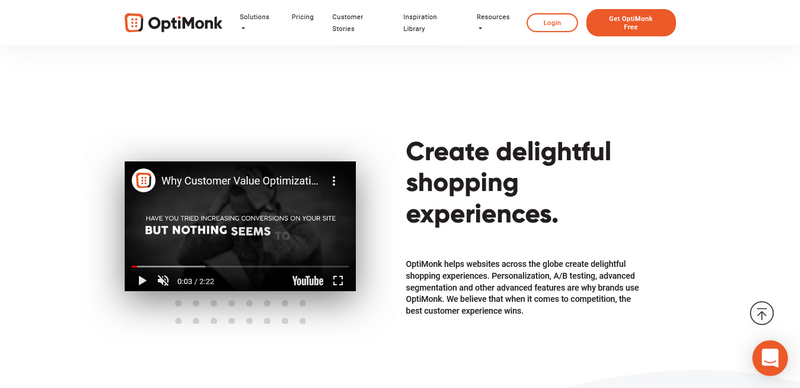 If you have a problem converting leads you may want to try the OptiMonk video popup builder. You can use it to build different versions of a video popup, test using the A/B testing module to see which one converts best and then launch the best.
The software allows you to customize video settings and target based on location, products purchased in the past and pages visited. You can schedule a video popup depending on how long a visitor has been on a page, just before they exit, what links or widgets they click and more.
---
View Listing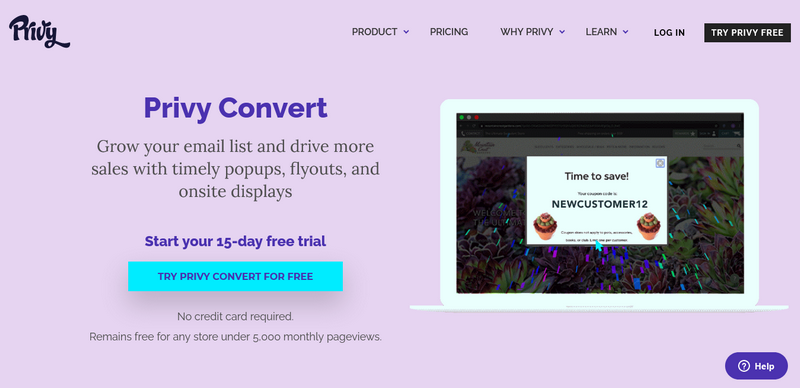 You can use the Privy to create a WordPress video popup on page load or offer video as premium content once visitors land on your site. It works with a variety of video platforms including YouTube and Wistia.
Privy has three features that you can use to grow your email list and convert leads into buyers. The email feature allows you to create autoresponders for your sales funnel, save abandoned carts and more.
Privy Convert entices users to increase order size using popups, flyers, coupons and more. Privy Text is all about reaching users immediately with offers they can't resist, running surveys to get better data and improving brand awareness.
---
Conclusion
Visitors respond better to video than text, and adding this option to your website can help fast-track lead generation and conversion.
However, finding the right software to create popup videos, embed and customize them allows you to speak to the right audience at the right time with the right message.
The four tools discussed here can help you. They are all excellent video popup builders and they have additional features that you can use to run a comprehensive lead generation and conversion campaign.
Our top choice is Convertful. Its video popup builder is easy to use and you can customize each video to appear when it'll have the biggest impact.
This tool has dozens of features that you can use to fast-track lead generation and conversion. It's easy to use and is well supported.