5+ Social Media Search Engines: Start at $0 – 360º View Of Your Leads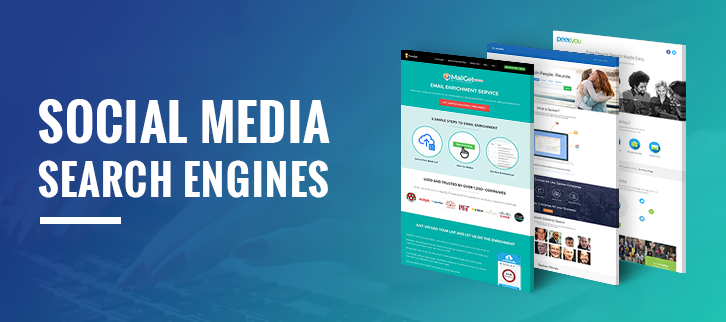 The social media search engines extract a person's social and professional profiles on the web by using their name, email address or phone number and give complete information about the lead.
This includes social media accounts, professional profiles, Gravatar, age, company name and a lot more.
Now, quickly have a glance at the table below & get a brief outline of lead enrichment tools
Social Media Search Engines
Services
Price(Month)
Email Id Status Checker
Searches/Month
Ratings
PeekYou
Free
No
Unlimited
4.7/5.0
Spokeo
$26.89
No
N/A
3.8/5.0
Pipl
$99.00
No
200 Emails
4.7/5.0
FullContact
$8.33
No
500 Emails
3.8/5.0
Clearbit
$99.00
No
2500 Emails
4.3/5.0
You can use this information for email marketing purpose. How?? 
Well, let me elaborate!
This information will help you in analyzing the data and know the audience you want to target. Thereby, you know who you need to send emails for effective business growth.
The lead enrichment tools help you in extracting this information! Just simply enter the email id, username, phone number, etc. & get the personal + professional details there then.
Now, for your convenience, here's a list of software that will help in enriching the emails and fetching the information of your leads!
For more relevant information on Lead Enrichment you can go through following blogs:-
Without further ado, let's explore the list of social media search engines one by one:-
---
Enrich your leads with Spokeo data enrichment tool and get complete information about the leads related to their personal and professional background at your fingertips.
All you gotta do is simply enter the name, email, phone or address & rest is done by the software itself. It searches in the records to display the required information.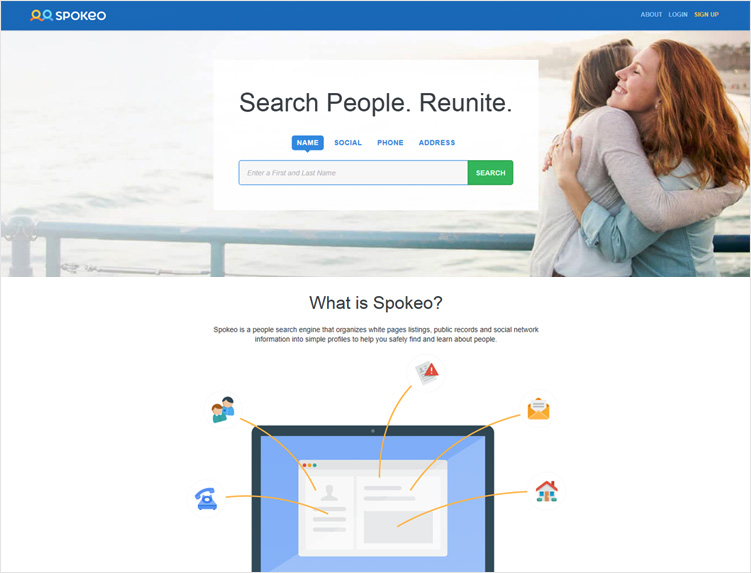 Features:-
Spokeo profile search engine fetches the data by:-

Name
Email Address
Phone Number
Residential Area

The software gives deep insight into your leads such as person's name, address, social accounts, location and a lot more.

Spokeo search engine extracts data from all social networking site such as Facebook, Twitter, Linkedin, Instagram, etc and provides accurate results.
Pricing Plans:-
Spokeo charges you $13.95 for a monthly membership.
While for a 3-month membership you need to pay $23.85.
---
PeekYou a search engine seeks a person on the web by their online alias and provides all social links, images, & professional information associated with the person so that, you can learn more about the leads effortlessly.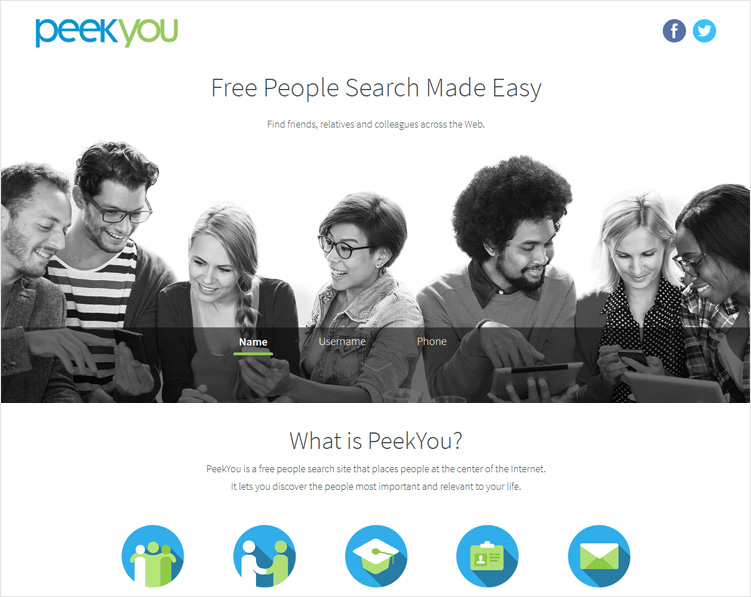 Features:-
PeekYou lead enrichment tool works with:-
It is a reliable data enrichment software which transforms a single piece of data into a complete person's profile within a minute.

The software also fetches the person's gravatar from the social web like Facebook, Instagram, & Twitter that will help you to recognize the person easily.
Pricing Plans:-
PeekYou is completely Free lead enrichment software through which you can discover unlimited leads data in few minutes.
---
Pipl is one of the largest people search engine where you can fetch person's social and professional profiles such as Facebook, Twitter, Linkedin, Instagram, and more, just using a single piece of data.

Features:-
With Pipl lead enrichment tool, you can hunt someone's complete profile via:-

Person's name
Email address
Username
Phone number
The search engine provides the career history of the person, educational institute, gender, age, language and many other things in a few mins.

By using this tool, you can check people profile in bulk by just uploading a list of email address, and discover a person's information for over 100,000 at once.
Pricing Plans:-
Pipl's first plan cost is

$99

where you can search 200 matches per month.
The second plan will cost you

$199

/mo where the user can find 500 matches in a month.
The third plan would be charged you

$299/mo

for unlimited matches.
---
FullContact is a profile search engine tool which transforms limited information of the person into a complete personal or corporate profile. If you learn more about the leads then this is the perfect software for you.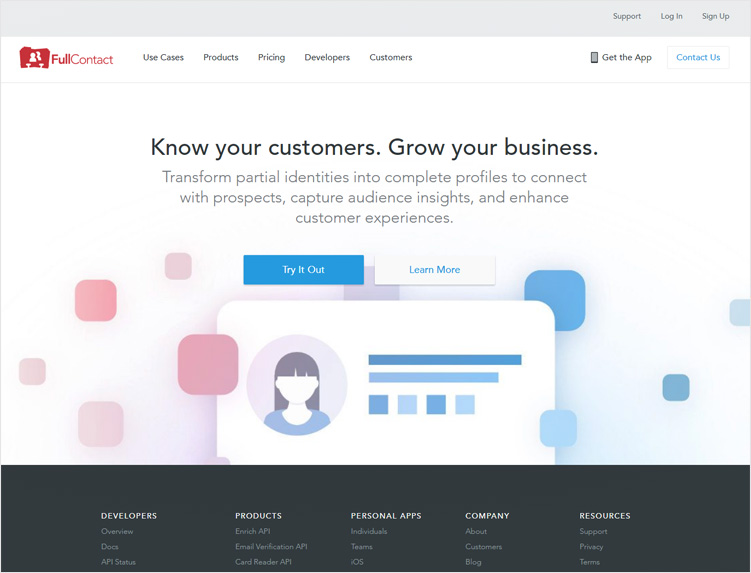 Features:-
FullContact data enrichment software fetches a person's information via:-

Person's name
Email address
Twitter handle
Phone number
When you enter the username, phone number or Twitter handle than the software will retrieve all information associated with that email including person's name, job title, interest, age, location, gender, social media accounts and much more.

The software offers a number of integration such as Zendesk, Slack, Xplenty, Retainly, Conspire, Automate.io and much more so you can connect your favorite tools with FullContact easily.
Pricing Plans:-
The FullContact social search engine also offers a free trial which allows finding 100 people matches in a month.
Starter Plan:-

In the starter plan, the user will get 2500 matches in a month which includes person & company matches. The plan has cost

$99/month.
Plus Plan:-

The plus plan will cost

$299/month

where the user will able to find 15,000 people and company profiles in a month.

Premium Plan:-

Under the premium plan, the cost is 

$499

for 50,000 people and company data.

Enterprise Plan:-

For enterprise plan, you have to contact FullContact sales vendor.
---
Clearbit is a lead enrichment software which is widely used by the people for enriching lead data. It is a perfect solution for those who want to qualify their leads.
All you need is to do is simply insert the email id of the person and it wil provide you with the personal details and company's information as well.

Features:-
Clearbit search engine acts with only:-
With Clearbit, connect other apps you use like HubSpot, Slack, Salesforce, Marketo, & Zapier to automate the workflow.

It automatically generates a comprehensive report on a person that shows you his/her name, job title, bio, company location & size and more so you can understand the lead in a better way.
Pricing Plans:-
The Clearbit starts their plan from

$99

where the user can find 2500 people's information in a month.

Another plan will cost you

$149

in which you can search data of 5000 people.

The third plan of Clearbit will charge  

$199

for a month where you can find 10,000 people social and professional information.
Note:- If you are using marketing automation tools such as Salesforce & Marketo then Clearbit will charge you $499 for a single month.
---
MailGet Enricher is a powerful profile search engine through which you can fetch a person's online profile easily. The software gives all the information such as person's name, gender, age range, job profile, company where he works, links to social media accounts, and much more.
Moreover, the information provided by the software is 100% reliable & authentic.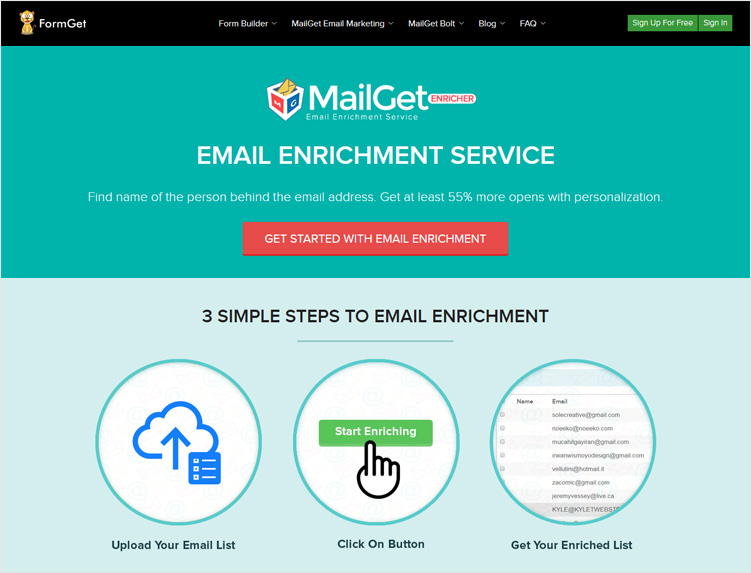 Features:-
MailGet enricher extracts social profiles via:-
You can upload the list of email addresses in .csv or excel spreadsheet and the tool enrich all the data at once and provides accurate results in few mins.
The software finds a person's information from multiple data sources such as Facebook, Linkedin, Pinterest, Twitter and provides complete information on a single platform.
Pricing Plans:-
MailGet enricher lead enrichment tool has multiple plans for you:-
Starters:- First plan will charge you $4  where the user will get data for 200 leads.
Rookie:- Under the second plan, you can search for 1,000 leads data by just paying $19.
Pro:- In the third plan, you have to pay $99 

for 5,000 leads information.
Note:- There are other plans as well which you can choose according to the requirement ranging from $175 for 10,000 emails &  $9999 for 1,000,000 emails. 
I have tried and tested all the email enrichment software and found Mailget Enricher is the best among all in every aspect whether we talk about the features and pricing.
The software won't let you down when brought into practice!!!

---
Conclusion
Finally, we have mentioned the best search engines that will enable you to draw out the information without any trouble!
These software will not only save your time but also provide you with authentic & trustworthy information.
You may find the following blogs interesting:-
At last, I would like to introduce another software which is MailGet Bolt- Cheapest email marketing software through which you can generate new leads and can convert these leads into potential customers.
With the help of this software, you can send bulk emails to the customer to inform them about deals and discounts that you are offering. This will help you drive more customer to your store that will definitely increase the conversion rate of your business.