5+ Online Invoice Billing Software [Subscription Business]
Are you looking for an online invoice billing software for your subscription business?
Billing and invoicing are the pain points of subscription business! Also, these can't be ignored & skipped.
To perform financial tasks in any business, Billing and invoicing software is an olive branch. It helps to account figures precisely and automate your routine without any manual work.
There is countless software available to choose from. As we know where there's muck there's brass! It's alright. Don't fret! because here are the 5 best online billing and invoicing software that can heal the ache you have been nagging for so long.
Have An Absolute Look At Some Online Invoice Billing Software
Want to read some more blogs on billing and invoicing – 
Here are the 5 leading software which can be the cherry pie for you as well as your customers:
---
Pabbly Subscriptions is a hive of all-in-one software for recurring billing, invoicing & subscription management. It is a PCI compliance software which offers a fined breach business and maintains the customer's leap of faith.
Also, it is integrated with two pioneers of digital payments age i.e PayPal and Stripe. Plus, it 25+ multi-currency support gives thumbs-up to your international business presence.
This software provides autopilot invoicing feature that saves your business from drowning in a sea of paper. Pabbly Subscriptions is tech easy, high-lifetime and low-cost converter for your subscription business.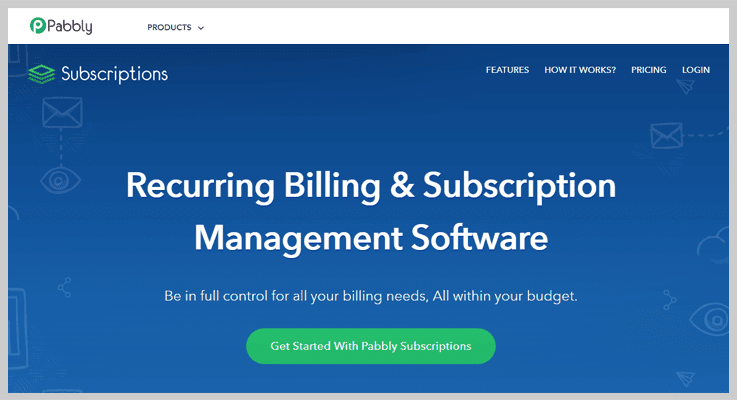 Features
The

automated dunning process

of the Pabbly Subscriptions helps to keep track of due dates, declined payments and send reminders to the customers accordingly. Thus Pabbly Subscriptions bucks up a single payment into multiple payments.
You can easily integrate your SaaS application and software project with Pabbly Subscriptions by using

API keys

.
Apart from this, you can do unlimited business by adding

unlimited products, plans, coupons and promo codes

for free.
Pricing
Starter Plan – This plan will cost you $5 per month where you can get useful features like unlimited revenue, invoice billing, dunning emails, 25+ currency support and more.
Rookie-  It allows you to collect one-time & recurring payment, invoice billing and a lot more at $29 per month.
Pro- If you want to send dunning emails, collect unlimited revenue, set up unlimited plans & products, then pay the price of $59 per month. The plan is all yours.
Advanced- For availing of the features like custom domain, affiliate system, client portal, and a lot more, you need to pay $99 per month.
---
Zoho invoice billing software helps to create a nice and professional invoice at the drop of a hat. Chasing an unpaid invoice should not be a chore, therefore, Zoho allows sending up to 30 email reminders to you as well as your customers automatically.
It provides a self-service convenient client portal which can build bridges between you and your customers. Besides, it helps to give the personalized two-way communication experience to the customers.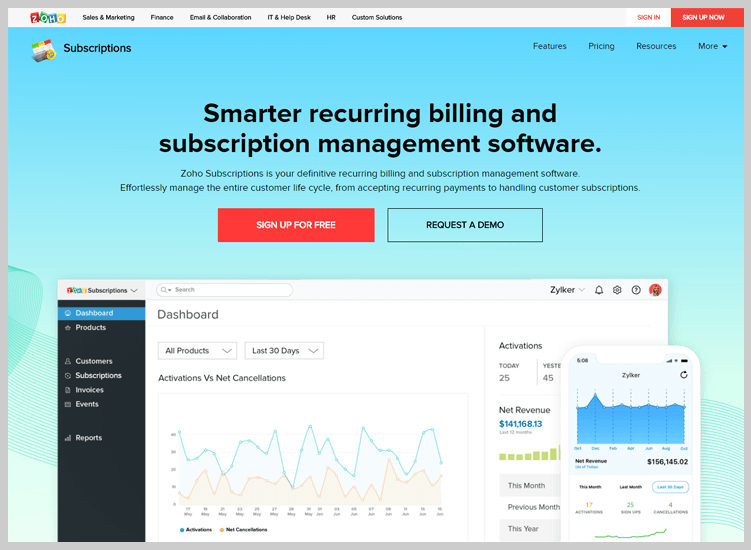 Features-
You can track the money that you owe your customer by creating the

credit notes

. Zoho allows crafting credit notes which helps to hold on the debt of the customers until it's cleared.
It caters to the

estimation feature

which allows creating a proposal for your products or services. You can elaborate the status of your proposal as

accepted, declined

and

invoiced

as per the customer's proceedings.
It supports

multiple payment options

like

ACH payments, credit cards, and Paypal payments

. Also, it is flexible to make

offline payments

using cheque or cash.
The neat dashboard of Zoho saves a ton of time by providing

automated static reports

. It helps to concentrate on facts, not form.
Zoho facilitates you to

backup

thorough organizational data in a single compressed file.
Pricing
Zoho is offering two pricing plans :
Standard Plan: It is charging $49 for 500 customers and 3 user access on monthly basis.
Professional Plan: While, it is charging $249 for unlimited customers and users access on monthly basis.
Aria | Subscription Billing Systems
Aria system boons lasting customer satisfaction and a long-term business growth. Its resourceful automated process bestows a more intelligent approach to cost reduction and containment. This cloud-based monetization platform helps to renovate the recurring revenue models to the accelerated growth.
Additionally, the system provides nearly 50 user defined settings which accredit you the undertakings as you please. This online billing & invoicing software churns out crystal clear bills for the products and services by wiping out the costly delays and IT bottlenecks.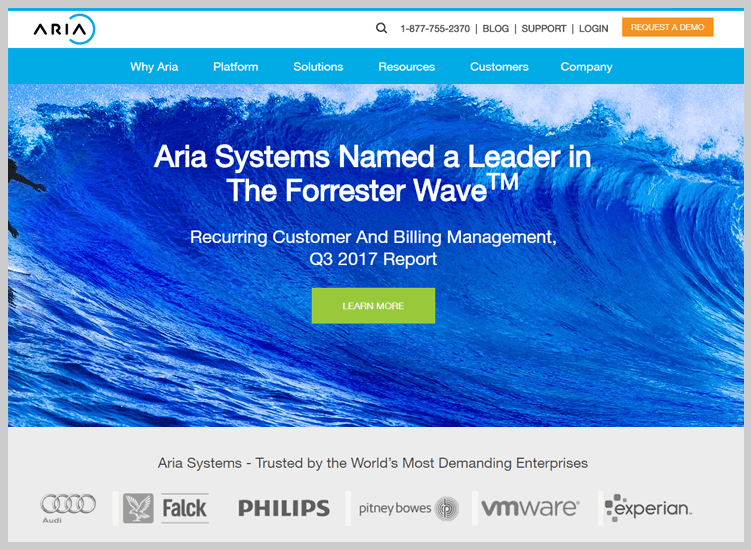 Features
Aria allows you to operate and deploy in the cloud of your choice. It caters to

an array of cloud deployment options

like

single-tenant, multi-tenant, private or public

.
Active Orchestration feature

provides everything but the kitchen sink to the customers. They can easily keep an eye on

past payment information

and

usage history

.
You can plug your apps, portals and shopping carts to Aria by enfolding its

APIs

into service.
Aria provides the widest range of pre-built integrations, payment processor, ERP systems, leading tax and financial integrations.
Aria facilitates upsell and cross-sell opportunities that incremented sales and provides higher customer satisfaction.
Pricing
Get in touch with Aria's team for pricing assistance.
---
Avangate furnishes an outstanding platform for digital commerce. It is a perfect long-term recurring solution for SaaS and online subscription companies. The rich features of integrated subscription billing, merchant account,  payment gateway and cloud scalability help to reach the target audience globally.
Avangate endorses 180+ countries, 30+ languages, 130+ currencies & 45+ payment methods. It is all in one seamless invoice billing software that delivers the self-service and assisted support. It's out of the box configurable and self-service templates allow to craft unlimited new stores and products for your company.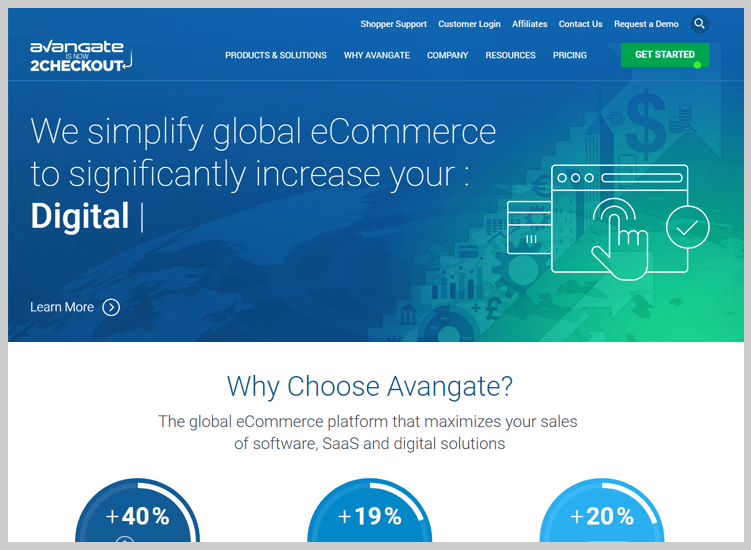 Features
Avangate also allows controlling advanced features of lead management, campaign, automated email templates and their tracking.
The powerful management tool of Avangate provides a profound view of entitlements, updates, renewals in a single CRM page template.
The advanced reporting and analytics of Avangate allow tracing the overall foreknowledge of the business accomplishments.
You can deliver telecom support to the clients and shoppers in multiple languages by using Avanagate.
Pricing
Avangate is providing three plans:
Growth Edition:

This plan is charging 3.99% per payment fee and an additional merchant account fees of 0.99$ up to the revenue limit of $15000 per month.
Example: If you make a payment of $1000, you will have to pay :
(3.99% of $1000) + $0.99 = $39.9 + $0.99 = $ 40.89 to the Avangate
Standard Edition:

This plan is charging 4.9% per payment fee and an additional merchant account fees of $ 2.5, having unlimited revenue limit.
Example: If you make a payment of $1000, you will have to pay :
(4.9% of 1000) + $2.5 = $49 + $2.5 = $ 51.5 to the Avangate
Enterprise Edition: For this plan, contact sales expertise of Avangate.
---
Chargify | An Online Billing Solution
Chargify is the indispensable subscription billing software service. It manages the entire subscription complexities of order management, recurring payments, client communication and dunnings.
Moreover, your own application, products, customers, subscriptions can be programmatically integrated with Chargify by its API. Plus, this invoice billing software acts as an operating system combining great technology and subscription expertise.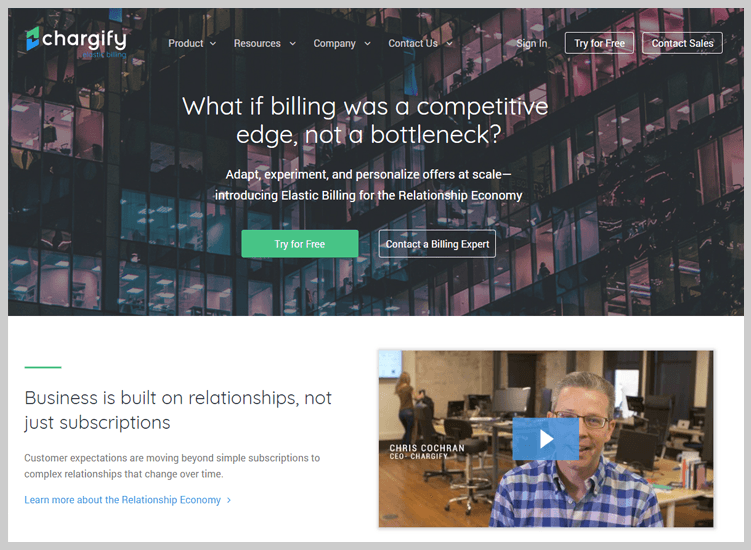 Features
Chargify flexible features allow you to set Customer Specific Pricing, Metered Billing, Fixed-Price Recurring and Quantity-Based Billing.
It has configured multi-level business models enable to process billing correctly and to the right entity. It is splendid for franchises, multinational corporations, and resellers.
By customizable event-based emails, Chargify proactively prohibits the failed transactions before they crop up.
The integrated 20+ payment gateways of Chargify provides hassle-free transactions globally.
Pricing
Chargify is offering three pricing categories
This plan is charging 1.2% of the monthly revenue and an additional merchant account fees of $149.
Example: If you make a revenue of $1000, you will have to pay :
$149 + 1.2 % of the $1000
1.2 % of the $1000 + $149 = $12 + $149 = $161
This plan is charging 1.2% of the monthly revenue and an additional merchant account fees of $299.
Example: If you make a revenue of $1000, you will have to pay :
$299 + 1.2 % of the $1000
1.2 % of the $1000 + $29 = $12 + $299 = $311
Contact the Chargify sales team for this plan.
---
Wrapping Up!
Consequently, in this weblog, we have mentioned few of the best Online Billing Software.
Moreover, to make it easier for you, we also discussed their features, pricing plans and several other details.
Lastly, we hope you must be able to find the perfect software for online billing.
Besides, if you have any more doubts, contact us!
Also, drop in views in the comments section below.