The 10 Best Live Chat Software 2022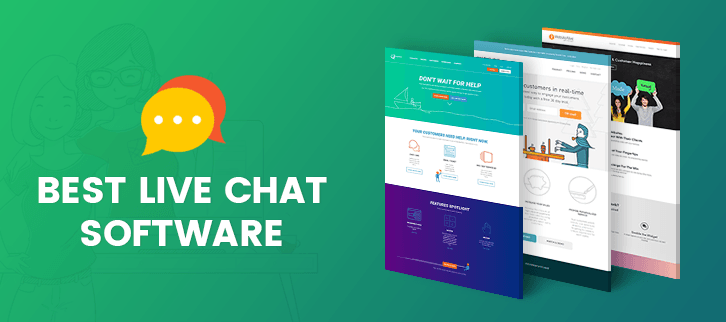 Are you looking for some of the best live chat software ?
If you are planning to boost audience engagement on your website, stay way ahead of your competitors with Live Chat software.
Live Chat software helps you to offer immediate assistance to your customers through chatting. It drastically enhances your sales margins, revenue generation, client satisfaction and brand loyalty.
It is also loaded with several other benefits at a great price and improves your visitor conversions by up to 20%.
Here we offer you a list of top 10 Live Chat Software to suit your requirements.
The Best Ticketing  Software Compared 2020 (in full)
| | | | | | | | |
| --- | --- | --- | --- | --- | --- | --- | --- |
| Name | Chat Rating | Chat Routing | File Transfer | Visitor Tracking | Chat Automation | Price(Month) | Demo |
| HelpCrunch | Yes | Yes | Yes | No | Yes | $15/Agent | Yes |
| Zendesk Chat | Yes | Yes | Yes | Yes | Yes | $5/Agent | Yes |
| | Yes | Yes | Yes | Yes | Yes | $21/Agent | Yes |
| | Yes | Yes | Yes | Yes | Yes | $19/Agent | Yes |
| | Yes | Yes | No | Yes | Yes | $15/Agent | Yes |
| | Yes | Yes | Yes | Yes | Yes | $33.00 | Yes |
| | Yes | Yes | Yes | Yes | Yes | $29/Agent | No |
| | Yes | Yes | No | Yes | Yes | $30.00 | No |
| Velaro | Yes | Yes | Yes | Yes | Yes | $64.95/User | Yes |
| | Yes | Yes | Yes | Yes | Yes | Contact BoldChat | Yes |
| | Yes | Yes | Yes | Yes | Yes | $19/Agent | Yes |
Consider your needs carefully as you read through these services. By the end you will know the right one for your business.
---
HelpCrunch is an all-in-one customer life-cycle management tool. You can use it for sales, marketing and customer support. Since its inception in 2016 it has continued to grow, adding functions that are vital to small and medium-sized businesses.
One of the unique things about HelpCrunch is that it helps strengthen customer loyalty. You can see activity from each lead, understand their trends and motivations. With this information you can guide them through the sales cycle and convert them into buying customers.
You can install this software on your website or app. It works for android and iOS, and you can customize it to suit your brand.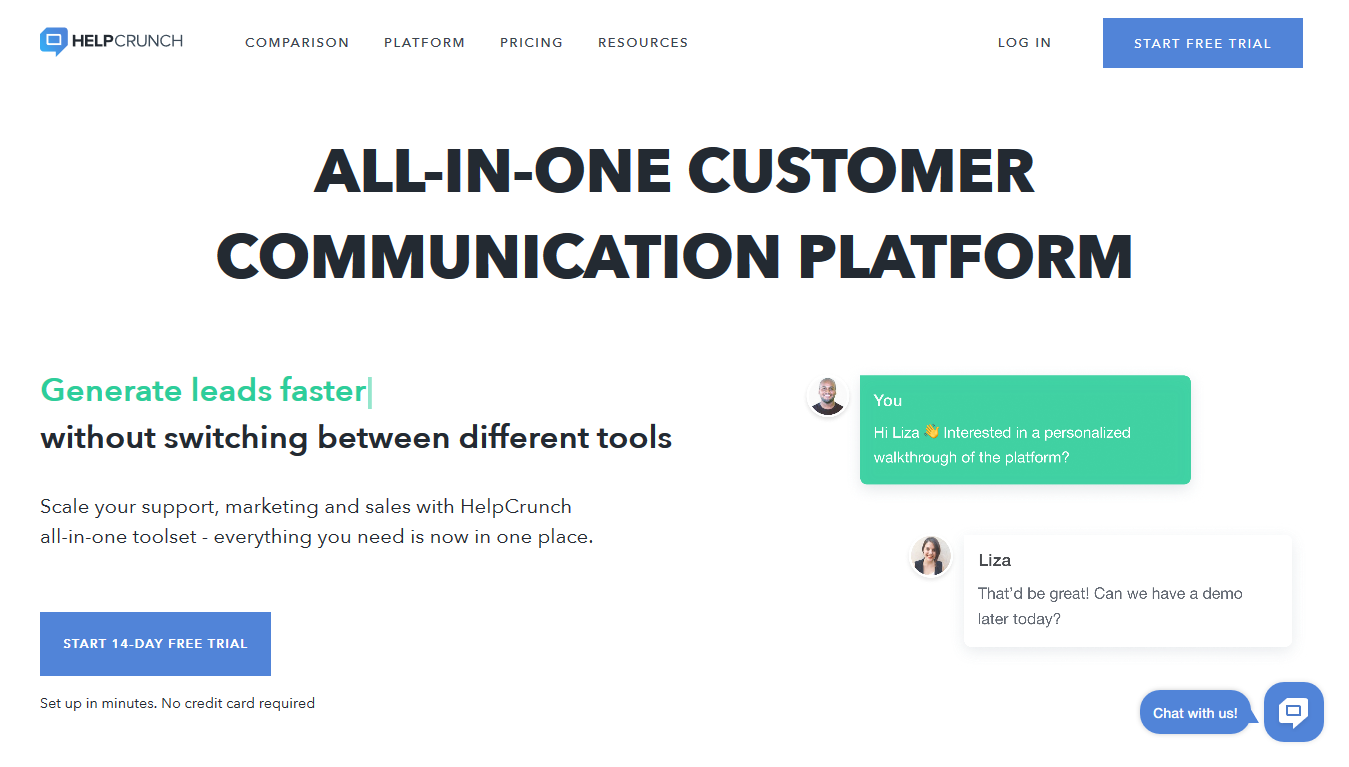 Key Features of HelpCrunch:
Lead Generation – HelpCrunch will help you generate qualified leads that are easier to convert. Some of the lead generation features include Live Chat and Forms, popups, pre-qualified leads delivered directly to your inbox and more.
Automated on-boarding and engagement helps you convert more customers and deliver messages at scale.
You can see real-time customer data on a sidebar on your screen which makes it easy to track campaigns and make adjustments without delay.
Live Chat has all the necessary features: saved responses, filters, typing insights, knowledge base integration and more.
HelpCrunch has a great email marketing module. You can use it to send emails and communicate with potential leads through newsletters.
Automated email marketing ensures that nothing falls through the cracks – you can re-engage leads by scheduling emails to go out at appropriate times. You can create live audience segments and custom user attributes. A vast collection of templates and drag-and-drop editor makes it easy to create emails and newsletters.
HelpCrunch integrates with popular online marketing and communication tools like Slack, Magento, Google Analytics, Shopify, WordPress and others.
---
Zopim offers premium Live Chatting experience for your customers and is loaded with amazing features that come at an incredibly affordable price range. It caters to small businesses as well as industry leaders.
With Zopim, you can automate your chatting sessions and it also offers impeccable online marketing services.
Its dashboard enables you to focus on your clients and reach out to those that need assistance urgently. Simply embed the Zopim widget in your website and monitor and boost your customer with ease.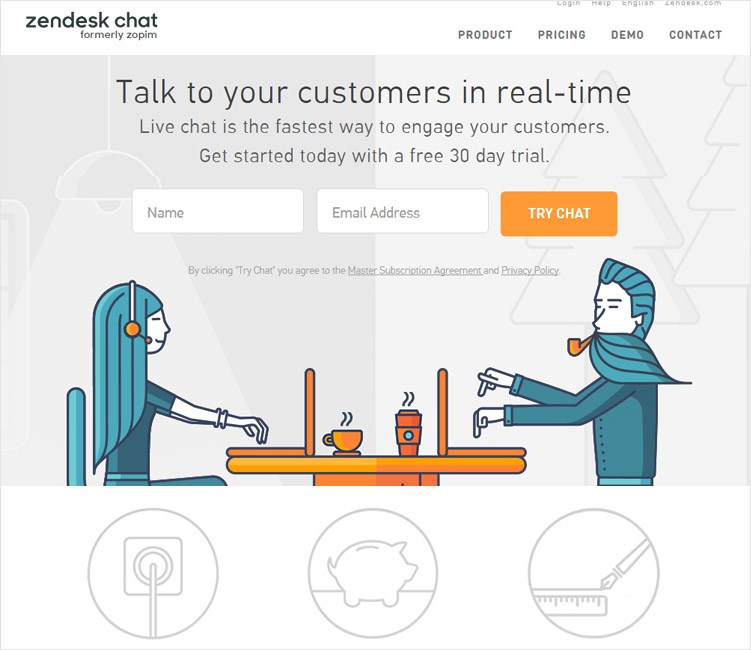 Key Features of Zopim:
Backed by Google Analytics to monitor your progress on real-time basis.
Get the premium package at just $44 per agent per month for larger organizations.
Choose your mode of conversation according to your customer's preference like chat, voice, social media, etc.
14 days free-trial service for better understanding and won't be charged unless you want to upgrade.
Chat Routing helps to assign customers to active agents automatically.
Zopim provides 24/7 committed customer service.
---
LiveHelpNow has set new standards in the world of customer service. It can be easily integrated with social media channels as well. It offers amazing benefits at a great price and has great features. Compatible with any browser, it is very easy to install and is absolutely user-friendly.
Email Management feature supports both ME and POP3 and converts your emails to tickets automatically for better service. It also offers a ticket dashboard and it comes with various filters to narrow down your search results.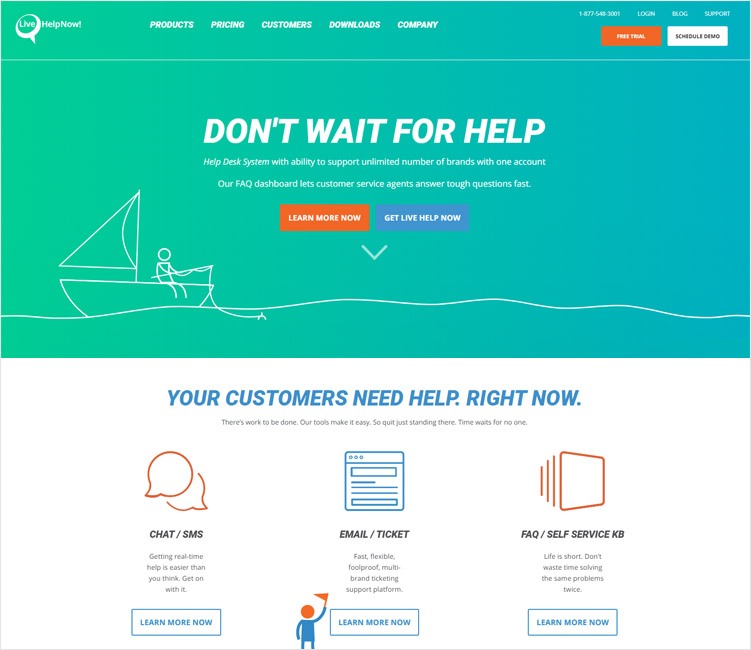 Key Features of LiveHelpNow:
Starts at an amazing price of $21 per month per agent and you can customize your package.
Realtime Visitor Monitoring helps you to monitor every visitor and collect significant information on an individual basis.
You can develop customized promotional ads and display them while chatting with visitors.
Patent Pending Billboards for boosting sales.
You can integrate it with any kind of CRM and has additional features such as Eventing API, Enterprise Integration Support, Remote Assistance and useful Plugins.
Get instantly notified about any callback requests.
The call management facility queues up your calls and gets them assigned to operators automatically.
It offers 30 days free trial.
---
LiveChat is one of the most renowned and trusted Live Support Software. It offers instant language translation services for hassle free communication worldwide. Cloud based security keeps all your data secured and is absolutely user-friendly with 100% uptime guaranteed.
Launched in 2001 as a SaaS model, LiveChat is highly affordable and comes with a bunch of amazing benefits. Widely used in 140 countries, LiveChat has 25,000 paid consumers across the globe.
Key Features of LiveChat:
With a single click, your customers can get in touch with you without any special software installation.
Web Analytics support helps to track audience and reward your efficient employees by monitoring performance.
Starts at $9.99 per month and is absolutely free for up to 2 employees.
LiveChat Knowledge Base helps to respond to customer queries based on keywords when no one is around to reply.
It does not install any extra software on your server and helps your customer even if your website is down.
---
Launched in 2001, Kayako is a cloud based consumer support platform that offers impeccable customer service. It is a SaaS based business model and is used by many businesses worldwide.
Kayako offers dedicated desktop apps for Windows and Mac. You can set predefined responses according to the keywords used by consumers. Available at a very optimum price range, Kayako offers numerous advantages for refined customer service.

Key Features of Kayako:
Starts at a reasonable $25 per agent per month
Communicate with the help of screenshots and pictures seamlessly while chatting to make it more visually interesting.
Kayako offers a free trial period of 30 days.
Agent Collision Prevention helps collaborators to reach every customer without double crossing each other.
Silent supervisor mode helps to train newbies by offering assistance while chatting without making it noticeable to your clients.
It also provides uptime guarantee and support through callbacks.
---
WhosOn is a Live Chatting Software which is owned and created by Parker Software. Launched in 2002, WhosOn also helps you to segment your clients on the basis of geographical location and repeated page visits.
WhosOn also provides powerful analysis reporting on the basis of Chats, Visitors, Peak Visitors, Total number of views and many other parameters. It can convert live chatting sessions into ticketing procedure.

Key Features of WhosOn:
It starts at an affordable price range of £16 per month per agent
WhosOn dashboard helps you monitor all your sites and all your chatting sessions in one place.
Engages visitors with personalized messages according to their requirements.
It provides a free trial period and offers Email2DB tickets through a web based form.
You have a remote desktop sharing facility during live chatting sessions.
Predefined welcome messages and questions can be set for proactive chatting sessions.
---
Comm100 is one of the most trusted global suppliers of enterprise-level consumer service and communication providers. Packed with multiple benefits at a very reasonably priced package, Comm100 offers world class communication services for absolute success.
With the help of a real time monitoring facility for visitors, Comm100 helps to convert prospects into loyal clients. It provides perfect Live Chat services for customer engagement and offers product suggestions, promotes special online offers, increases order sizes and boosts the rate of checkout conversion.

Key Features of Comm100:
Automatic Chat Routing helps to provide customer service round the clock.
Starts at a very affordable range of $29 per month per operator.
Collects vital information through analytics about every visitor according to their behavioural pattern.
Provides 100% uptime even if your server is down.
It also offers Live Chat API, Inbuilt Chat Auto Translation and Webhooks for higher efficiency.
---
WebsiteAlive is an award winning customer service software that offers social media and email campaigning integration online.
It has amazing offerings to boost your customer service operations and hike up your revenue margins to a great extent. Very easy to install and absolutely user-friendly, WebsiteAlive has a very light on pocket price range.

Key Features of WebsiteAlive:
Starts at a reasonable price of $20 per month per additional license.
It offers a 30 day free trial period for better understanding.
Click-To-Call service helps to convert your Hot Leads.
For increased efficiency, use Live Chat Sessions in email campaigns for a personalized touch.
When your operators are offline, AliveMessage helps you to easily turn a chatting session into a live messaging system.
24/7 live dedicated live chat operators for round the clock assistance.
---
Velaro offers flawless services especially to enterprises and has unique pricing without any hidden charges. It offers Live Chat services for customer retention, proactive sales and flawless customer service.
Stay carefree about your data security as Velaro offers amazing security features such as Sensitive Data Masking for keeping your vital information safe, Enterprise Password Management for setting up stringent rules to avoid hackers and much more.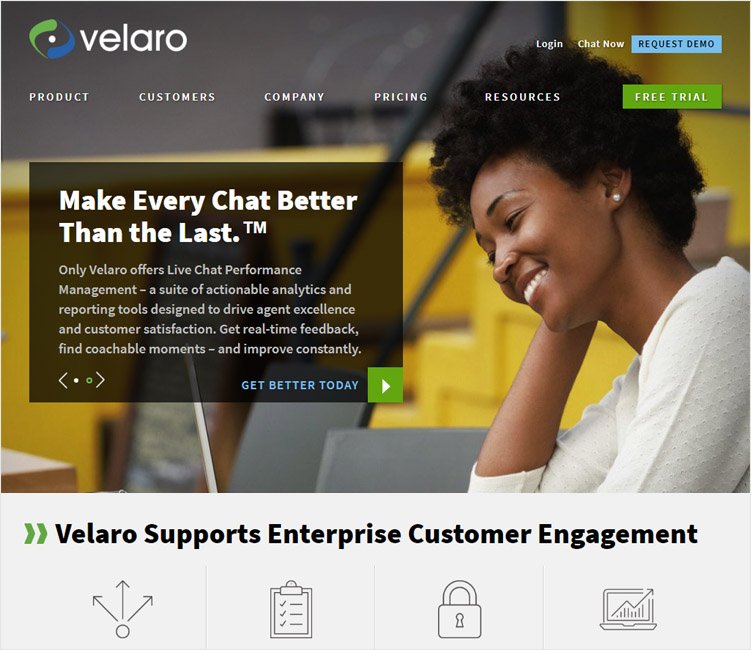 Key Features of Velaro:
Starts at an amazing price of $19.95 per user.
It offers a 14 days free trial period and upgrades it when required.
Easily integrates with social media channels for extracting available visitor information for personalization efforts.
It is the only provider of canned messages that help to generate better responses to FAQs.
Real Time Visitor Dashboard helps to keep an eye on current traffic on your website.
Visitor Page Navigation History facilitates the operator to understand the visiting pattern of each individual.
Skill-Based Chat Routing is a unique feature that helps to route visitors to agents on the basis of your operator's skill set.
---
BoldChat is one of the most popular Live Chat softwares that allows you to video chat and floating chat buttons makes it visually more attractive for visitors.
Customizable buttons, layered chatting windows for multiple chatting sessions, post chat surveys as well as chat unavailable email forms will clearly make you stand apart with BoldChat.
Till now they have assisted more than 300 million consumers in customer engagement. It offers amazing benefits and comes at a price that is absolutely light on your pocket.

Key Features of BoldChat:
It can be easily deployed across endless domains.
Starts at a price of $599 per year per agent.
Offers 24/7 dedicated customer service support.
It also offers proactive messages to your customers on the basis of routing rules for better customization.
Provides email, SMS and Twitter management.
It has real-time supervisor dashboard as well as a reporting engine and scheduler for hassle-free management.
---
Olark provides you commendable Live Chatting experience and has been appreciated by users worldwide for its premium benefits. Simply Copy your Olark code and paste on your site to start chatting.
It has amazing themes, attention grabbing texts and allows you to choose the language to make it look much more attractive in comparison to others.
Even if you have your customers in various platforms, Olark helps you to integrate all your conversations in a single platform.

Key Features of Olark:
Starts at an incredible price of $17 per month per operator.
Offers a free trial period of 14 days.
It can be seamlessly integrated with your existing CRM.
Screen Sharing helps you to solve issues faster by pinpointing them.
It helps to track the chat frequency along with operator responsiveness and client satisfaction.
Targeted Chatting facility helps you to focus on the right visitor and provide customized solutions easily.
---
Conclusion
Live Chat software is a very cost-effective and efficient way to augment customer service and increase sales.
It also helps you to monitor the performance of your website and reward your employees for quality work as well. Choose any one of these live chat software and stand out from the crowd.
You May Also Like:-