How to Use IPVanish
Editor Rating:





User Ratings:





(12)
Your decision to buy IPVanish is an excellent one; it makes you anonymous as you surf the web, you can stream content and torrent files, and you can also overcome geo-restrictions. If you are new to VPNs, you may be wondering how to use IPVanish on different devices.
This guide takes you through how to use IPVanish on your desktop or mobile, on Fire Stick, Kodi and also how to use IPVanish with uTorrent.

---
How to Use IPVanish on Desktop or Mobile
This is the most basic use of IPVanish – to secure everyday traffic on your desktop, laptop, tablet or mobile. Once you have the app downloaded and it's sitting on your device (make sure to create a shortcut during installation), here is what you need to do to get it to work:
Click on the icon; it will open, and ask you for a username and password. Use the same credentials you used when you were downloading the app and then click "Login". The next screen shows you your connection status, IP address, location and also "Quick Connect" preferences (country, city and server).
Choose the country and city you would like to connect through. VPNs (including IPVanish) have servers in different countries. To maximize speeds and reduce buffering, you should always connect to a server in the country from which you would like to browse. Say, for example, you want to stream content from BBC iPlayer. You will get better speeds if you connect through a UK server in London. Alternatively, you can go with the server that is suggested by the software. Click "Connect", and you will be connected to the internet through IPVanish.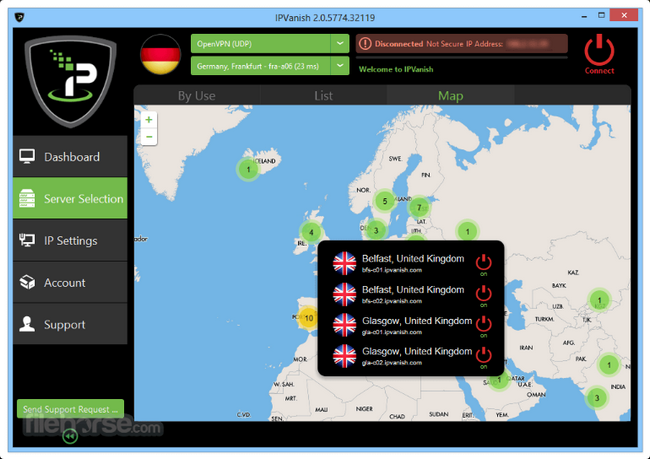 There is a "Settings" button that you can use to change IPVanish startup options, your connection and more. Within it there is a "General" tab and a "Connection" tab. Explore these tabs to see how you can best optimize your settings.
You can log out of IPVanish by clicking on the three dots on the top right-hand side of the app. However, we recommend that you leave it on at all times.
---
How to Use IPVanish on Firestick (and Fire TV)
The Amazon Firestick is a small device that you plug into your smart TV's HDMI port to gain access to TV shows, movies and other content. It is the size of a big USB drive, so it is portable – you can take it with you to a friend's house, on vacation, to work and so on.
Firestick allows you access to thousands of apps including Netflix, HBO, YouTube, ESPN and more. Here's how to use IPVanish on Firestick:
Open any browser on your device and go to the Amazon store. You can also go straight to your Amazon account where you will see a "Get App" icon on the right side of the screen.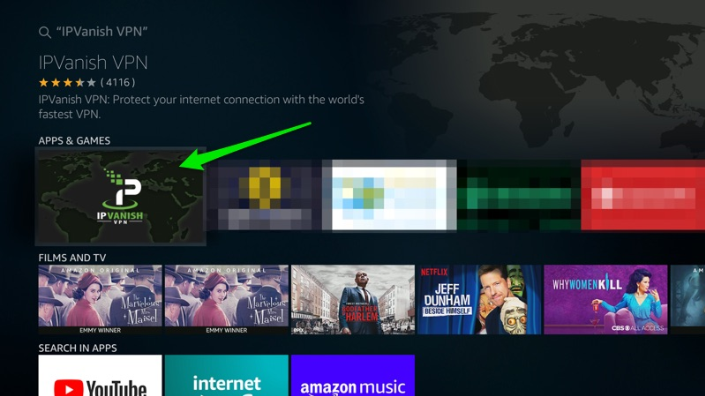 Click on the icon to get a search bar and then type IPVanish. Once it appears click "Install" to get the software onto the Firestick.
After installation is complete you should click the "Open" button. You will get a login screen. Use the same credentials that you use on your IPVanish account.
To activate IPVanish click "Connect". You might see a message telling you that the Firestick would like to monitor your traffic. This is normal and shouldn't worry you. Just click "OK".
Your Firestick/IPVanish connection is now active. You can safely stream content from lots and lots of channels and no one can see where you are or what you're doing.
There is a "Disconnect" button to switch off the VPN, but you shouldn't do that as it can mess with your settings. We recommend that once you have installed, leave it running at all times. However, if you'd like to get off the VPN for any reason, hit "Disconnect". You'll have to reconnect to re-activate your connection.
---
How to Use IPVanish on Kodi
IPVanish is ideal for Kodi because it is affordable, easy to install, provides full encryption and is good for P2P. Installing it is easy. The following steps assume that you are installing IPVanish with Kodi on popular operating systems: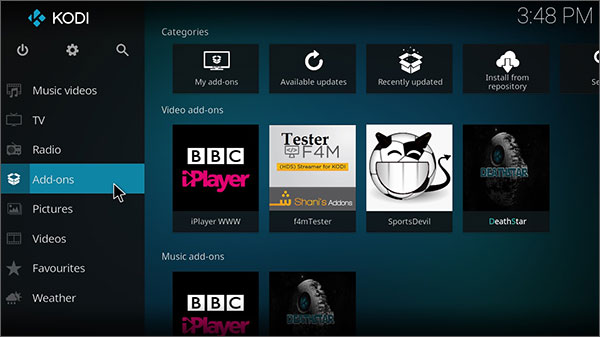 Buy an IPVanish subscription, install it on your device and activate it (read How to Install IPVanish).
Click on the app and choose a country and city through which you would like to be connected. Click "Quick Connect".
Your Kodi device is now connected and you can stream content safely.
---
How to Use IPVanish with uTorrent (and torrenting in general)
IPVanish is loved in the torrent community because it is fast and secure, and allows access to all sorts of content. It doesn't keep logs, so users don't have to worry about authorities coming after their torrent history.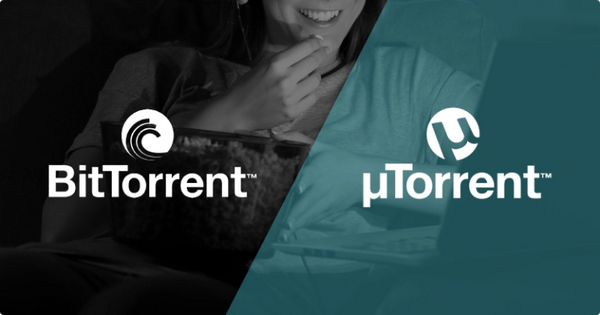 Here's how to use IPVanish with uTorrent:
Let's assume you have already downloaded the app on to your device, and you have the shortcut on the desktop. The first step is to log in using your IPVanish credentials. You should also have uTorrent downloaded. You can get it in Google Play Store.
When torrenting we suggest you choose a server in a country that is torrent-friendly. Netherlands, Spain, Mexico and Switzerland are some that come recommended. Netherlands and Switzerland seem like the best options because there are so many servers in this part of the world, but remember these servers see a lot of P2P activity and this tends to slow down speeds. If you find speeds are low, you can select Mexico or Spain. This is not to say that other servers will not work.

IPVanish comes with a kill switch to ensure that your IP is never leaked. Remember to engage it before you get started. Go to "Settings", and under the "Connections" tab you will find a kill switch. Activate it. Keep in mind that after you activate the kill switch, if you disconnect IPVanish it also disconnects your internet. To get it working again just reconnect the VPN.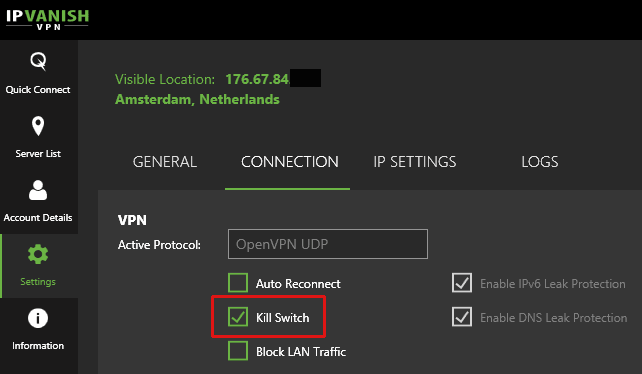 At this point you may want to check what IP address others see when they connect with your device. There are online tutorials for this. You want to make sure that the visible IP address is different from your real one.
It's now time to configure uTorrent. Open it and go to "Options" and then "Preferences". Select "Connection" and then: uncheck everything under "Listening Port", in "Proxy Server" check the "Authentication" box, for "Type" choose Socks5, and for "Port" choose 1080.
Enter your username and password, and the under "Proxy Server" and "Proxy Privacy" and then check all the boxes in that section: use proxy for hostname lookups, use proxy for peer to peer connections, disable all DNS lookups, disable features that leak ID information and disable connections unsupported by proxy.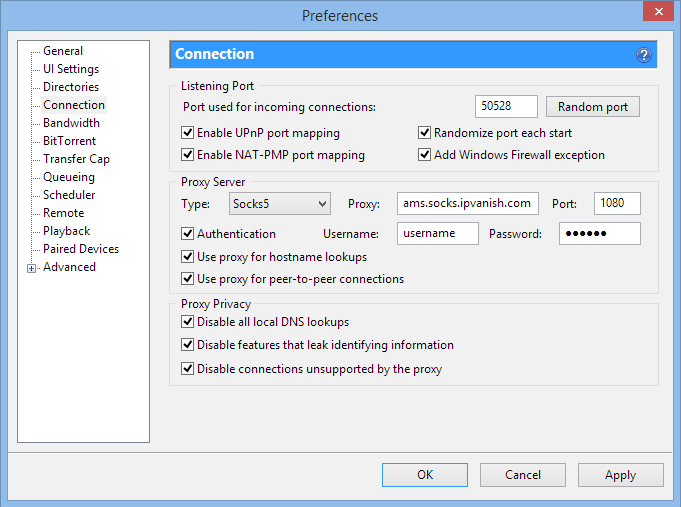 Click Apply and OK at the bottom of the dialog box. Restart uTorrent. You are now ready to start torrenting anonymously.
---
Conclusion
IPVanish is one of the best VPNs for devices like Kodi, Firestick (and Fire TV) and also for torrenting. Once you are connected through it you can overcome geo-restrictions, stream content from different channels and you can torrent safely and without limitations.
If you follow the steps that are outlined in this post you should be able to use these devices safely. However, should you encounter any problems, the IPVanish support team is always available, and you can get in touch with them through Live Chat on their website.