How to Use CyberGhost VPN
Editor Rating:





User Ratings:





(1)
CyberGhost VPN comes highly recommended for users who would like to surf the internet anonymously, protect their data from prying eyes, stream content from various channels and torrent files. Buying and downloading the software is just the first step. It is important to understand how to use CyberGhost VPN so that you can enjoy all the protections it has to offer.
This post takes a look at how to use this software to protect commonly used devices.
---
How to Use CyberGhost on Desktop & Mobile
Most users will buy CyberGhost because they want to be able to surf anonymously from their desktop and mobile. The process of getting it to work is uncomplicated, and if you follow these steps, you should have it working in no time.
Let's assume that you have already installed the app on your desktop or mobile. If you haven't, click here to start the process. After installation, a shortcut will appear on your screen. Click on it to open the app. It opens to show you your connection status (Not Connected) as well as your server options.
The app has a default server setting which you'll see at the bottom. It chooses the best server for you depending on your location. If you would like to choose a server, you can click on the drop-down menu. Servers are listed according to use. If you're happy with the server, click on the power button to launch the VPN.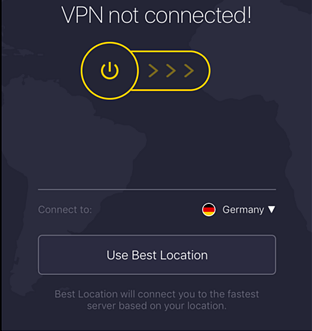 After you are connected the app will tell you what country you are connected through, and the IP address that your computer or mobile has been assigned. If you would like to see connection stats, including speed and how long you have been connected you can click on the little tab right below the server.
On the top right side of the app there is a settings button. You can use it to see your account status. This is the place to go if you would like to share CyberGhost VPN with friends. You'll also be able to see when your subscription expires and the renewal date.
There are additional settings that you can change. You can activate "Autostart", which starts the app automatically each time you start up your device. If you would like to connect the app automatically each time, go to "Smart Rules" and click on "Startup". You can also choose your preferred language.
Under "Settings" there is a "Connections" tab. If you click on it you can choose the VPN protocol you would like to use, change from a UDP connection to TCP, activate DNS leak protection, allow your device to use random ports to connect and more.
If you are happy with your settings and server, just go on and surf the net as you normally would. You can also start streaming content or torrenting files.
How to use CyberGhost VPN may vary depending on the kind of mobile device you have. The app is intuitive, and if you follow the prompts you should be able to launch it and use it without too much trouble. However, if you run into problems you can refer to the guides on their website or contact customer support.
---
How to Use CyberGhost on Firestick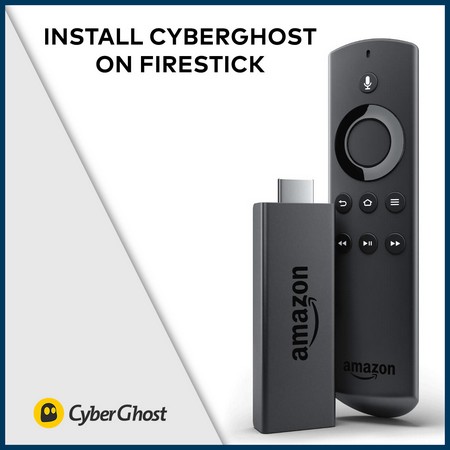 Amazon Firestick is a great solution for all who would like to watch Amazon Prime on demand, but if you use it by itself, you'll experience some limitations. Prying eyes can see what you are streaming, you will be geo-blocked from some regions and you may not be able to integrate it with other devices around the home. One way to overcome these restrictions is to use a VPN, so here's how to use CyberGhost on Firestick:
You can find CyberGhost in the Amazon app store. There are many ways that you can install the app on Firestick, and some of them are complicated. Here we will discuss the easiest one.
The first step is to make sure that you have subscribed to CyberGhost. Open Firestick and then search for it (it's available in the Amazon app store). When it appears, it will have a "Get" or "Download" button. Click on it to install. After installation is complete, open it and log in using your credentials for the VPN. It's now ready for use.
Scroll to the end, and you'll see a "Start" button. When you click on it you'll be prompted through a few confirmations, and then you'll see the CyberGhost app. Go to "Menu" and click open. You'll be asked to log in. Use the same user name and password that you use for CyberGhost.
Once the app opens, you can choose the server you would like to stream through, and then start streaming as usual. CyberGhost VPN will run in the background to provide you with excellent streaming speeds, protect your identity and allow you to access content from around the world.
---
How to Use CyberGhost on Kodi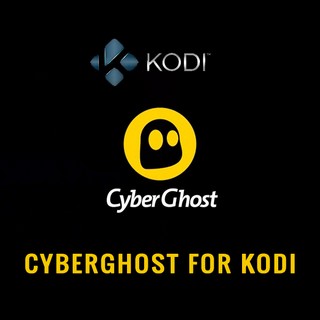 Kodi is great for streaming content because it comes with many add-ons that allow access to many different channels. It's not advisable to use Kodi without a VPN; you will be downloading a lot of copyrighted content, and this can land you in legal trouble. Also, if you don't have a VPN you are not able to bypass geo-blocks, which limits access to content.
If you want to enjoy total anonymity and a multitude of TV channels from different countries this is one of the best ways to do it. You can use this TV box for content, music and gaming. Kodi is open source, and is maintained and updated by highly skilled coders. Kodi works with all sorts of devices.
The great thing about CyberGhost for Kodi is that it's easy to use. Only a few simple steps are required:
The first step is to download CyberGhost. There are several available plans, so choose the one that works best for your current and future needs. Install the software on your device and log in.
The first step is to make sure that VPN is running before you launch Kodi. If you launch Kodi before you start CyberGhost you may experience hiccups with IP address clashes.
Once both the VPN and Kodi are running you can make a few changes to the settings to make sure everything is optimized. The first is to choose a server that you would like to stream through. CyberGhost VPN has many servers, and some are set aside specifically for content streaming. Any of the servers on this list will work, but you will get better speeds if you choose a server that is in the country that you would like to torrent from. If, for example, you are interested in content from BBC iPlayer, you should choose a UK server.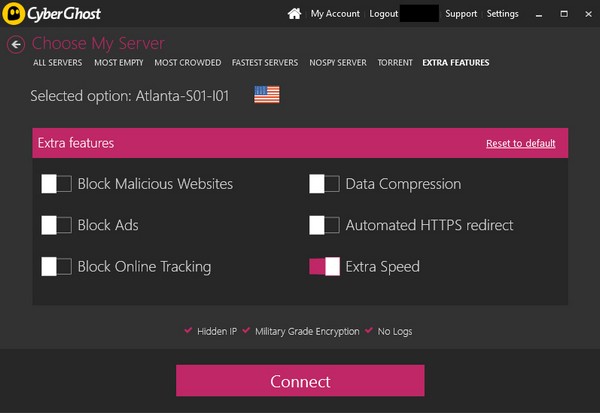 When you choose a country to connect through you will see a list of servers, and you need to choose the one you think will work best for the content you plan to stream. Each server shows the user load; choose the server with the lightest load as it's the one that has the least data flowing through it. There are additional settings, and we recommend that you activate them. They include an option to block malicious sites, ads and online trackers, data compression, extra speed and automatic HTTPS redirection.
Adjust the settings and then click the "Connect" button. Once you're connected the interface will look like this: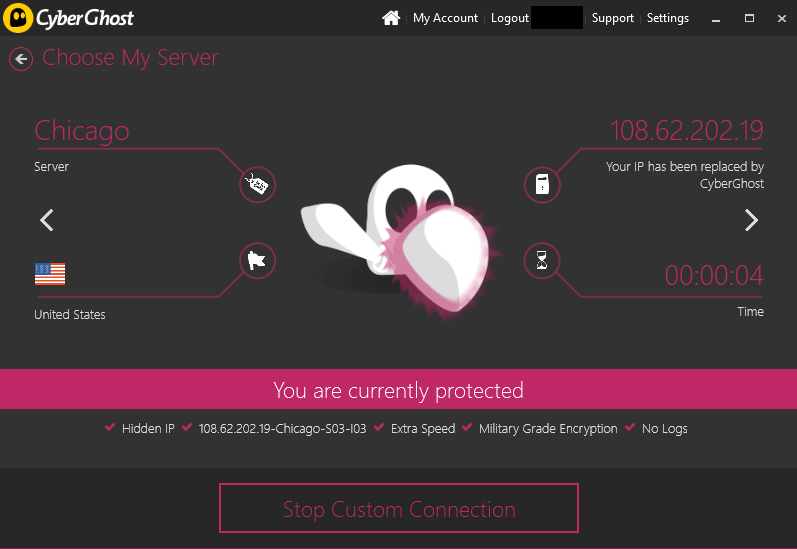 It's a good idea to change settings so that CyberGhost is activated each time you turn on your computer. Go back to the CyberGhost app and at the top left, you'll see a "Settings" button. Click on it and under "General", enable "Automatically run system at startup". Under "Run this profile on startup" there's a dropdown menu that asks you to choose a server. Choose the server that you would like Kodi to connect through each time you start your computer. You can also choose your preferred language.
Kodi is now activated, and any data that you stream through it is encrypted and therefore anonymous. Just open it on your TV and choose whatever you'd like to watch.
---
How to Use CyberGhost with uTorrent (& Torrenting in General)
CyberGhost doesn't openly promote torrenting on its website, but it is one of the best for P2P. It has thousands of servers, some of which are set aside specifically for downloading torrent files, it has strong encryption, doesn't keep logs or leak IP addresses, and it has a kill switch. It's also fast, which means you can download large files very fast. Here's how to get it working:
Open the CyberGhost app and then go to the list of servers. Some are set aside for torrenting. That's not to say that the others won't work, but the ones on this list are optimized for this particular activity, so you'll enjoy faster speeds and top-quality encryption.
The best servers for torrenting are those that are nearest to you. As you choose also look at server load. This refers to the total amount of data passing through the server at any one time. The lower the server load, the better. You should check the number of people who are connected to the server. It determines how long it takes for your device to establish a connection.
After you choose a server you can open uTorrent (or any other torrent client) and download files.
You may want to connect through a server in a certain country only to find it missing from the list. This is because some countries allow P2P activity only if the VPN company agrees to maintain logs of user activity. Because CyberGhost has a strict no-logs policy, it chooses not to direct any P2P traffic through these countries.
---
Conclusion
CyberGhost is a worthy investment, especially if you take into account that it protects all your devices using the best encryption available today. Your data will not fall into the wrong hands, and it allows you to go around geo-blocks and access websites that would otherwise be beyond your reach.
Learning how to use CyberGhost VPN with different devices is easy enough. If you are a novice with this type of software, you may find the process a little challenging at first. This is normal, and the more familiar you get with this tool, the easier it is to use.
If you encounter hurdles along the way, the CyberGhost customer support team is ready and able to help. They are responsive and knowledgeable, and they will assist without delay.