How to Choose the Right Sales CRM for Your Business
Your success depends on making your customers successful. A sales CRM brings insight into the customer buying journey, helps keep track of customer interactions, and your sales team has access to the information they need to close deals. How to choose a sales CRM that satisfies your needs? Read on to find out.
Twenty years ago, a sales CRM system was a program for sales reps to keep track of customers and sales. For most, a spreadsheet was sufficient. They'd use it to record customer names, contact details and purchases.
Today, CRM systems have evolved. Business owners now understand that building customer relationships is the way to build any business.
As a result, these systems are more complex and provide wide-ranging insights into customers, as well as the sales process. If you choose the right sales CRM system you'll transform the customer experience and improve engagement. You make your customers happy and increase revenue.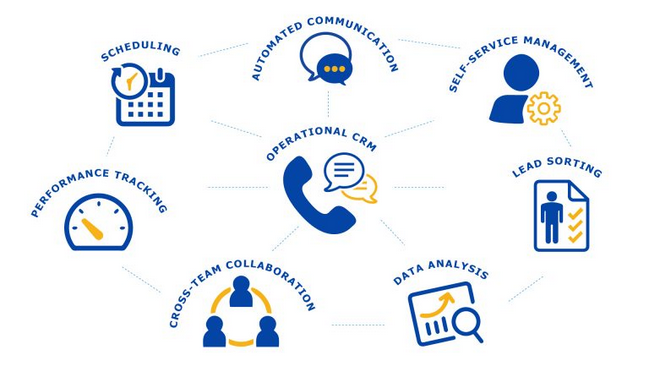 They are also excellent forecasting tools that tell you how your business is likely to perform in the coming weeks and months.
Unfortunately, finding the right customer relationship management software isn't easy. Not only do you have to find software that fits your budget, but it also has to fulfill your business's unique needs.
This post is all about how to choose a sales CRM system. We'll discuss what factors you ought to take into account as you vet different software, as well as recommended tools for small and medium-sized businesses.
Before we explore how to choose sales CRM software, let's look at what it can do and why you need it in the first place.
---
What is a Sales CRM System?
It is any tool that you can use to improve customer relationships, thereby increasing sales. Its primary function is to track interactions with prospects and customers.
One of the most commonly asked questions about sales CRM software is "why can't I track customers on a spreadsheet? What advantages does a CRM system offer?"
You don't necessarily need a sales CRM if you only handle a few clients and if you don't want to grow your business.
Similarly, if you don't want to build your brand and get your customers coming back again and again, a sales CRM system is not necessary. You can track the little information you generate on a spreadsheet.
However, if you are looking to grow your business, build brand awareness, get repeat business and generate new leads continuously, you need a sales CRM system.

It brings together different functionalities that you can use to collect vital information about your customers.
CRM systems can vary depending on the department you have in mind.
A customer service department, for example, would need a CRM that can track customer queries and complaints and see that they are resolved.
A marketing team needs a CRM that shows them how each customer responds to different campaigns. Sales teams need a CRM that tells them buyer history and interactions.
What CRM you choose is influenced by who you're buying it for and the goals you have in mind.
---
What Are The Advantages of Using a Sales CRM?
It allows for better customer service
The core function of sales CRM is to improve customer engagement. Knowing more about leads and prospects means you can give them exactly what they are looking for. Happy customers are more likely to return and buy again.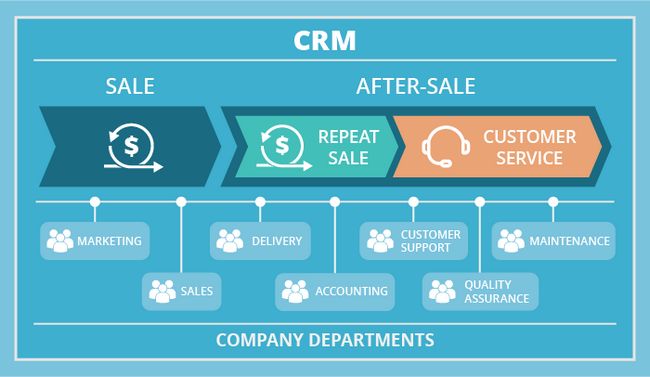 A good sales CRM system increases sales
The right sales CRM system will streamline the sales process. It builds a pipeline and shows you at a glance where customers and leads are within the pipeline. It also automates tasks, giving your team more time to focus on more productive activities.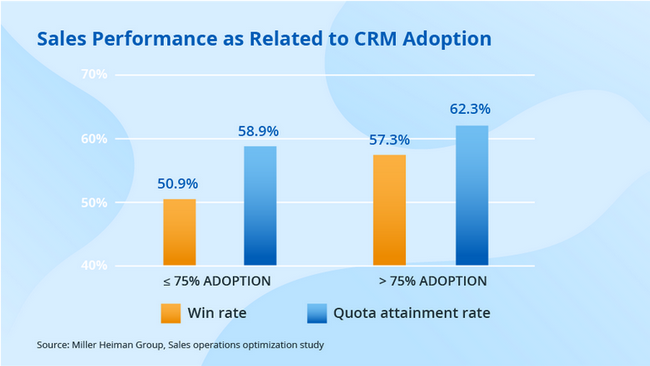 A CRM will define the sales process step by step, and all data is in one centralized location making it easier to follow up leads and close sales.
You improve customer retention
What happens to customers after they buy from you? How often do they come back to buy a second or third time?
A sales CRM system allows you to improve customer relationships. If they trust your business they are likely to come back and even become life-long customers.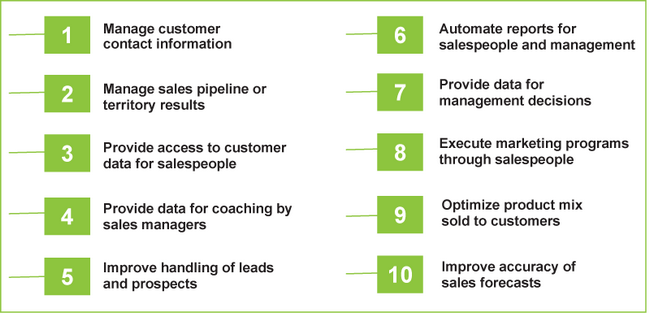 CRM sales systems provide in-depth analytics
You may collect lots of data about your customers and prospects, but it is meaningless if you don't know what it means.
If you choose a sales CRM with the right features it will have an in-built analytics module that breaks down data into understandable metrics and tells you what actions you ought to take next.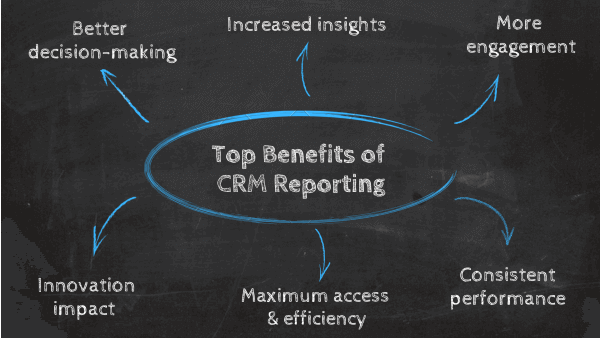 A good sales CRM improves productivity and improves efficiency
CRM software automates processes that would otherwise take processes to complete.
You can initiate things like drip campaigns with the click of a button, collecting leads and creating emails is a breeze, and your sales team no longer has to spend time chasing down customer information.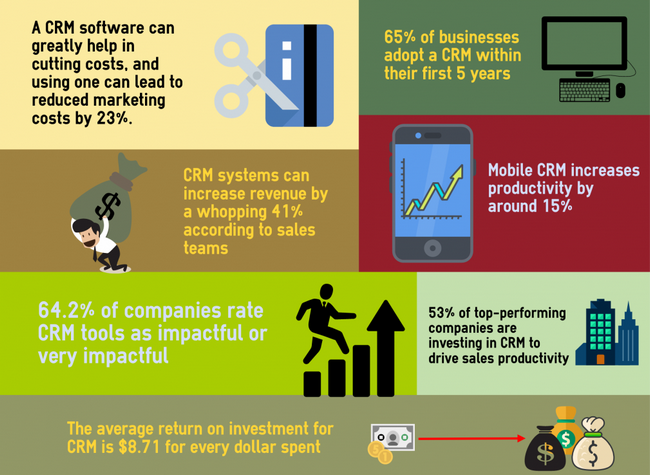 You can manage communications with prospects and customers
Lead nurturing isn't easy, and that's why so many prospects end up falling through the cracks.
With a CRM system, you can see each customer's journey and where they are in the sales pipeline. It will even tell you what you need to do to move the lead further down the pipeline towards a sale.
A sales CRM segments your lists
One of the most common mistakes that businesses make is sending blanket emails to everyone on their list.
A sales pipeline segments your list along different demographics, and you can send appropriate emails to the right customers at the right time.
It provides detailed reports
You no longer have to analyze business data and try to understand what it means and what you should do next.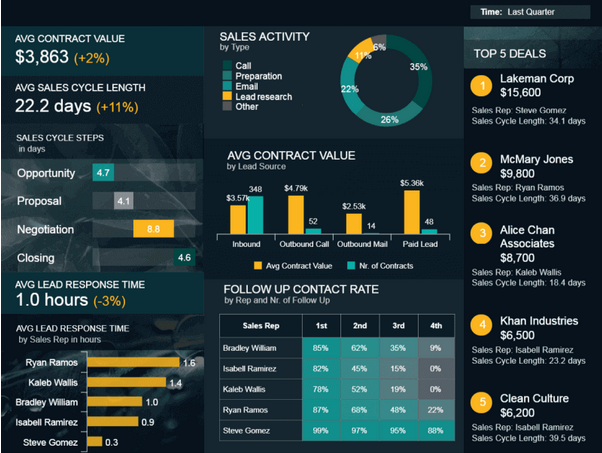 With a sales CRM, you can produce detailed reports at the click of a button, and they can be shared among all stakeholders.
---
How to Assess Your Needs For a Sales CRM System
Business owners are often confused about the best time to invest in a sales CRM system. It doesn't make much sense to buy one right at the inception of the business as you don't have customers yet.
Growing businesses will usually invest in customer relationship management software within 2 years.
How do you know it's time for you to choose a sales CRM?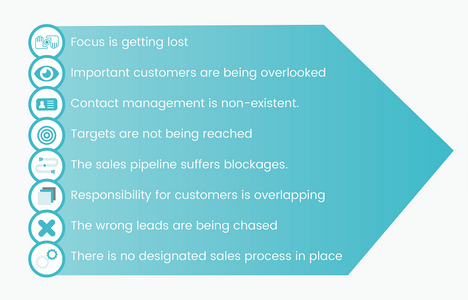 There are different ways to know whether or not your business is ready for a CRM.
If it is growing, and you already have 50 or 100 customers in your database, it may be time for you to consider a CRM.
If you cannot keep track of customer details, their purchases and communications, things are falling through the cracks and CRM software is the only way to stop customer attrition.
When your sales team starts spending more time looking for customer information instead of doing actual sales, it's time for you to invest in CRM.
If you're asking your customers questions like "When was your last order?" "Have you spoken to anyone else from our company?" "How long have you been a customer with us?" or "What subscription plan are you on?" it is time to buy a sales CRM system.
If you cannot make sense of the data you generate from your sales pipeline, a CRM will help you crunch data from campaigns and give you actionable reports.
You get the drift; it's all about introducing efficiency, better customer tracking and reporting, you are ready for a sales CRM system.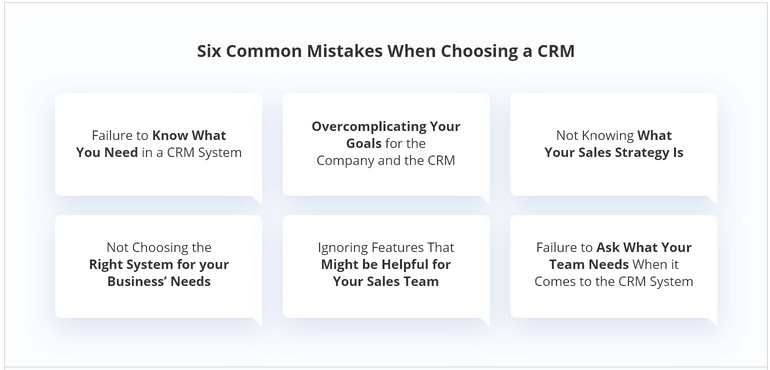 ---
How to Choose The Right Sales CRM?
Here's what to take into account:
Business goals – You can break this down into three: how much revenue do I want to make in the next year, how many customers do I wish to acquire and how much can I afford to spend?
What do you want customer relationships to look like in your business? What defines success? Remember, CRM sales tools are all about prioritizing the customer, and everything else comes second.
What CRM features will you need to support and achieve your goals? At the very least, it should have a contact management system, a sales pipeline, a task management system, a centralized database, automated data capture features, marketing automation, a dashboard and a detailed reporting system. It should also work well on mobile.
What to Consider When Evaluating a Sales CRM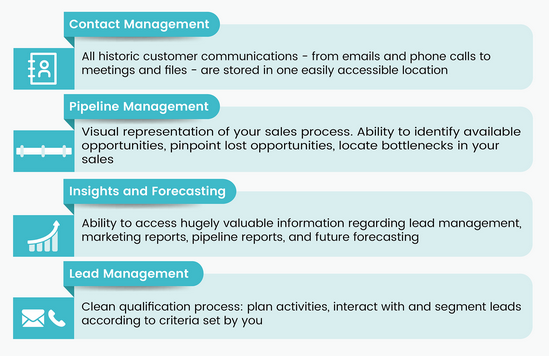 To know which sales CRM to choose, ask the following questions:
Is the system built for small businesses? And can it accommodate a growing business?
What does the implementation process entail? How long will it take to install and how much technical assistance will you need?
Is it easy to use? How much training time will you need for each employee?
Does the software integrate with other software you're already using?
How secure is the system? Remember, you'll be collecting user data, and you want it to be secure at all times.
What is the cost of the software, and can you afford it as your business grows?
Can the software scale? What happens in three or four years when you quadruple customer numbers?
What are the user minimums, and does your business qualify?
---
The Tools We Recommend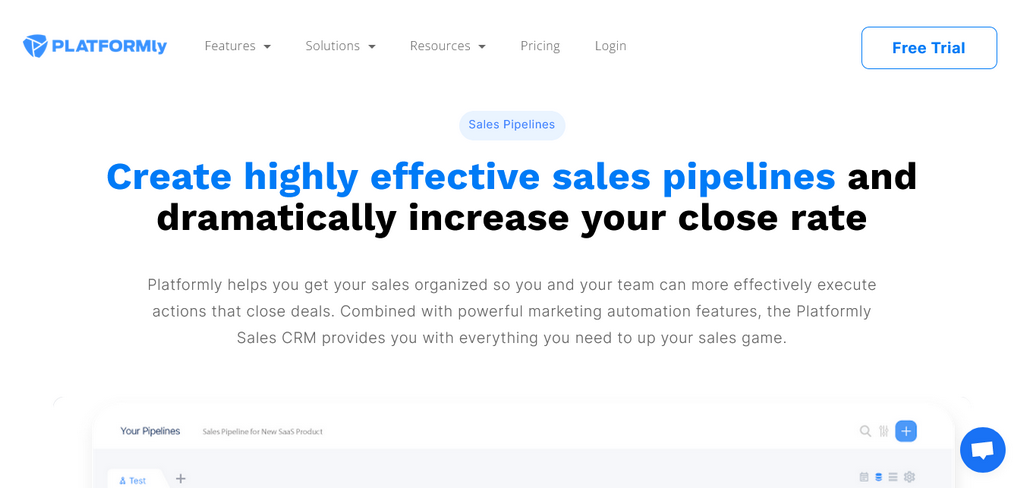 The Platformly sales CRM is all about getting sales data organized so that your team has all the information it needs to close deals.
It is part of the full-stack Platformly sales and marketing software, and it focuses on helping you develop better customer relationships that positively impact your bottom line.
The software is designed for small and medium-sized businesses and although it is packed with advanced features, it is easy to set up and use.
You'll use it to create a sales pipeline to track all customers and leads, collect fresh leads using the opt-in forms. Your sales team will have all the information at their fingertips to close deals faster and more efficiently.
| | |
| --- | --- |
| Pros | Cons |
| The software brings together modules for sales, marketing and CRM | It doesn't have a free version or free trial |
| It's easy to use with an intuitive UI and has a short learning curve | The `software needs more landing page templates |
| It is highly effective for lead capture | Integrations are fewer than in some other tools |
| All leads are automatically transferred into the sales pipeline | It can take time to understand how all functionalities are linked |
| You can see all contacts and deals, as well as contact details and communication to date | |
| It qualifies leads and tells you the ones that are likely to convert | |
| You can schedule all sales tasks – calls, meetings, emails and more | |
| The list segmentation feature allows you to target the right leads with the right message | |
| It supports multiple integrations | |
| You get detailed reports and it has a data-rich business dashboard | |
---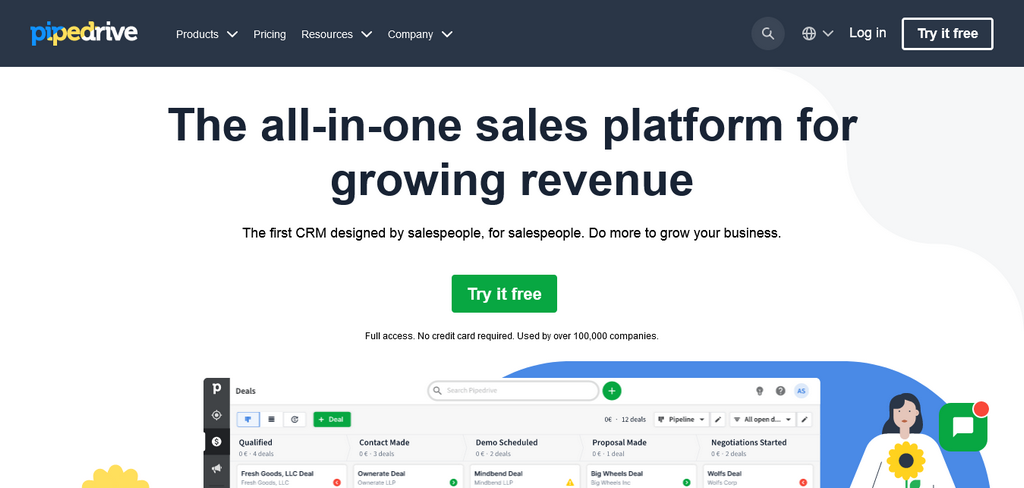 If you are new to sales CRM software PipeDrive might be a good choice; it has all the basic features of customer relationship management software, is uncomplicated and easy to learn and is affordable.
You can use it to build unlimited deal pipelines and you can move deals from one stage of the pipeline to another with a simple drag-and-drop.
The software has a calendar to schedule tasks and several automated workflows to increase efficiency. You also get customizable detailed reports, and the software is easily scalable.
| | |
| --- | --- |
| Pros | Cons |
| It is affordable; ideal for businesses with small budgets | It has only basic CRM features; if you're looking for premium features this isn't the software for you |
| The software comes with plenty of training materials | The project management features are rather basic |
| It's easy to spot trends and find answers to questions about your pipeline | It doesn't have a free plan |
| Customize each level of the pipeline to align with unique business needs and goals | |
| Adding deals, activities and contacts is easy | |
| You can connect emails with the contact module to gather customer data and see previous communications | |
| It allows you to assign specific tasks to team members | |
| It tells you what to do at each stage of the pipeline for each contact | |
---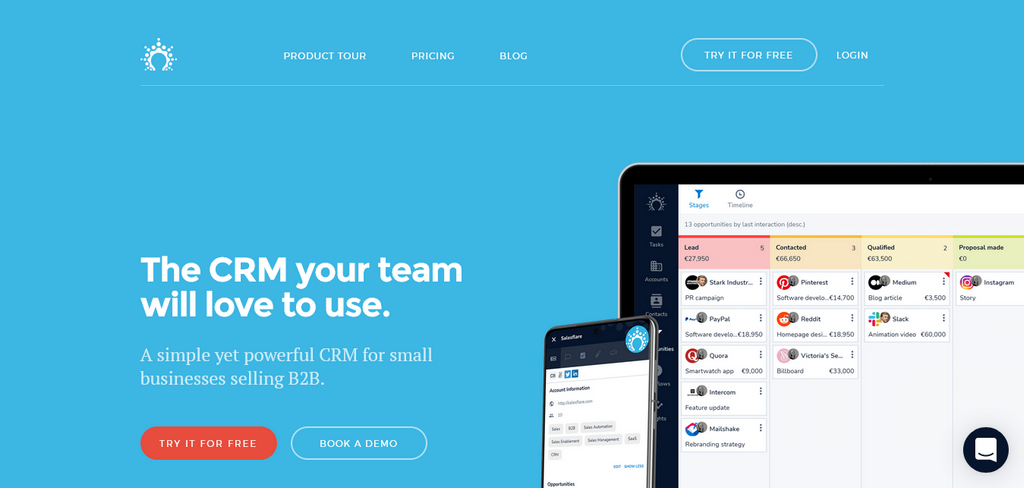 Salesflare is a B2B CRM system that brings together data entry and workflow automation. You can use it for email campaigns, website engagement, lead tracking and contact and account management.
If you need to manage multiple contacts and have a high volume of client interactions, this software will do just fine. Sales teams can automatically log meetings and phone calls to refer to later.
You also get a lead and opportunity management feature and you can track how many of your emails are opened, and what activity there has been on your website.
| | |
| --- | --- |
| Pros | Cons |
| It has an easy-to-use drag-and-drop visual pipeline | It has limited customization options |
| The software integrates with a variety of sales and marketing apps | There is no free plan |
| You get good engagement tracking tools | You don't get phone support |
| The software provides in-depth revenue projection tools | It is more expensive than competitors with similar features |
| Customer profiles are populated automatically | |
| It is a good tool for monitoring sales | |
| You can see an overview of where a client is in the sales pipeline | |
---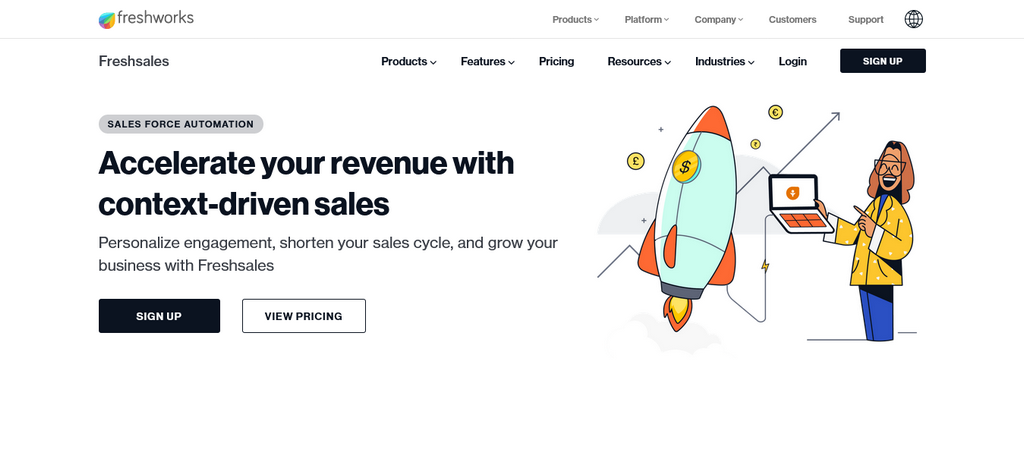 With Freshsales you get an affordable price tag and an easy UI. It works well for small and medium-sized businesses, with features like lead and contact management, deals management and in-depth reporting.
It has an alert system to remind you of stale deals that need attention, as well as contract renewal.
You can see all your conversations with any contact in the system, and it has a calendar where you can schedule activities. It also allows bulk actions like emailing and assigning tasks to team members.
| | |
| --- | --- |
| Pros | Cons |
| It makes CRM easy for small and medium-sized businesses | The free plan doesn't give reports |
| You get lots of customization options | You only get lead generation tools with the Enterprise plan |
| The software has a proactive AI assistant | It integrates with fewer sales and marketing apps than others in this category |
| It integrates with a variety of software | |
| The UI is intuitive and easy to use | |
| You get a mobile app with voice-note capability | |
| It produces in-depth reports | |
| It is available in multiple languages | |
---
FAQ
How do I choose a CRM for my business?
The best CRM is the one that gives the customer the best experience. Think about your sales process, and how you interact with customers. What needs to change to make for a better customer experience?
Above, we have outlined the steps you need to follow to choose a sales CRM that will keep customers coming back again and again. If you do it right, your brand will grow organically.
Which sales CRM to choose for a retail business?
Choose a sales CRM that gives you a better understanding of your customers, automates tasks, collects important customer data and segments email lists. It should provide in-depth reports about all aspects of sales and customer service.
Does a small business need a sales CRM?
At the very beginning, when you have just a handful of clients you don't really need a CRM – you can keep track of customer details using free tools like Excel.
However, as your business grows, so do your customer numbers. Ideally, any business that has more than 50 customers should have a customer relationship management system.
---
Conclusion
Learning how to choose a sales CRM is the first step towards building better relationships with your customers. This in turn builds your brand and improves your bottom line.
There are many CRM systems, some with tempting offers. Don't pick one just because it is cheap or because it is made by a familiar software company. Think about your needs, and the needs of your business and then choose software that is a good fit.
If we had to select one, Platformly would be it. We like that it is feature-rich. It is a full-stack sales, marketing and customer service software, so you will not need to invest in any other apps.