How to Choose The Right CRM For Your Business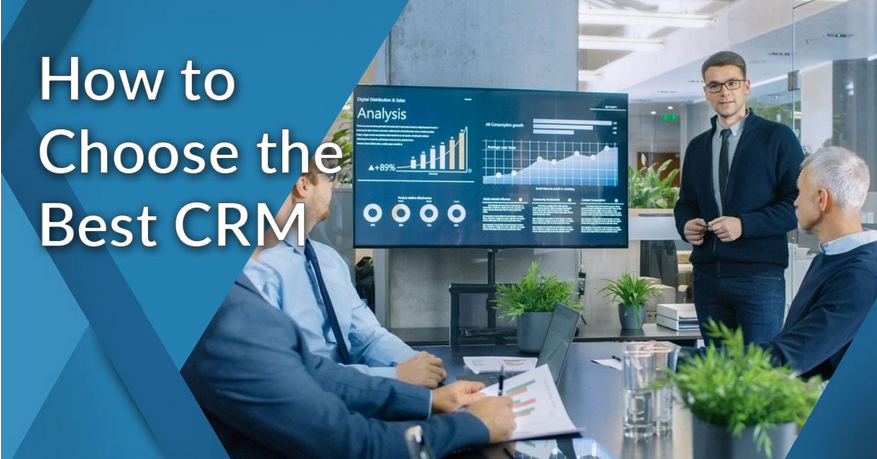 How well do you know your customers? Do you know your prospects and what they want from your business? Have you built solid relationships with existing clients? The only way to do this effectively and efficiently is with a CRM. Keep reading to find out how to choose a CRM that works for your business.
Whether your business is a B2B or B2C, an in-depth understanding of your customers, prospects, and their needs is vital. It's the only way you can gain the necessary insights to supply exactly what they need and keep them coming back.
You can only do this with customer relationship management software. It provides a solid platform for making data-driven decisions. It also delivers accurate forecasts, tracks sales, automates workflow and much more.
The statistics for CRM systems make it clear that businesses that choose CRM flourish, while those that don't lag. A quick look at the numbers is telling:
The average return on investment for every dollar spent on CRM is $8.71.
81% of all effective organizations use CRM for day-to-day operations.
CRM software increases sales by up to 29%, productivity by up to 34%, and forecasting accuracy by up to 42%.
CRM increases customer retention by up to 27%.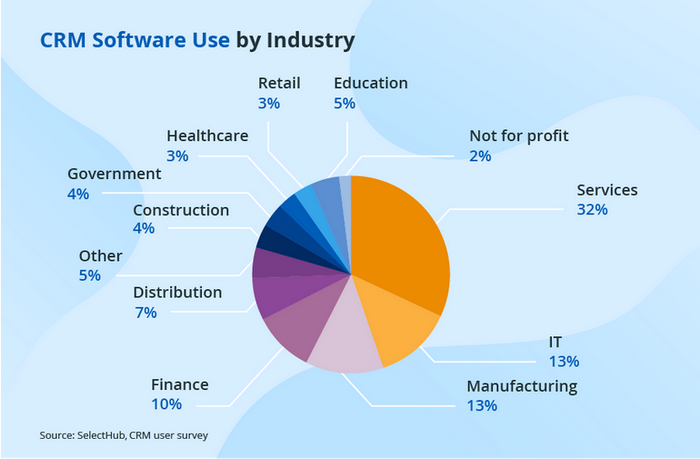 The numbers make it clear that if you don't already have a customer relationship management system, you are hurting your business.
Read on to find out why you need a CRM, how to choose CRM systems, as well as our recommended CRM software.
---
What Are The Advantages of Using a CRM?
Exactly what can your business hope to gain by using a CRM? These systems cost money, and it's important to define whether or not an investment will bring tangible benefits to your business.
Understanding the advantages also helps you figure out how to choose the right CRM.
By knowing what you can expect from a customer relationship management system, you are also better able to assess whether or not it's working.
Here are CRM's main benefits:
CRM systems were initially created to help businesses better track and manage customers. Although they have evolved, this remains a core functionality of these systems.
Today, we use CRMs to gather all important information about customers – demographics, purchases and previous communications – so that we can anticipate their needs.
Once you adopt customer relationship management software, the data is available to everyone in your business who needs it. Decision-making becomes easier, with better results all around.
In most businesses, a significant percentage of sales is lost each month because leads fall through the cracks. You can eliminate such losses by learning how to use a CRM system.
It keeps all leads in a central place and establishes a process that the sales team can use, right from lead capture until they close a sale.
Enhanced Customer Retention
You put a lot of work and money into procuring leads, but how many of them do you retain?
Customer turnover is a huge problem for small businesses – they do not know how to go about getting repeat sales.
A CRM helps you understand your leads so that you can keep them coming back.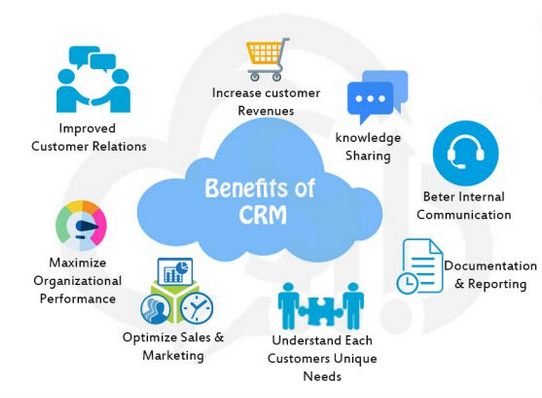 What do you do with all the data that you gather from your customers? Do you know what it means and how it can help push your business to the next level?
A good CRM will help you with that. The best ones analyze data and produce detailed reports with a single click.
Higher Productivity and Efficiency for the Whole Business
When you have a CRM, all information that the sales team needs to bring new sales, follow up existing customers and strengthen brand loyalty sits in one place.
They can see how often a customer buys, when they last bought, and vital data like click-through rate and bounce rate.
Salespeople no longer have to spend time chasing down information; they can focus on activities that help them boost sales figures.
With a CRM in place, you no longer have to think about following up with customers; gone are the Excel spreadsheets and hand-written diaries.
The system alerts you when you need to communicate with a lead and you can automate emails and alerts.
Improved Internal Communications
Do you know what your employees do to close a sale? Do they know what's required of them?
A CRM takes the guesswork out of the equation because you can track employee sales activities and provide assistance as needed.
Unfortunately, when it comes to how to choose the right CRM, many small business owners have no idea where to start.
---
How to Assess Your CRM Needs?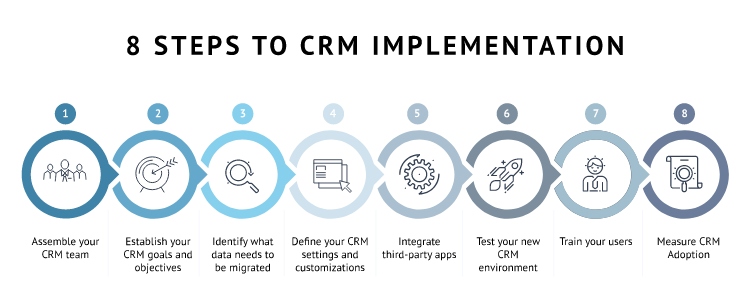 There is no doubt; a CRM is a must for any business that is looking to grow. Unfortunately, choosing one isn't easy.
Not only are there many solutions available in the market, but you also have to figure out your own business needs and match them with the functionality of the software you have in mind.
There is no one-size-fits-all for assessing CRM needs because every business is unique. However, there are certain questions you can ask to set you in the right direction:
Which areas of my business need a CRM? What parts of it would most benefit from having a customer relationship management system? Be as specific as possible, and identify areas where you waste the most time each week. After that, think about whether a CRM can help you improve efficiency in these areas.
Are there operational workflows and processes that I can add with a CRM that can improve the business? For example, instead of writing customer information in a diary, can the sales team improve efficiency if they can just look it up with a simple search on their phones?
What software do I use now, and will it integrate smoothly with a CRM? which apps do I anticipate using in the future, and will they cause disruptions when combined with a CRM?
How many employees will be using the CRM system? How many of the sales team will be using the software in the coming 24 months? As you consider which CRM to choose, think about anticipated business growth.
What is my budget? How much am I willing to pay, and what am I willing to pay for?
---
What to Consider When Evaluating a CRM?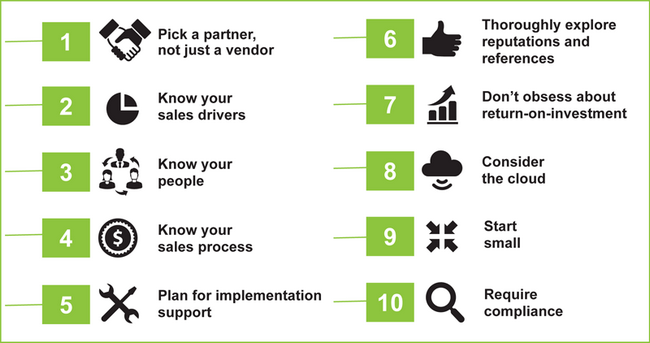 As mentioned earlier, there are numerous solutions in the market; how to choose the right CRM?
Define your priorities and goals
Why do you want a CRM system? What do you want it to do for your business? You should do a business audit to find out your points of weakness, then define how you would like to improve those weaknesses. When you know what you want out of a CRM, you know what features to look for in a CRM.
Find out your team's needs
There's what you want, and there's what your sales team needs. Are you in sync? Your team is out there, they face the challenges of getting leads and sales each day, and they are in an excellent position to help you choose CRM software that works for the sales process.
Including your team from the beginning is important as it facilitates smooth buy-in from the sales team when the system is eventually installed.
Determine what features are most important
Get down to the nitty-gritty and come up with a list of features that the CRM system must have. Your list should be guided by your business processes, goals and priorities.
If you want to improve customer communication, for example, a must-have feature would be automated emails.
If you want a CRM to help with marketing, features should include lead tracking and data analysis.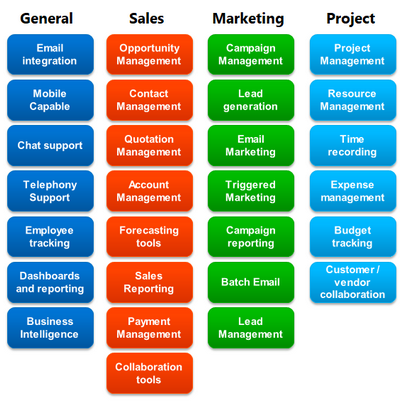 Come up with a budget
How much are you willing to spend?
The cost of CRM varies based on the number of users, features, subscription duration and more. Good CRMs cost anything from around $9/user/month to $99/user/month.
As you examine different CRMs, look at how the price scales as you increase the number of features and users. Buy software that you can afford to pay for as your business grows.
Compare different vendors and products
Look at the best CRMs and compare them to get a feel for what each has to offer. Look at user reviews, software comparison sites, industry publications and other sources of reliable information.
If the software has a free trial this would be a good time to use it.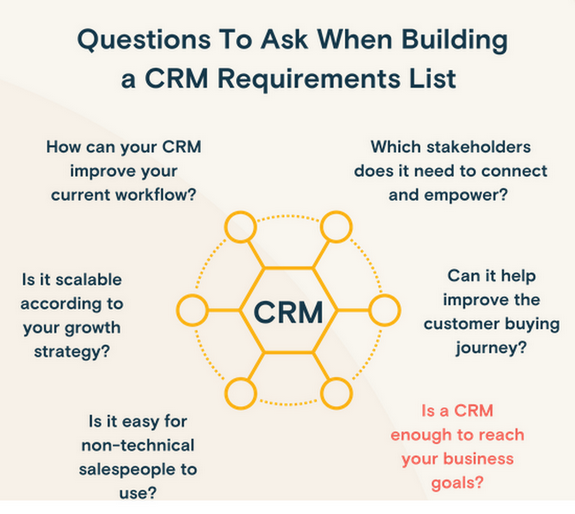 ---
Mistakes to Avoid When Choosing a CRM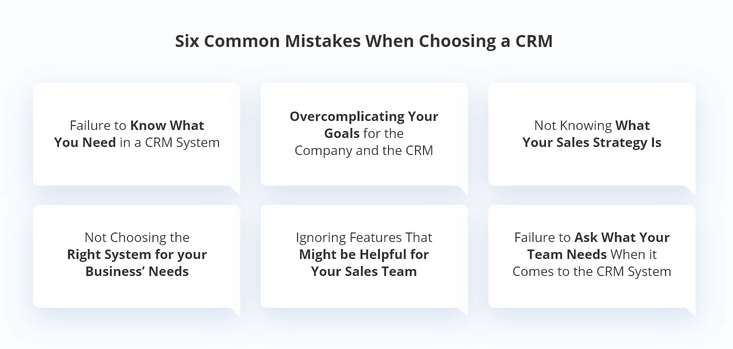 It's great to know how to choose a CRM system, but do you know what pitfalls to look out for? Knowing the mistakes to avoid when choosing a CRM is just as important as knowing what to look for.
Not involving end-users in the process
Your sales and marketing employees know what challenges they face every day; talk to them about business operations so that you buy a CRM system that helps them solve problems.
If you don't involve them, two things could potentially happen: they may reject the system (buy-in becomes a problem) or you may buy a CRM system that doesn't help you meet your business goals.
Diving in without a sales strategy
CRM companies make claims like "will automatically increase your sales and customer retention". This only works if you already have a sales and customer retention strategy in place.
What is your target market? How do you plan to improve customer retention? What will be your primary means of communication with prospects and customers? Where are your sales opportunities?
Coming up with a strategy helps focus your marketing efforts.
Not properly evaluating your business needs
Other businesses in your niche are using a certain CRM, so you think it a good idea to buy it as well. This is a common mistake among business owners; they assume that what works for another business will work for theirs.
Evaluate your business and establish exactly where the issues lie, how a CRM can help, and what CRM features are needed.
Assuming that an expensive CRM system is better
Just because a customer relationship management software charges more than others doesn't mean it works better. Look at the features and make sure they align with your business goals.
---
The Tools We Recommend
We understand that when it comes to how to choose a CRM things often get complicated and buyers get decision-making fatigue.
To help you, we have tested the best systems in the market, and we bring you our recommended picks.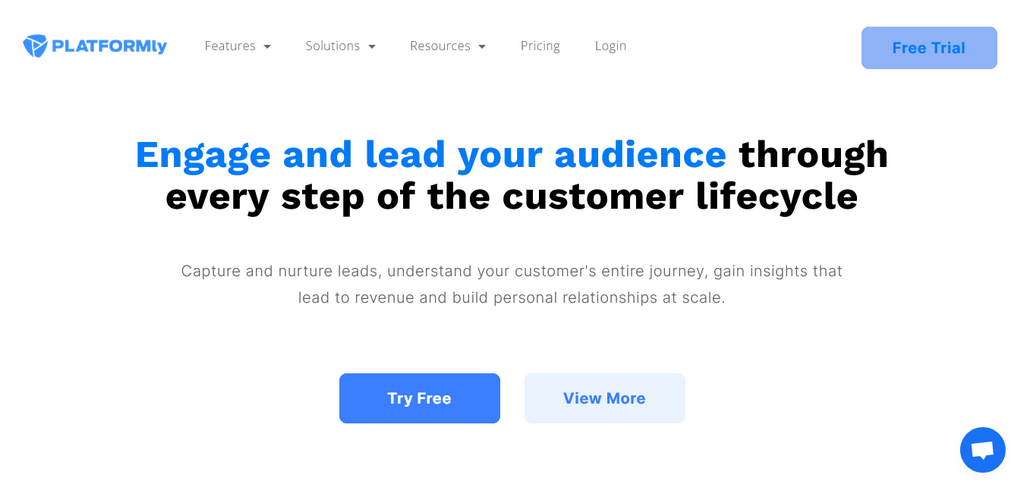 Platformly has everything you need, right from when you capture a lead until you convert it to a sale. It goes beyond that; it has the right features to help you track customers and make them become repeat buyers.
This software comes with an impressive set of features that any business, big or small, can use to make sure they never lose a lead or a sale.
They include Lead Nurturing, Lifetime Value, Lead Scoring, Segmentation, Customer Contact Profiles, Contact Activity and Contact Management.
At a glance, you can see the lifetime value of each customer in your contact list, as well as your interactions with them in the past. Understanding their buying trends and preferences helps you design offers that appeal to them and bring them back to buy again.
| | |
| --- | --- |
| Pros | Cons |
| It has an intuitive user interface and is easy to use | The text knowledge base could do with more information |
| You get all marketing tools in one software | Some feel it has a steep learning curve |
| Platformly makes it easy to set up and manage campaigns | It doesn't integrate with as many marketing tools as others in this category |
| The tool does an excellent job of lead generation | |
| You get a variety of integration options | |
| It supports eCommerce platforms like Shopify | |
| You can get detailed reports with one click | |
| A well-designed dashboard provides business insights and forecast metrics for the entire sales process | |
| It is well supported | |
---
View Listing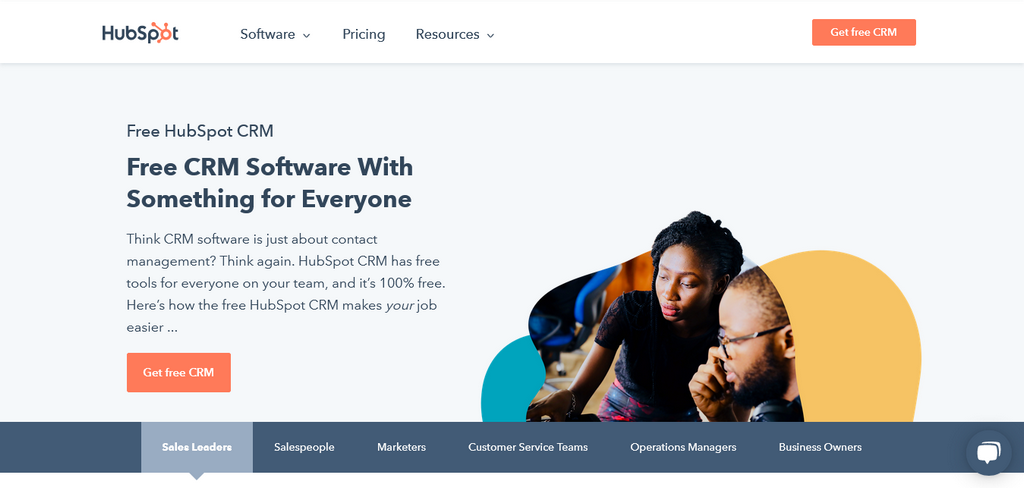 Hubspot is a popular CRM, and users like that it's easy to use and produces great reports. It has a sales and marketing platform, as well as a service module.
The ability to connect these 3 essential features makes it an obvious choice for many businesses.
However, Hubspot CRM is not for everyone; it doesn't have some of the basic features that you find in more established CRMs.
| | |
| --- | --- |
| Pros | Cons |
| It connects all the modules you need for a robust CRM | The 12-month contract is off-putting for some users |
| The software does a great job of showing your sales pipeline | The Pro package doesn't have an A/B testing module |
| You can track customer interactions | The full-feature package isn't cheap |
| It's easy to use – you don't need prior experience with a CRM system | A lot of paid Hubspot features can be found elsewhere free of charge |
| The company does a good job of educating users | |
| Basic features of the CRM are free | |
---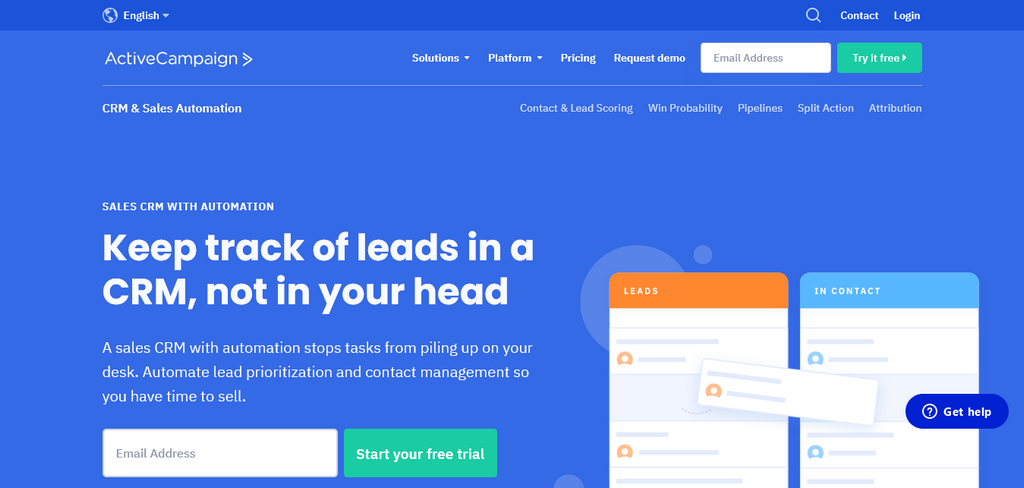 ActiveCampaign is another excellent CRM that's good for automating lead generation. If you are looking to find out customer value, ActiveCampaign might be the answer; it has a system for scoring leads and highlighting where the best potential lies.
The software integrates with a large number of third-party apps, and it produces detailed reports. You can use the SMS and chat modules to keep in constant contact with existing customers and prospects.
| | |
| --- | --- |
| Pros | Cons |
| It has a wide range of CRM features | It doesn't show the whole automation process, and it's not obvious how automations interact |
| The email builder is versatile | You cannot automate tasks outside of deals |
| The CRM integrates with lots of other sales and marketing software | It can be slow |
| It has a high email deliverability rate | |
| The software is well supported | |
| It is easy to use and has a short learning curve for basic functions | |
| You can do an in-depth search of contacts and customer history | |
---
View Listing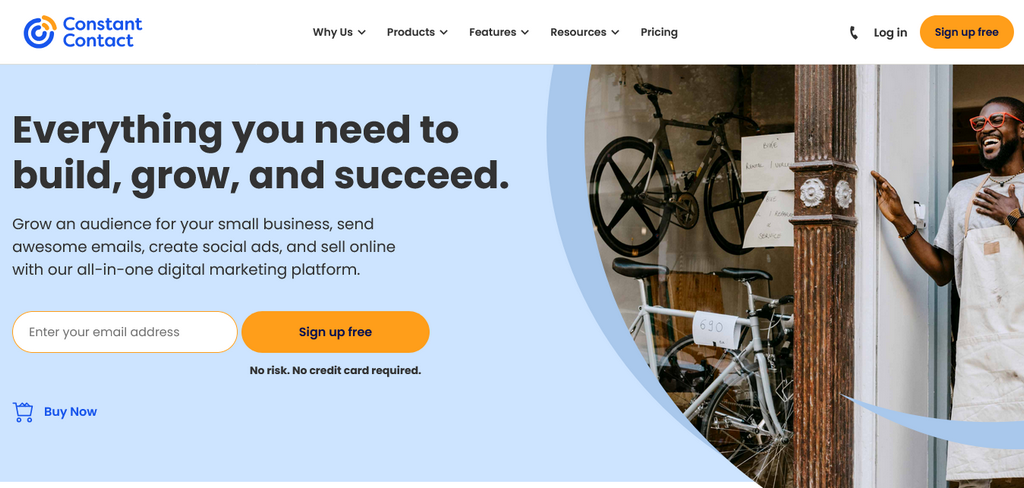 Constant Contact is best known as an email marketing provider for small businesses. However, it has a raft of CRM features that takes it to the next level. Apart from being an expert email builder, it also does automation, A/B testing and social marketing and you can track every potential customer.
It integrates with lots of other sales and marketing software, and it has an excellent reporting module.
| | |
| --- | --- |
| Pros | Cons |
| It has niche features that businesses can use to expand their customer base | It doesn't have a free version |
| The software has high email deliverability rates | You get all CRM features only if you buy the Email Plus version |
| The reporting module gives useful insights to help refine campaigns and improve customer engagement | You can only A/B test the subject line |
| It is easily customizable | The campaign builder could do with some improvements |
| Constant Contact has an AI powered website builder | |
| It's easy to set up and use | |
| The software does a good job of list segmentation | |
| A comprehensive dashboard shows all campaign metrics | |
---
FAQ
Does CRM require a large investment?
It depends on what CRM you choose, and what you consider a large investment. Some CRMs cost thousands of dollars a month for a few users, but they don't necessarily offer better functionality than cheaper ones.
The important thing to do is understand how to choose the right CRM software.
Decide what features you need and how much you're willing to pay, and then shop for CRM software that meets your needs.
My business is small; do I need a CRM?
So long as you have customers, you need customer relationship management software.
It helps you capture new leads and manage existing ones. A CRM system helps you grow your business and if you do consistent campaigns and are keen on branding, you'll eventually become a leader in your niche.
---
Conclusion
Customer relationship management systems have become a must-have for businesses that hope to grow and compete. Choosing the right one for your business is important, and you can only do that if you understand your specific challenges.
Understand how to choose a CRM before you dive in; find out what features the system has to offer, and whether those features are what you need to streamline operations and expand your customer base.
If we had to choose, we'd go with Platformly. We like it because it brings together all sales and marketing tools, is easy to use, makes email marketing campaigns easy, produces detailed reports and is affordable.