How to Capture Leads on Your Website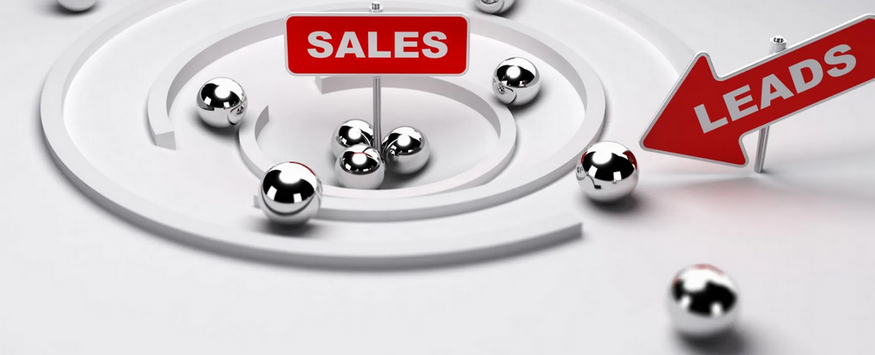 Your online business's priority is building a well-designed website that makes a clear and inviting proposition to visitors. Unfortunately, a website is useless if you cannot use it effectively for lead generation. Lead capture is the first step to a successful sale, and it requires a well-throughout strategy and the right tools. Read on to learn how to capture leads and our recommended lead capture tool.
Users have become jaded. Years ago, it was common for a user to visit a website and leave behind their contact details so that they could learn more about a business or a product. Not anymore.
Today, they are more likely than not to visit a website, find the information they want, and move on without leaving you any information about themselves.
---
The State of Lead Capture
Leads are difficult to generate as you can see in these eye-opening statistics:
61% of online marketers cite lead generation as their biggest challenge
53% of them spend half or more of their marketing budget to generate leads
Large and mid-size companies generate fewer than 5,000 qualified leads each month
63% of website visitors who request more information will not purchase for at least 3 months
About 96% of website visitors aren't ready to buy yet
80% of online marketers think automation helps generate more leads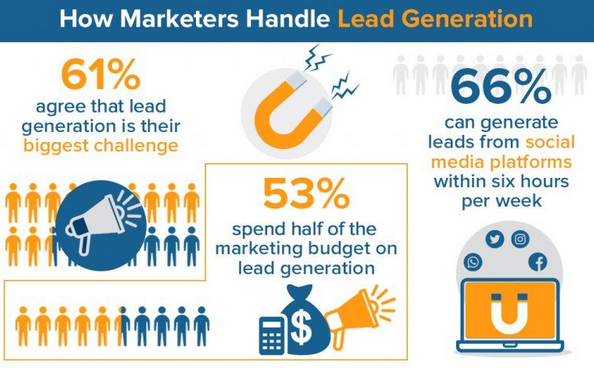 These statistics make one thing clear; if you're going to generate leads you need a strategy that encourages website visitors to leave you their details.
Over the years marketers have tried different strategies. Some have worked and some haven't, and as user behavior evolves, so too do your lead capture strategies need to evolve.
This post will tell you how to capture leads. We'll start by looking at what leads are and end with our recommended lead capture tool.
---
What is a Lead?
A lead is anyone who is interested in your business and what you are selling. Interest means that they are willing to leave you their contact information so that you can tell them more about what you have to offer.
Website visitors turn into leads when they leave you their information. They can give you their name, email address, phone number and more. You, in turn, have to work on sending them the kind of information that helps convert them into sales.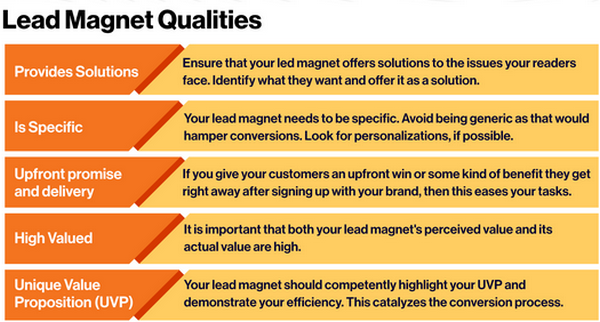 You get leads by the process of lead capture or lead generation. There are numerous lead generation methods, from cold calling to lead capture forms on websites.
Not all of them are effective. Some work better than others depending on what you're selling. It's up to you to understand your target market and develop approaches and strategies that encourage them to convert from website visitors into leads.
The continuous refinement of lead capture strategies over time has revealed some strategies that work better than others.
Using the right lead capture tools also makes a huge difference. It automates the process, leaving you to work on the most important part of the sales funnel – converting leads into sales.
---
Do Traditional Lead Capture Forms Work?
The typical strategy when it comes to lead generation is to use lead capture forms. They have been around for ages, but as many marketers will tell you, their efficacy has waned.
Consumers have become protective of their data and they won't leave details just because you place a lead capture form on a website.
Traditional forms are static. They tend to be lengthy and this discourages users from filling them. They often have too many fields which makes users feel like they are providing too much information about themselves.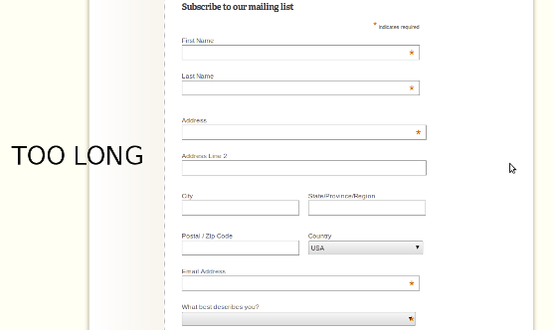 If you want to generate leads like a pro you can do more than traditional lead capture forms. There are numerous other ways you can persuade users to leave their details.
If you choose the right lead capture software it will get the job done for you.
This type of software incorporates different methods of lead capture. You can test them to see which ones work best, and you can even rotate them on your website to keep things interesting.
There is plenty of lead capture software out there and choosing can be quite confusing. How do you know which features will work best for your business?
We recommend a tool that brings together different types of lead capture strategies that have been tested and proved successful. It should automate the lead capture process, highlighting prospects that are more likely to convert so that you can focus your energies in the right place.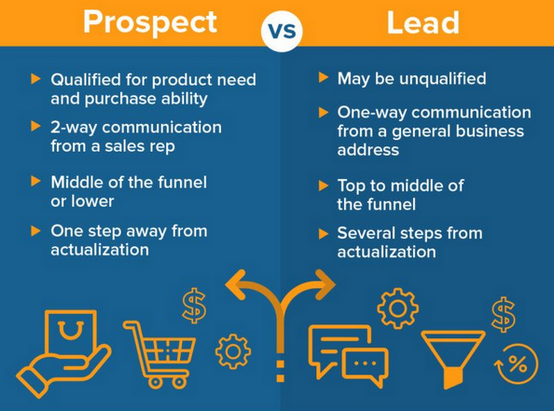 To help you, we curated some of the best and came up with one that we found to work better than the rest.
Not only does it do the things mentioned above, but it is also affordable for business owners and is well supported.
---
Read Review
View Listing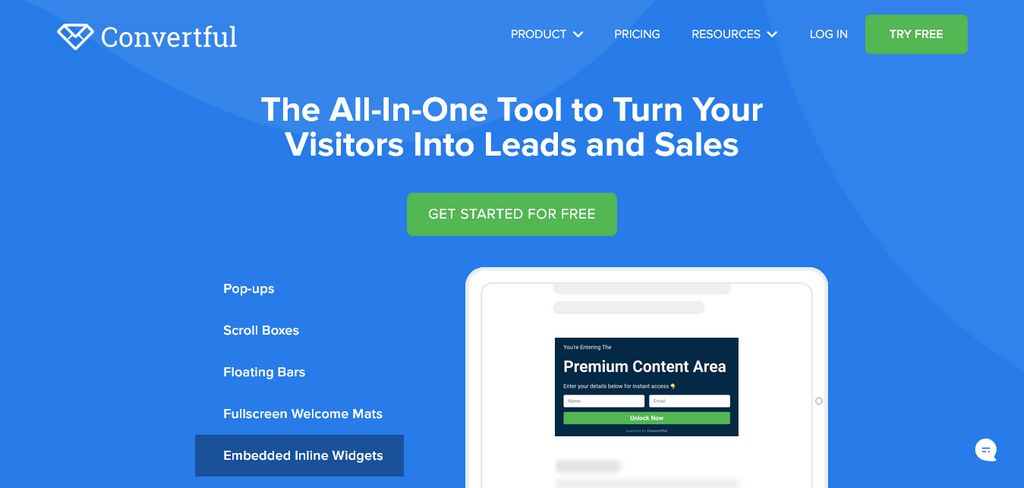 Convertful is lead capture software that has all the on-site conversion solutions that small and medium-sized businesses need. It uses behavior-based sign-up forms to deliver high-quality leads that are easier to convert.
Sales teams don't do blind campaigns either; the tool has feedback features that tell you what is working and what isn't.
We like Convertful because it has all the lead management tools you'll ever need. Whatever stage of growth your business is in, you'll find a tool that helps you capture and convert faster and more efficiently.
It has more than 100 starting templates and a drag-and-drop tool that makes designing campaigns easy. All of them have been tested with real-life marketing campaigns and proven effective.
It comes with loads of customizable elements that allow you to create opt-in forms that work for your business. All of them work on mobile, and you can target different demographics.
This software brings together all the features you need to generate effective opt-in forms for your business website.
Different Campaign Types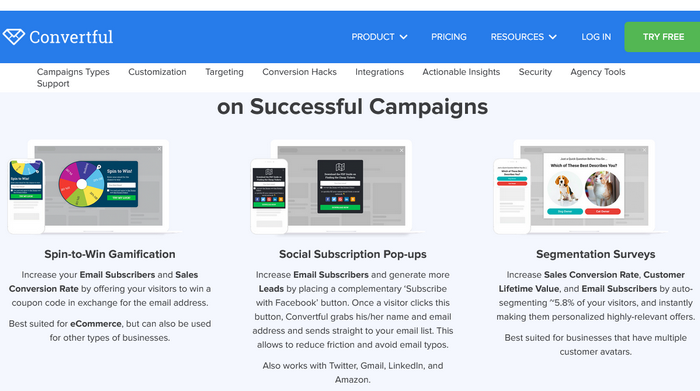 These include spin-to-win gamification, social subscription popups, scratch card gamification, quiz funnels, cart abandonment popups and more.
It has a drag-and-drop editor so putting together a marketing campaign is easy. You also get many different element types to help customize every opt-in form.
Targeting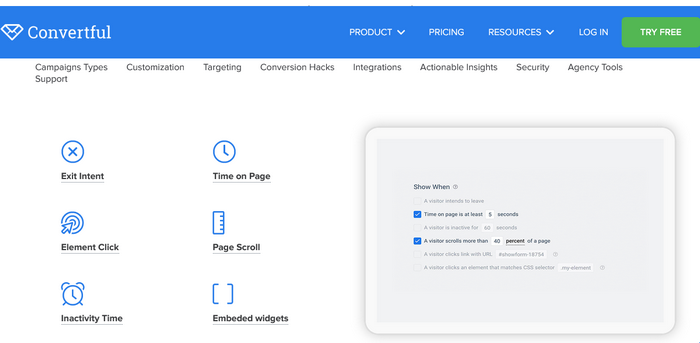 You can target based on exit intent, how much time a visitor spends on a page, the elements they click on, how far down a page they scroll and even inactive time.
Conversion Boosters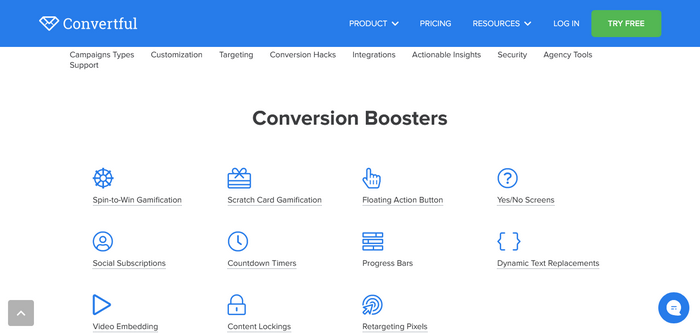 Not only does Convertful help you capture more leads, but it also helps you convert them with a series of easy-to-use features.
These include countdown timers, progress bars, Yes/No screens, scratch card gamification and others.
Integrations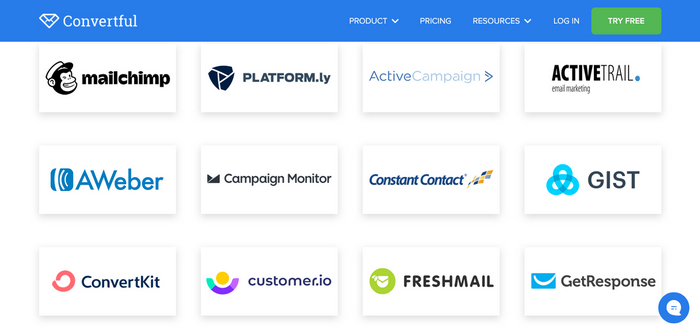 You don't have to forfeit the use of other marketing software just because you have bought Convertful. It integrates seamlessly with several top sales and marketing tools.
You can use it hand-in-hand with Shopify, Campaign Monitor, AWeber, ActiveRail, Platformly and more.
Actionable Insights
You don't have to fumble your way around campaigns anymore because Convertful gives you detailed reports about every campaign as well as recommended next steps.
The software has a Real-Time Analytics module, A/B split testing, lead notifications and detailed periodic reports.
Agency Tools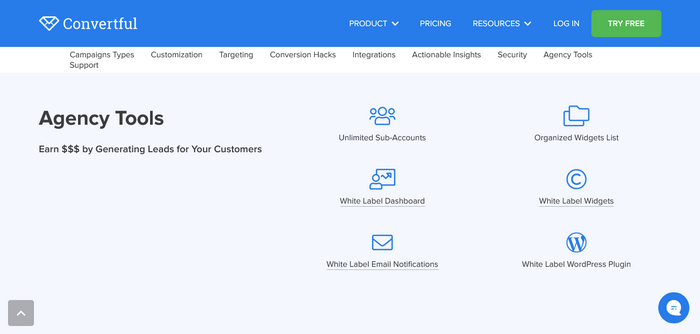 Convertful for agencies will help you generate more leads for clients, produce better reports and make spot-on recommendations.
You can create unlimited sub-accounts and you get a White Label dashboard, White Label widgets and White Label email notifications among others.
Support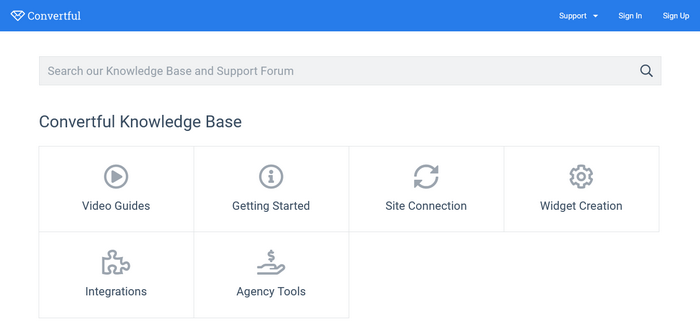 The software is well-supported by a team of experts who are ready to help at all times. Online resources include live chat, a knowledge base, video manuals and a premium Convertful members group.
---
How to Capture Leads
It's time to see what you can do with Convertful. Below are example use cases, but remember you can tailor your campaign to suit your business and particular visitor demographic. You can create different widgets for different pages to see the ones that work best.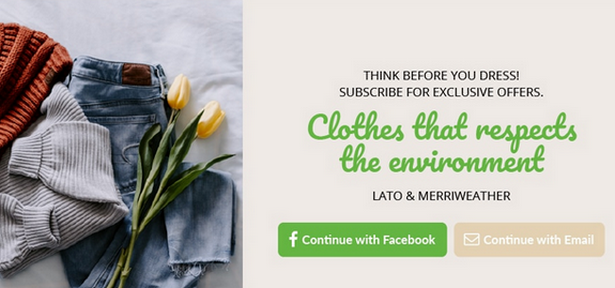 Social media is a powerful tool for lead capture when used correctly.
By offering something of value in exchange for Likes or Follows you'll convince users to leave you their contact details and then you can work on converting them into buying customers.
You can offer discount coupons, a chance to win, or whatever else your business can afford.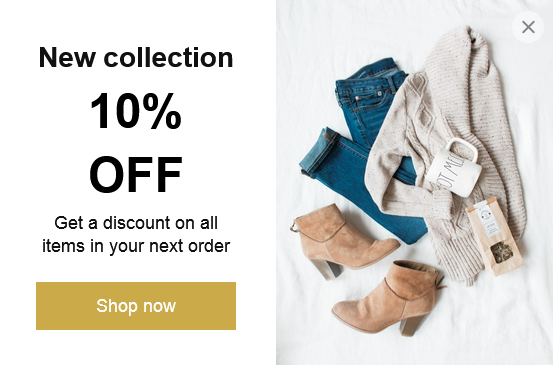 Broadcasts are excellent lead magnets. When you let potential customers know that a limited event is coming up they tend to act so that they don't miss out.
You can create a broadcast about anything you want. It can be, for example, about an upcoming limited sale, a discounted product, a chance to win if website visitors act right away and more.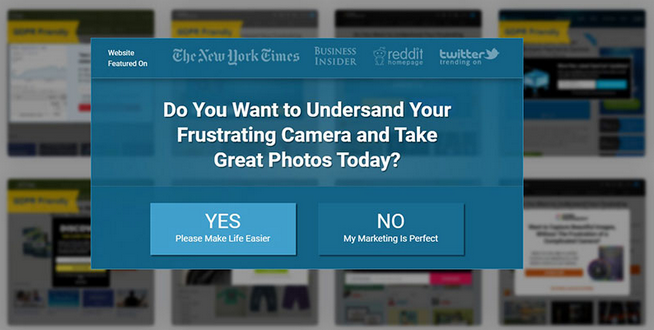 Popups are a powerful way to a website visitor's attention. Unfortunately, marketers often use them to pass on information that doesn't encourage a website visitor to take any action.
A popup used properly can help capture potential customers, and one of the ways to do that is to ask simple yes/no questions. When visitors answer yes they leave behind their email address and you can add them to your email list.

When a visitor lands on your site you have a great opportunity to entice them into leaving you their email address and even tell you a little about their preferences by offering them a discount or something else of value.
You can give them a discount for first-time visitors on a product they are interested in, a prize if they buy something right away or whatever else you think you can afford.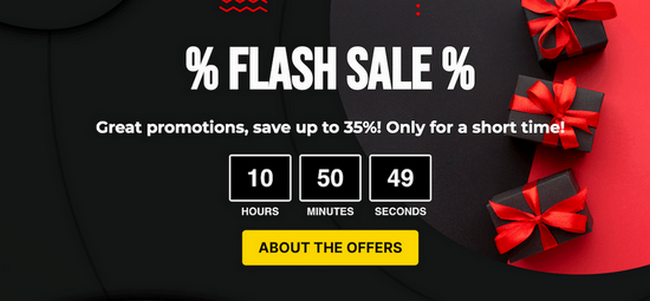 These work by creating a sense of urgency for the website visitor. You can place a banner or somewhere on the site that has a countdown timer and an offer.
From the first time they visit your site, they have a certain number of hours to take action if they want to take advantage of your offer. The sense of something free passing them by simply because they didn't act makes most people do something.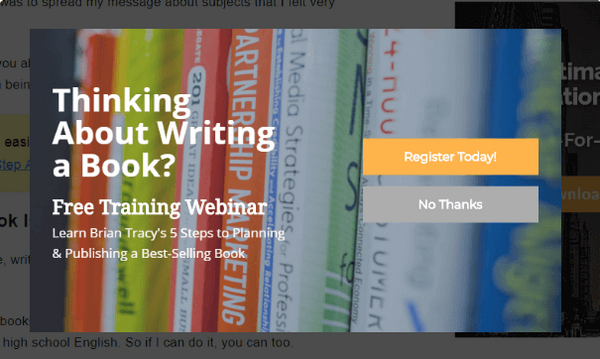 This strategy works particularly well for businesses that offer services like SEO agencies and software companies. Webinars are forums for people to learn and exchange ideas, and they are often keen to join if you have a good speaker who can teach participants and answer their questions.
Ask visitors to your website to leave you their email addresses if they would like to be part of the discussion.
---
Additional Generation Capture Tips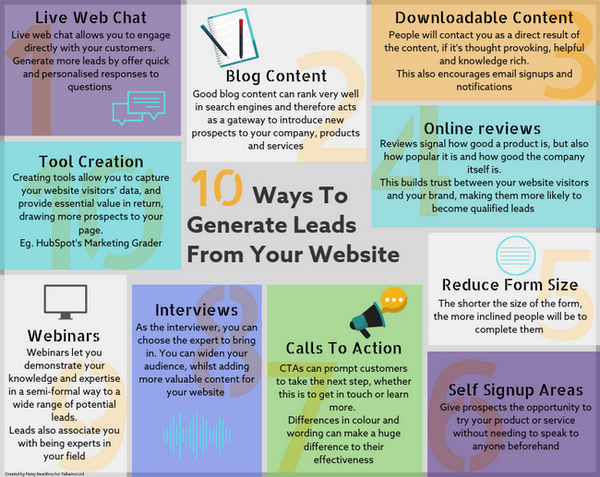 The above strategies tell you how to capture leads, but there are tips that you can employ to help you make the process move along a little faster. Here are some best-practice tips that work for online businesses:
Put opt-in forms on the pages that get the most traffic
It doesn't bring much value to create an opt-in form for your website before you know where your traffic comes from and who your website visitors are.
Conduct an audit of your website to find out your top lead generators and then focus on creating opt-in forms for the pages that they visit the most.
Remember, your biggest number of leads may not necessarily come from your website. They may be coming off your emails, social media links, blog posts or live chat.
A well-researched and well-written blog post, or properly worded and timed email blast can be a great source of leads.
Find out the value of your lead generators
Ideally, your campaigns should be on the pages that have the highest conversion rate. A page may have lots of visitors but a low conversion rate while another has fewer visitors but a higher conversion rate.
Your lead capture campaign should focus on the one that has a higher conversion rate. In other words, focus on growing what's already working. You can determine a conversion goal and for every month or quarter and use it to track progress.
Optimize every area of your website
Go through your website to make sure that each page is properly optimized. If, for example, you have a giveaway for "10 Tips to Healthier Hair", make sure that the link doesn't send visitors to "10 Tips to Better Skin".
If a visitor clicks and doesn't find what you promised you'll lose them right away and they are unlikely to ever come back.
In other words, take the time to make sure that each section of your website is as it should be.
Your CTAs should be clear and easy to find
Wherever a visitor is on your website, they should be able to find your call to action easily. Make your offer clear and highlight them in a color that stands out.
CTA location also matters; scrolling to find a call to action doesn't help you generate more leads. It should be conveniently placed.
Create short opt-in forms
Long forms are tedious for users, and they often feel like they are providing more information than is necessary. Create shorter forms that are precise and that only ask for names and email addresses.
Send acknowledgment or kickback emails right away
When a visitor leaves you their email address you should send them an email right away thanking them for opting in and letting them know what they can expect from you.
You can add another call to action in this email to get even more leads, like asking recipients to share on social media.
Have a live chat
Live chats have evolved into lead capture silos. When a user gets in touch, they are asked to provide their name and email address and then ask their question.
Test to see what works best
Convertful is about more than how to capture leads on websites. It also allows A/B testing, and you can test different opt-in forms for different pages to see which one gives the best results. Test frequently and at different times of the year so that you can see and understand trends.
Nurture every lead
Nothing should slip through the cracks. If a website visitor leaves you their email address make sure to nurture them and walk them through the sales funnel until they purchase, or until you establish they have no intention of buying from you.
Patience is a virtue when it comes to lead capture and conversion
You will not grow an email list overnight, and anyone who tells you it is possible isn't being honest. It takes time to develop a profitable email list, and it takes even longer to convert leads into buying customers.
---
FAQ
How to build a tool to capture leads?/How to create a free tool to capture leads?
We understand the temptation to create your own lead capture tool and save money. However, before you go down that road you should ask yourself whether you have the time and money needed to create new software.
Will creating new software take you away from your core business? Unless you are in software design, it is easier to buy lead capture software that's ready to use.
How to capture leads on your website?/ How to capture online leads?
The methods and tips discussed above will help you jump-start the lead generation process on your website.
Having a good tool goes a long way in automating the process, leaving you to focus on other areas of your business.
Remember, patience is important for lead capture. Growing a profitable email list takes months or years, not days or weeks.
Conclusion
Every online business needs to generate leads continually. Unfortunately, lead capture is one of the biggest challenges that even experienced marketers have to deal with.
A good lead generation tool automates the process and brings together strategies and methods that work. It teaches you how to capture leads automatically, and it highlights the ones that are more likely to convert so you can focus your energies in the right places.
Convertful is one of the best tools to capture leads on your website. Not only does it energize the lead generation process, but it also guides you until you can convert leads into buying customers.