The 3 Best Tools to Create a Floating Bar in 2022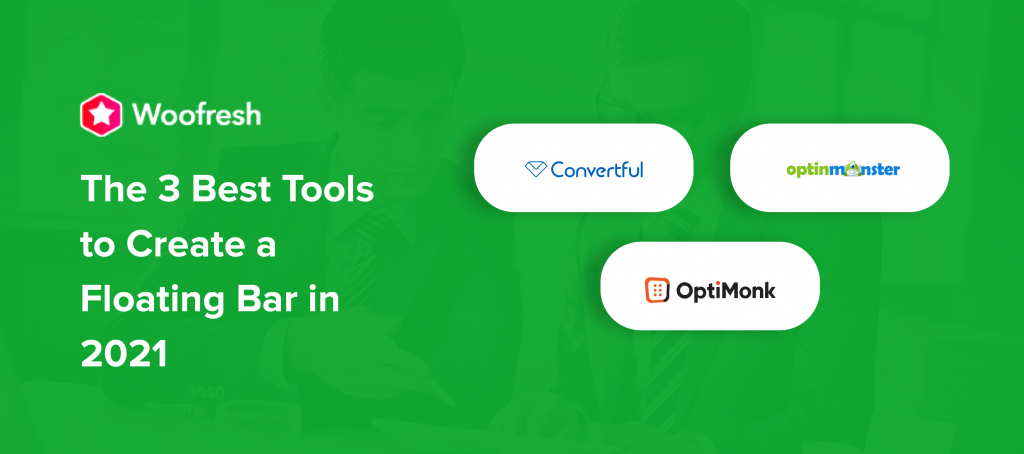 One of the best ways to boost conversions is a floating bar. However, it's an option that online marketers rarely use. Almost every website you visit has an email capture form, but not so many make use of floating bars.
Also known as sticky bars, they happen to be the second most effective way of capturing and converting leads.
A floating bar is visible at all times and if it has a well-crafted call to action, it can be a powerful element of website design.
If you've never used sticky bars, you may be wondering what they are and how they help. This article answers these questions and also tells you the best sticky bar software for your website today.
---
What is a Floating Bar?
A floating bar is a widget that's locked into place at the top, bottom or side of the screen. It contains important information, such as a Call-To-Action, and it doesn't disappear when a user scrolls up or down the page.
One of the best things about floating bars is that they are accessible from anywhere on the site. They stay with the user throughout their time on the site.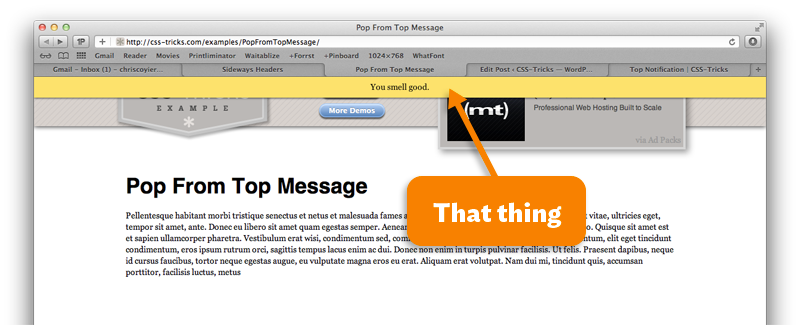 If a sticky bar has the right message it has the potential to increase leads and conversions significantly.
You can use a sticky widget for any of the following:
To hold display menus
For email opt-in
Online chat
Recent posts and important information
Promotions – sales, discounts and more
Social media buttons
Notifications
Contact information and phone numbers
Sticky bars don't have to stay the same forever. You can display a sticky widget for discounts this week and change it to the most recent post the next.
In other words, change floating bars regularly to get the most out of them.
---
Floating Bar Examples
Below are some of the common ways floating bars are used. You don't have to restrict yourself to these. Get creative, think about your campaign and come up with floating bars that are sure to convert.
Sales or Discounts Floating Bar
If you have a sale or are offering discounts a floating bar is an excellent way to make sure that users are aware of it as they scroll through your site.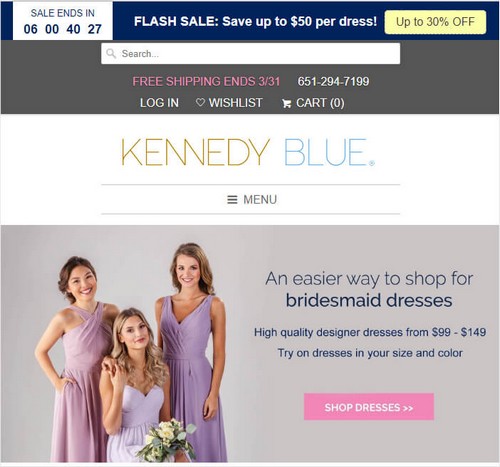 Holiday Sales Floating Bar
Holidays are an excellent time to boost sales, and what better way to make site visitors aware of special offers and products than with a floating bar?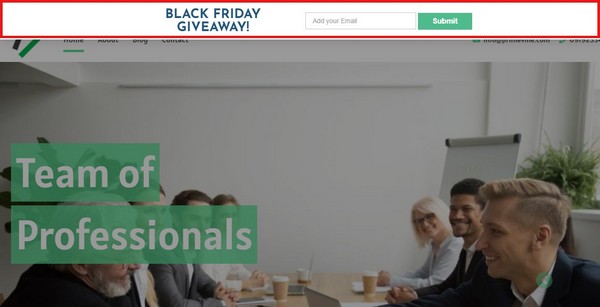 New Content Floating Bar
When you publish interesting new content or release a newsletter you can let site visitors know with a sticky bar. It's also a good way to draw attention to important information users may find useful.

Gamification Floating Bar
Make things more interesting by gamifying floating bars. Visitors will stay longer and are more likely to return.

Opt-in Floating Bar
One of the most common uses of floating bars is to invite site visitors to leave you their email contact in exchange for something of value.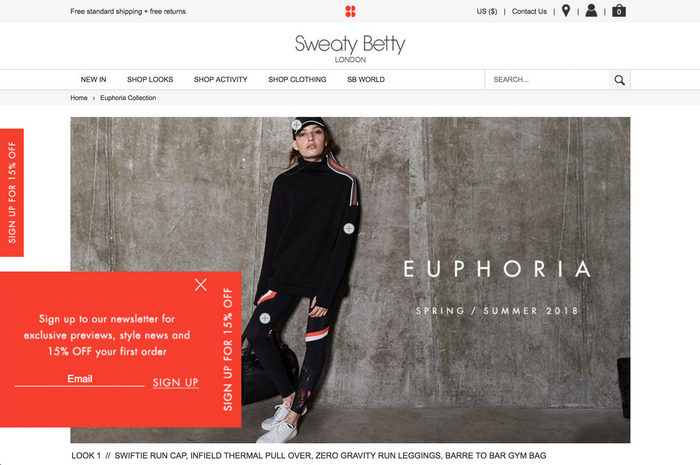 Social Media Sticky Bar
These are quite common, and they allow you to display your social media buttons in such a way that they cannot be missed.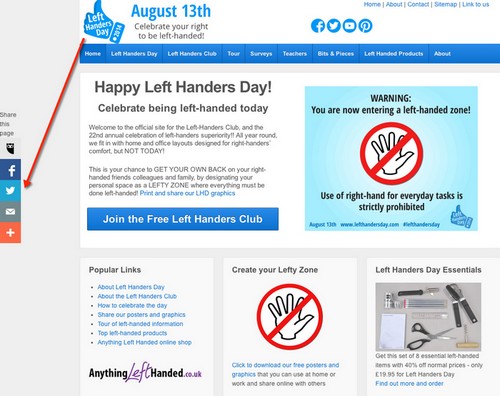 ---
What are the Benefits of Floating Bars?
If you're going to buy software to install floating bars you want to know how they'll benefit your online business. Here are some of the advantages of sticky bars: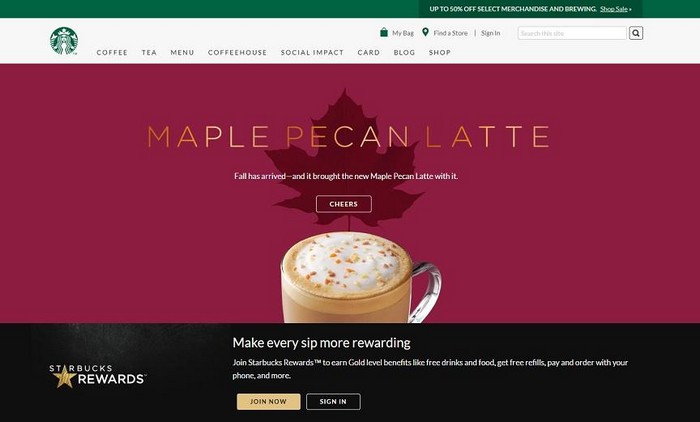 Some studies have shown that users prefer websites that display sticky menus because they are easier to navigate. Website navigation is one of the most critical elements of site building, and if you build an easily navigable site you'll get more leads and faster conversions.
One of the most annoying things for site visitors is pop-ups. You know how you feel when you're trying to access content on a page and suddenly a pop-up appears and you have to get rid of it to get where you want to go.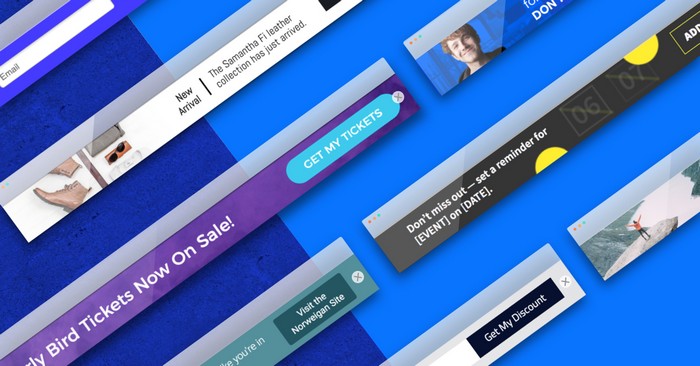 Site visitors are sensitive, and pop-ups can make them leave your site and look for alternatives.
Floating bars make an excellent alternative. They are non-intrusive, and they deliver the message you'd like users to see.
Sticky Bar Menus Offer Higher User Engagement
Every website owner wants users to be engaged. Ideally, when they visit a site they should stay long enough to take the action that the site owner wants – either leave their contact details or buy a product or service.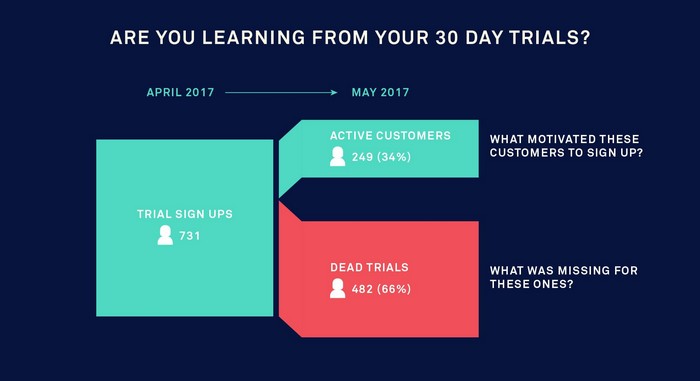 Sticky bars offer better user engagement because they are visible to the user at all times.
Use a Floating Bar to Grow your Email List
A floating bar at the right location will encourage users to opt in, and you can grow your email list this way.
Increase Your Social Media Following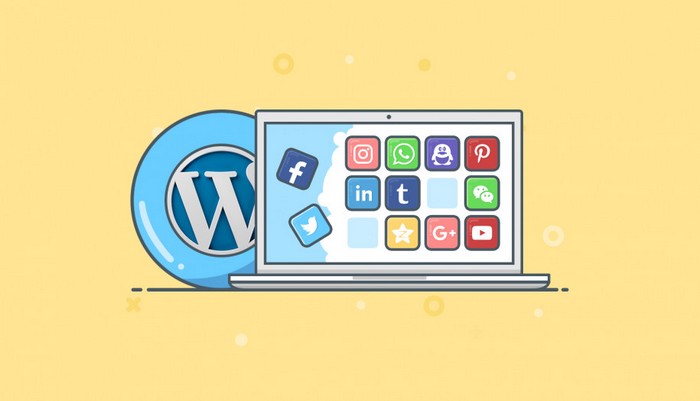 These bars provide a way to increase your social media presence. You can ask users to like your business by clicking social media icons on a floating bar to the screen's left or right.
If you have a holiday sale, a clearance sale or any other discount opportunity for users, let them know with a floating bar at the top of the screen. More of them will click on the offer.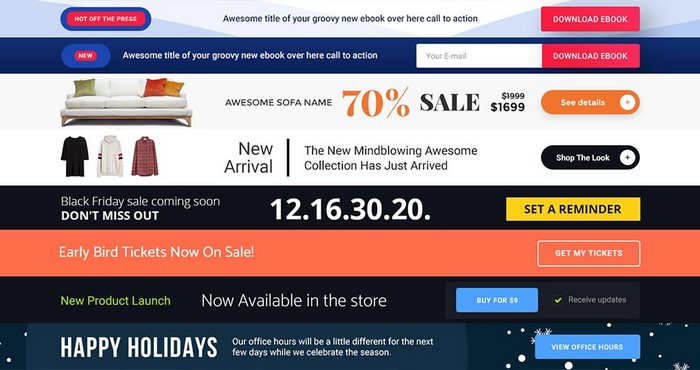 ---
Clever Floating Bar Hacks for Instant Lead Capture
Success with floating bars isn't automatic. Like everything else in web design, you have to be strategic. Here are some clever hacks that will help you get the most out of sticky widgets:
They should be brief and concise – floating bars aren't a way to deliver long messages. Keep them short and to the point.
Keep them small – remember, the point is that they remain unobtrusive.
Make use of lead magnets – the best sticky widgets have something to offer the user. A lead magnet makes them see that there is something to be gained by taking a specific action. Lead magnets should be relevant and specific to targeted leads. They include videos, newsletters, workbooks, webinars and more.
Have a countdown timer – human beings react to pressure. If they feel that they have a limited time to take action they are more likely to act. A countdown timer allows them to understand that they could miss out on something important if they don't act now.
Personalize where possible – users react when they think you are talking directly to them. If you choose the right sticky bar software you can personalize your widgets and make them more effective.
Keep the bar simple – if you create a floating widget that is cluttered with information the very message you're trying to convey will end up lost. Keep your widgets clean, legible and straightforward.
Change your CTA often – we've already mentioned that you should change your call to action regularly. It keeps things interesting, and you're able to deliver different offers to website visitors. It also allows you to appeal to different segments.
Use trigger actions – depending on the message in your sticky widget, you can allow visitors to scroll your site for some time before encountering the floating bar.
---
Best Floating Bar Software
Read Review
View Listing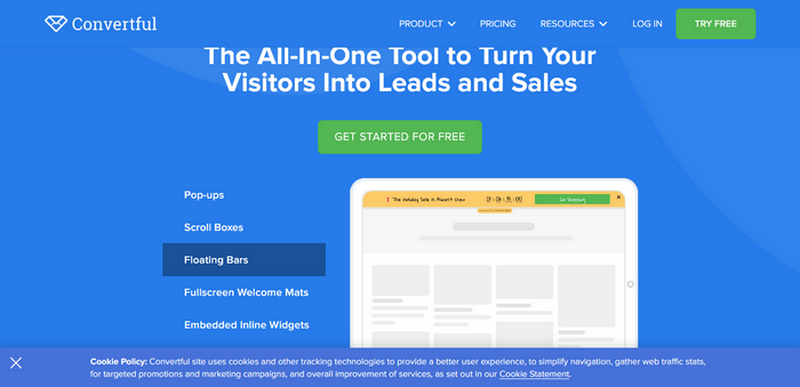 Convertful floating bars are easy to install and use. You can set one up in a few minutes and installing on your site is a straightforward process that doesn't require any technical expertise.
There are many floating bar templates you can choose from, and the drag-and-drop feature allows anyone to set up a floating bar.
The software integrates with common marketing software like Shopify, AWeber, ConvertKit, MailChimp and Sendy. Leads that you gain through Convertful floating bars can be funneled into any of these tools with ease.
Convertful is more than widget software. It is one of the best lead capture and conversion tools in the market. If you are looking for a way to get more leads and convert them into buying customers, this tool is a must-try.
Whether you run an eCommerce business, an affiliate website, a company website or an agency, you'll find that Convertful will give you that extra boost that you need to convert website visitors into buyers.
It comes with use cases to help you understand how to conduct different types of campaigns.
Here are some of the features available in this software:
It has lots of different widgets to cover all your lead generation and conversion needs. They include pop-ups, scroll boxes, welcome mats and floating buttons. You also get spin-to-win gamification, segmentation surveys, scratch card gamification, quiz funnels and more.
Convertful means you don't have to build anything from scratch as it has more than 100 templates based on successful campaigns. Each template has been used to gather and convert leads successfully.
You can customize any of the widgets using the drag-and-drop editor. It has unlimited form fields, customizable layout, design and positioning, adjustable animations and more.
Floating bars and other widgets benefit from the extensive variety of element types available in this software. Apart from text you also get buttons and images, progress bars, countdown timers, videos, follow and share buttons, testimonials, automatically collected data and more.
The software is mobile friendly.
Convertful has unlimited screens and sequences. They allow you to target floating bars and other widgets to the right segments and ask the right questions.
The quiz feature helps you gather vital information about site visitors to serve them what they are looking for.
This is excellent software if you want to use precise timing to capture leads. Display the right offer to the right users at the right time using exit intent, time on page, element click, page scroll and more.
You can target visitors using their behavior by looking at the sites they visit, which URLs they spend the most time on, what kind of content keeps the on your site longest and other behavior.
You can define what happens when a user takes action. For example, if a site visitor clicks on a certain button you can program the software to send them an automatic notification.
Convertful has been voted the highest-rated lead capture software and gets glowing reviews from some of the industry's biggest names.
---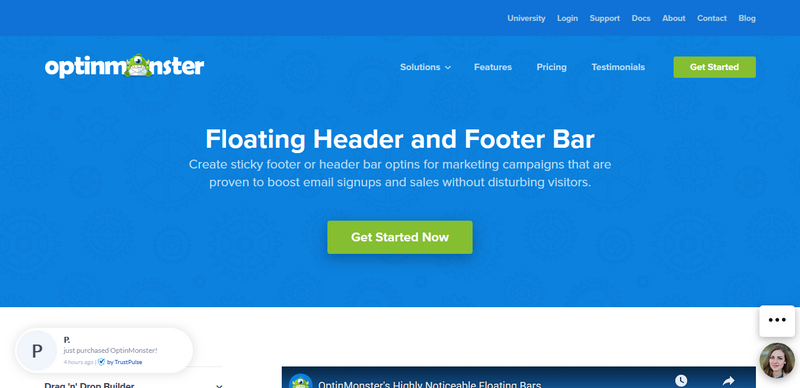 The OptinMonster floating bar is added to the top or bottom of a webpage and remains there as visitors scroll. It is a great way to boost opt-ins and grow your email list.
Features
The floating bar comes in different templates that you can use for various purposes. eCommerce merchants can choose from a variety of templates that they can use to highlight sales and offers.
Content publishers can use floating bars to get users to subscribe to newsletters, direct them to affiliate links and more.
OptinMonster's floating bars have a wide variety of triggers that allow you to target different segments and users.
You can control who views a floating bar using page-level targeting, geo-location, device, who referred the user and the scroll trigger.
Other automation tools include onsite follow-up and retargeting which gives you control over who sees your campaign.
The software has many design templates to suit different types of websites and campaigns.
The drag and drop builder allows you to set up a floating bar in minutes. The process is intuitive and you don't need to know how to code.
You can integrate with common software like Magento, Shopify, MailChimp, AWeber and more.
---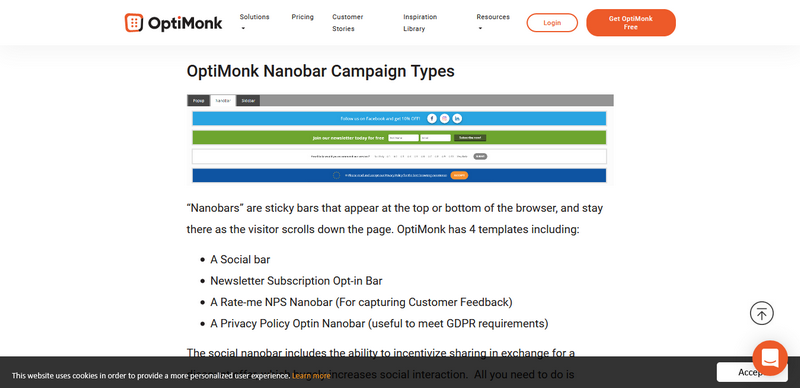 In OptiMonk, floating bars are called nanobars, and they are designed to help you gather new subscribers and turn leads into buyers.
The process of adding a nanobar is simple and you don't need to know how to code. Click on the nanobar tab and select a template and then customize it to suit your needs. Once you are done display it on your site to start generating and converting leads right away.
Features
You can target site visitors based on their background and history.
Send visitors relevant messages depending on pages they have visited in the past.
You can also target users based on timing – how much time a visitor spends on a page, how frequently they come back and more.
Customize your nanobars to suit your website and campaign.
The software integrates with most commonly used sales and marketing tools.
---
Conclusion
Floating bars are a smart, fast and effective way to gather more leads and increase conversion rates. They don't irritate site visitors by popping up in the middle of the screen. They are restricted to the top, bottom, left or right, and always visible.
If you get the right floating bar software you can give your business a big boost. The tools discussed here will get the job done. You can use them to create customized, concise sticky bars without any technical expertise or coding knowledge. They are also affordable and easy to use.
Before you invest in any you ought to look at your specific needs. Decide the kind of campaign that you would like to run and what it will require.
Our favorite is Convertful. Not only can you use it to create highly effective sticky bars, but it also comes with a ton of other features that are very useful for anyone interesting in boosting leads and sales.