4+ Enrichment Tools to Find Social Media Profiles By Email Address
Even though you have generated a lot of leads, but what's the use unless you don't get the exact details about them!
Lead enrichment tools provide you the important details about the personal & professional interests of people such as from Facebook, LinkedIn, Qzone, Twitter and many other public profiles via their email address.
As now you have the personal & professional information about the person. You can understand the audience in a better way and serve them with the quality content!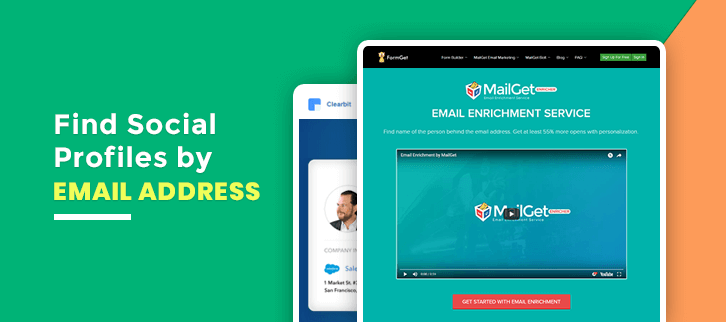 In this blog, we are going to uncover the enrichment tools that will help you find out the details about your leads at a reasonable price.
Have a look at the Comparison of Lead Enrichment Tools
Service
Price(Month)
Rating
Search Method(s)
Profile Image Links
BeenVerified
$26.89
3.2/5.0
Name, Phone, Address & People
No
FullContact
$8.33
3.8/5.0
Email, Phone, Name
No
Clearbit
$99.00
4.3/5.0
Only Email
No
Pipl
$99.00
4.7/5.0
Email & Address
No
Besides, have a look at some of these blogs on Email Enrichment Services:-
Now, without frittering away an more time let's get going with the services listed in the blog:-
---
BeenVerified: Lead Enhancement Software
With BeenVerified you can extract personal as well as a professional profile of the user present on social networks ( i.e. on Facebook, LinkedIn, Twitter, Qzone and so on) easily via their email address, phone number and even through locations of the users.
It is more like a background check performing tool and is great in all the respective work. Such as criminal records, arrest records, educational information and much more.

Other Benefits:
It is advanced in the way that it can even trace the person's criminal records, educational information and many.
The software provides a privacy-friendly public record so that your user's records are privately secured.
It provides a filtration box section so you can easily filter the person's age & states to find details easily and effortlessly.
BeenVerified delivered personal info. like name, age, relatives, property details among several others.
Pricing Details:
Plan 1 – BeenVerified data enrichment tool provides 1-month subscription at $26.89/M where you can get unlimited ( background reports, contact information, phone lookup and so on.)
Plan 2 –For availing this plan, you will have to pay $52.44 for a 3-month subscription where you will get above plan 1 features along with unlimited ( address lookup, criminal records, four ways to search & discover etc).
---
FullContact: Fetch Unlimited Social Profiles
FullContact is a most popular social search engine software that provides an API to know more about a target leads from the contact information.
By using the Gmail id, you can get the details like name, contact number, Twitter handles of the existing customer. The tool can give a lot of social information about your user like LinkedIn, Facebook, etc details can be fetched by using FullContact.

Other Benefits:
It gets social media data about your customer from the internet and returns it in a suitable file format such as HTML, XML & JSON.
The software is integrated with the following platforms – Slack, Zendesk, Retainly, automate.io etc to provide better customer services.
Perhaps the best feature of FullContact is it charges only for correct information, not for the wrong result.
It helps you to find the social details as well as company details, their history etc.
Pricing Details:
Basic Plan – Its basic plan is completely Free. After getting this plan you will get 1 sync account, option to fetch 1k contacts, and 100 contact lookups/weeks.
Premium Plan –This plan will charge you $8.33/Month and provides you the option to access 5 sync accounts, 25k contacts, 500 contact lookups and so on.
Team Plan –Team plan is valid for all the team members which cost you $9.99 every month and provides 500 contact updates/week & 500 contact lookups/wk.
Small Business – For this, you need to pay $499 /Month and get 50,000 matches, data subscription including trial's features.
Enterprise Plan – It is a private plan which offers person data, company data etc. or you can directly contact the sales team of FullContact for more pricing details.
Note:- It also offers a month-to-month subscription plan. To know more click below the link button.
---
Clearbit: Enrich Existing Records
The software is an advanced lead enhancement tool with which you can extract lead information from social media platforms like Facebook, Twitter, LinkedIn, Pinterest and so on within a minute.
It does not gather information of only social media but also collects the data of over 85 unique sections such as – company sector, employee size, job title, role, and so on by just using the email addresses.

Other Benefits:
The software automatically updates all the fetched recodes on monthly basis.
Clearbit searches and returns data in real time so it is always relevant & accurate.
This lead enhancement software can easily get integrated with Slack, Marketo, SalesForce, Segment, Zapior etc. Moreover, you can also connect with your existing services as well by using its API key.
Pricing Details:
If you want to use its own company's data API you need to pay in 3 different stages:
A Plan – For this plan, you have to pay $99/M to enrich 2,500 data.
B Plan – To enrich 5,000 you have to pay $149/M.
C Plan – This plan will cost you $199/M with which you will be able to fetch 10,000 leads.
Note:- If you wish to use this service for your SalesForce and Marketo platforms then you need to pay $499.00/M.
---
Pipl: Social Profile Fetching Tool
This is another powerful social media search engine tool that can detect the users personal & professional information like their Facebook profile, Twitter profile, etc via their email id or names.
With Pipl enrichment tool, you can not only collect users information but can also get their relatives & friends or even their work profiles, address history and demographic information too.

Other Benefits:
The software merges the person's profiles & duplicate data, verify online & offline credentials of the person before displaying you the results.
It enables you to fetch the social profiles in a bulk order (for eg.100,000) at a time by uploading lead list via .csv or .xls file.
You can set the total searches you require every month.
Pricing Details:
Free Plan:
Pipl enrichment tool offers 2 weeks free access just for the trial for its users.
Paid Plan:
In the paid plan, it charges $99/month for 200 profile searches.
For the next plan, the cost is $199/month where you can fetch 500 profile details every month.
While the last plan will cost you $299 per month & allows you to do unlimited searches in a month.
---
MailGet Enricher is a powerful tool which helps you to detect & scan various kind of social media information such as Facebook profile information, Instagram, Twitter, etc. It collects personal as well as professional information for more than 30 fields such as user's name, gender, job profile, company details etc via their public profiles.
Plus, it provides you with bulk details in CSV format when you upload the list of emails.

Other Benefits:
Using this software is hassle-free. All you need to do is just upload the CSV sheet or Excel spreadsheet of which contains your existing leads. After some time, it fetches the details about the email ids and provides you.
After the processing the list, software directly sends the enriched data to your email address so you can download the file & start contacting the user in a personalized manner.
It fetches multiple online sources for perfect details. So, the data delivered is 100% accurate & authentic.
Pricing Details:
Starter Plan: This basic plan of MailGet Enricher will cost you $4. You can enrich up to 200 emails.
Rookie Plan: For this plan, you need to pay $19 for enriching up to 1,000 emails at the same time.
Pro Plan: This is the most popular plan of MailGet Enricher in the market. It costs you $99 and you can fetch information of up to 5,000 emails.
Advance Plan: After getting this advance plan, you will be able to unlock all its advanced features. Also, you can enrich the emails of 10,000 at $175.
Note:- Apart from the plans listed above, there are other higher plans as well for fetching info from 15,000 to 1,000,000 emails for $225 to $9999.
---
Conclusion
Consequently, we have discussed the best software to find social media profile by email address. Also, we scrutinized their pricing details, attributes, etc for better understanding.
These lead enrichment save your time & efforts by providing you the personal & professional details about the person.
We hope that you are able to select the software that meets your requirement.
Thanks for reading!