4+ Enrichment Tools to Find Social Media Profiles By Email Address
When you are looking to hire an employee for your company or a business lead, you simply search his web-based details to know more about him. Such details are available on the web and they are very useful as they tell more about the likes & dislikes of a particular person.
But it's not at all easy to find a social profile, professional, educational, and other details on the web. It is because Google won't tell you all of this in a single click. You have to fetch the details like social media profiles, police records, occupation, etc, on hundreds of websites.
---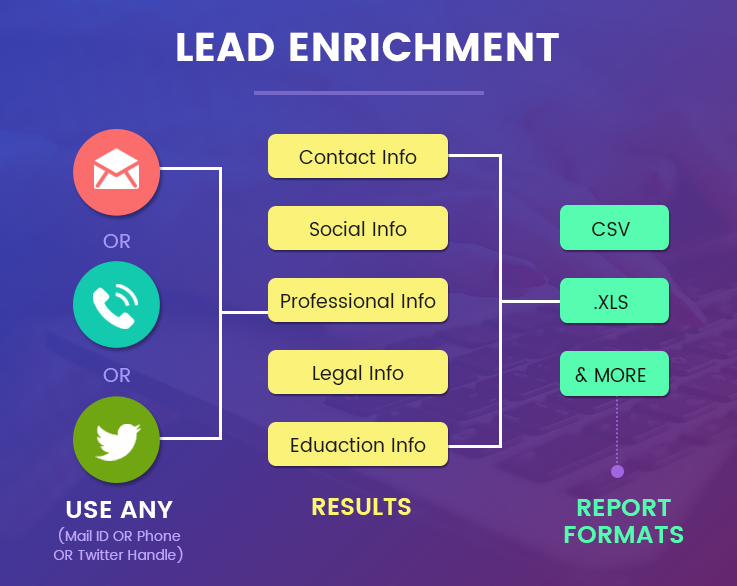 ---
BUT, for the ease of your work, we have mentioned some lead enrichment tools through which you can get the following details when you search social profiles of the people:
Name, Age, Gender
Occupation, Location
Social Media Profiles (Facebook, LinkedIn, Twitter, etc)
Profile Image Links
Email id Status (404 or 200) & many more
A Glimpse on Various Tools for Searching Social Profiles
Services
Pricing
Social Profiles
Bulk Lead Enrichment
Email Id Status Checker
BeenVerified
$26.89 Per Month
Yes
Yes
Yes
PIPL
0.05 Per Match
Yes
Yes
No
FullContact
$8.33 Per Month
Yes
Yes
No
Behind
$1.99 Per Month
Yes
No
Yes
Clearbit
$99 Per Month
Yes
No
No
All you have to do is to add the email address on these tools & you will get back the above fields. After getting all such details, you will truly be able to focus on the leads which you find the best according to your work. The only thing we'd suggest you read out this article & finalize the best one according to your needs! Have a look at our blogs from popular niches:
---
1. Clearbit: Lead Enhancement Software
Once you have lead details which are in the form of email address, phone number or Twitter handle, in that case adding more details like social profile, company info, job details, location and more becomes extremely easy with Clearbit lead enrichment tool.
This kind of refined information is very hard to find on the web, but Clearbit does it all with just a few clicks. Plus you can start with a
14-days free trial
and verify all the features, services and accuracy of this software.
---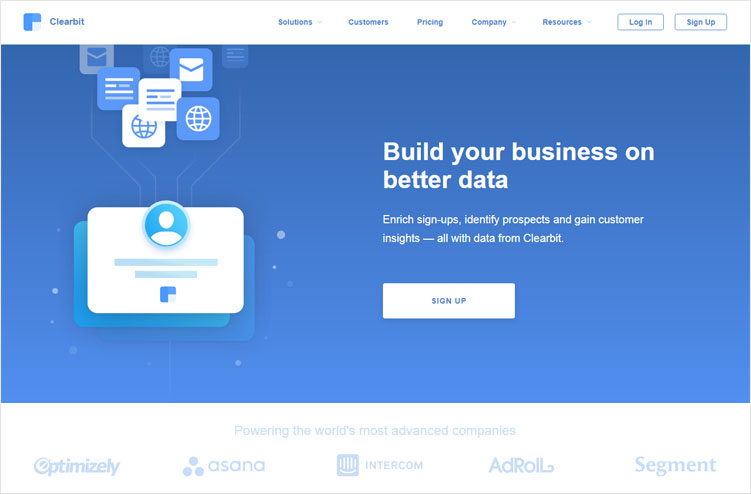 ---
Pricing
You can verify 2,500 lead data with Clearbit by just paying $99 a month.
$149 is the cost of this plan which allows fetching records of 5,000 leads.
10,000 monthly record limited is provided with this plan at a price point of $199/m.
For an unlimited number of email contacts & their enrichment, you have to pay $499 per month.
Features
You will be able to enrich your customer understanding by fetching 85 unique details about any individual from the web.
Also, you can find lead info via emails & phone. Plus you can also integrate Salesforce, Zapior, Slack, Marketo, Segment and more.
Each & every lead information is refreshed on regular basis, to keep the records updated.
For More Social Profile Details Click Here
---
2. PIPL: Lead Enrichment Solution
PIPL is an advanced lead enrichment solution which adds more information to your contact data like name, social profiles, images, address history, career and other details.
With the help of this solution, you can convert any email address into an elaborated lead information. This is one of the largest and reliable people search engine which is used to enhance customer profiles worldwide.
---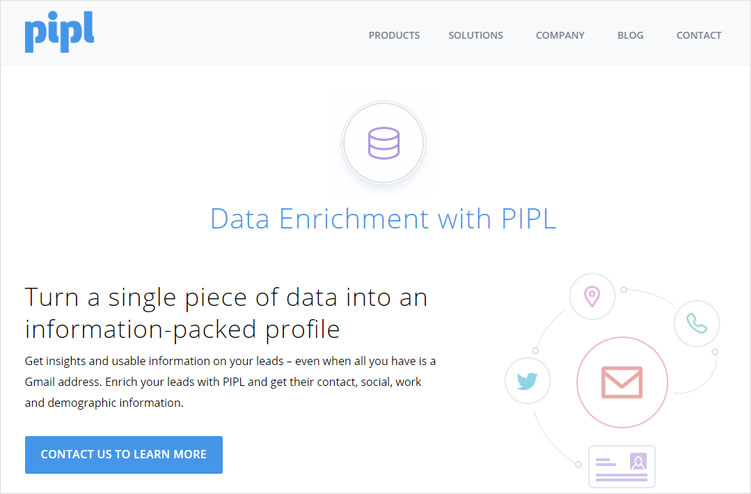 ---
Pricing
There are three plans designed by PIPL lead enrichment solution which are as follow:
Contact plan costs around $0.05 per contact match and delivers some basic details name, gender, age, address, landline.
[
If you want to enrich 1,000 lead data in that case,
$0.05 * 1000 = $50
The total bill of $50.
 ]
The social plan offers username, images, associates, social profiles including all the features of the contact plan and the price charged is $0.10 per match.
[
Similarly, for 1,000 email lead matches, $0.10 * 1,000 = $100 will be charged.
]
Business plan delivers the most advanced details like career, education, mobile phone, along with features of the Social plan at a cost of $0.20 for each match.
[
So, for 1,000 record processing $0.20 * 1,000 = $200.
]
Note:
You only pay for positive lead results. This means that if you send a list of 100 emails and records for only 80 emails are delivered back, then you will be billed for only 80 contacts.
Features
PIPL helps you access social & public info on the web and get the name, work email, mobile phone, social handle, job title & more with ease.
It supports lead data enrichment in bulk as you can upload hundreds of records in the form of .csv or .xls file and extract essential data from them.
You can also find people by their geographical locations as this system has the ability to track locations as well as zip codes.
For More Social Profile Details Click Here
---
3. FullContact: Social Profile Search Engine
With FullContact social profile search tool, you can simply convert any email, twitter handle, phone number or domain data into complete infos like social profile, company details, job data, and so on.
The profile data generated by FullContact is very accurate and returned in the form of reports in different file formats which are properly arranged. Plus the contact details are searched all over the web and data is fetched from different sites.
---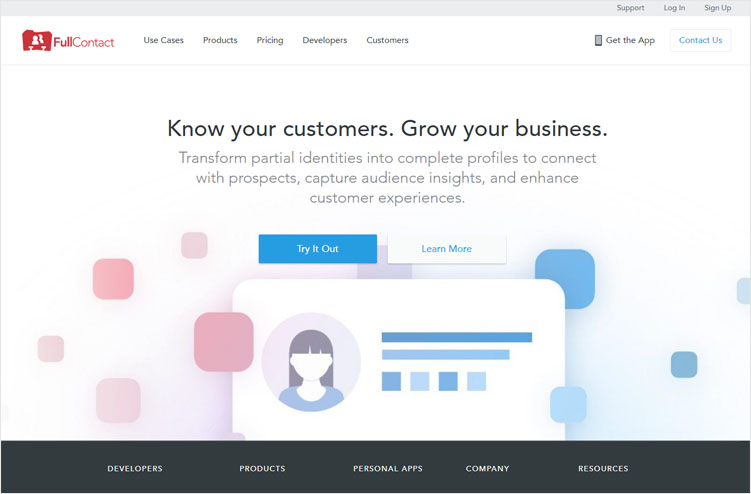 ---
Pricing
For individuals, it has 3 plans:
The basic plan costs $0/m for 250 contact lookups per week.
It premium plan charges $9.99/m for 50 business cards scans & more features.
The team plan bills $12.99/month for various types of accounts like Google, iCloud, & many more. You can look for more plans on its website according to your business growth level.
Features
Each & every matched query is reverted back in properly arranged files which are either in JSON, XML or HTML formats.
Data subscription is an advanced facility which delivers the most recent data in real-time.
Multi-field querying allows searching multiple attributes at a single time.
For More Social Profile Details Click Here
---
4. BeenVerified: Enrich Leads Via Emails
BeenVerified has proven to be the most popular and affordable software for lead enhancement. It helps you extract information of any person via email, phone number and even through locations & addresses. Age, location, property records, social media details, and professional information are shown by this service.
---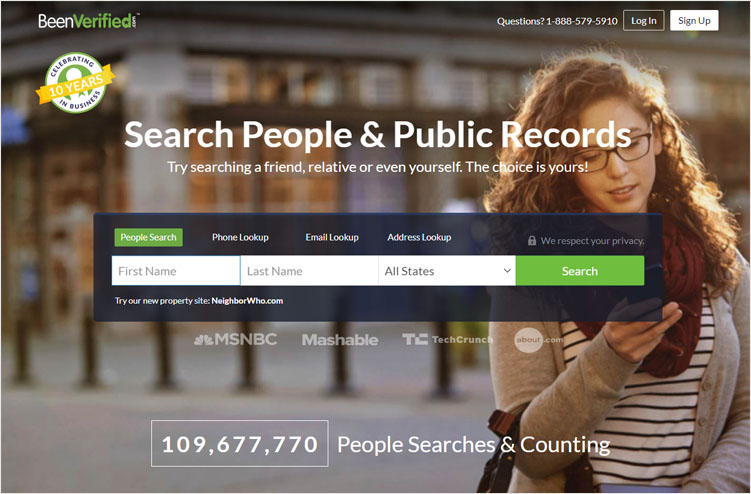 ---
Pricing
BeenVerified has got 2 different plan which can improve your leads data at an affordable cost:-
For its base plan, you have to pay $26.89 on monthly basis and you will be permitted to reverse search emails and find age, location, email, photos, social media accounts, phone number and other information.
Its another plan will cost around $52.44 for 3 months membership. It offers similar services. But the only difference lies in the cost as the plan which will last for 3 months.
Features
Basic lead enhancement details are provided by many solutions but BeenVerified has a special add-on, It also helps you fetch criminal records attached to the person's email address.
You can refine your search results as this service uses email id, phone number or residential area to find the details of an individual person.
Data delivered by BeenVerified is 100% accurate & clear as a good amount of sources are scanned for the results.
For More Social Profile Details Click Here
---
5. Behind: People Social Search Tool
Behind is a famous & trendy search engine to search social profiles in bulk. With a few clicks, you can have a list of personal and professional details available on social sites from over 50+ sites which are generally hard to find.
In addition, you can also fetch details of around 2000,000 email at a time. That's a neat trick!
---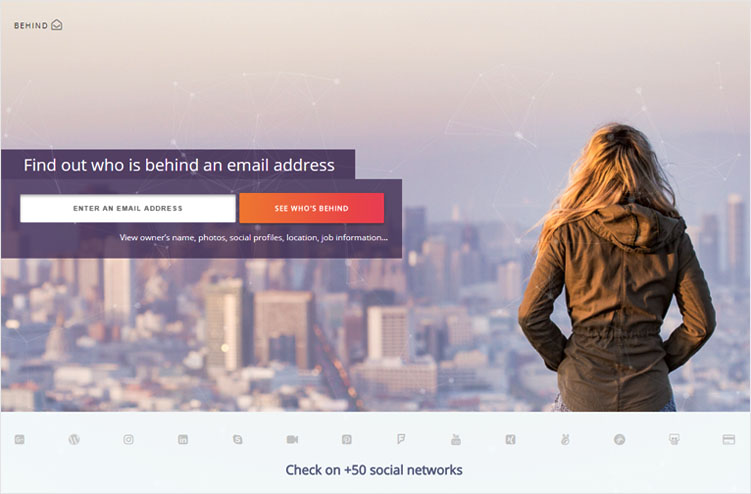 ---
Pricing
Behind offers only 2 price plans.
$0.99 is the charge for each report in case you want a profile, social, location and other security details for a particular lead.
When contacts in bulk are filtered, $0.50 per email is the cost for similar services.
Features
The data is 100% accurate as Behind lead enrichment tool checks details over 50+ social media sites.
All the social media activities & Lead information is delivered back in CSV formats.
You can get the details of leads such as social media profiles, images, videos, location, and other security details.
---
6. MailGet Enricher: Social Profile Fetching Tool
---
---
MailGet Enricher is an awesome lead enrichment solution through which you can extract data from multiple websites at once. Social media, personal, educational as well as professional information from email, phone number or even twitter handle can be fetched with ease. Moreover, you can also check the status of the email addresses whether it is 200 (Active) or 404 (Not Found). This is how you will be able to create a list of authentic leads.
Pricing
MailGet Enricher offers multiple price plans which can help in bulk as well as small lead refinements:
Its Starters plan cots around $4 for getting the web-based details of 200 emails.
The Rookie plan gives you the privilege to filter 1000 email contacts at an extremely affordable cost of $19.
Just by paying a price of $99 you are permitted to refine 5000 email contacts.
It also has a price & email scale through which you can measure the price and number of emails that you get by paying it. For 10,000 to 1,000,000 emails, it will cost from $175 to $9999 respectively.
---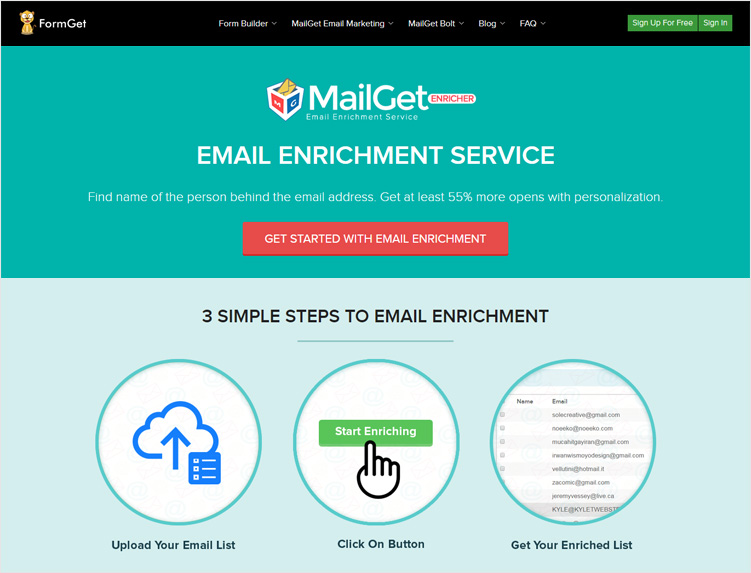 ---
Features:
Easy bulk contact upload is allowed as you can feed a list with huge email contacts and the filtration will be done all at once.
For social media details, some of the leading sites like Facebook, LinkedIn, Twitter, even Pinterest and multiple other sources are searched for data fetching.
It helps to enhance information about name, gender, age, job profile, company, social links & channels, followers and other hidden details.
Fetching data from social media sites is not at all easy tack. The current market has many lead enrichment tools who promise to offer social media details.
But if you take my words I only trust MailGet Enricher. This is because we have tried many tools who provide similar services and I can assure you that MailGet Enricher is the best.
As you get 100% valid user data, multiple web sources are searched, cost-effective 2 cents per search.
---
Conclusion
We have come to the end of the article and I am sure that you would have made a choice of a Lead enrichment software which is best suitable for the growth of your business. Lead enhancement services have become a major necessity for organizations who have contact details in huge amount. So, do not lack behind, start refining your lead details and know more about your customers.
You may also like to read :-
For any suggestions & queries, please drop a comment below & we'll get back to you soon!
---
If you have a clear and refined email list which holds a huge amount of contacts, Why keep it dormant?
We have a perfect solution which will help you utilize that email list effectively for the benefit of your business.
MailGet Bolt an affordable email marketing solution which will give your business a helping hand to promote the products and services that your business offers online around the globe.
We have personally got great results in various email campaigns while conducting email marketing campaigns using MailGet Bolt.