The 4 Best Exit-Intent Popup Software for 2022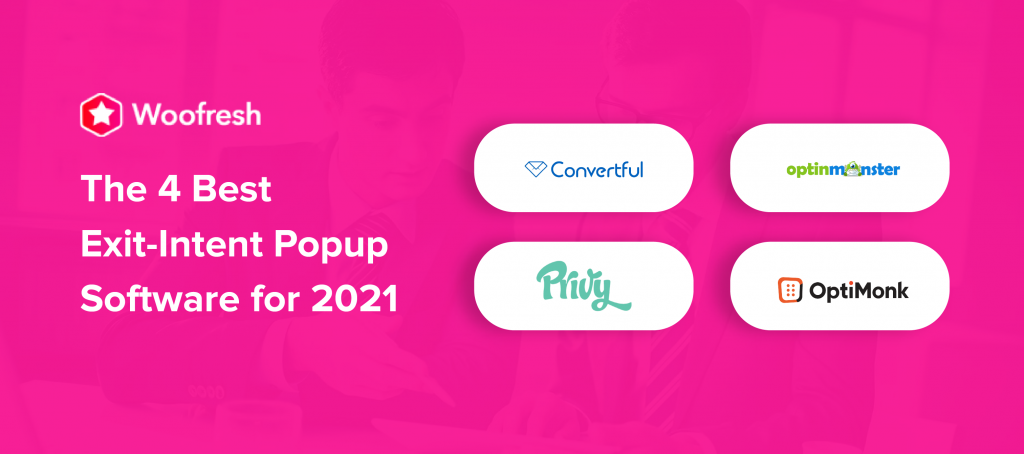 Can an exit-intent popup make a difference to your marketing strategy, or is it just another passing online marketing fad? This post will tell you everything you need to know about exit-intent popups and recommended software.
A Brief History
Back in the 1990s and 2000s digital marketers realized the power of popups. Unfortunately, the technology wasn't quite there yet. They flashed on screens at the most inopportune times, and all they succeeded in doing was annoying users.
Often-times popups would appear when you were trying to access content on a webpage, and when you clicked to exit the page another popup would appear that would loop you round and round.
You may remember them, the ones that almost always started with "Wait, before you go…" They looked something like this: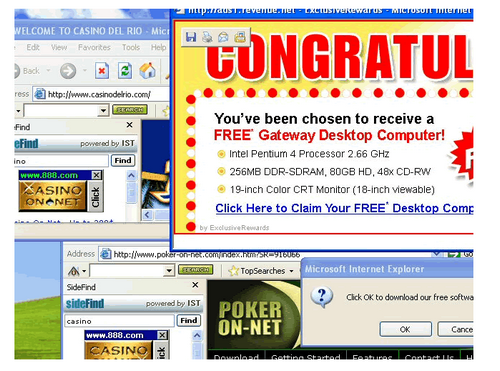 They would leave you feeling frustrated and confused and they interfered with user experience, and they didn't do anything for conversion rates.
Web marketing technology has come a long way since then. Popups don't have to be annoying intrusions.
You can make them appear when a visitor is done with a page and is about to exit, and they are well designed and provide credible offers to users.
Exit-intent popups can help boost your lead generation and conversion efforts significantly if used in the right way.
---
What is an Exit-Intent Popup? What is Exit-Intent?
An exit-intent popup appears on the screen just as a visitor is about to exit a site. It is a last-ditch effort to get them to leave you their email address, complete their purchase or take any other action you would like them to take.
Many visitors who land on your website scroll down one page, find nothing of interest and leave. You can get them at the point just before they go by presenting a popup with a valuable offer.
The main purpose of exit-intent popups is to reduce bounce rates.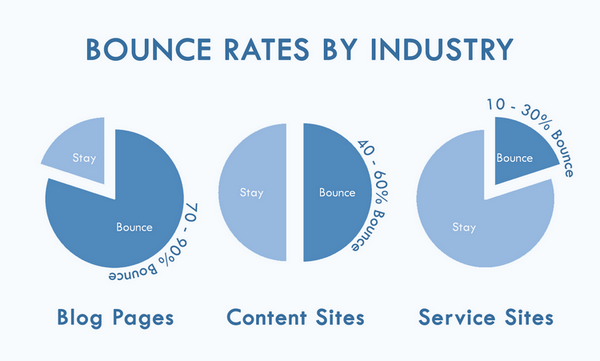 Bounce rate is a statistic that shows how long visitors stay on your site and whether they view more than one page before they leave. These popups reduce bounce rates by giving a user a reason to stick around.
---
How do Exit-Intent Popups Work?
Exit-intent popups are triggered when a user moves their cursor close towards the "close" tab. The technology senses that the user is about to leave your site or click the back button.
Before they can click to exit, a popup appears and makes them an offer, and there is a good chance that they'll take a few minutes longer on your website either to opt-in or complete the check-out process.
Exit-intent popups work based on user behavior. If you want popups to work, take the time to understand what users do when they arrive on your site.
Which pages do they visit most and how long do they stay? When are they most likely to purchase?
The better you understand user behavior, the more effective your campaign is likely to be.
---
How to Create Effective Exit-Intent Pop-Ups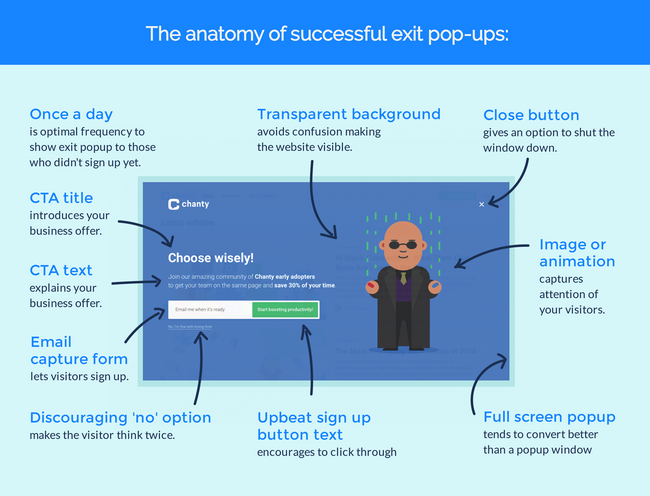 For these popups to work they have to be designed with certain factors in mind:
Make the visitor feel special. Make the offer look exclusive, only for those who subscribe.
Offer a new product, or cross-sell whenever possible.
Invite the website visitor to an event. It can be a webinar, a podcast or even a real-world event like a tradeshow or seminar.
Make sure you have exit-intent popups for cart abandonment. Offering discounts is one way to get users to buy.
Use them to promote other content on your site. It can be existing content on another page or upcoming content in a newsletter.
Have a progress bar, especially if your popup requires several actions from the user. It helps users feel that they aren't filling forms in vain.
Your forms should have a clean, attractive format with a clear and concise message. At a glance, users should see what they'll get from clicking on the popup.
Offer more than yes/no answers. Show users several benefits of your products or services.
---
What is the Average Conversion Rate for an Exit-Intent Popup?

There is a widespread belief that popups are annoying. But are they really? Research shows that what people think vs. what they do are two completely different things.
While many people complain that popups are irritating, they will click on them when faced with a good offer.
Don't listen to those who say that exit-intent popups don't work. Instead, focus on using the correct strategies to create popups that deliver.
Here are some interesting statistics about popups:
98% of site visitors leave without taking any action
The average popup has a conversion rate of about 3.1%.
The best converting popups average about 28%.
You can expect a click-through rate of about 2.6% for any popup.
These may look like tiny numbers, hardly worth the effort. However, if you think about the big picture you'll start to see how much of an impact this simple marketing strategy can have on your bottom line.
The important thing is to understand how you can create top-performing popups.
The best ones seem to have a few things in common:
They have context. The information on the page feeds into the content of the popup. For example, if you have a web page selling tables, a popup offering matching chairs at a discount price would go down well with the user.
The best-converting popups don't appear right away. When you enter a store, you want a chance to look around before you're accosted by salespeople.
Good popups have a headline with a clear and well-defined offer.
Create popups that have character. Avoid the run-of-the-mill stuff that comes in templates. Instead, customize your own, and give them a personality.
High-converting popups offer value. Give users something they can use.
Have a call-to-action that's hard to resist. Imagine you walk into a car dealership and choose a car. Two salesmen approach you. One talks about how much you'll pay every month, and the other tells you that you can test-drive at no cost. Which one are you more likely to go with?
---
Do Exit-Intent Popups Work on Mobile?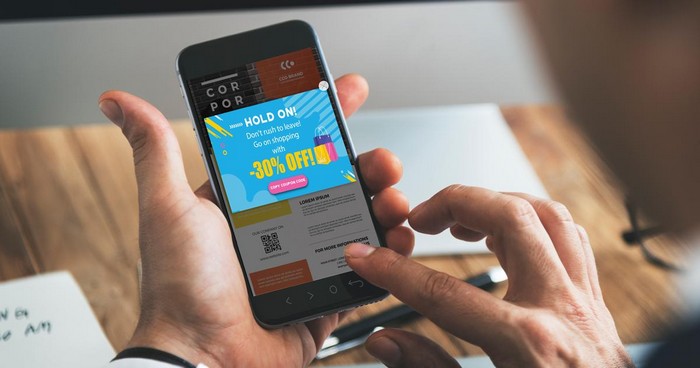 On desktop, exit-intent popups work by tracking the cursor. When it leaves the browser area the popup is triggered. Does that mean that you can't use this marketing strategy on mobile?
You can if you find the right exit-intent software for mobile.
Mobile devices account for most online sales, so it's essential to have exit-intent popups on phones and tablets.
Instead of relying on cursor movement, exit-intent technology for mobile activates when:
A user presses the back button to exit the website.
When they want to switch to a different tab or change browsers.
However, the way you design these popups for desktop is different from mobile. You should choose the right format and avoid filling up the screen.
---
Examples of Exit-Intent Pop-Ups that Work
List Building
In exchange for something valuable users will opt-in. Their names and email address will become part of your email list.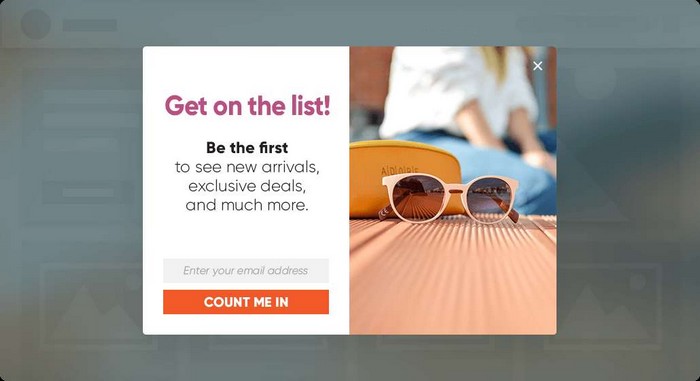 Demo
Users are happy to get free demos and it gives you a chance to convert them into buyers.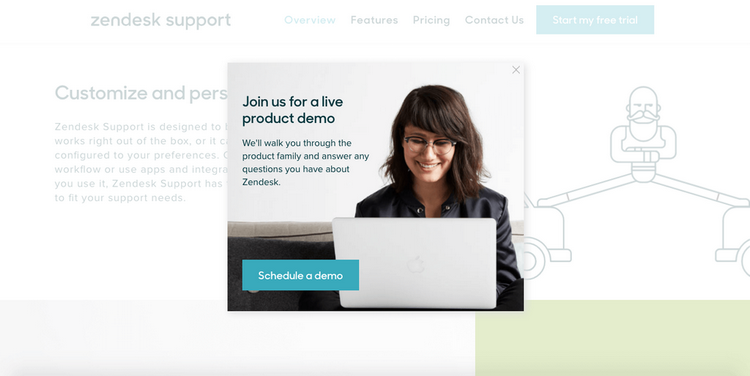 Discount
Discounts give website visitors a reason to stay longer on your website because they want to se how much they can save. They are one of the most effective strategies for reducing cart abandonment.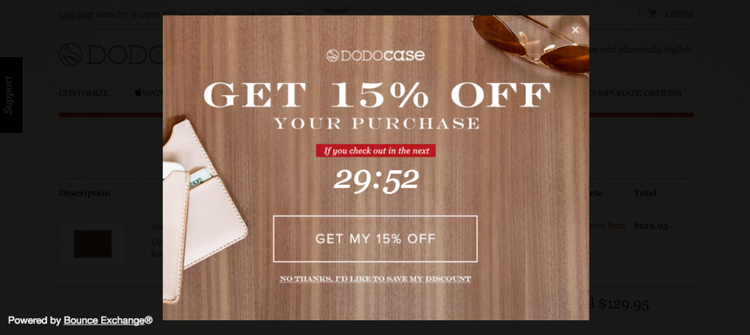 Cart Abandonment
Don't let visitors walk away before they complete a purchase. An exit-intent popup with a good offer will encourage them to finish the checkout process.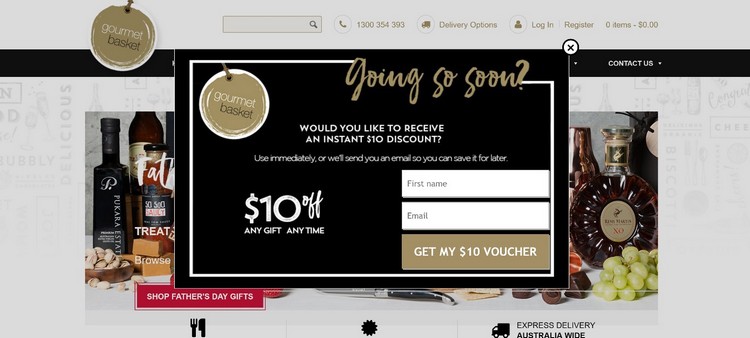 Seasonal Offers
During Christmas, Easter and other holidays you can increase sales by letting website visitors know about available seasonal offers and how they can take advantage of them.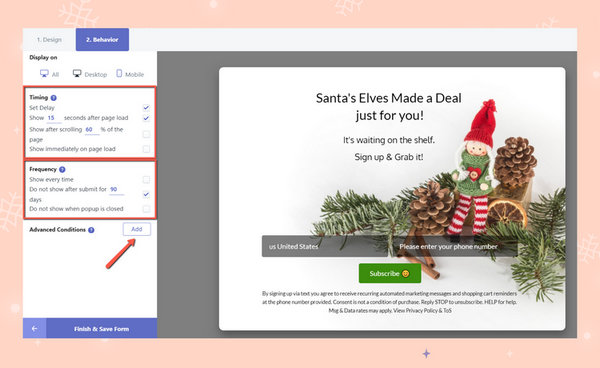 Lead Generation
You can create an offer so compelling that website visitors are happy to leave you their email addresses to receive it.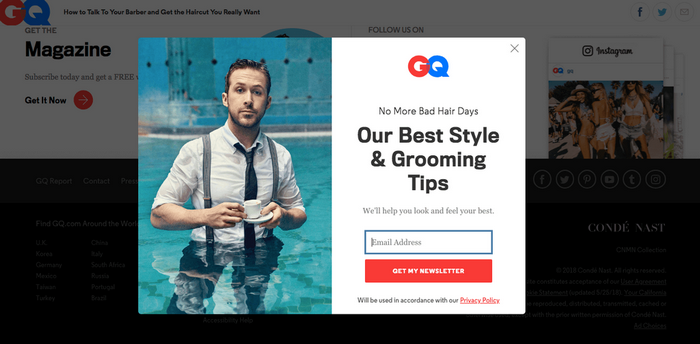 Countdown Timer
If an offer has a time limit attached users are more likely to take action especially if they'll save some money.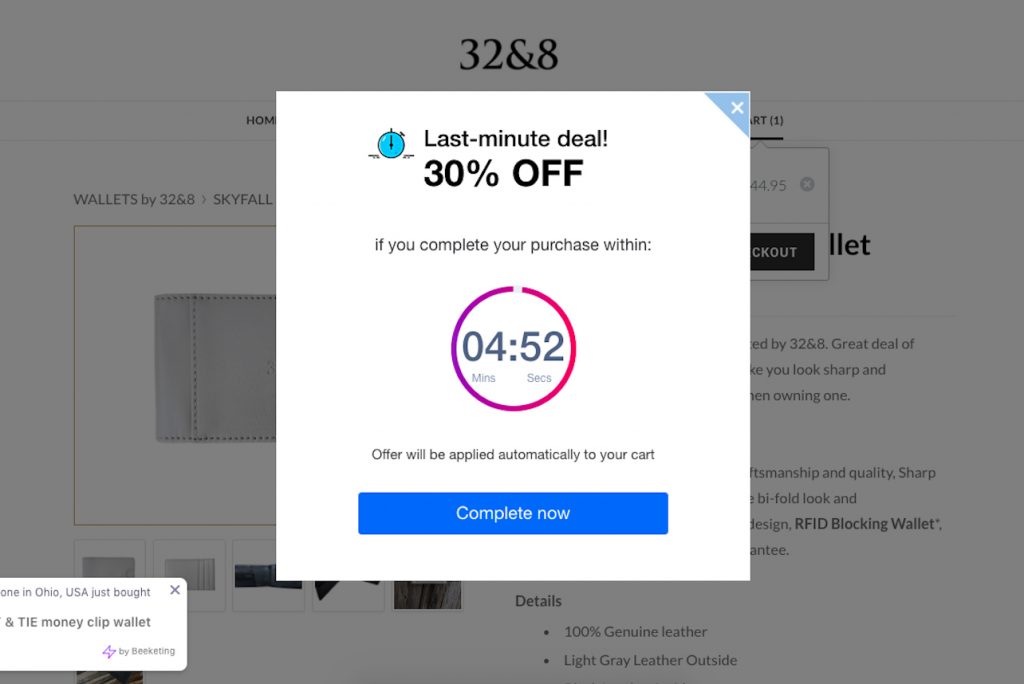 Surveys
These are useful in helping segment website visitors so that you can give them relevant offers.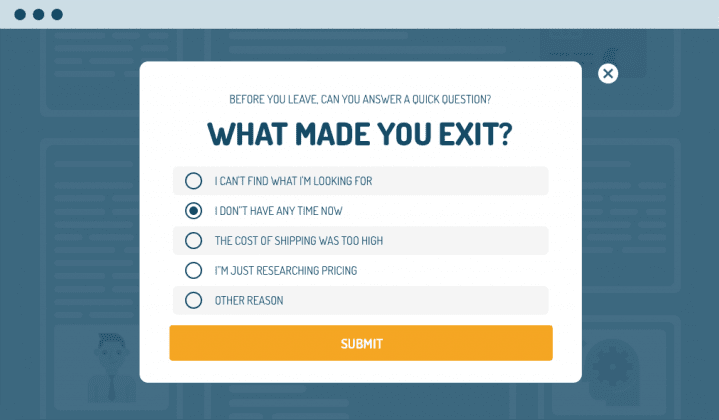 ---
Best Exit-Intent Popup Software
Read Review
View Listing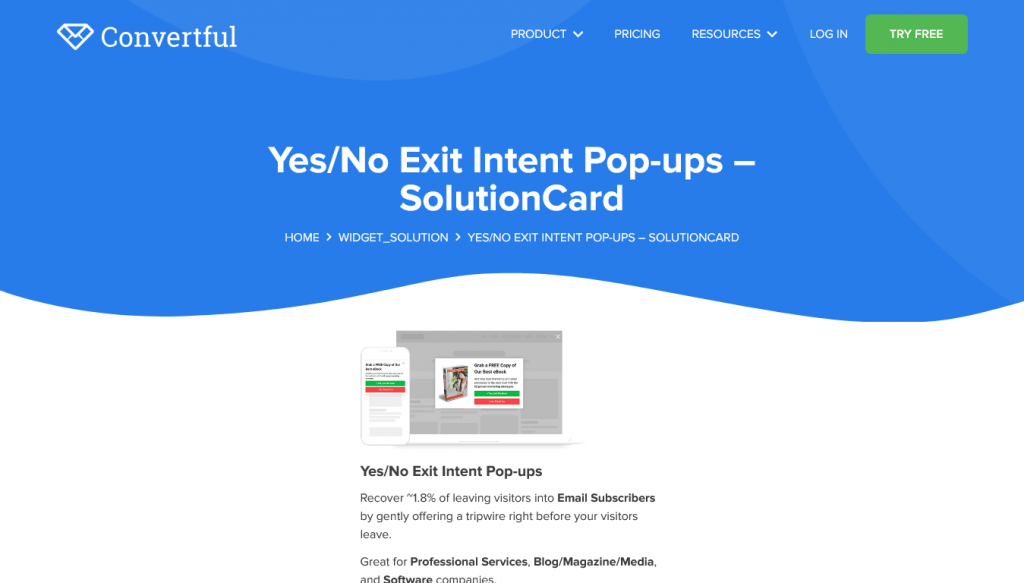 Convertful has a variety of exit-intent offers that you can use to target different segments at different times in any niche.
The popups in this software can be used to reduce cart abandonment, offer discounts, present seasonal offers, present surveys and more.
The software comes with lots of customizable templates that you can modify to suit your brand. The easy-to-use drag-and-drop editor allows you to create exit-intent popups within minutes.
Use the A/B split testing module to determine which popup will work best for your campaign.
Here are some of the popups available in Convertful:
This one can help you recover about 2% of visitors. It works great for magazines, media, professional services and other niches.
The Convertful cart abandonment popup has an impressive recovery rate of around 21%. It's especially recommended for eCommerce stores.
This popup is effective for gaining leads and increasing your conversion rate. You can give visitors a chance to win a coupon code that they can use on their cart before they exit your website.
Place the social subscription popup on your website, and every time a user clicks on it their email address is sent directly to your email list. It helps you capture email addresses correctly and grow your email list without effort.
Segmentation allows you to present personalized offers to users. With this popup you can segment up to 5.8% of all visitors to your site.
Account-Based Personal Offers
Users love it when you send them offers that are personal to their needs and desires. It makes them easier to convert. The account-based personal offers examine the CRM for tags, custom field values and other data to bring users products and services they are more likely to buy.
Create a sense of urgency for your offers with this easy-to-install countdown timer.
Before first-time site visitors leave you can use this popup to get them to check out or follow you on social media.
Any visitor who likes the content on your site has the option to opt in just before they leave the site to receive similar or relevant articles in the future.
If you have additional relevant and insightful content, you can offer it to users by asking them to opt-in.
Convertful is more than popup software. It has a host of additional features to help generate and convert leads. It is considered one of the best lead capture software in the market and comes recommended by leading industry experts.
---
OptinMonster uses exit-intent technology to reduce bounce rate, cart abandonment and grow email lists. It promises to help you gain up to 4% more leads that you can convert into buyers before long.
The cart abandonment feature allows you to invite the visitor to chat with an agent before they leave, get a special discount or join your email list so that they can receive offers in the future.
To grow your email list you can invite users to download an e-book or case studies, sign up for a free product trial, book a free consultation or enroll for a seminar.
Statistics show that those who implement this exit-intent feature correctly alongside good content see a 200 – 600% leap in leads.
You can funnel all leads into the marketing automation module of the website. It sends out automated emails to new subscribers, and you can automate all follow-up emails.
The company has published numerous case studies showcasing some of their customers who have made significant gains in lead generation using their exit-intent popups.
If you're not sure where to start, have a look at the sample popups on the OptinMonster website.
---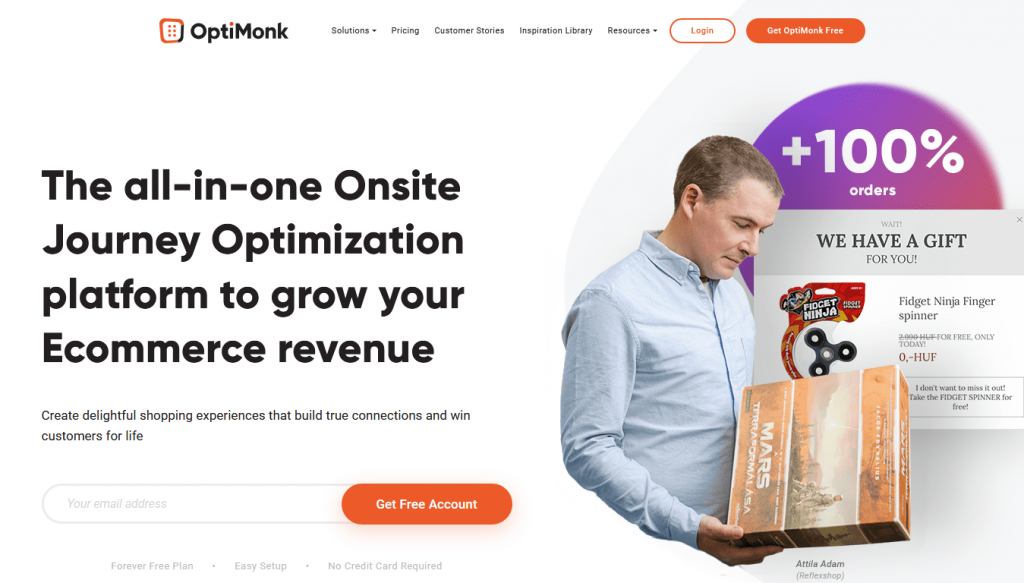 OptiMonk promises to help you turn shoppers into buyers by presenting them with special offers, reducing cart abandonment, recommending new products and increasing urgency so that users can buy right away.
The software has more than 200 templates that are customizable to suit your brand and campaign. It allows you to tailor popups and make them more appealing.
You can collect vital statistics on site visitors that you can use to send them special offers in the future. OptiMonk tells you when the visitor came to your site, which pages they saw, how long they stayed, what products they viewed and so on.
This kind of information allows you not only to present new products in the future, you can also cross-sell more effectively.
To ensure that exit-intent popups are effective, OptiMonk has:
Countdown timers
Mobile-responsive content
Behavioral targeting
Intelligent targeting
The A/B testing feature allows you to see which popups result in the highest conversions. You can target different segments with one message using the Dynamic Text feature.
The website also gives you tips on how to make exit-intent popups work for your campaign.
---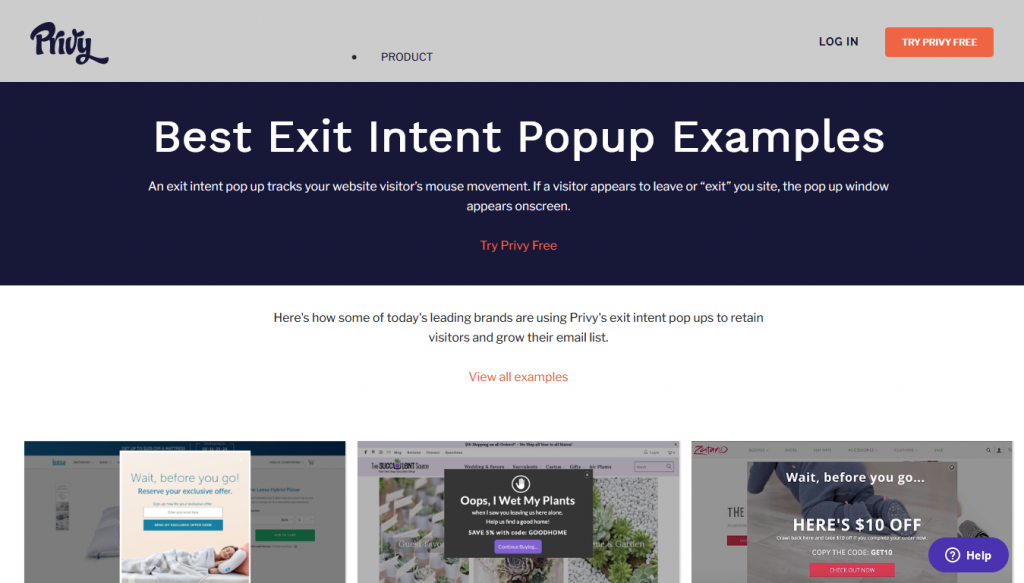 Privy believes that if you show a visitor a special offer before they leave your site there is a good chance that they'll stay and either buy from you or opt into your email list. The software uses exit-intent technology to track users and presents them with offers just before they leave.
You can use this software to recover abandoned carts and cross-sell relevant products. It also allows you to offer discounts to encourage customers to stay and continue shopping.
It allows you to target users with different offers on both desktop and mobile. You have dozens of templates to choose from, and you can also customize as needed to suit your campaign.
---
Conclusion
Exit-intent popups are a powerful way to reduce bounce rate. They allow you to present users with offers in a non-obtrusive manner. You can use them to grow your email list, increase sales and overall engagement.
For these popups to work you need to have the right software. It should have lots of templates, allow customization and it should integrate seamlessly with other commonly used marketing tools.
As you choose exit-intent popup software think about what you want your campaigns to achieve and whether you can use it to scale as your business grows.
We recommend Convertful. Apart from a robust exit-intent module it also has lots of other features to help boost lead generation and conversion.