The 5 Best CRM Software for eCommerce in 2022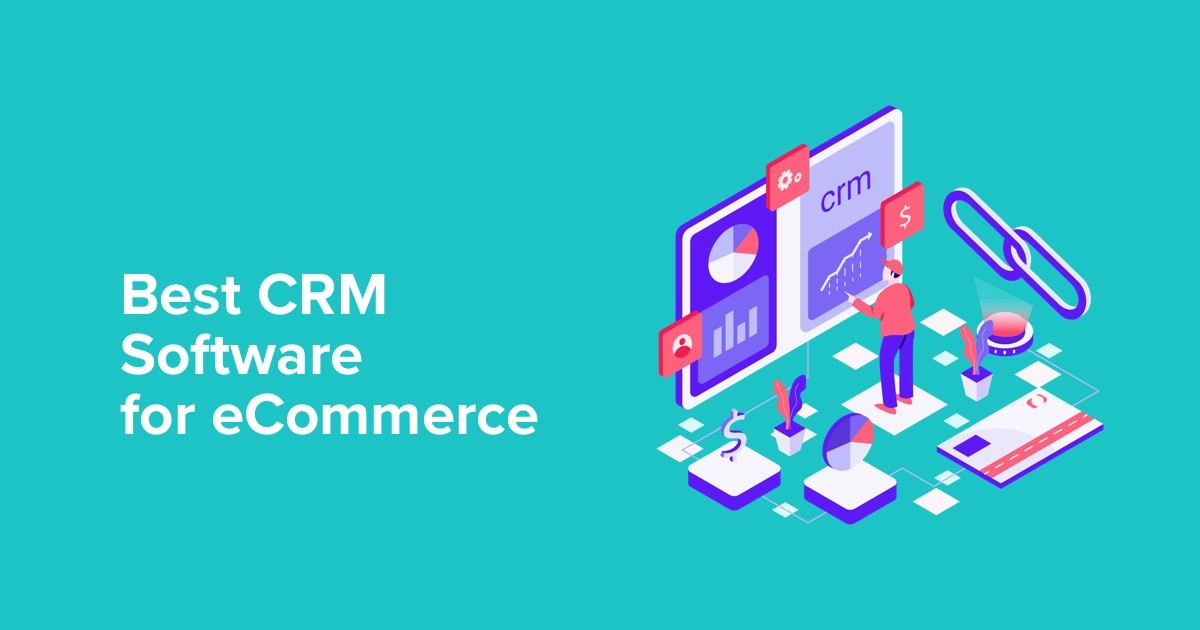 Today, managing customer relationships is one of the most important aspects of any online business. Try doing without software and you won' get very far.
Fortunately, there is lots of eCommerce CRM software that can help you not only keep tabs on customers and leads but also understand and anticipate their needs.
This post is all about eCommerce CRM software. We'll talk about what it is and how it works, its benefits, features of the best eCommerce CRM software and the best CRM for eCommerce software for your business.
---
What is eCommerce CRM Software?
If you set up your eCommerce business right you'll soon have lots of leads coming in. Whether you're advertising for new customers or deriving leads organically, you'll need to find an effective customer relationship management system.
You'll need to capture and store information about potential customers, see where they are in the sales cycle, set up email campaigns at the right time, understand their buying patterns and more.
Imagine trying to do this with an Excel spreadsheet. Even if you have just one hundred leads, it will be a time-consuming and tedious affair, and you may not get the details accurate every time.
CRM for eCommerce software is used to manage a business's interactions with clients. CRMs are used in all industries, and they are usually tailored to suit that industry's particular needs.
A CRM for healthcare institutions, for example, is created with patient needs in mind, while one for the hospitality industry would be made for the needs of hotel and restaurant customers.
CRM for eCommerce is made with sales in mind. eCommerce businesses live for sales. They need as much customer information as they can get to provide customers with what they're looking for and more importantly, preempt their needs. They need to know customer interests, shopping habits, their location, age and gender and even their shipping interests.
A good eCommerce CRM can collect this kind of information and more (we'll take an in-depth look at features of a good CRM eCommerce a little later).
---
Why Do You Need eCommerce CRM?
What are the benefits of eCommerce CRM software? It's worthwhile to take a moment and look at the statistics for CRM software:
About 75% of all CRM users report increased access to customer data.
They also report an average of 30% increase in sales. A study by the Aberdeen Group shows that sales teams that are considered productive are 81% more likely to be using CRM software.
65% of sales professionals who use CRM are able to meet their quotas.
According to a report by Finances Online, businesses that use a CRM can increase their conversion rates by a whopping 300% and their sales by up to 41%.
The current CRM market is $80 billion+ and is projected to grow by 12% every year until 2025.
The list goes on and on, but the 5 statistics listed here are enough to show that CRM is not only good-to-have, it's a must-have especially for eCommerce businesses.
What can CRM software do for eCommerce businesses?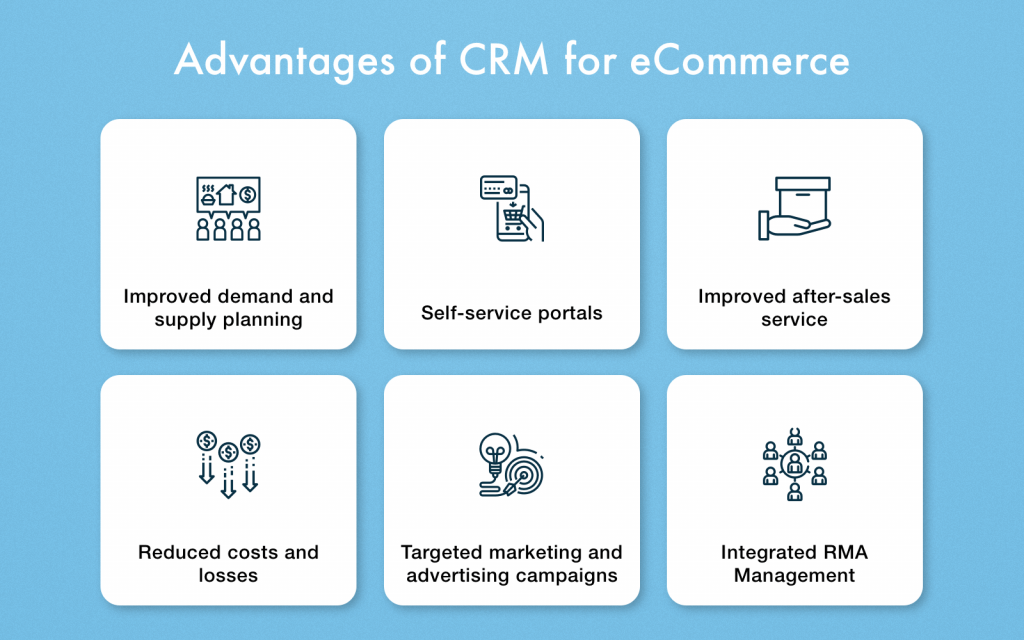 It helps improve the customer experience – today, it's all about the customer experience. If they have to jump over hoops when they arrive on your site they'll leave. Using a CRM to collect customer information for your eCommerce business helps you know who they are, what they are looking for and when they want it delivered
More targeted marketing – marketing dollars are precious and you want to spend each one in the right place. eCommerce CRM software helps you understand your customer base so you can send the right marketing message to the right lead or customer every time.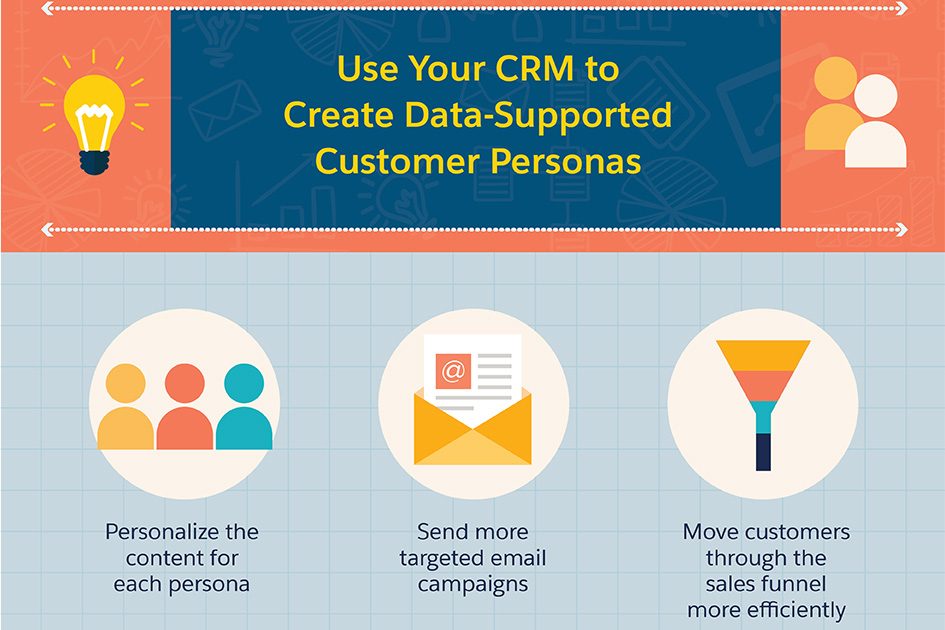 It helps improve sales – the statistics discussed above show how important a CRM is for any online business that would like to increase sales and revenues and build lasting customer relationships.
You'll improve inventory management and forecasting – with a good CRM you'll always know what's in your inventory and what you need more of. You can fulfill more customer orders and improve customer satisfaction.
These systems help increase customer lifetime value – customers come back again and again because you provide the products they need when they need them. The information you collect with this kind of software helps you address concerns before they become issues, and this increases customer trust in your business.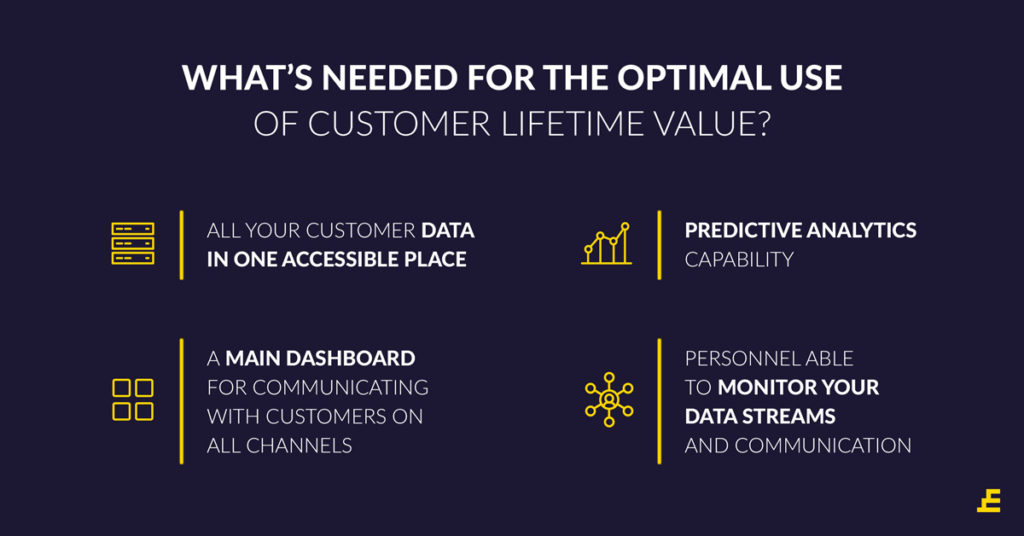 Improved analytics and monitoring – the best CRM for eCommerce software provides access to large amounts of data, analyzes it and gives you reports on every aspect of client data. Keeping a close eye on these reports means nothing falls through the cracks.
It helps minimize losses and cut costs – you can see all customer-related data on one screen and know precisely what is happening in your business at all times. You never have to spend time tracking down losses or missing inventory.
---
Features of the Best eCommerce CRM Software
This post is about the best CRM for eCommerce software, but what criteria did we use? The best software in this category has some features in common:
They can map the customer journey – the best CRM eCommerce software can map each customer's journey from the time they are a prospect until they buy. It goes further to try and convert customers into brand advocates.
360° customer view – this means that the software can see customer actions on your website, their activities on social media, browsing, shopping, purchases and all other activities. They collect and analyze this data and you can use it to personalize the customer experience.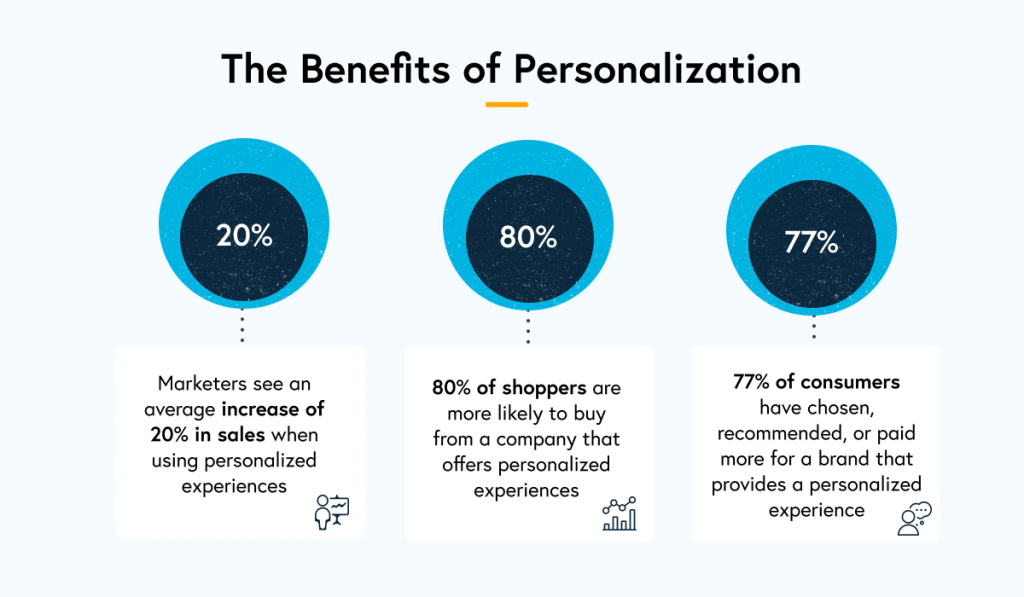 Data analytics – good CRM data will analyze the data it collects so you know your best customer acquisition channels, whether your campaigns are effective, who your best customers are and also identify bottlenecks in the customer journey.
Customer service automation – if you find CRM software that can automate a significant portion of the work that goes into customer service, it's worth investing in.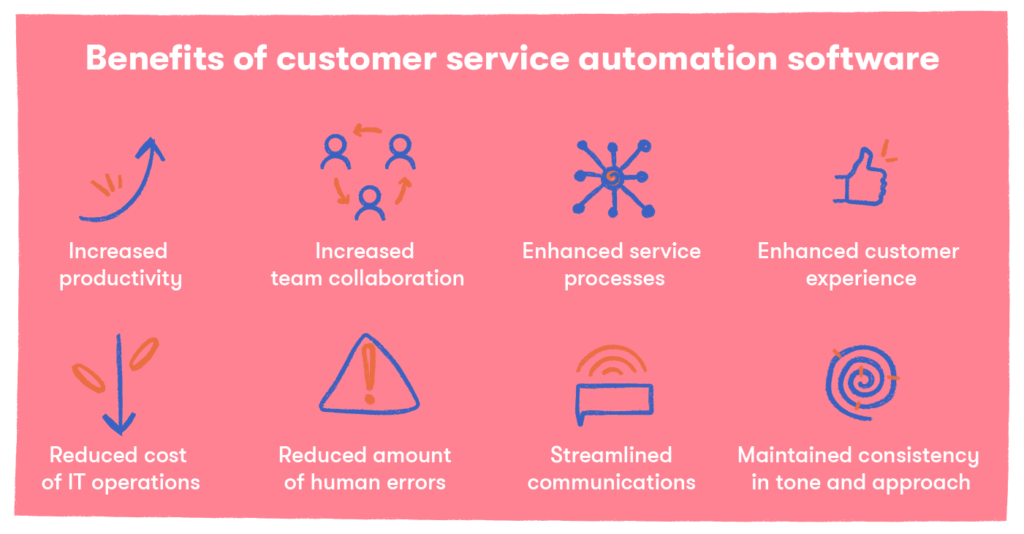 Integrations – good eCommerce CRM software integrates with common eCommerce platforms, communication software, marketing and customer service software.
Eliminate duplicate records – these are sometimes captured erroneously but good CRM software detects and eliminates duplications.
Customer satisfaction – it should have a feature that tracks how happy customers are with your website and your service. It makes it easy for customers to leave feedback.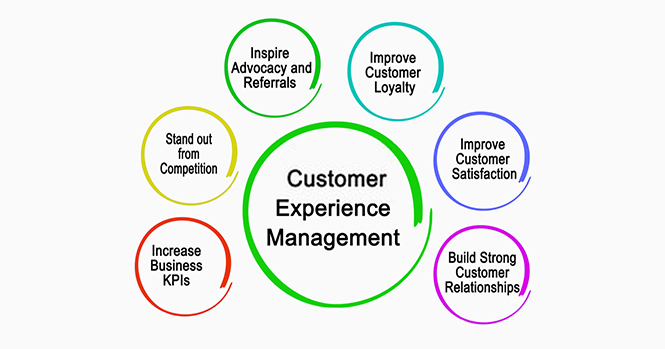 Some of the eCommerce CRMs may not have all these features, but they allow integrations of software to increase functionality.
---
Best CRM eCommerce Software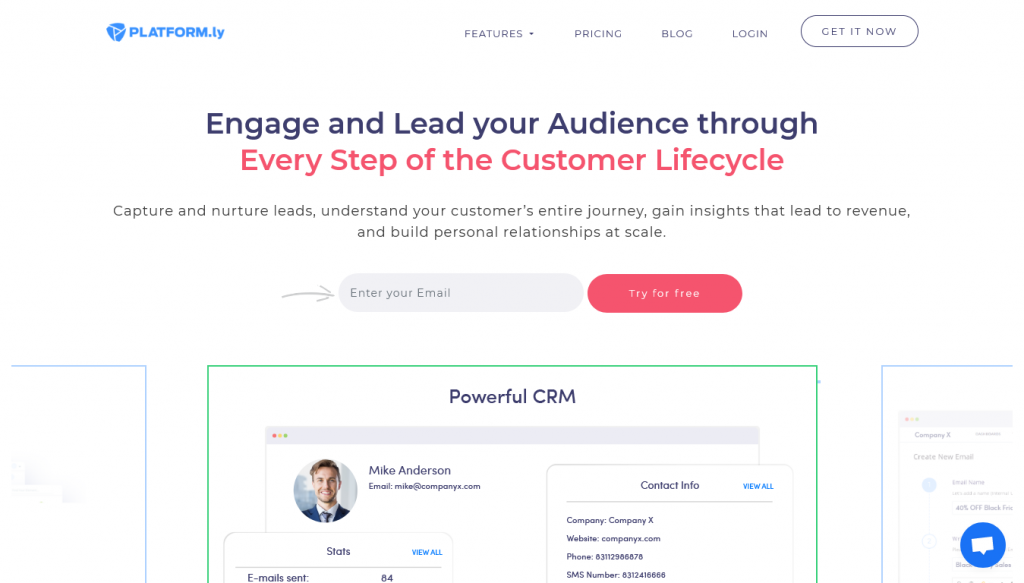 Platformly brings together all the features you need in a good CRM. What's more, you can use this software to turn any WordPress software into an eCommerce store.
The dedicated eCommerce plugin allows you to connect any WooCommerce site to Platformly so that you can take advantage of its rich CRM features.
Here are some of the things you can do with Platformly for eCommerce.
Features
You have full control of all eCommerce transactions. It allows you to track purchases, see purchase history, issue refunds, see canceled orders and more.
Platformly has a great email capture and automation module. You can capture user email addresses when they visit your site and then set up automated emails to go.
This software allows you to see customer website behavior. You can see what pages they visit, what products they look at and the ones they load into their shopping carts. This is information you can use to create customized campaigns.
Platformly has a highly effective abandoned cart module.
This tool allows you to segment new users so that you can create campaigns that are likely to convert.
You can also segment by products and send customers information and promos about items they are more likely to buy.
Platformly has an excellent reporting module. Choose what fields you want to appear in your reports and get a full list of transactions for a certain period, all completed purchases, refunds and so on.
Improve the customer experience and increase conversion rates by importing product descriptions directly to your emails.
Platformly is more than CRM for eCommerce software. It is a full marketing suite that any online business can use throughout the sales cycle. It helps users build personal relationships with customers so that they can increase revenues. Here are some of its additional features:
Business Dashboards – you can see what is happening in your eCommerce business on one dashboard. These dashboards provide real-time data and analytics that you can apply to your campaign right away. You can customize dashboards to suit your business needs.
Lead Capture – fast-track your lead capture with speedy and responsive landing pages that have well-designed opt-in forms. They are mobile friendly and creating them is easy with the drag-and-drop feature.
Marketing Automation – here you have triggered emails, email autoresponders, email funnels and more.
Link Tracking – tracking links shows you how much you make from each channel.
Integrations – the software integrates with common marketing and communication tools.
Platformly is SaaS software is ideal for small and medium-sized businesses that may not have big budgets. It's well supported and has an easy UI.
---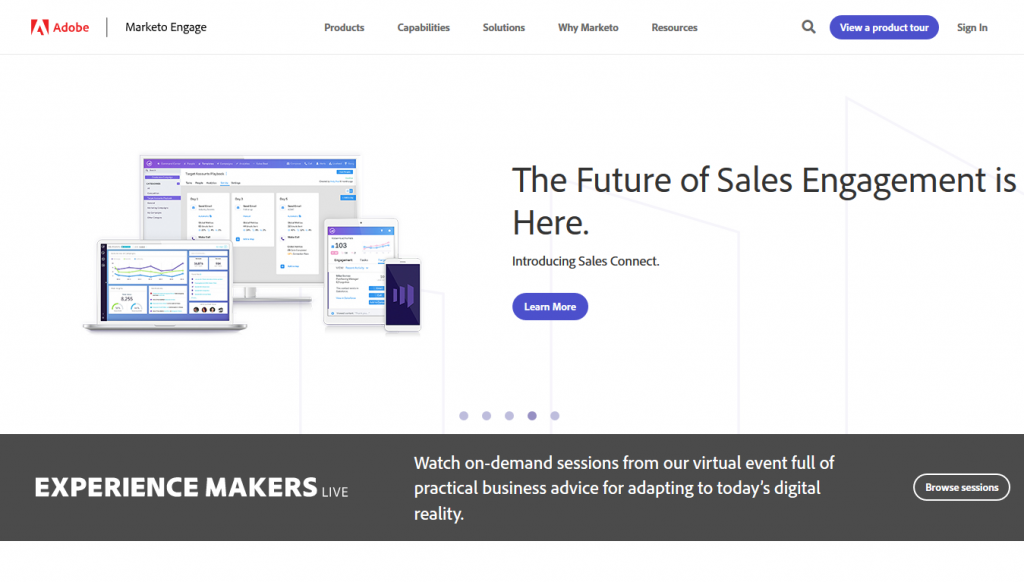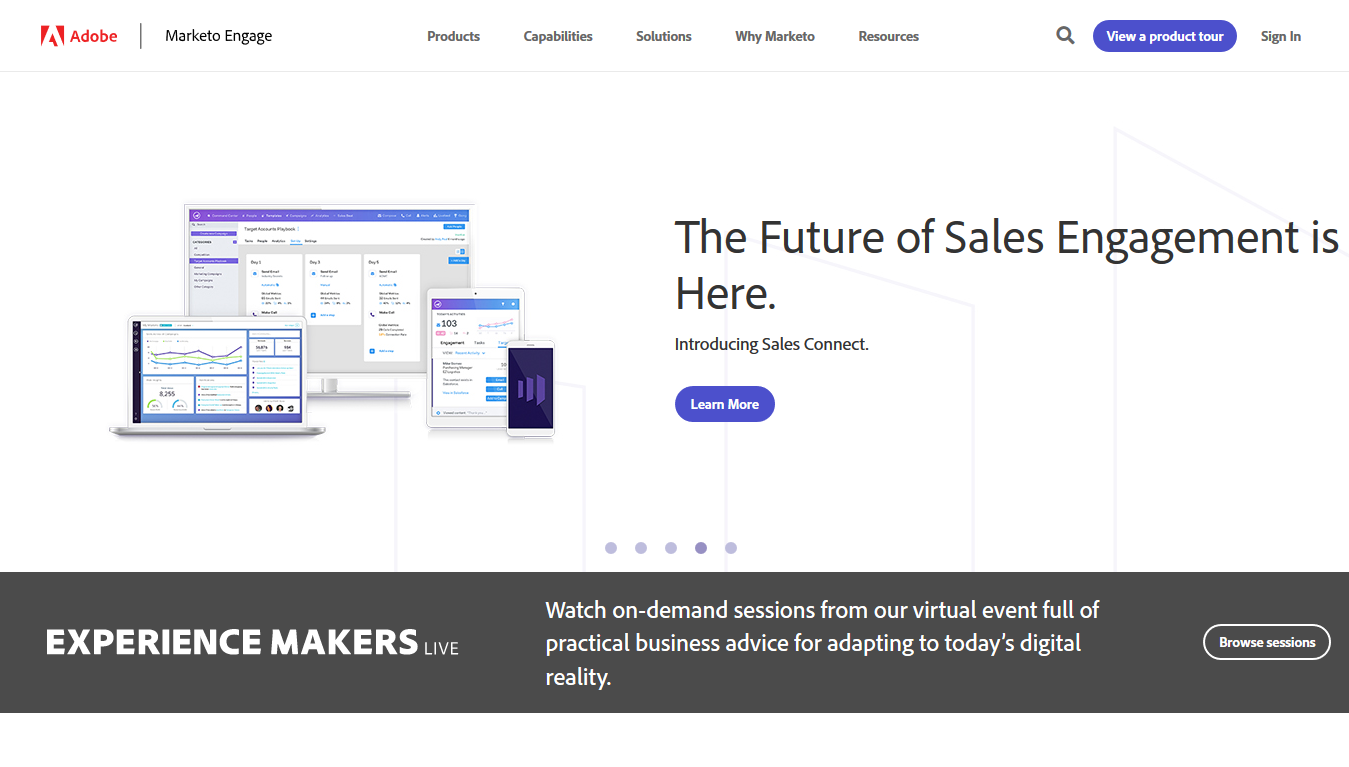 Marketo is Adobe lead management software that has a raft of CRM tools. Although it's more marketing than CRM software, it has powerful customer relationship management features that make it one of the best CRM eCommerce tools for small and medium businesses.
They include lead management, email marketing, revenue attribution and in-depth dashboards and reports.
Features
Engage Lead Management – it allows you to create personalized campaigns that can attract leads and turn them into buyers. It helps identify the most valuable leads so that you can focus your efforts in the right place. This module lets you nurture a lead until it's ready for conversion.
Integrations – you can integrate Marketo with Salesforce.com, Microsoft Dynamics and other marketing and communication software.
---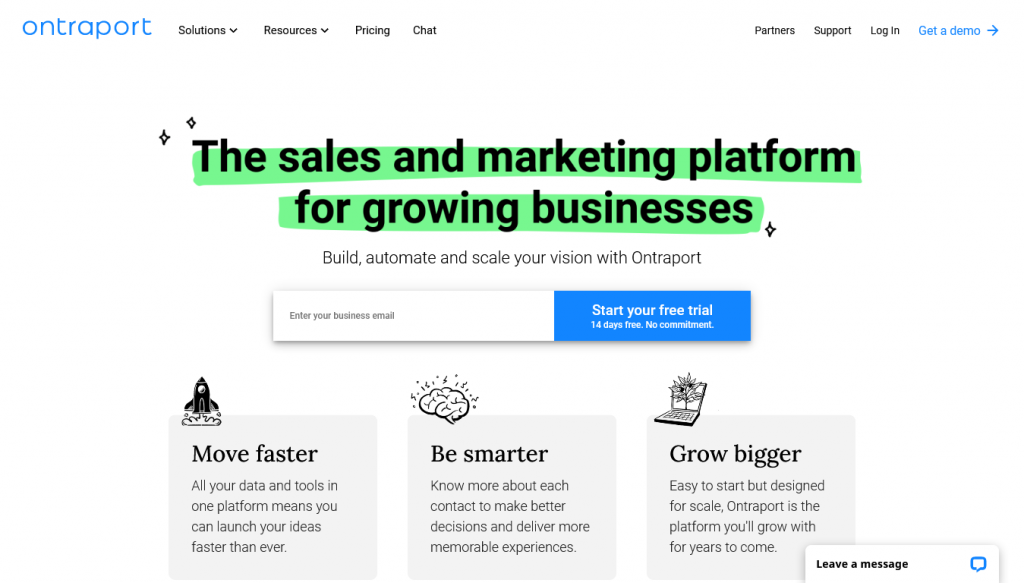 Ontraport has an eCommerce suite that allows you to set up online shops for goods and services. You can use it to list products and inventory and it allows subscriptions and payment plans.
It has more advanced features like upselling products, automated product delivery and order bumps.
One of the biggest advantages of setting up eCommerce sites with Ontraport is the ease of setting up payment systems. It manages credit cards with the highest security standards and you can switch merchants easily
Features
Lead tracking – rich forms allow you to capture more information about each lead so that you can create tailored campaigns that convert.
Form builder – it's easy to create the forms you need with the drag-and-drop feature.
Connect to existing gateway – if you already have a payment gateway set up there's no need to change. You can connect it to Ontraport with a few clicks.
Multi-currency – use this CRM for eCommerce to collect payments in different currencies.
Google eCommerce integration – it allows you to send your sales data to Analytics and analyze things like average order time and the time it takes a lead to make a purchase.
Sale Tracking – this is a unique feature of Ontraport that allows you to see where every sale originated.
Beyond the Sale – it doesn't end when you make the sale. The software allows you to deliver the product, follow up and even track referrals.
---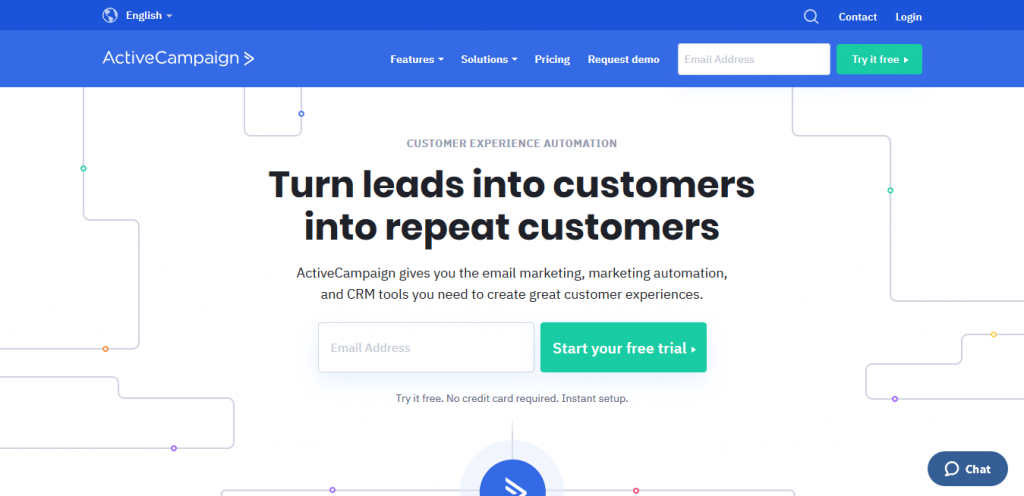 We include ActiveCampaign in this list of best CRM software for eCommerce because it syncs with all common eCommerce platforms and integrates with more than 870 apps. Whatever marketing or customer service app you need, you're sure to find it in their list of integrations
The CRM module promises to help you "keep track of leads in a CRM, not in your head". You can prioritize and automate lead management so that you have time to do other more important things.
Features
Sales Automation – the software has modules that help you automate a significant part of the sales process. You can set up abandoned cart campaigns, order fulfillment and other mundane tasks to run automatically in the background.
Contact Management – ActiveCampaign is excellent for contact management. You'll not need to spend time looking for email addresses and phone numbers – everything is stored within the software. View a contact's history on one screen including what they have purchased in the past.
Lead Scoring – you'll know what leads to focus on and when to contact them.
Win Probability – find out how likely you are to convert a lead so that you can focus on the right ones.
Task Assignment – assign each team member tasks from within the software and view their progress as they work.
Automated Deal Updates – you can automatically update deals with their owners and value and show whether they have been won or lost.
Team Notification Emails – add notifications for team members and they will be notified automatically when a task is due.
As mentioned, this software has hundreds of integrations – too many to list here. If you need to integrate an app but can't find it contact the sales team and ask them to do it for you.
---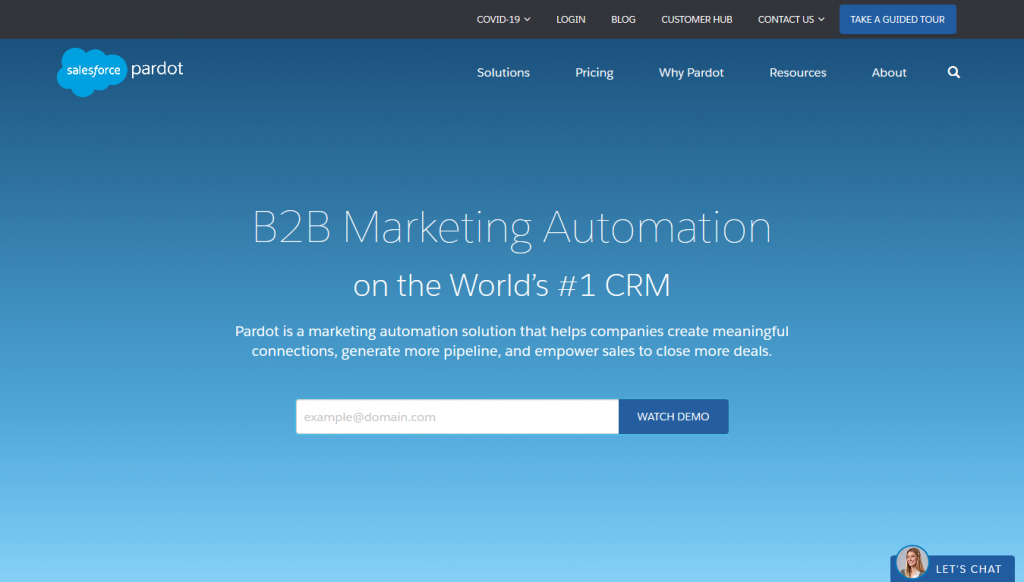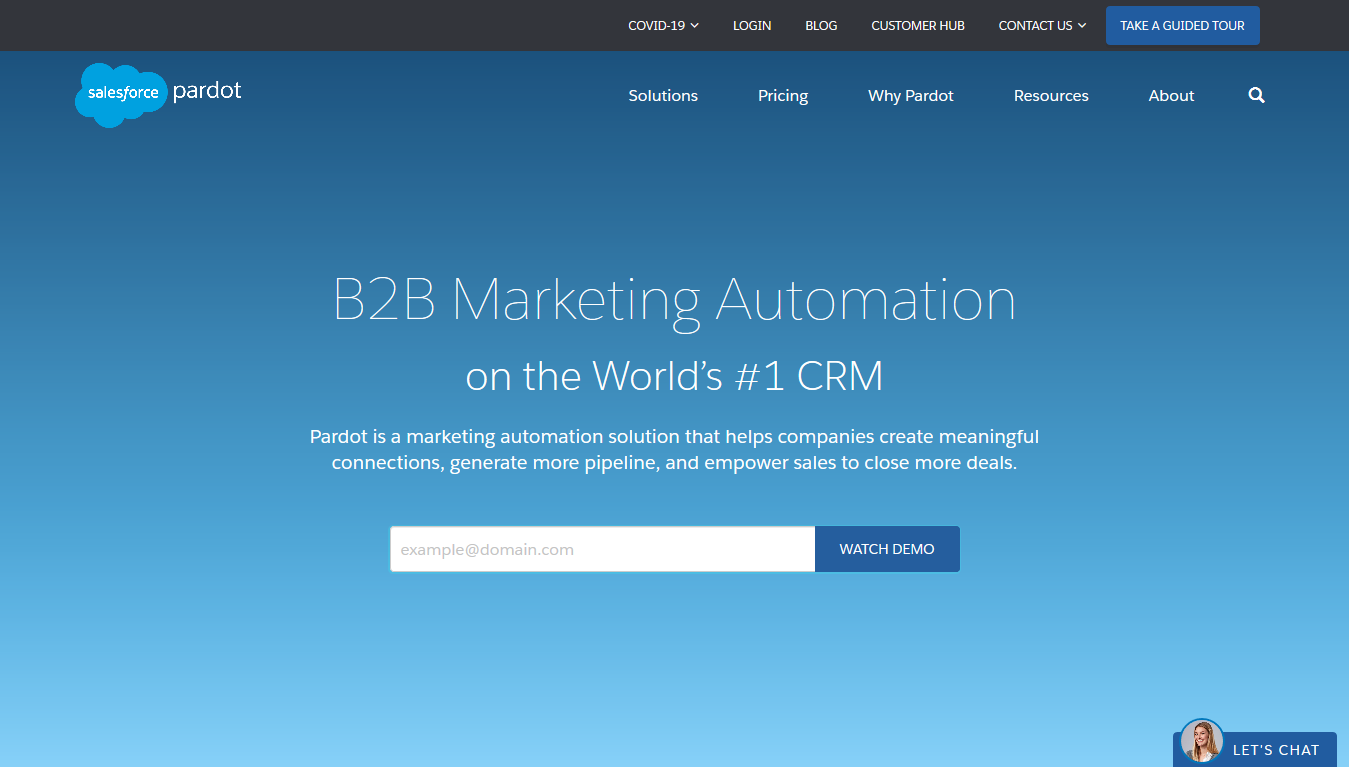 Salesforce Pardot may be out of reach for small businesses with limited budgets but if you look at its features you'll understand why it retails for so much.
Costing $1,250 a month for up to 10,000 contacts, it helps generate more leads, automates lots of marketing tasks and manages customer and sales data.
The software is easy to use and even the analytics and integrations modules are a breeze. While most Pardot users prefer it for email marketing, it has good CRM eCommerce capabilities that will take your business to the next level.
Features
Streamlined Lead Management – this module includes lead qualification and nurturing as well as segmentation. You can automate lots of lead-related tasks and send out personalized content based on lead segmentation.
Smart Lead Generation – you'll be able to maintain a constant inflow of leads with this module. It has a landing page builder with templates and customized layouts, smart forms, social posting and profiling and you can integrate and track paid search.
Email Marketing – in this module you'll find an email builder, automated engagements, personalized messaging and optimized sending.
Seamless Sales Alignment – create and track sales campaigns with easy-to-use tools. You'll see hot prospects and know when to contact them and what to say to them to get them to buy.
Insight Reporting – you can track each campaign with detailed reports that show you ROI by channel. The software shows you how customers move through your sales funnel, highlight opportunities and reveal bottlenecks.
Salesforce Pardot may be expensive, but if you can afford it by all means go for it. It has powerful features that you'll be hard-pressed to find in cheaper software.
---
FAQ
What is the best eCommerce CRM software for small business?
There's no single answer to this question. It depends on the size of the business, its goals, how fast it's growing and even its marketing techniques.
All the eCommerce CRM software discussed in this post is ideal for small businesses except maybe Salesforce Pardot because of how much it costs.
However, you should think carefully about what your business needs and then look for software that's a good fit.
How does an eCommerce CRM build customer loyalty?
One way to build brand loyalty is through personalization. Research shows that customers are more likely to respond to emails and other communication when they are personalized.
The only way to personalize communications is to collect customer data, and you can collect rich data if you're using the right CRM.
Isn't CRM software for big business?
Not really; any business, big or small, can use CRM software. If you are keen to understand your customers so that you can bring them the right product offerings, you should invest in CRM software.
It will help you capture extensive information about leads, and it's invaluable in sending out personalized messages that increase conversion rates.
The other reason small businesses need eCommerce CRM software is that it automates a lot of marketing, order fulfillment and customer service tasks, leaving business owners and managers free to grow other areas of the business.
eCommerce CRM vs. normal CRM: which is better?
If you run an eCommerce business you'll be best served by eCommerce CRM software. However, if you run an ordinary online business you can use ordinary CRM software.
This rule isn't written in stone. Depending on your eCommerce business you may find that ordinary CRM tools work and vice versa.
If you want to be able to analyze customer data, collect and convert leads, CRM for eCommerce is necessary.
---
Conclusion
As a business owner of an eCommerce business, one of your primary tasks is to make sure that you have a steady stream of leads coming in. Converting those leads into buyers will determine whether your business succeeds or fails. Getting eCommerce CRM software is the easiest and most efficient way to do that.
There is lots of CRM for eCommerce software in the market so it's important to understand what your business needs before you set out to acquire a tool.
Look for one that can generate leads and collect contact information. It should also map the customer journey and analyze customer data and provide detailed reports.
Our pick for the best CRM for eCommerce is Platformly which can do all these things and more.
It's affordable for small and medium-sized businesses and it scales easily. The additional modules make it an all-in-one marketing and automation software that's an asset to any growing eCommerce business.
---
Best eCommerce CRM Software in 2022