7+ Best Client Portal WordPress Plugins 2022 (Free & Paid)
If you are a business owner who has multiple clients managing their details manually can turn into a full-time job.
A client portal is a smart way to manage the workload. It provides an online space for client-admin interaction and management of important details regarding projects, clients, etc.
A client portal is an online platform for managing client information, activity reports and a lot more on one dashboard without any hassle.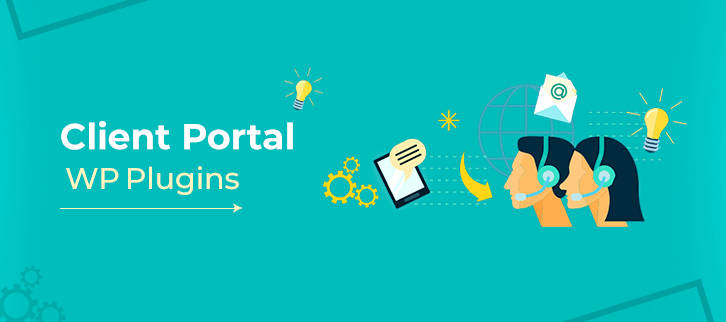 With the help of Client Portal WordPress Plugins, you can easily sort the things out and make your system much more organized.
These plugins provide you an online dashboard to manage multiple client details and generate credentials for every client with a unique link. The link allows them to monitor and manage their projects.
Once you have a client portal WordPress plug-in, you don't need to search for a file in the email's inbox as you and your clients can add downloadable links in the portal.
Now you must be thinking about where to find these plugins, right?
In this blog, we have combined a list of best plugins for creating and adding client portals. These plugins come with features like customizable options, ease of work, media sharing, chat system and more.

A Quick Comparison Between Top Client Portals
Below is a list of  Best Client Portal WordPress Plugins (Free & Paid):
---
1. Client Portal – Customer Login WordPress Plugin
Client Portal is a highly customizable WordPress plugin that allows you to easily create and manage your client projects in a single dashboard. It makes it easier for you and your clients to find details at a glance.
Client Portal is built-in with clean code which makes it extremely lightweight. This plugin is very easy to integrate with your pre-made WordPress website.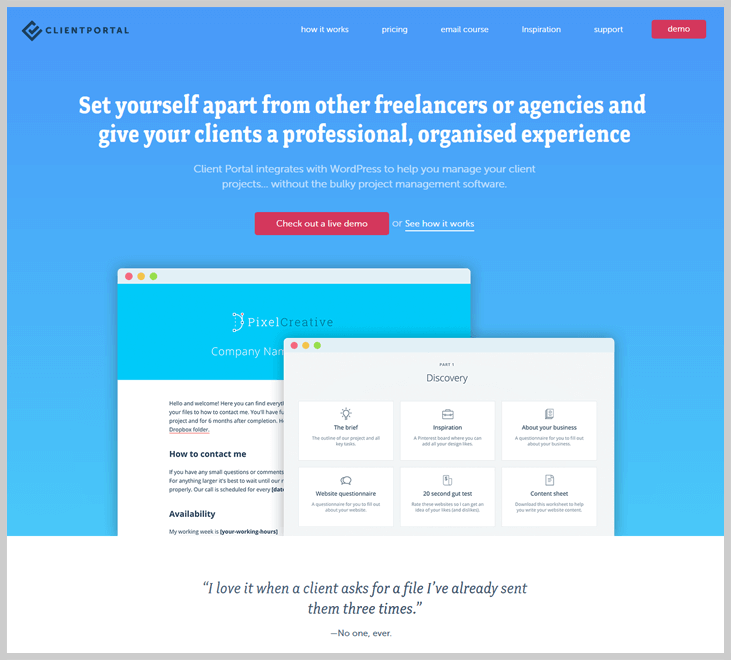 Features
Save Data: You can save all the sensitive details and data related to invoices, contracts, and plans. This data is completely safe as it can be only accessed using specific credentials.
Brief Description: You can easily assign multiple key tasks to a client and mention a brief description which helps the client to quickly understand project data.
Generate Module: You can set multiple modules to indicate the progress of any project. You can also show the active and delivery stats in these modules.
Client Login: This plugin empowers you to create unique login credentials for each client and provide a link to their respective portal with login details. After that, clients can easily log in to the dashboard and manage their project details.
Pricing plans
Single Site License –  You can buy this software for $199/year with free future updates and one year support.
Multi-Site License – Get this plan for $399 to add unlimited clients in the customer portal.
---
2. WP-Client – Customer Portal WordPress Plugin
WP-Client is another plugin in our list to manage and monitor your work progress. It is fully compatible with the latest version of WordPress. You can control client permissions including what they can and cannot do.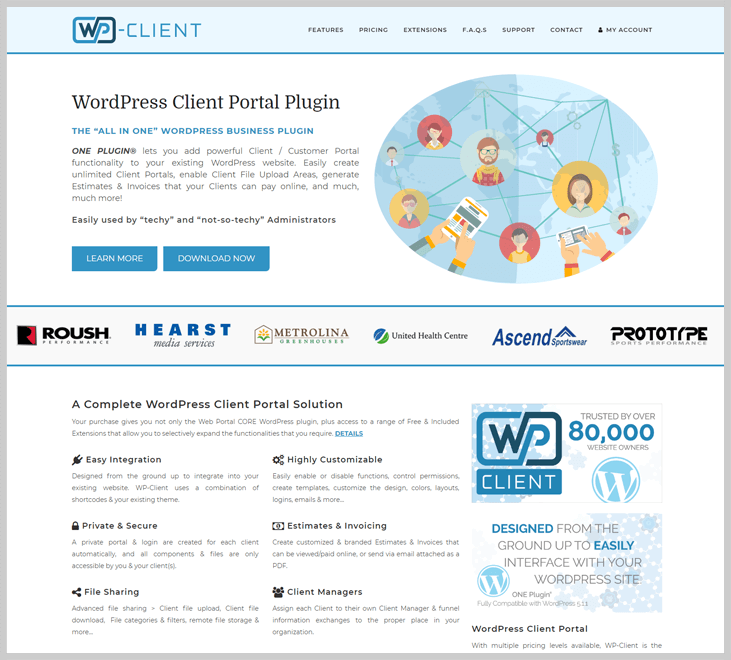 Features
Highly Customizable: You can enable or disable functionality, control consents, etc. You can even modify the colors, design, login page, messages and a lot more.
File-Sharing: It provides you an advanced file-sharing system, which lets you share downloadable files with the clients. Clients can efficiently upload required files in their portal, and you can categorize files and search for them with filter options.
Online Payment Compatible: You can accept payments from clients and manage all transactions in their respective dashboards.
Private Messaging: WP-client allows you to chat with clients via emails. The system automatically saves all transactions in the dashboard.
Pricing Details
It comes with four different types of plans, so you can choose the one which suits you best.
Basic Plan: Pay $59 for a one-time license fee and you'll get one-year free support and futures updates.
Plus Plan: You can buy this plan for a one-time fee of $119. It has 5 URLs and allows you to add unlimited clients and billings.
---
3. CRMJetty – Client Dashboard WordPress Plugin
This client portal comes with a fast and user-friendly dashboard which lets you manage project details of numerous clients including projects stats and contact details. You can easily integrate CRMjetty into your pre-made WordPress website.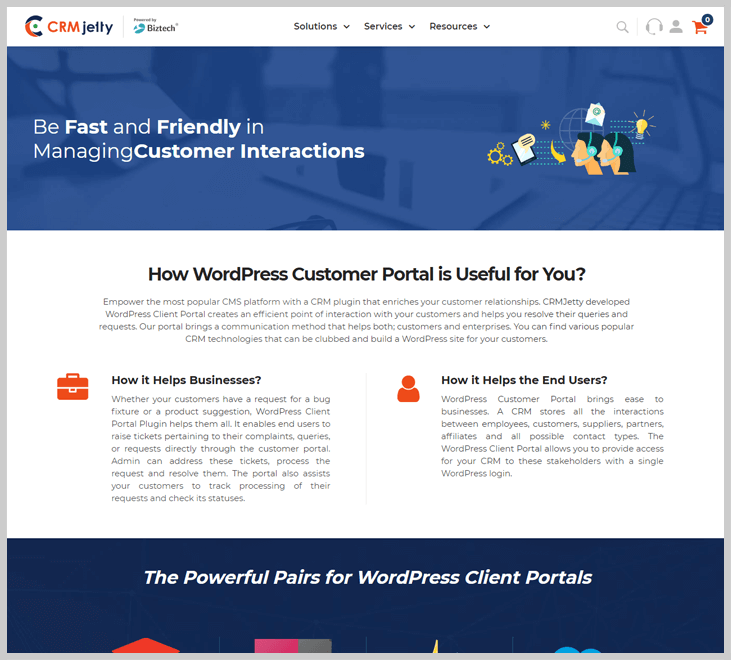 Features
Customer Chat Support: You can interact with customers to solve their request or queries.
Improved Usability: This WordPress plugin is built using retina-ready user interface(UI), which lets you manage multiple projects.
Track Details: This system provides all the customer statistics like work progress, completion status and expected completion date.
Generate Bulk Credentials: This system generates bulk credential for users. You can upload the CSV file of a customer and it will automatically create a new email and password. After that, you can send the credentials by email.
Pricing Details
Quarterly Plan – Pay $599 which gives you the power to add unlimited customers, module generation and more.
Half Yearly Plan – Get this plan for $718 and enjoy features like secure login, powerful portal and more.
Add-on – CRMjetty also provides an add-on for generating invoices which you can get at $99 with the above plans.
---
4. OfficeWP – Client Portal WordPress Plugin
A feature-rich WordPress plugin that allows you to create limitless clients and members for your business. You can manage their details in the OfficeWP dashboard and give them access according to their roles. You can also give admin level authority to any user.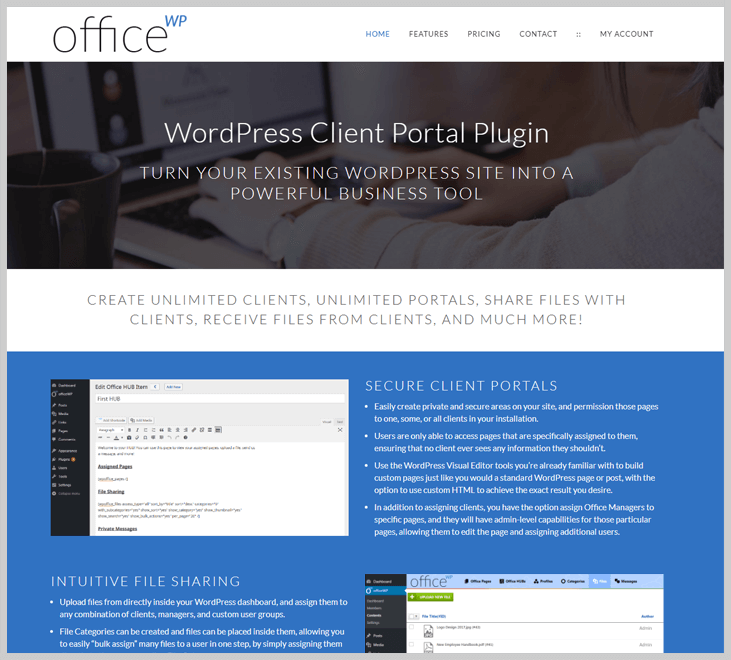 Features
Robust Client Portal: The client portal that comes with this plugin is robust and powerful and helps you in multiple ways such as emails, client management and more.
Productive Files Sharing: A file-sharing system with a drag-and-drop feature helps you keep up to date with clients.
Highly Customizable: With this plugin, you can perform any task with ease. It empowers you to enable or disable any functionality you want. In addition to this, you can also customize the client portal with colors, text, buttons and more.
Roles Editor: It provides you with endless possibilities to edit the permissions of the user. Even more, you can easily turn on or off any authority for users.
The pricing plan differs according to the number of sites support.
1 Site Plan – You get one URL at $44/p.a with one year support and future updates.
3 Sites Plan – You get 3 URLs at $77/p.a with multiple customizations and more.
25 Sites Plan – Pay $222/per annum with 25 URLs.
---
5. SuiteDash– Premium Client Login WordPress Plugin
This plugin is a complete solution to handle all your business transactions in one place. It has a CRM system, you can create unlimited campaigns and more.
Features
Invoice Management: Here, you can effortlessly handle invoices. You can create a new invoice for a customer at any time.
Payment Gateways: You can easily accept payments from clients as it is integrated with robust and easy to use payment gateways i.e. PayPal, Braintree and Stripe.
Email Marketing: SuiteDash allows you to create beautiful email templates which you can manage in one place. You can increase the number of clients with email marketing and you can create multiple email campaigns.
Live Chat: You can immediately contact any customers with the help of a SuiteDash dashboard. Meanwhile, you can manage the inbox and sent box and track all messages. You can also create custom messages as a reply to frequently asked questions by customers.
Pricing Plans
Start Plan: You can get this plan at $19/month and add unlimited clients. It provides you 100 GB storage.
Thrive Plan: Get this plan at $49/month with 500 GB storage and email marketing tools.
Pinnacle Plan: Pay only $69 for 1 TB storage with custom brand URL creation.
---
This WordPress Plugin helps you to share confidential data with users without any fear of data theft. It is integrated with Contact Form 7 which helps you create forms for users that they can use to easily get in touch to the administrator.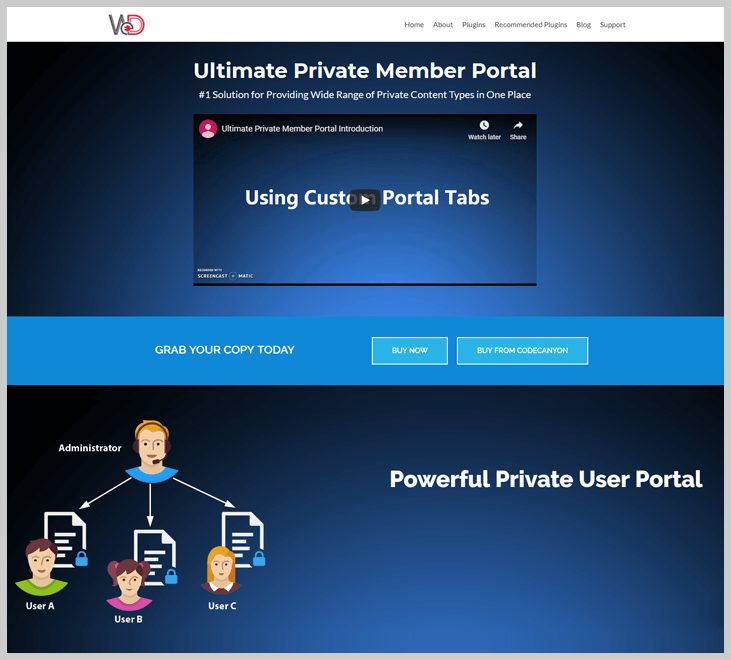 Features
Custom Tabs: The admin can easily add multiple custom tabs like text, links, HTML, images and files. He can also remove any pre-made tab from the dashboard.
File-Sharing: Admin can share media and other files with users. It supports multiple files like Doc, PDf, JPEG and more.
Discussion Menu: This plugin provides you with a discussion menu; the admin can chat with users and start a discussion related to any project. The admin can also track previous chats.
User Roles: As an admin, you can assign users roles and permissions.
Pricing Details
This WordPress Plugin gives different prices according to features, which are as follows:
Personal Plan: Get this plan at $29 for a single site installation, one-year free support and updates.
Business Plan: Pay only $59 for this plan which can be installed on unlimited websites.
Developer Licence: This plan comes at $99 which provides you lifetime support and updates.
---
7. Profile Builder – Customer Login Area WordPress Plugin
Profile Builder lets you create numerous secured pages for clients which can be accessed only with their unique credentials. It provides a customizable front-end for the users so that clients can register themselves with ease.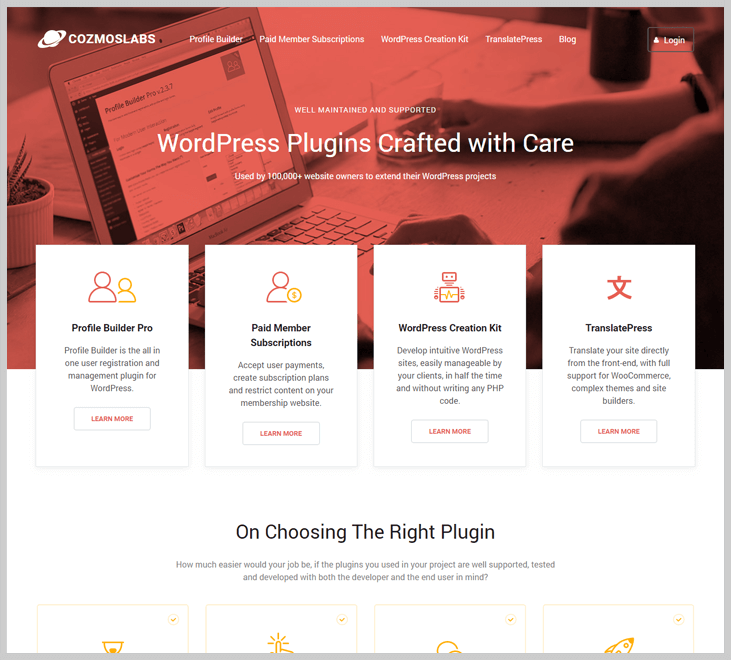 Features
Multi-Language: You can build profiles using several languages.
Real-time Stats: The admin can track all the details of pre-made user list such as user name, email ID and respective roles.
Drag & Drop: You can easily manage listings with the drag-and-drop feature.
Secured System: The admin can configure Captcha and email registrations to create a secure system.
Pricing Details
Profile Builder WordPress plugin is completely free to download and install.
---
This WordPress plugin helps you to manage client's details and share media and other docs page files with users. The customization elements are endless and you can edit details within custom fields.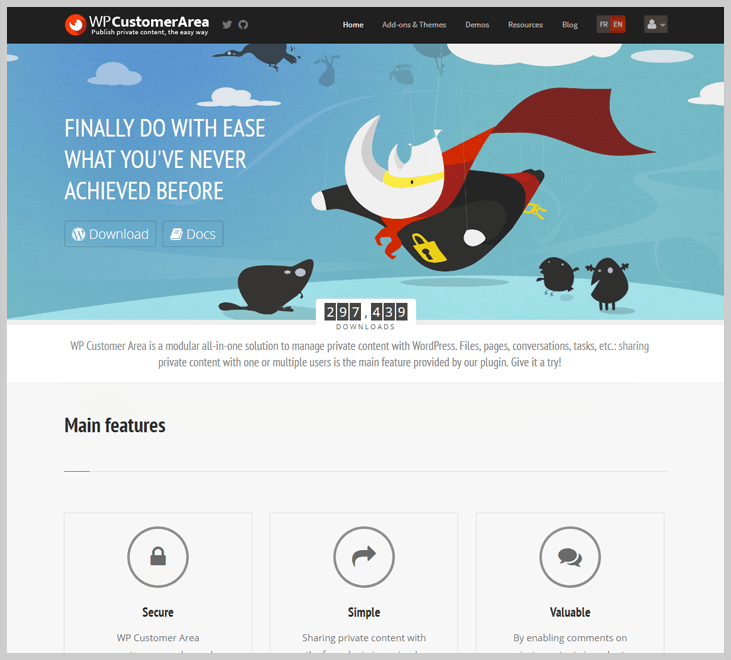 Features
Projects: It lets you create multiple projects and manage them with ease. Meanwhile, you can check project working status, pick up and expected date.
Invoicing Management: The admin can create new invoices and also track previous ones.
Share Secured Files: It allows you to share the files and important documents with clients which can open only with the credentials.
Pricing Plans
You can install WP Customer Area plugin for free.
---
Conclusinon
Here, we listed the most reliable and secure plugins to create a powerful client portal for your WordPress website. We have done extensive research to provide you with the best client portals. Hopefully, this article helps you to choose one that's suitable for your business.
You May Also Like To Read: