4+ Chargebee Alternatives | Most Trending Subscription Billing Software 2020
You have ended up searching for Chargebee alternatives because it might be good but fails to be the best.
Undoubtedly it packs adequate features to make billing a breeze.
But…
Chargebee is surely a serious bite out of your wallet with costing around $599 a month and $7188 a year. (Get a used car instead!)
There is absolutely no reason to pay a pricey software a hefty amount when you can get all of its gifts at a 4x lower price.
How about we serve you with the best Chargebee alternatives at the cheapest price.
Through some of the services mentioned in this article, you can create an unlimited number of subscriptions for your customers in a couple of minutes. That's the easiness we have wanted to share.
---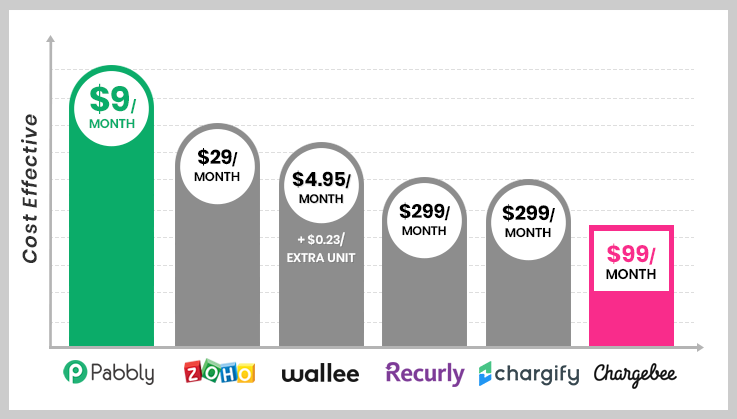 ---
Let's dig in.
Here's the list of 5 Best Chargebee alternatives which are the best amongst the stack. I've delved the internet, read the reviews and used every software personally. So, you can sit back, enjoy and click on the best alternative software you like without a second thought.
PS – I considered price, features and customer ratings as my criteria for the best alternatives.
Here's another blog you can feast on to get the best online billing software for invoicing and subscriptions.
---
1. Pabbly Subscriptions: Cheapest & The Best Chargebee Alternative
Pabbly Subscriptions is all set to revolutionize with features packed for complete subscription management and billing needs. Through it, one can create & manage the unlimited number of subscriptions for their customers without any limitations. That's why most of the Chargebee users are having an increasing interest towards it.
"Pabbly Subscriptions Vs Chargebee"
1. In Terms Of Pricing
Chargebee is a serious threat to your pocket with a high priced tag of $99/Month + 0.5% Share in revenue.
Whereas, Pabbly Subscriptions has got simple price plans. Just $5 for a month for 50 customers, no hidden charges, no extra taxes just nothing.
The Best Chargebee Alternative: Know-How
Its pricing varies according to the number of customers i.e., from $5/m for 50 customers to $99/m for unlimited customers. Though, the highest package contains multiple varieties of features such as custom domain, affiliate system & so on. To know more, just visit Pabbly Subscriptions
2. In Terms Of Revenue Management
If your revenue crosses $25000, then make way for Chargebee. Pay extra 0.5% of revenue to it.
Pabbly Subscriptions doesn't limit your revenue management. Even if you have a revenue of $10000k, you'll be never asked to share a part of revenue using it.
3. In Terms Of Complex Plans 
With Chargebee, you will get tangled in the complex plan structure. Its plans, basic and pro features, pricing all are set together to play some mind games.
In Pabbly Subscriptions, you'll find simplicity at its best!
Just one plan for a complete set of advanced features. Right from subscription management to billing to analytics, simply everything.
---

---
Key Features Of Pabbly Subscriptions
a. Easy Payment Collection
Pabbly Subscriptions is efficient in automated recurring billing and one-time payments. You are provided with multiple currencies for foreign transactions, multiple payment gateways and a lot of payment options. (including wire-transfer, cash, and advance payments).
PCI Compliance makes payments even safer and brings about a trust factor for your customers.
b. Unlimited Usage
With this tool, you can add an unlimited number of customers, products, plans, coupons, promo-codes without any surcharge.
Custom invoices are really easy with Pabbly Subscriptions. You can add your business logo, banner etc. to get the desired invoice. In fact, you get unlimited invoices which can be managed efficiently in a single dashboard.
c. Analytical Reports
It has got a rich reporting feature. This saves your manual efforts and completely replaces your paperwork. You get a report on the MRR, revenue generation, customers additions, active subscription and more.
The reports are in form of graphical interpretation and are crisp, clear and concise.
Score Card
Pabbly Subscriptions Vs Chargebee – 10/10
For subscription management, Pabbly Subscriptions is the most affordable billing software to end search at. At $5 per month, it has more features to offer than Chargebee like unlimited subscriptions, products addition, etc.
Recommendation – Highly Recommended!
---
2. Wallee: A Cheap Chargebee Alternative
Wallee is a great subscription management tool and comes with all the essential features at a low cost
. It stands as one of the most sought-after Chargebee alternatives.
This subscription management software can do recurring billings, analytics, accounting, dunning and more at a price of $69.90/ month
.
"Wallee Vs Chargebee"
1. In Terms Of Pricing
Let me repeat it again. Chargebee is expensive! Yes, it is.
Wallee-Chargebee Alternative: Know-How
| | | | | |
| --- | --- | --- | --- | --- |
| Services | Pricing  | Payment Gateways | Payment Platforms | WooCommerce Integration |
| Wallee | $4.95/m + $0.23/extra unit | 38+ | Payment Gateways + iFrame Integration | ✓ |
| Chargebee | $99/Month+ 0.5% Share in Revenue | 6+ | Only Payment Gateways | ✕ |
However, Wallee is a sweet treat to the budget with just $4.95/ month with 300 live transactions plus $0.23 per extra unit on more transactions. Now, it does everything that Chargebee does. In fact, it does often more than that when it comes to payments easiness.
2. In Terms Of Payment Gateways
Clearly, Wallee is winning in terms of Payment Gateways. With 38+ Payment gateways, it makes payments a breeze.
Whereas, Chargebee has got just 6+ payments gateways which often fail at times.
2. In Terms Of Payment Platform
Wallee has its own iFrame integration for payment processing. This iFrame helps when at seamless integration and the customer never feels redirected to some other page.
In fact, here you can collect the information and payment details even before the completion of payment.
However, you won't get any such feature with Chargebee. It is plain, simple payment gateways for payment completion.
---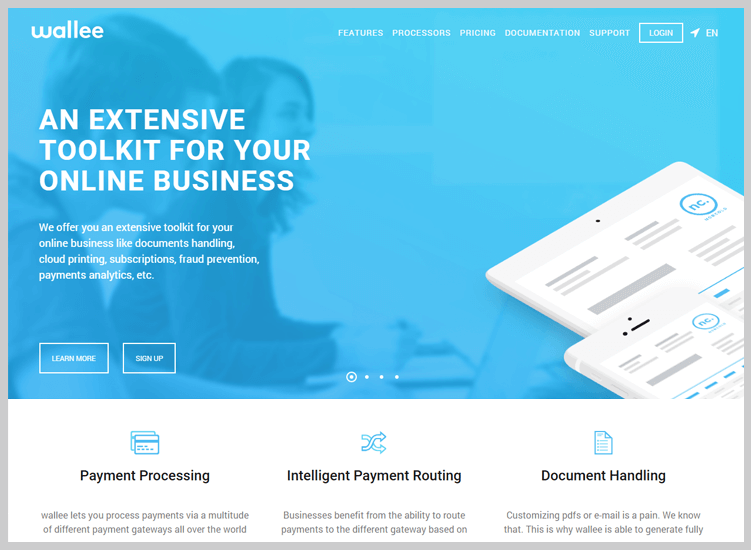 ---
Key Features Of Wallee
a. Unlimited Products
Wallee can handle subscriptions well. In fact, you can create an unlimited number of products, customers using Wallee.
b. Multiple Payment Gateways
Payments ways are highly advanced. It accepts a wide of range of currencies for payments and a lot of payment methods. Further with around 38+ payment gateways and its own iFrame for payment platform, its a good option to go for.
c. Protection & Security
Here you also get reconciliation management and fraud protection. Reconciliation will work with banks statement and will make sure the payment is verified against the designated bank statements. Fraud protections get deeper into the IP addresses, BIN Range etc. to keep a check on frauds in payments.
Score Card
Wallee Vs Chargebee- 9/10
Wallee handles the hassled task of subscription billing well. Although Chargebee has got better reporting features, Wallee wins over the payment processing. Chargebee is high ranged whereas Wallee has got a pricing of $4.95/month. You can go for it if you are more concerned about the savings and payments collection.
Recommendation- Recommended!
---
3. Zoho Subscriptions: One Of The Best Chargebee Alternatives
Zoho Subscriptions is undoubtedly a great alternative. In fact, you can switch to it without a second thought. It is one of the most widely trusted brands for billings and subscription management and is used all around the globe.
"Zoho Subscriptions Vs Chargebee"
1. In Terms Of Pricing
At a glance, you can see how Zoho Subscriptions becomes a really cheaper and better choice (Keeping dollars in mind).
Zoho Subscriptions: A Chargebee Alternative: Know-How
| | | | | |
| --- | --- | --- | --- | --- |
| Services | Pricing  | Extra Share In Revenue  | Revenue Management | Offline payments |
| Zoho Subscriptions | $29/m | ✕ | Unlimited & Free | ✓ |
| Chargebee | $99/Month+ 0.5% Share in Revenue | ✓ | Free Revenue Management Up to $25k Only | ✕ |
I may not be too good at maths but Zoho is around 8X cheaper than Chargebee. In spite of the low cost, it never disappoints when performance is taken into the light.
2. In Terms Of Share In Revenue
Chargebee has got a sky-high price but still, it doesn't spare the hard-earned revenue. Furthermore, Chargebee asks for 0.5 – 0.9% of share in revenue in addition to the monthly subscription price.
However, Zoho is way too pocket-friendly and free from any such tantrums. It's your revenue and Zoho gives you complete control over it.
3. In Terms Of Revenue Management
Chargebee keeps on killing your budget by its high-price. Further, you have to share revenue and then next is revenue management.
If you have earned less than 25000$ then you're free from trap else start paying 0.5 – 0.9% of revenue for revenue management as well.
Whereas, Zoho has got no such plans for revenue management. Just a monthly $69 and not a penny more.
---

---
Key Features Of Zoho
a. Automated Recurring Billing
Zoho gets subscription management task rolling. It automates recurring and one-time payments and has an edge in billings. Invoices generated by Zoho are professional and can be effectively managed under a single dashboard.
b. Monitoring & Analysis
It monitors various aspects of subscription billing such as MRR, churn rate, ARPU, active subscriptions etc. and generates a great report for better understanding.
c. Multiple Payment Gateways
Zoho supports widely used payment gateways such as PayPal, Stripe etc. and has got various currencies for foreign payments. In fact, checkout pages are multilingual, self-hosted which is limelight.
Score Card
Zoho Vs Chargebee- 9.5/10
Zoho Subscriptions has clearly won in every aspect be it the price or the features. It has got a lot of add-ons, a lot of payment options, gateways and features for complete billing solutions. It doesn't lag behind in any aspect.
Recommendation- Recommended!
---
4. Chargify: Another Alternative of Chargebee
Chargify has proved itself in easing off the hassled task of subscription billing and subscription management. As compared to Chargebee, features are almost similar but the pricing is different. It stands as a good Chargebee alternative.
"Chargify Vs Chargebee"
1. In Terms Of Pricing
Chargify over Chargebee is only because of the pricing. ( Keeping the promise of "cheapest and best Chargebee alternatives".)
The Best Chargebee Alternative: Know-How
| | | | | |
| --- | --- | --- | --- | --- |
| Services | Pricing  | Customized Price Plan Available | Formstack Integration | Two-Factor Authentication |
| Chargify | Contact Sales | ✓ | ✓ | ✓ |
| Chargebee | $99/Month+ 0.5% Share in Revenue | ✓ | ✕ | ✕ |
Chargebee costs $599/ month + Revenue shares, however, Chargify costs $299/ month + share in revenue (Now, you have to contact sales).
Chargify is relatively cheaper and has got similar features as Chargebee.
2. In Terms Of Plans
Chargify offers an enterprise plan where you can customize the pricing and the features ( You get this plan in Recurly as well) whereas Chargebee stands firm in its pricing and doesn't let you customize it.
---

---
Key Features Of Chargify
a. Support
The support team of Chargify is quick and helpful. They provide 24/7 support to all queries. The support team is reliable and comes up with the best solution.
b. Email Facility
Chargify let you interact with your customers through invitation emails and communication emails. This is one plus point of Chargify which focuses on building a relationship with the customers. Plus there is a self-service portal through which a customer can upgrade or downgrade the product or plans.
c. Tax Calculation
It has an automated tax calculation. This comes in integration with Avalara. Hence, you do not have to do the hassled task of tax calculation on bills.
Score Card
Chargify Vs Chargebee- 7/10
Except for pricing, you won't find Chargify ahead of Chargebee. In fact, Chargebee has got some of the better-advanced features than Chargify. Here we come to conclude that Chargify is better only if you do not want much-advanced feature by saving bucks.
Recommendation- Average.
---
5. Recurly: Best Chargebee Competitor
Reculry stands as one of the best Chargebee competitors. At a price of $299/Month (Now, you have to contact sales), it offers you almost the same features as Chargebee. It's a matter of pricing that sets both the billing software apart.
"Recurly Vs Chargee"
1. In Terms Of Pricing
This is the only major reason that you can consider for switching from Chargebee to Recurly is pricing. Chargebee remains the most expensive billing software where Recurly is far from that tag.
The Best Chargebee Alternative: Know-How
| | | | | |
| --- | --- | --- | --- | --- |
| Services | Pricing  | Churn Prevention | Gift Subscriptions | ACH Payments |
| Recurly | Contact Sales | ✓ | ✓ | ✓ |
| Chargebee | $99/Month+ 0.5% Share in Revenue | ✕ | ✕ | ✓ |
2. In terms of Users
We cannot deny the fact that Recurly receives more love from the people than Chargebee. It can be because of the sky-high price of Chargebee doesn't appeal to customers and Recurly wins the game.
---

---
Key Features Of Recurly
a. Complete Subscription Management
It completely handles subscription management. It does that by enabling you to add products, plans, sell those to customers and generate revenues. Automatic billing is another feature that keeps recurring and one-time payments rolling.
b. Analytics Feature
Analytics stands as a plus point for Recurly. The reports are clean, crisp and impressive in charts and graphs format. Here you get a complete record of Churn Rate, MRR, Revenue Generation, and more.
c. Multiple in Everything
Multiple payments gateways, multiple currencies, multiple payment options, ease off the payment part. In fact, PCI compliance makes payment even safer. There is also a feature of dunning management to deal with failed payments.
Score Card
Recurly Vs Chargebee- 7/10
Except for pricing, there isn't much difference in both the software. In fact, at times Chargebee stands ahead of Recurly in terms of features. If looking for cheaper options then yes-yes, if looking for advanced features then Recurly gets our no-no.
Recommendation – Average/ Not Recommended.
---
The Takeaway
We got you for the best and cheapest 4+ Chargebee alternatives. These were equipped for subscription billing, analytics and a lot more at a low price.
Most of the services allow creating & handling an unlimited number of subscriptions with so much ease. That's why we've mentioned them in this blog. Now save more and get started with any of our suggestions.
Let us know if you have something to suggest. We would love to expand this list even further.
How about you read more about subscription management and billing!
I am sure you'll love our blogs on:-