10 Best Bulk Email Marketing Services & Software
Use bulk email marketing services to transform the growth rate of your business! 
Email marketing is a proven strategy to promote your business, attract new customers and maintain a good relationship with loyal customers. By using the best mass mailing services, you can gain momentum in your business.
But which is the best bulk email service provider?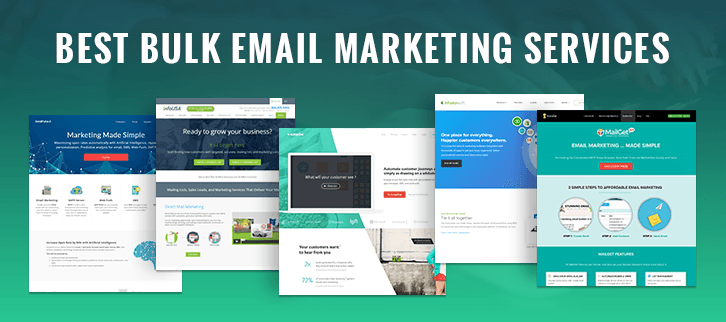 Here are the most important factors to consider as you choose:
Best delivery rate.
Which one offers the most value in terms of price.
Fast delivery of messages.
360-degree sales as well as marketing automation.
Comprehensive tool.
Attractive User Interface.
Multiple autoresponders & workflow options are available.
It's excellent if you can find bulk email marketing services software that can do all the above.  To make your search easier, we have highlighted 10 of the best in the market along with their top features.
With any of these you can create customizable emails & send them to multiple contacts in a second.
Some of these tools also allow you to connect UNLIMITED SMTP services. You are able to connect any strong SMTP service whose authority is good enough so that your emails always land in the inbox rather than spam folder.
Read through the bulk email marketing services discussed below; one or more match your needs and you can choose the one that works best for your marketing strategy.
You may also like to read:
Let's go through the comparison of various Bulk Email Marketing Services
---
Platformly is a powerful yet easy to use business management and marketing automation tool for busy business owners who are focused on growth.
Platformly makes marketing attribution easy by precisely tracking interactions across different campaigns and channels throughout your entire marketing funnel.
It helps you understand in unparalleled detail which marketing activities drive the most sales, who your most loyal customers are and what drives growth.
---

---
Pricing:
You can choose one of the following once you're ready to upgrade: Starter ($19), Growth ($49/mo) or Unlimited ($99/month).
Try Platformly free for 15-days. There are no limitations in the plan you want to test.
Pricing for 1000 contacts start at $19/month, 2500 contacts cost 29$/month, 5000 contacts – $49, etc. For more information click here.
Prominent Features:
Beautiful pre-built templates designed to save you time. Use them to create your churn campaign, on-boarding campaign, welcome series, and much more.
Segmentation and tagging allow you to create more personalized messages and pinpoint follow-ups for particular contacts; it ensures that recipients won't consider your emails as spam.
With the easy-to-use drag-and-drop builder, you will be able to create visual workflows demonstrating each step in the sequence.
MailGet Bolt is one of the finest email marketing tools that you will come across presently. Its system has some powerful features that enable you to send emails in bulk with a single click.
Its drag & drop email builder makes it more popular than other form builders as even a non-tech guy can also use it easily.
Apart from that, it has an integrated SMTP service as an exclusive feature of the software. In other software, you have to get it separately. 

Pricing:
It has a Starter Plan which costs $9 monthly with which you can send limitless emails to 2500 subscribers. It allows you 10 monthly campaigns.
With the Rookie Plan you are able to send emails to 500 subscribers at just $19 a month.
To send emails to 10,000 subscribers, you have to pay $34 /month. It allows automatic follow-ups; if your client hasn't opened your email you can remind them about it by sending a follow-up notification.
The last plan's pricing ranges from $49 to $439 for subscribers from 15,000 to 200,000 respectively.
Prominent Features:
It enables you to track emails with the help of mail tracking feature.

The autoresponder function delivers an auto-generated mail every time a user submits forms on the website.

You can segment the contact lists and keep a record of suspended, bounced and spam lists.

A function called 'drips' will enable you to dispatch a number of mails at predetermined times. It allows you to choose optimal times and days to send out emails.

Also, you can embed subscription forms in your website to help you to capture leads.

You can easily import emails within the MailGet. In addition, the software will enable you to double the open rate with the auto follow up tool.
---
MailGet is an amazing email marketing solution with features such as email builder, drip email, MailGet API and autoresponder.
However, the thing that adds the most value is that MailGet is 100x cheaper than the most popular marketing solutions. It integrates with multiple SMTPs including Amazon SES, Mandril, Mailjet, SendGrid and MailGun for high inbox deliverability. It means you can choose one or more SMTPs at the same time to shoot the emails for maximum deliveries, email opens and clicks.

Pricing:
The Basic plan starts at $5/month. It includes unlimited emails to 5,000 subscribers.
The Rookie plan costs $29/month and can be used to send emails to 25,000 contacts.
The $49/month plan offers unlimited emails to 50,000 subscribers along with the live chat feature to resolve any issues you may have with this tool.
There are plans available for as high as $134 for 200,000 subscribers which is still cheap when compared with the starting packs of other companies. For more information, visit the pricing page.
Prominent Features:
It comes with free templates for various niches which lets you design compelling emails.
The software needs no hosting and complicated setup.
See inbox previews to analyze the look and feel.
A built-in list management and list cleaning system is available to update the subscriber list.
Import emails in CSV format and send an unlimited number of emails.
Autoresponder is available for sending automated sets of emails.
MailGet API automatically synchronizes contacts in your desired list.
It also has Google Analytics integration for real-time reports about email opens, click and bounce rate.
---
Keap, formerly Infusionsoft is a remarkable platform for small businesses. It is a complete package for startups and small businesses that have a small target audience and are in the process of learning marketing techniques.
It is simple yet has a powerful bulk mailing service that lets users run successful campaigns and keeps users engaged with attractive newsletters.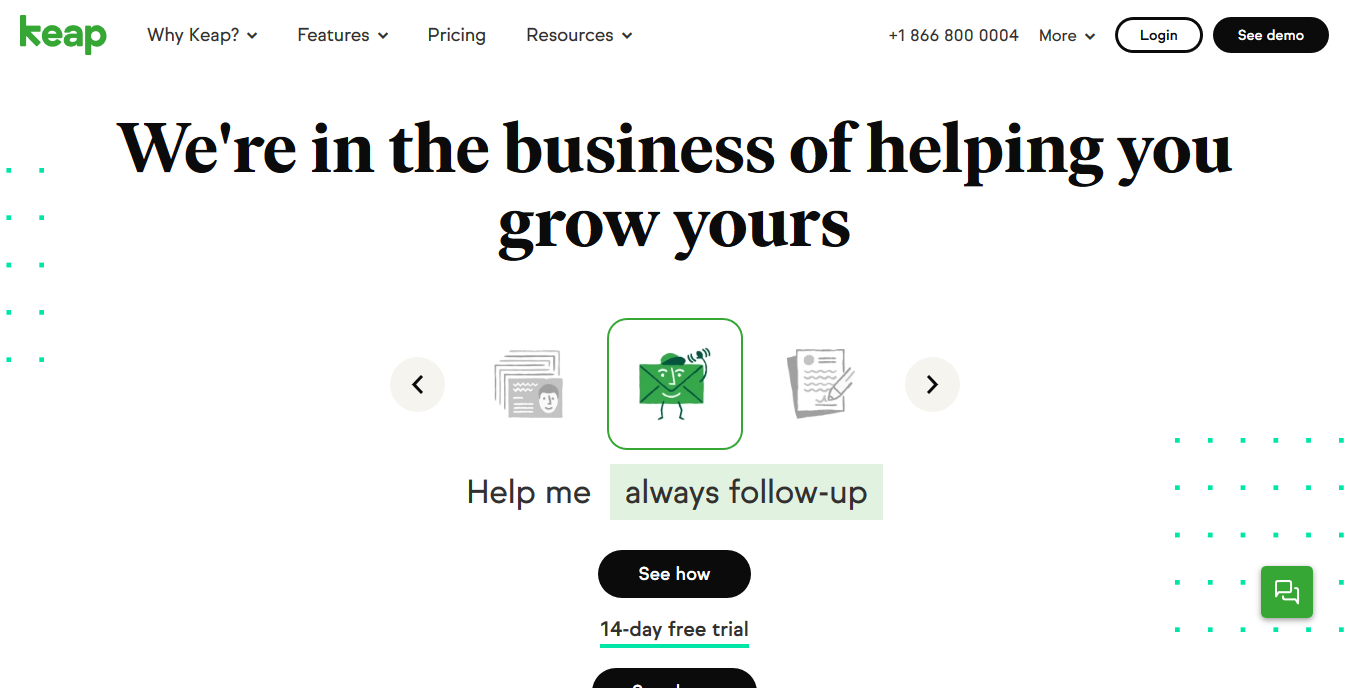 Pricing:
You can choose a yearly plan or a kick-start package. The basic annual package covers three users and costs $199/month. You will get complete CRM and marketing automation along with access to 2500 contacts and 12,500 emails per month.
With full features and access to 100,000 emails per month, the annual plan for a maximum of 10 users sells for $599/month.
You can choose a trial pack of $999 that you can use in conjunction with other plans.
Prominent Features:
Through its smart CRM, you can not only import and organize the contacts but also segment them based on their needs.
It lets you increase engagement through streamlining leads.
You can initiate personalized communication by analyzing multiple parameters such as email sends, clicks and payment history.
It automatically sends follow-up emails and sets personalized after-sales communications that you can track and manage.
The analytical feature gives the ability to evaluate and improve any campaign or project.
It also saves your system connection time by integrating APIs, synchronizing data with popular accounting software solutions and giving access to third-party apps.
---
This is easy-to-use cloud-based software with part CRM and part email marketing features. With autopilot, you can create personalized journeys and boost them with favorite apps. The in-built integrations for messaging, marketing and lead intelligence make it favorable for SMS, email and physical mailing.
Though the software has an appealing user interface, it is overly complicated to use. However, at $20/month for the start-up plan you should try it.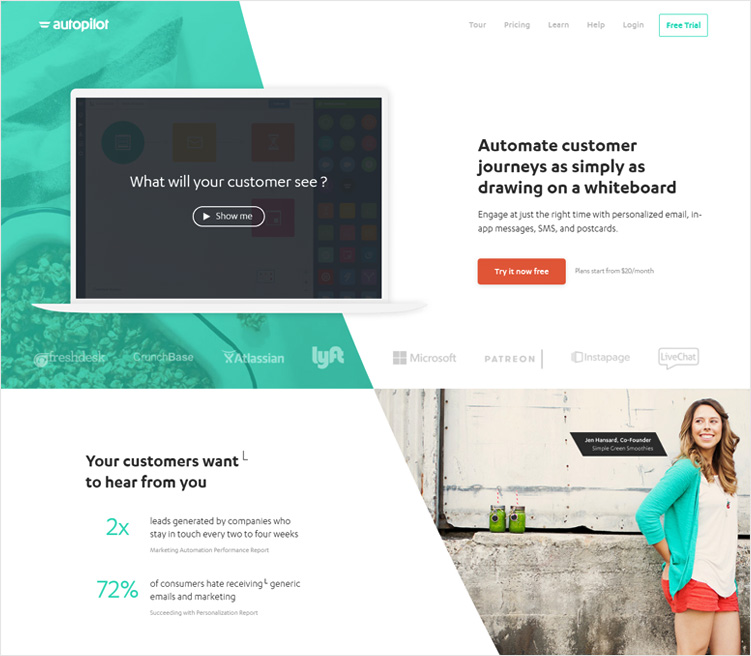 Pricing:
Autopilot has a base plan of $20 per month and a business plan of $40 per month.
The base plan includes unlimited journeys, 1000 contacts, Slack and Zapier integrations, bulk emails, SMS and Headsup, and segments & reporting features.
You can enjoy a 30-Day free trial to test the software.
Prominent Features :
You can track real-time activity and visualize your campaign with pre-built reports.
Enhance the user experience with built-in integrations
The drag and drop feature allows you to execute a campaign anytime, anywhere.
You don't need IT support as it has in-built end-to-end marketing automation tool.
It also has action-based trigger automation, bulk data import and export, unlimited custom fields, HTML email editor and dynamic text personalization to make your campaign an assured success.
Static and dynamic smart list segmentation, complete email support and online tutorials are other promising features.
---
What's better than having an integrated marketing software with superhuman features? Sendpulse is comparatively new in the market yet it is a popular choice for bulk emailing. The platform uses artificial intelligence, personalization and predictive analytics to create an exceptional campaign.
With this tool, you can easily gain 50% to 100% user engagement. The REST API allows the fast implementation of email functionality. Moreover, you can integrate transactional emails into CRM and CMS systems, e-commerce and mobile applications. It's the appropriate software for DIY email marketing.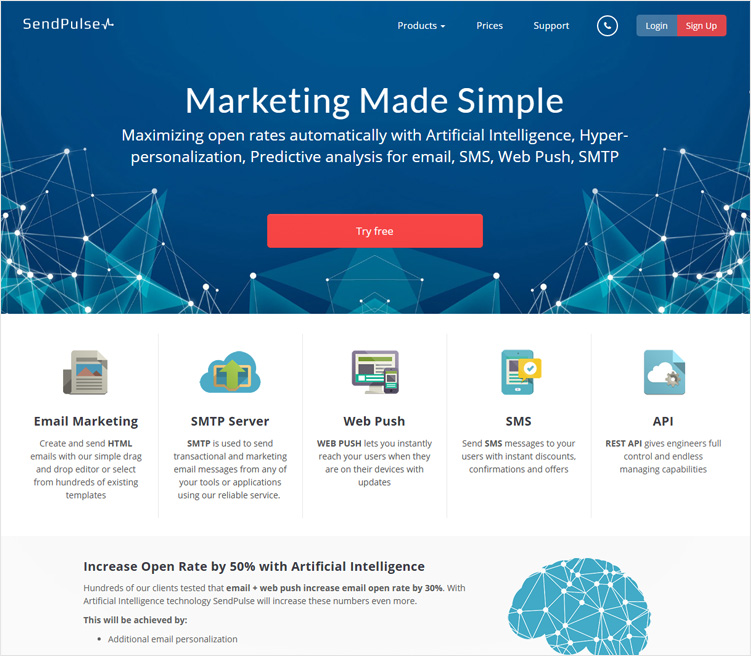 Pricing:
It offers four types of subscription plans. You can start with a free plan that has a limit of 2,500 subscribers and 15,000 emails per month.
The prepaid plan called Pay-As-You-Go allows you to pay only for emails you need.
If you want complete package look for the monthly plan and VIP package and their respective features.
Prominent Features:
No technical expertise required
Easy and quick installation
Drag and drop editor with 100s of templates for compelling emails
Easy and quick SMTP integration to activate dedicated IP address for bulk mailing
Automates target sending of emails, SMS & Web push notifications through a scheduler with 3rd party integration
Supports mobile devices & comes with exhaustive analytics
It creates a behavioral user profile for an individual subscriber based on the patterns of product purchase, layout, time zone, communication preference and more.
---
Email marketing is one of the many solutions that Cybridge offers. With this tool, its easy to send and track bulk emails, clicks and other visitor activity. From designing to tracking and analysis, this company does it all for you.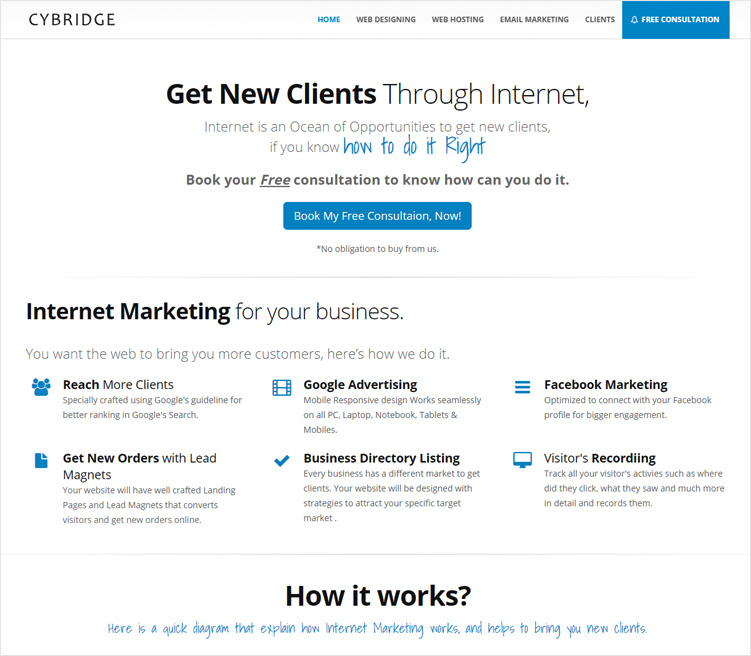 Pricing:
No plans or pricing available online. You can contact the support team for a quote
Prominent Features:
Templates for campaign design
Personalized emails with no spam and no bounce assurance
Strong infrastructure to send over 100,000 emails per day
Responsive design for mobile compatibility
---
If simplicity is your choice, MailerLite will surely impress you.
No complex settings and tools. Just sign up and start the trial version. This relatively new email marketing service provider is very user-friendly. It has excellent customer support and interesting email designs.
Enjoy effortless campaign design, quick analytical result tracking, efficient subscriber management and more. With everything that small businesses needs, the pricing is the icing on the cake!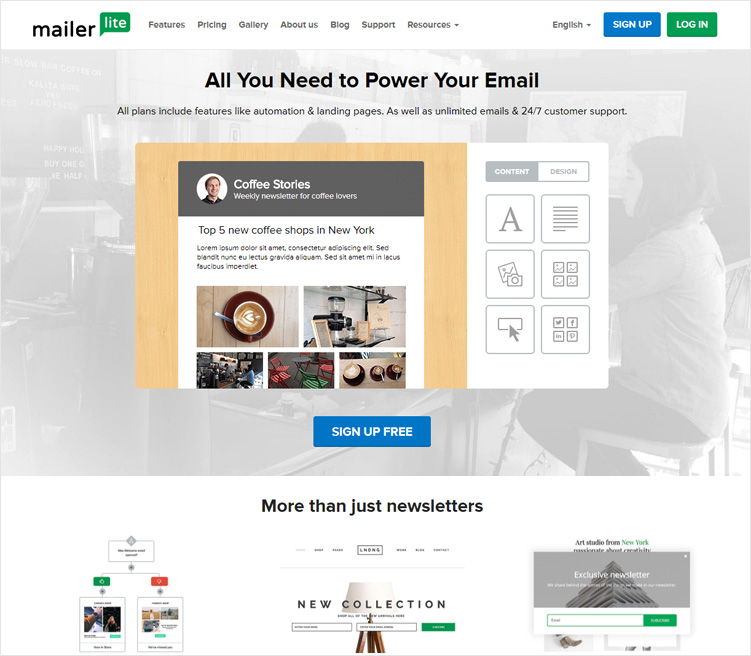 Pricing:
The primary plan with 1,000 subscribers is free for sending unlimited emails.
Its paid plan starts from $10/month with which you can send unlimited emails from 1001 to 2,500 subscribers.
With the $20/month plan, you'll be able to send limitless emails to subscribers ranging from 2501 to 5,000.
The $35/month plan allows you to send emails to 5,000 – 10,000 subscribers in a single click.
Lastly, to send emails to subscribers ranging from 10,000 to 15,000, you've to pay $50 per month.
Note: You can change the number of subscribers & the pricing will change accordingly. For more information visit MailerLite's pricing page.
Prominent Features :
Easy drag-and-drop editor
Responsive email design
RSS campaign
It can disable the double opt-in
Automated subscription of notifications
Emoji support
Segmentation, tracking and campaign reporting
Email statistics tracker & so on
---
Pure360 is more than just an email service provider for small, medium and large businesses. It has four different plans ('Suites'), and each has unique features and specialties.
The Maturity Model is another interesting feature that helps customers understand how advanced their email campaigns can be.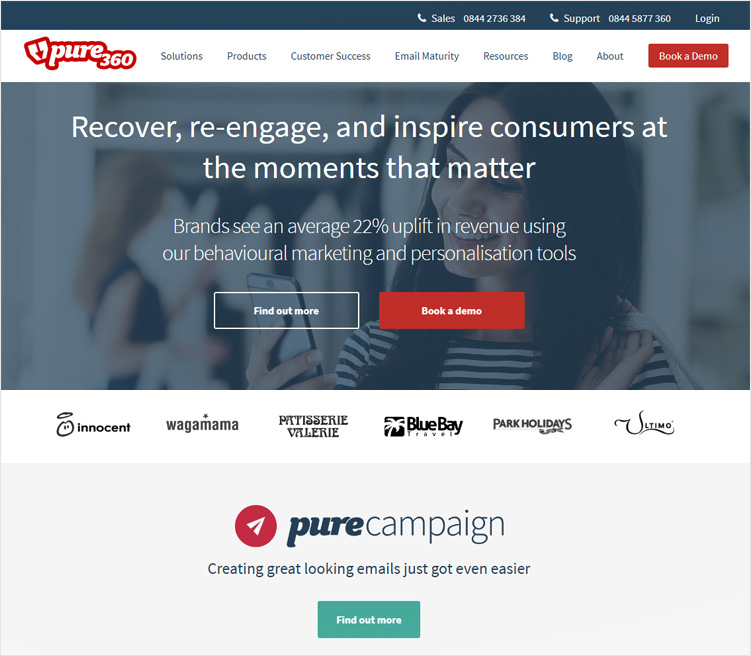 Pricing:
Price for each suite is available on request. Visit their site and get to know more
Prominent Features:
It has all the mandatory features including behavioral re-targeting, spam test delivery, inbox preview, free email templates and more
ROI calculator for expected improvement
Web application security to prevent unauthorized account access
The software delivers personalized content, prevents duplication and has intelligent time sending
Advanced email automation
Online 'clipboard' of content snippets
Split content optimization.
---
InfoUSA is a basic direct mailing and marketing service. It doesn't have impressive advanced features such as integration, automation, designing or autoresponder.
However, the company has expertise in bulk mailing. It provides an assorted email list. You can target customers based on religion, consumer specialty, business specialty and more.
Along with email campaigns, the company generates leads through postal and phone contacts. In a way, it does traditional marketing.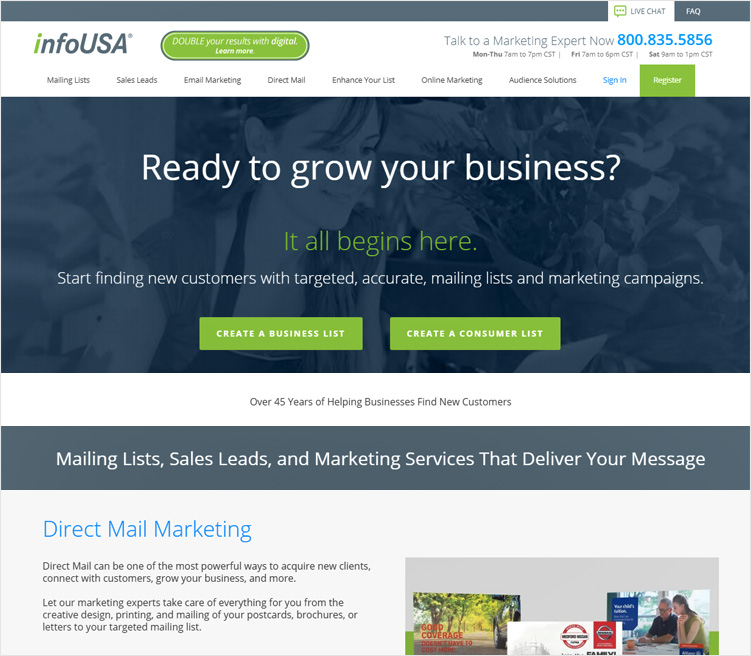 Pricing:
Pricing is on request. It is based on multiple factors. Contact the company for a personalized quote.
Prominent Features:
Creates a variety of products such as postcards, brochures and emails
Cleans up the mailing list to ensure subscriber data authenticity
Provides carefully scrutinized mailing lists.
Can merge your mailing list to remove duplicate and incorrect addresses for more accurate results.
Offers pre-designed themes and layouts for quick designing.
---
Conclusion:
There is no specific email marketing service that fits all. The selection of the right tool greatly depends on your personal requirements and how a software meets them.
However, we have numerous options available. MailGet Bolt achieved the #1 spot in this list for its uniqueness, efficiency, affordability and ability to cater to a huge number of small to medium and large businesses.
I hope this article has provided useful information that can help you make the right decision.
If you still have any questions about bulk email service providers or email marketing, please feel free to post them in the comments below. Your suggestions are also welcomed.