The 6 Best WooCommerce Automation Tools in 2022
How do I automate in WooCommerce? What are the best WooCommerce automation tools available today, and how will they help my business? If you are wondering "how do I automate my eCommerce website?" keep reading to find out.
Launching your eCommerce store is just the first – and usually easiest – step. After that, you have to continually drive traffic, convert leads into sales, fulfill orders, manage suppliers and communicate with customers. It can easily become a full-time job.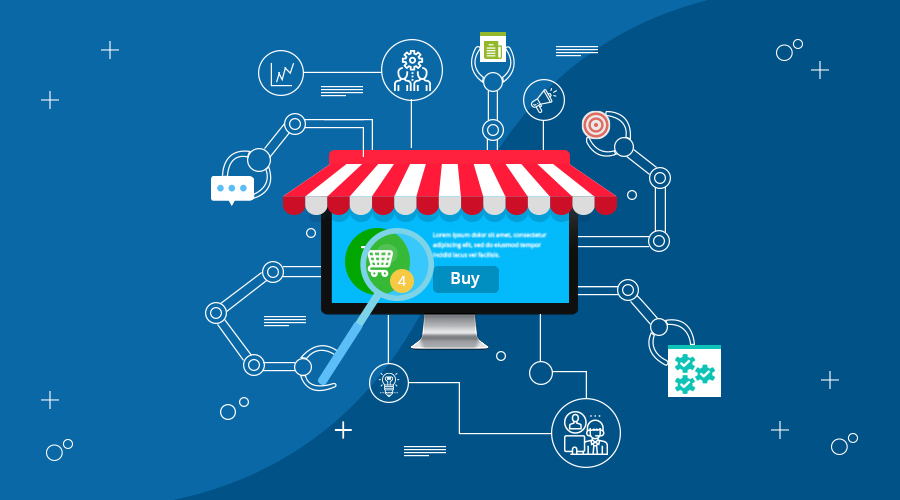 Automation can be a lifesaver for eCommerce store owners. The problem is, many of them aren't quite sold on it. You'll hear comments like "If I automate customer service my customers may not feel like they're talking to a real person" or "how can I be sure fulfillment workflows are accurate if I automate them?
These are valid concerns, but they shouldn't stop you from implementing automation. The secret is to choose the right automation software.
We'll get into these tools in just a minute. Still, for beginners in running an online shop, we'll look at essential basics – what is WooCommerce, what automation is and its benefits and some of the processes you can automate.
---
What is WooCommerce?
If you buy items online, odds are that you buy them off a WooCommerce store.
WooCommerce is a customizable WordPress plug-in that converts an ordinary website into an online store.
Although there are other eCommerce platforms – Shopify, Magento and a host of smaller ones – WooCommerce remains the most popular. About 25% of all eCommerce stores use this platform. It's preferred because it's free, open-source, user friendly, works on all devices, has a variety of themes and best of all, it is secure.

---
What is Automation?
Automation is simply a way to save time. Simply defined, it is an automatic flow of data that is triggered by certain pre-defined events. We experience automation in our lives all the time. When you receive an email after making an online purchase, there is every chance that it was triggered by an automated process. The owner of the store you used set it up so that after each purchase a thank you email is sent out to the customer.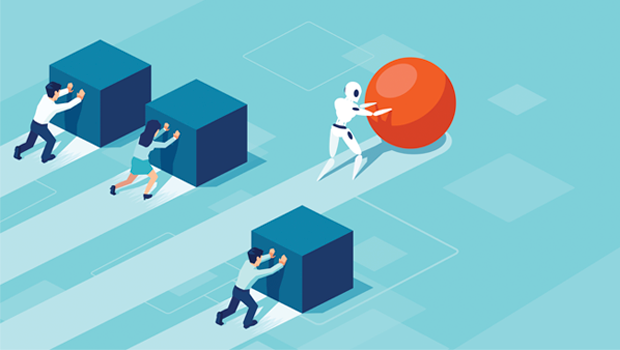 Automation cuts back on the amount of work you have to do on a site and the amount of data you handle and process. If, for example, you process sales invoices by copying and pasting data into an Excel spreadsheet, you can automate this process so that all sales information is automatically transferred to software that tallies up sales figures and creates a report.
Processes like shipping and tracking orders are also easier with automation.
---
What WooCommerce Processes Can You Automate?
You can automate most time-consuming tasks. Think about the top 5 tasks that consume your time each week, and there is a good chance that you can automate each of them and free your time to focus on more meaningful and productive activities.
Here are typical examples of eCommerce processes for which you can employ an automation tool:
Email – this is one of the most common automations for all types of websites. Whether it's sending out emails after a lead visits your site or after a customer makes a purchase, you can use software that takes most of the work off your hands.
Shipping and tracking orders and keeping them moving – this is one of the most time-consuming processes in an eCommerce business. When a customer buys from you, the next step is to source the item, ship it and keep the customer in the loop until they receive their purchase. You can simplify this process using software like ShipStation which automates multiple steps in the shipping process (it can retrieve and manage orders, print labels and packing slips, generate tracking information and keep the customer in the loop and more).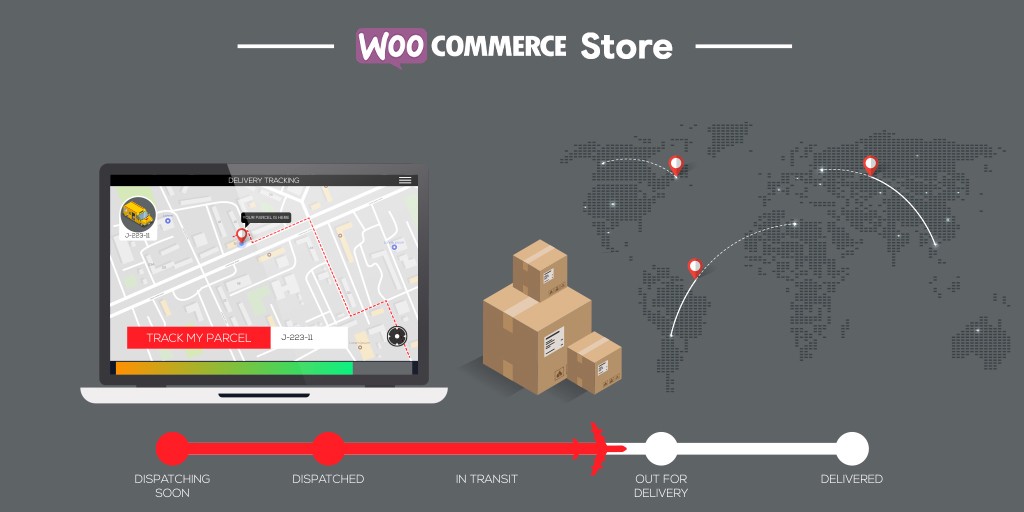 Create and send invoices – imagine if you had to create every invoice, find the matching customer email address and send it. This would take up all your time, especially if you run a busy eCommerce store. Luckily, there is software designed for this task, and you never have to get involved.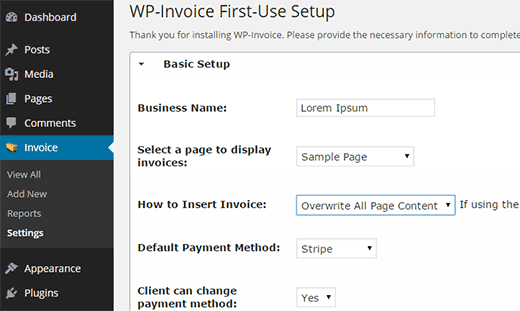 Follow-up with customers – each customer who buys from you is a potential second and even third sale. These sales don't happen automatically – you have to follow-up and provide the right information to prompt additional purchases. You can create automated emails that are triggered at specific times after a sale is completed.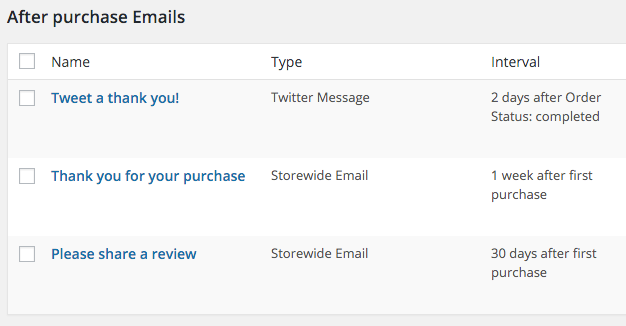 These are just 4 of the processes that you can simplify with WooCommerce automation software. If you choose the right tools you can automate even more, save time, and increase customer satisfaction.
---
Do You Really Need WooCommerce Automation?
Yes, you do. Many online sellers are reluctant to use automation tools because they worry that it may make their business lose the human touch. This isn't the case; if you use it properly, your customers and prospects will engage with you even more because all leads will be followed up using personalized communication.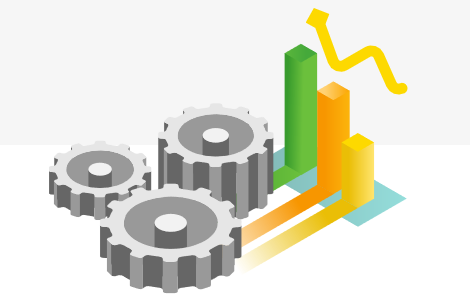 Without automation you'll eventually find yourself scrambling to keep up with lead generation and follow-up, order fulfilment, shipping, suppliers, email campaigns and almost every other aspect of your online shop. 
If you put together the right tools and implement them as recommended most of these tasks get of your plate and you can focus on growing your business.
---
Best WooCommerce Automation Tools
Some of the tools discussed here are designed purely for eCommerce, but some can be used on ordinary WordPress websites. Don't worry about that – all you should be concerned about is that the tool delivers as promised.
You may be wondering how you determine which tasks you should, or can, automate. Here are some simple rules you can use as a guide:
What is your sales process? How do you get and track inventory? What are the steps involved once a customer places an order? How do you deal with customers after an order is delivered?
What 5 tasks take up most of your time each week? Is it shipping, sourcing products, emailing? 
What are the 3 most impactful processes in sales and customer management?
What is the most important but time-consuming process for customer satisfaction and happiness?
What are the top 3 tasks that you hate doing but that take up a significant portion of your time each week or each month?
How do you market your store and your products and how much of that process can you automate?
Now that you have an idea of how you can determine which processes to automate let's look at the best WooCommerce automation software.
---
Platformly is leading marketing automation and CRM software. It now has Platformly for WooCommerce, a dedicated eCommerce plug-in. It makes it easy to connect any WooCommerce site to Platformly, import customer data, send out detailed product information in emails, access detailed and informative reporting and more.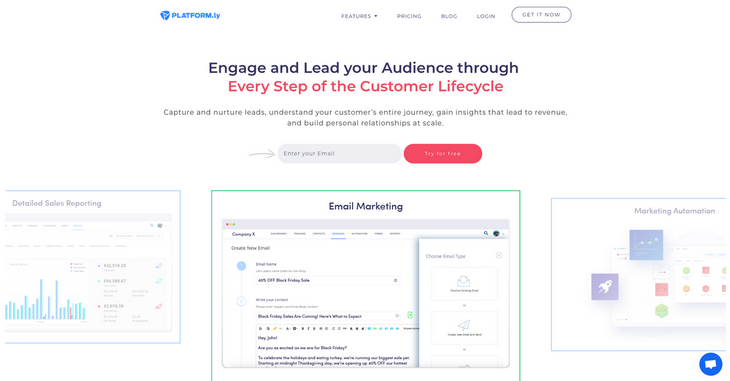 Here are some of the things you can do with Platformly for WooCommerce:
Platformly is a leading email automation tool. You can use it to capture email addresses on your shopping site, craft impactful emails that can convert and schedule them to go out whenever you want.
It gives you a better grip of your eCommerce transactions. You can tag or segment purchases, refunds, failed orders and canceled orders.
You can track the most critical events in the sales process. You can see when users visit a product page and add an item to their cart. It shows each user's cart and tracks it as they add products, track abandoned carts and see if and when these carts are recovered and more.
Platformly for WooCommerce allows you to import and segment new users.
Customize sales reports by choosing which fields you would like to appear – all transactions, completed and failed purchases, canceled and refunded orders.
GDPR – make your eCommerce site more user friendly by giving users the option to confirm subscriptions.
You can segment users by product to send them relevant information and promotions in the future.
Your emails have a higher conversion rate because you can import product descriptions directly into using this plug-in.
---
Convertful is one of those little known tools that if used properly and consistently will transform your eCommerce business. Those who've used it swear by it because it's packed with features that help do the most difficult eCommerce task – convert leads.
Every feature in Convertful is designed to convince site visitors to stay and buy and become repeat buyers.
Although it's not explicitly designed for WooCommerce, it has a WordPress plug-in and can be installed as an add-on on your retail site.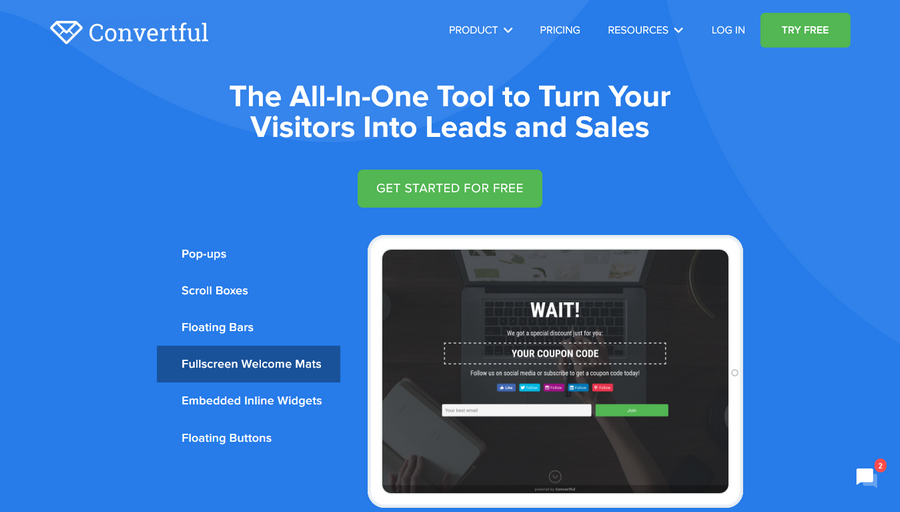 Convertful has more than 10 on-site conversion optimization solutions:
Spin-to-win and scratch card gamification – by using points and badges on their website, Verizon Wireless increased browsing time by 30% in 50% of their users. Other sites that have implemented gamification correctly and consistently report increased engagement, leads and conversions. Convertful brings you gamification tools that can help your site get more leads and have higher conversions.
Segmentation surveys – in eCommerce, knowing your customers is winning half the battle. If you know who they are and what they want you can bring them relevant and personalized offers. They are easier to convert if you send the information about products they are interested in. Convertful allows you to segment lists by splitting leads along different demographics and product choices.
Quiz funnels – by asking visitors a series of questions you can better segment them. The Quiz Funnels feature in Convertful helps you create quizzes that are engaging and so that your visitors provide information you need to serve them better.
Welcome pop-ups – not all pop-ups are created equal. Convertful offers welcome video pop-ups that feature a short Hero video so that visitors can decide whether they want to continue.
Cart abandonment pop-ups – one of the biggest problems in eCommerce, and challenging to overcome, is abandoned carts. Convertful has a feature that will help you recover more than 20% of all abandoned carts.
Welcome discounts, coupons and giveaway contests – you can increase customer engagement and sales using these Convertful features.
Account-based personal offers – Convert looks at what your customers shop for, and you can send them current offers based on what they have bought in the past.
These aren't all the features that Convertful has to offer – there are many more. They are all designed to increase engagement and conversion rates.
The software integrates with lots of other eCommerce software, provides advanced targeting rules and received excellent support from the development team.
Important Note: You need a Convertful account to activate the plug-in as it's part of the full Convertful web service. Click here to create an account now.
What is AutomateWoo? AutomateWoo is a tool that is designed specifically for WooCommerce sites. It helps automate marketing functions – you can better convert and retain customers for higher sales. The software is so successful that it was acquired by Automattic, the company that owns WordPress and WooCommerce.
You can use AutomateWoo to run targeted email marketing campaigns, automate the entire sales process in your eCommerce store, recover abandoned carts, follow-up customers and leads, track shipping and more.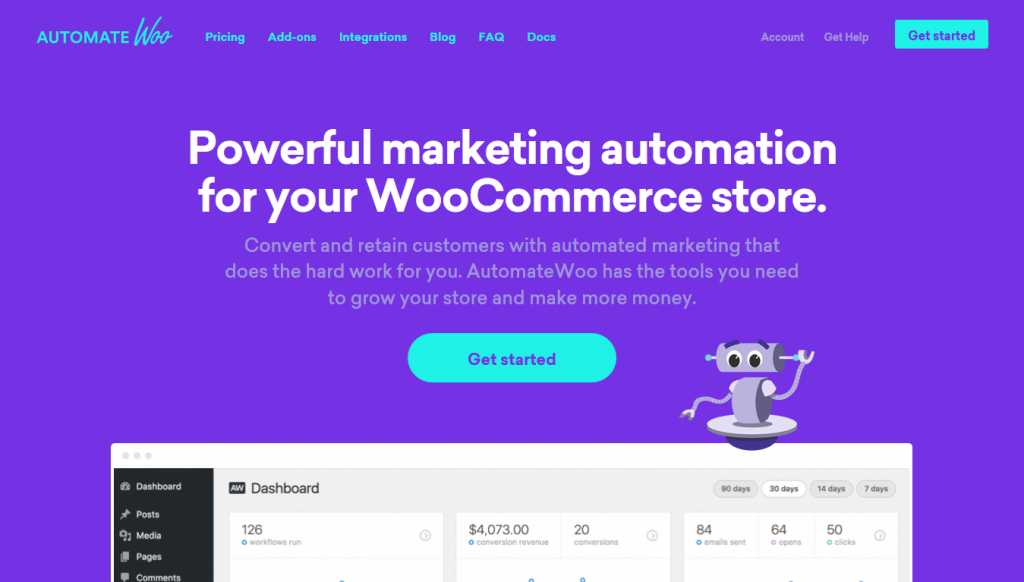 Here are some of the features that make AutomateWoo outstanding software:
Send unlimited emails – there is no limit to the number of marketing emails you can send using this software.
Workflows – you can use AutomateWoo to create automatic triggers, rules and workflows to increase efficiency and customer satisfaction. Triggers can come from creating orders, carts, and you can also create custom triggers unique to your store. You can add rules for more complex workflows so that specific actions only occur after certain rules are met. Actions are what happens after a trigger or a rule is prompted.
Manual workflows – automation is all about getting rid of mundane tasks, but there are times you want to carry out certain tasks yourself. If, for example, an order will be delayed, the software allows you to send out personalized and detailed manual messages.
Abandoned carts – don' give up on abandoned carts just yet. AutomateWoo has a module that sends emails to all customers who didn't complete a transaction, and the recovery rate is pretty impressive.
Segment your customers – segmenting your customer base allows you to send them targeted emails with relevant offers and announce new products to the right market segment so that you can increase conversion rates.
Wishlist marketing – the software has a wishlist plug-in that customers can use to create wishlists. You can send out emails reminding them about their lists and provide information about related products.
Excellent reports – you can see how many people visited product pages, which products they opened, sales, abandoned and recovered carts and a lot of other information with AutomateWoo customized reports.
Different types of follow-up emails – you can follow up on reminders and rewards, card expiry notifications, send out product recommendations, birthday cards and respond to customer feedback.
Automatic VIP – reward your most loyal customers depending on how much they spend.
These aren't all the features – there are many more. AutomateWoo is one of the best WooCommerce automation tools available in the market today.
WooCart is a hosting solution for easy store maintenance and management. You can set it up in a few minutes, you don't need to have technical expertise to run your eCommerce store on this hosting platform and it provides all the information you need at a glance.
You can only use WooCart if you are already running a WooCommerce store. In other words, if your store runs on another platform such as Shopify, WooCart will not work.
It provides stability, faster load times, and a high degree of security.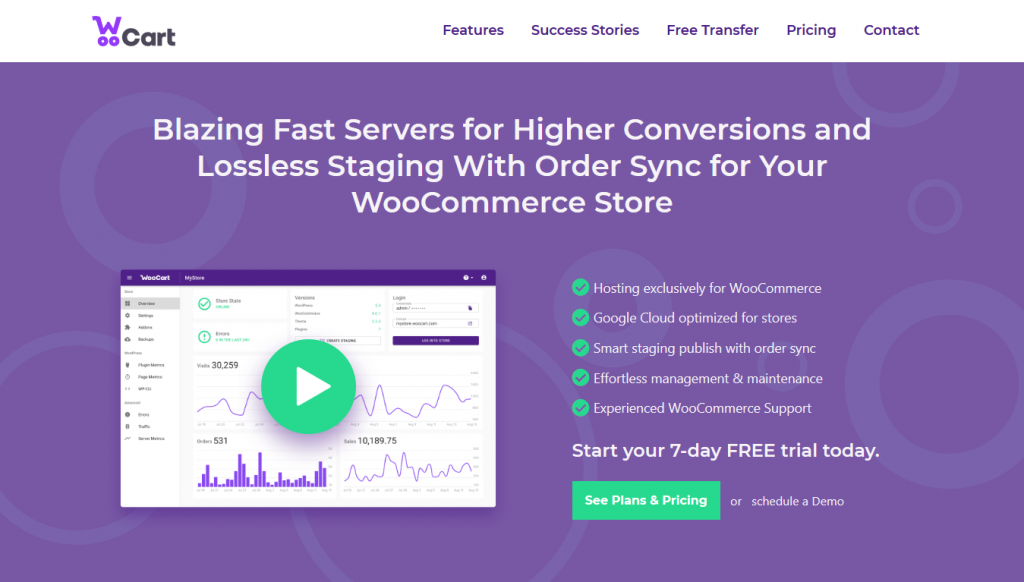 Here are some of the top features of WooCart:
Store building and maintenance – running a WordPress site, especially a WooCommerce one, is a time-consuming task that requires lots of input. WooCart brings together the tools you need to make this task easier so that you can focus on finding and converting leads.
High-performance hosting – what will differentiate your store from others in your niche is how fast it loads and how easy it is to navigate. WooCart hosts all sites on the Google Cloud platform. They can load fast, handle lots of traffic and surges, experience minimum downtime. Because this software only runs WooCommerce sites, they are stored on separate, optimized servers for winning performance.
Easy staging and testing – you need to constantly update and test your website. Whether it's new products, a new theme or new features, you need to test each update and make sure your site is working as it should. You can make a copy of your store on the WooCart Staging Feature, make all changes, test the site and then update the actual site.
Image optimization – a common problem that eCommerce stores experience is slow load times because of large image size. WooCart has a smushing feature that reduces image size without compromising quality.
Plug-in analysis – some plug-ins slow down websites and cause other unexpected problems. If your eCommerce store is hosted on WooCart you have a plug-in analysis feature available to you that checks each plug-in's performance and lets you know if any is hurting your site.
Troubleshooting – when there is a problem on a WooCart site, you don't have to spend a lot of time troubleshooting. There is an error-reporting feature that tells you exactly what the problem is and where it is.
---
Unlike other tools discussed here, which help with eCommerce marketing and management, Zapier helps you integrate all the tools you need to run your WooCommerce site smoothly.
These apps will help you automate processes so that you can run your business smoothly and efficiently.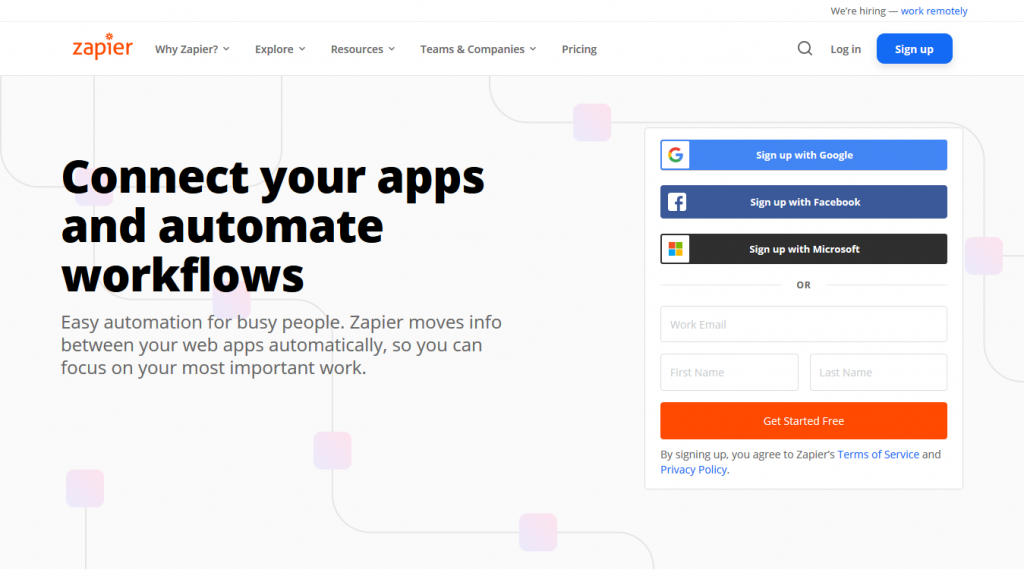 Once the apps are integrated there is so much you can do with them:
You can automate actions using triggers – you can set up the apps so that an action in one app triggers an action in all associated apps. For example, you can set it up such that when a new order is received an email is automatically generated by one app, while another sends an invoice and another updates a sales report.
You can create triggers and actions for orders, coupons, customers, products, shipping and subscriptions. Automating all these processes not only makes running your eCommerce store easier, it also introduces uniformity and efficiency into your business.
What apps can you integrate with Zapier? It can integrate more than 2,000 apps. If you can think of an app that you need for your eCommerce store, you can likely integrate it with Zapier if you are running on a WooCommerce platform.
Here are some common Zapier integrations that will give your business a boost:
Add all new orders to Google Sheets – each time an order comes through the information is added to Google Sheets for easier organization and manipulation.
Track customer data with Hubspot – whenever a customer or lead leaves you their information you set it to automatically transfer to Hubspot for easier CRM.
Add new email addresses to email marketing software and automatically email new buyers.
Transfer new order information to Slack and Trello – many teams work around these two apps because they are user-friendly and have many project-management functions.
Create sales receipts using Quickbooks or similar software.
You can have all orders summarized and emailed on Gmail every day.
---
Hubspot is all about bringing in leads and closing sales. You can use it to carry out a host of eCommerce functions – host web pages and landing pages, create blogs, design email sequences, manage leads and sales and more. As you do all these things, you're able to track your campaigns' success and make changes wherever they are needed.
Hubspot has a software that enables you to take advantage of all these features. It's designed for sales, marketing and customer service.
Hubspot is easy to implement. After installing it on your eCommerce website, syncs all data so that you can apply Hubspot tools.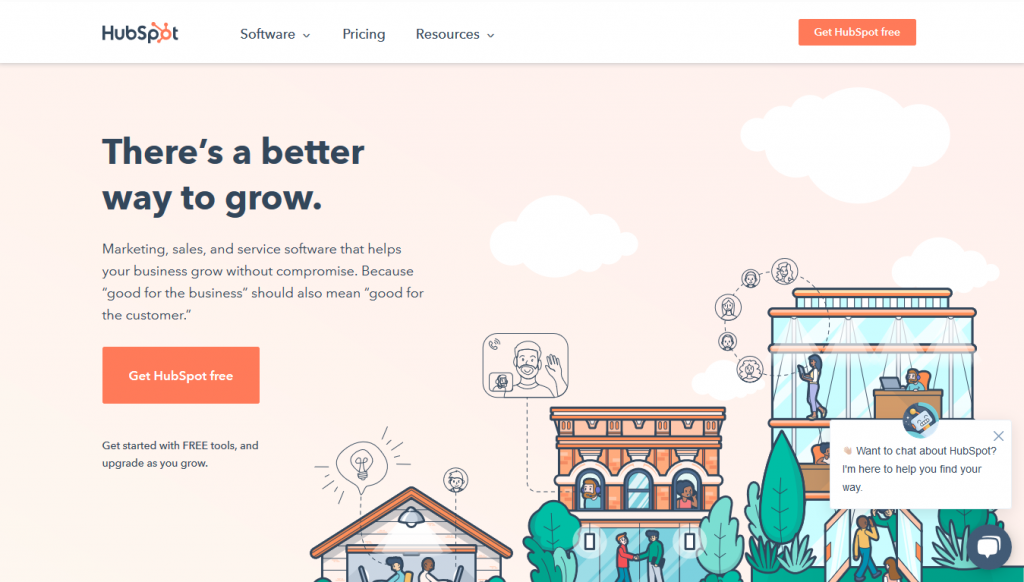 Here are some of the things you can do with Hubspot for eCommerce:
After you sync data between Hubspot and WooCommerce you'll be better able to handle customer orders and track sales.
You can see each customer's activity on one screen – their orders, abandoned carts, website pages visited, email activity and more. Hubspot also shows you abandoned carts and provides tools to help recover them.
Hubspot allows you to segment your list and you can send appropriate email marketing messages to each segment. Segmentation is everything in eCommerce. If you know your audience you are better placed to present offers that are more likely to appeal to them.
You can use Hubspot to create winning email marketing campaigns with the powerful drag-and-drop builder. Each email can be personalized with the lead's name and you can even reference some of the products they bought in the past.
You can automate your email campaigns – create them in advance and then schedule them to go out when leads are likely to have a high response rate.
Hubspot for WooCommerce has an ad management feature. You can use it to create ads on popular social media sites and once the ads are running you can track their ROI.
In-depth reports – find out about different aspects of your store with the in-depth eCommerce analytics module.
In order to use Hubspot you need to install and activate the WooCommerce plug-in (it should have an active SSL certificate). You also need a free or paid Hubspot subscription.
---
Conclusion
Running an eCommerce store is certainly one of the more profitable online businesses. As your store grows and you gain more visibility it becomes tedious and time-consuming to carry out all the little tasks necessary to make your store run smoothly.
WooCommerce automation helps take over most of these tasks so that you can focus on more profitable activities, like looking for new leads.
If you choose the right software and implement it correctly you should see a significant improvement in lead generation and sales.
Because WooCommerce automation tools are still in their infancy there isn't one that does everything. You may need to install two or three to make your store as efficient and profitable as possible. The important thing is to choose tools with a variety of features and that are well supported.
As you choose automation tools, make sure that they integrate with existing channels, segment leads, can be used to create rules that trigger actions, have performance sequences. They should have a reliable email marketing module with a drag-and-drop editor.
All the tools discussed here are an excellent way to automate your eCommerce shop, but Platformly comes recommended. While Platformly for WooCommerce is relatively new, it combines a number of these features to bring you a reliable automation tool. It has many of the necessary functions needed to increase sales while reducing workload, is easy to use and affordable.