The 4 Best SMS Marketing Automation Software in 2022
Is SMS automation a core part of your marketing strategy? If not, you're missing out on one of the most effective ways to reach prospects and customers. Read on to find out about SMS automation, its benefits and the best SMS marketing automation software.
The statistics on text automation speak for themselves:
5 billion people have access to text messaging worldwide. In North America, 290 million people send and receive SMS messages every day. In China, 1 billion people use text messaging daily, and India is not far behind with 750 million people texting daily.
Texts have a 90% open rate, compared to email which is only 20%. In addition to that, 90% of all SMS are read within 3 minutes of receipt.
Surveys show that 75% of people are happy to receive SMSs about brands and products so long as they opt-in.
Text messages have a much higher response rate – as high as 210% – compared to other forms of promotion.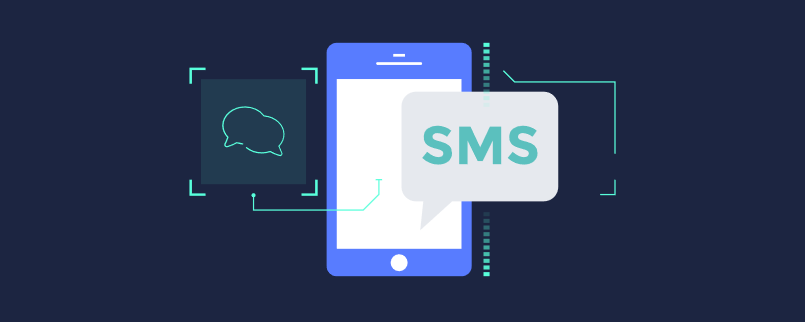 SMS marketing is growing every day. According to TechJury.net, it increased by 92% for B2C and almost 200% for B2C between 2015 and 2017 and the pace is accelerating.
In other words, if SMS is not a core part of your marketing strategy, you're missing out on one of the biggest sources of leads and customers.
---
What is SMS Automation?
It is the automatic sending of text messages to individuals or groups. It requires little and often no manual intervention.
All you need to do is use the right SMS marketing automation software to configure SMSs to go out with specific triggers. When the time comes for a text to go out, the software does the rest.
Why Should You Automate Text Messages?
Marketing has become a complex affair. Gone are the days when you took out an ad in the newspaper or printed brochures and hoped to reach prospective buyers. Today, the internet is the leading way of reaching a vast number of prospects, and their attention is scant.
You have to develop innovative ways to get them to "stay with you" as you tell them about your products.
Hence the need for automation. You can automate most marketing processes, including SMS. Automation takes care of tedious, everyday tasks leaving you to focus on the areas of your business that need your attention.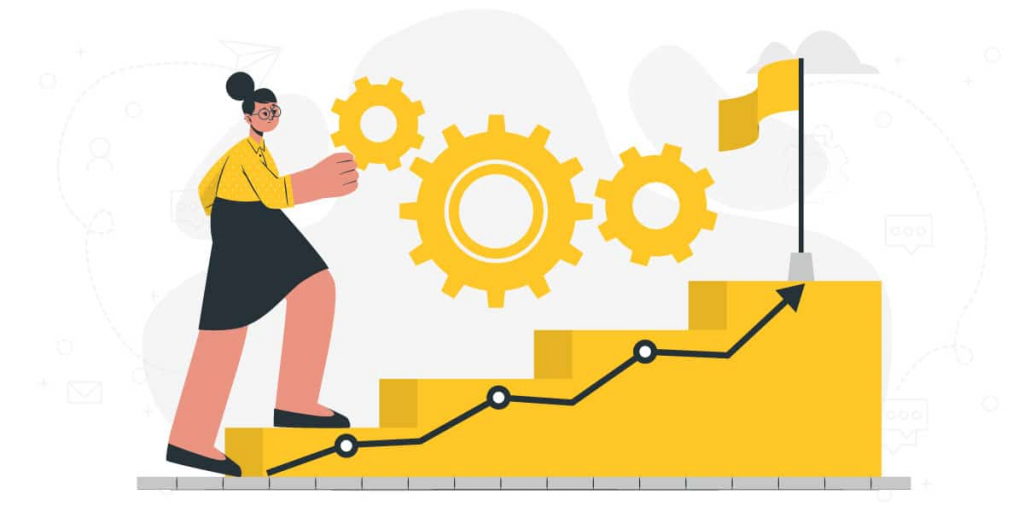 Benefits of SMS Marketing
Texts have a very high open rate – almost 100%.
They also have a high conversion rate. People are more likely to take action when prompted by an SMS than when prompted by any other means.
Bulk messaging is highly affordable. You can reach out to tens of thousands of leads for just a few dollars a month. It would be best to compare several SMS marketing automation software to see which gives you the best deal at the best rate.
You can reach a lot more people using SMS. According to a Statista report, 53% of all online traffic in 2017 originated from mobile phones.
Texts are delivered instantly. Couple that with the fact that they are read almost immediately and you have a winning platform.
SMS are flexible. You can use them to tell prospects about new products, product improvements, discounts, coupon codes and more.
You may be wondering whether there are any drawbacks to SMS marketing.  Indeed there are a couple of things to keep in mind as you implement it. The first is that you have to keep things short – there is only so much you can say in a text.
You can get around this by providing a link to your website where users can find more details.
The other drawback of text marketing is that people have become wary of responding to texts in case they are dealing with fraudsters.
To get around this, make sure that you only send SMSs to those who have opted in, and set up your communications so that they can be identifiable as coming from your business.
---
Texting vs. Emailing – Which One is Better?
Online marketers are repeatedly told that they have to use email to reach out to prospects and existing customers. Now that you know the potential of SMS marketing, should you choose it and ditch email campaigns?
If you had to choose one, you should go with SMS marketing especially if you are a small or medium-sized business.
The fact that people open SMS 5 times more than they open emails is reason enough. By choosing text marketing you'll be reaching many more people, especially when you consider that the conversion rate is so much higher with SMS.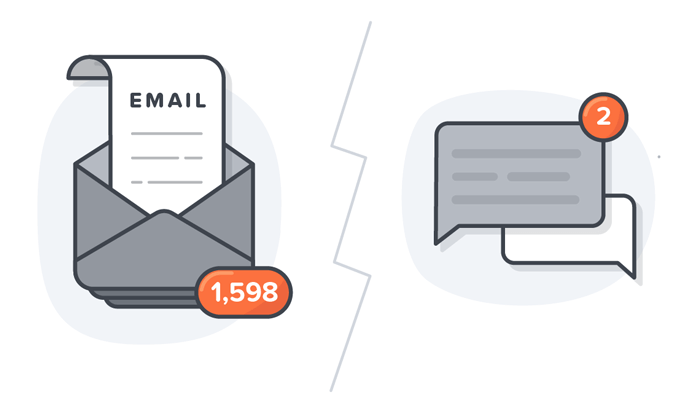 You should choose text over email marketing because it takes the average person just 90 seconds to reply to an SMS. In contrast, it takes about 90 minutes for the regular guy to get round to answering an email.
SMS marketing is 7 times more effective than email marketing, so it makes sense for a small business especially if there isn't a big marketing budget.
---
Best SMS Automation Software for 2022
As you look around for business SMS solutions you'll discover that there are many different options. Each claims to be the best, and you have to know what to look for to find the best one.
Here's what to look for as you choose bulk SMS software:
SMS delivery rates – you want the highest number of SMSs delivered in the shortest possible time. Not all text messaging tools are created the same. Choose one that guarantees the best delivery rates.
Experience matters when it comes to SMS automation software. The best service will have lots of industry experience.
Reliability – the process of sending out texts will be automated, so you want a tool that's reliable and has minimal or no downtime.
Scalability – as your business grows, the number of SMS contacts grows as well, and you want a tool that can support the growing numbers.
Ease of use – this is important for any marketing tool.
Choose a service that has excellent customer service and 24-hour support.
Look for an SMS tool that integrates with the rest of your system. It should work well with the existing CRM and any loyalty program tools you may have.
Now that you know what features to look for let's look at the best SMS marketing automation software.
---
Platformly brings together a host of marketing tools under one platform. It has lead capture, CRM, link tracking, emailing and now text messages and SMS marketing. It comes at no extra cost, and all you need to pay for is the 3rd party provider.
Platformly SMS marketing software comes with in-depth video tutorials on how to set up and send bulk SMS.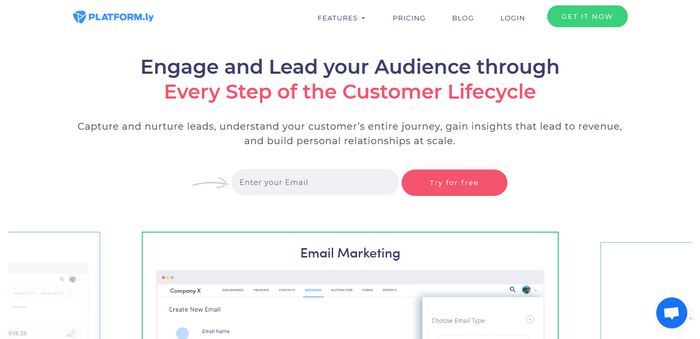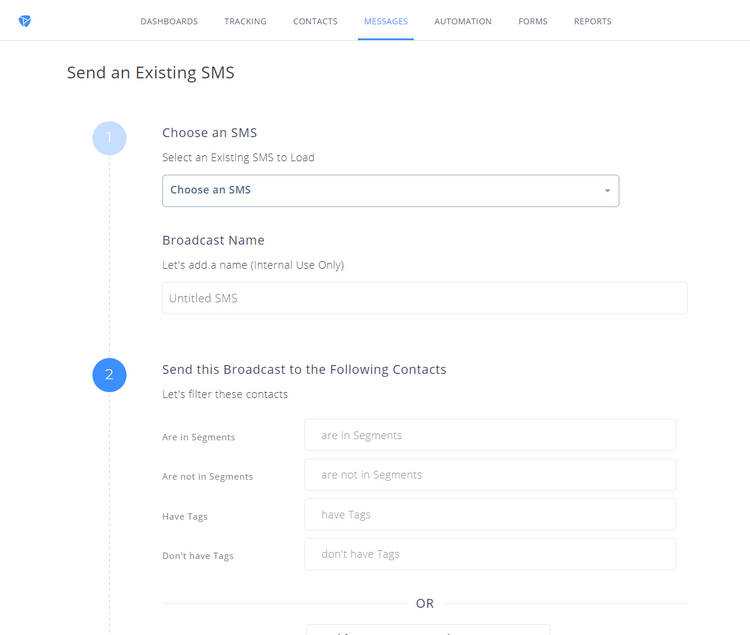 Platformly SMS Dashboard
Features
SMS broadcasts to your contacts – you can send to your whole list or select the contacts you'd like to receive the broadcast. You can also send a message to an individual contact.
Connect with Twilio or Nexmo – both these tools make calls and send texts to your contact list. You can connect them to the Platformly SMS feature to make your job even easier.
Prepare and save SMS messages – you can write your text messages ahead of time, save them, and then schedule them to send them whenever you want.
Set up triggers that send automated text messages. Triggers are created by specifying a keyword, so if a contact wished to opt-in they can text that keyword.
Select the right time zone – with Platformly you can send SMS to your contacts at the right time in their time zone.
Custom fields, emojis and hyperlinks allow you to personalize text messages.
SMS tracking – it's important to know what happens to texts once you send them. For that Platformly has a tracking module. It shows the number of texts sent, received, failed, how many have been opened, click-through rate, unsubscribes and more. You can re-send failed messages.
Engage your prospects by checking and responding to replies.
Connect the contacts on your SMS list to the Platformly CRM to learn more about your contacts to send them relevant messages.
You can include SMS opt-in in your online forms.
---
ActiveCampaign all about automation. It has an excellent email automation module for eCommerce, B2B and other types of digital businesses.
You can use it to reach out to and engage new prospects, educate them about your products and drive leads through your sales pipeline until you're able to convert them.
For SMS marketing software, it has a text messaging and SMS module that's just as effective. You can use it to reach out to your contacts with product offers, discounts and any other information you think will drive your business.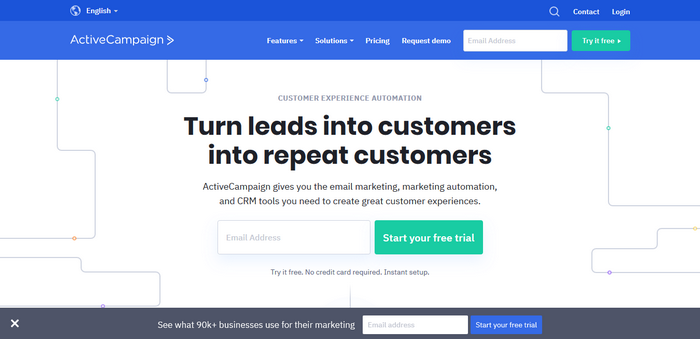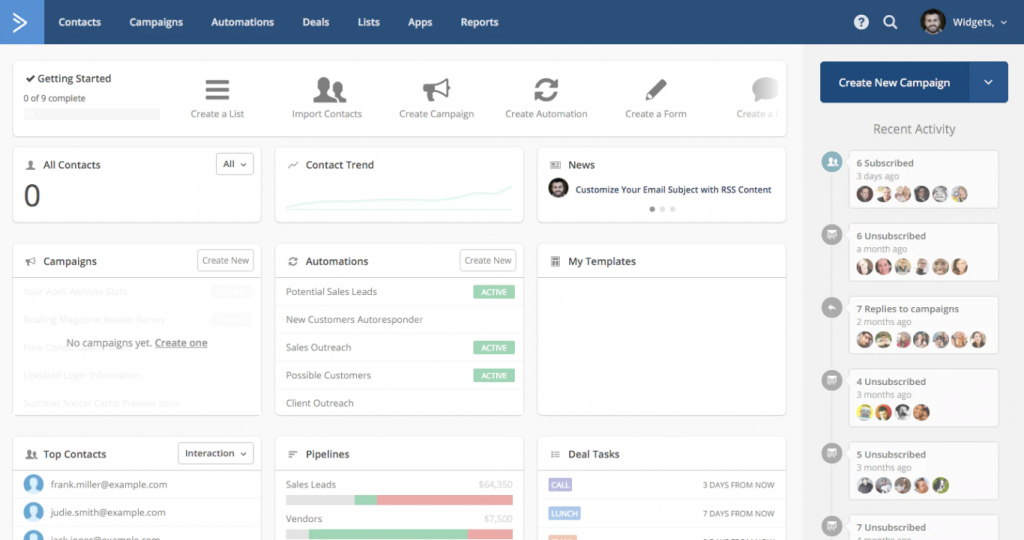 ActiveCampaign SMS Dashboard
Features
Users can sign up to receive notifications via SMS. These include updates about products, upcoming discounts, flash sales, coupons and more.
You can set up custom forms to collect phone numbers on your website.
Users can unsubscribe by sending a message.
Set up automations so that when a contact reaches a specific place in the sales cycle they automatically receive an SMS.
---
Sendinblue is a multi-channel online marketing platform. It combines email, SMS, CRM and other channels to ensure that you can reach your contacts wherever they are, whenever you want.
For SMS marketing software it has all the basics that you need to run a campaign.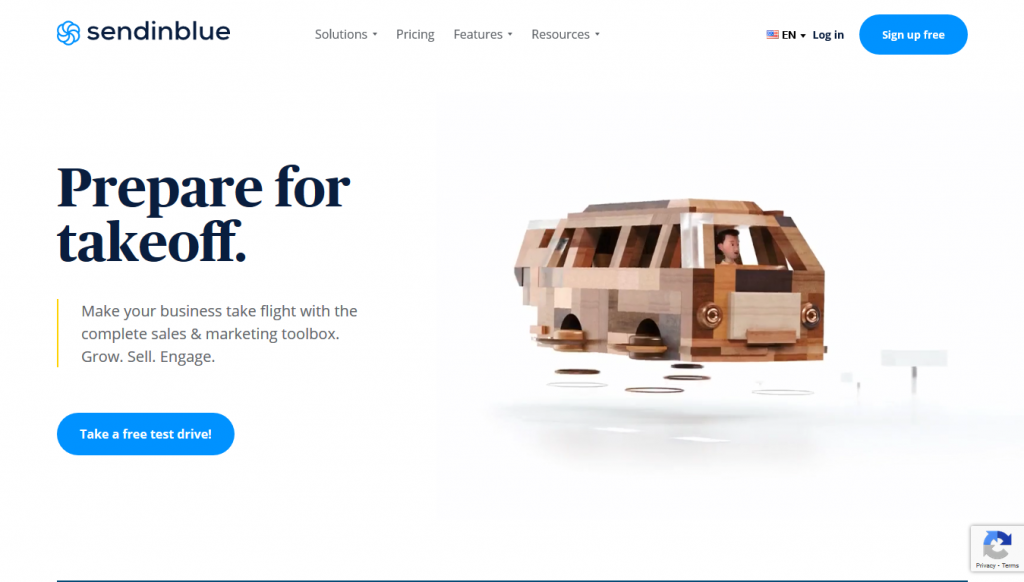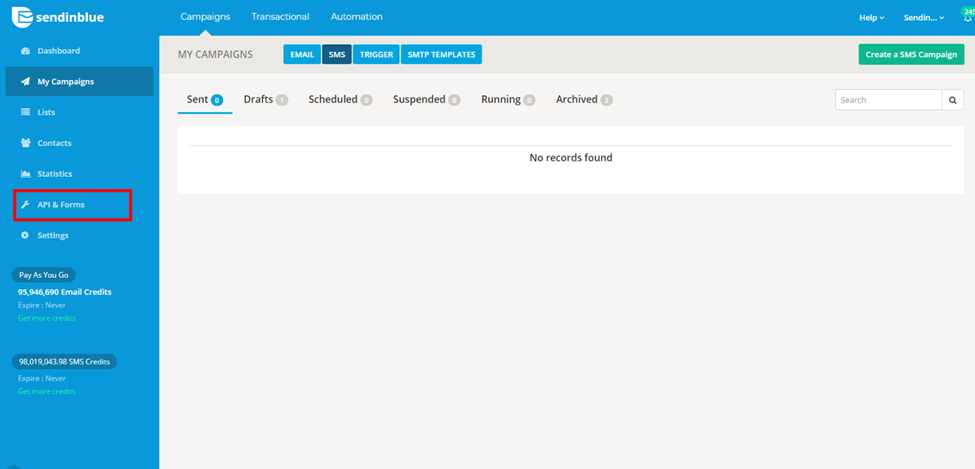 Sendinblue SMS Dashboard
Features
You can pre-write a message, save it and then send it when the time is right.
Use Sendinblue SMS to send transactional SMS – order confirmations, shipping information and updates, update delivery information and more.
You can send personalized messages to each contact with their name, business etc.
The tool provides all the key metrics to tell you whether or not your SMS campaign is working.
---
Omnisend is multi-channel marketing software that combines emails, push notifications and text messages. It relies on automation to send out messages, ensuring you have enough time to focus on other tasks.
The SMS marketing software module is quite powerful. You can segment your list and send out targeted texts, send out personalized messages and more.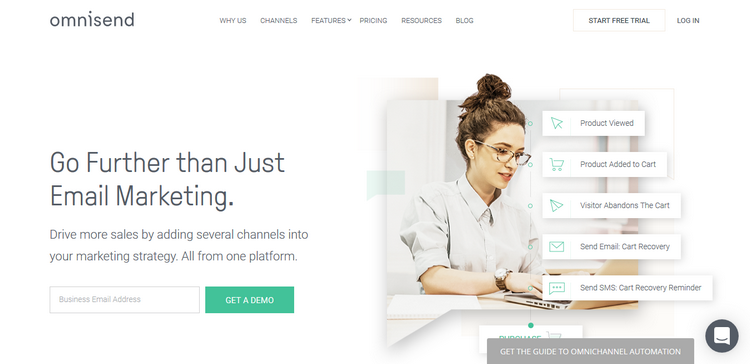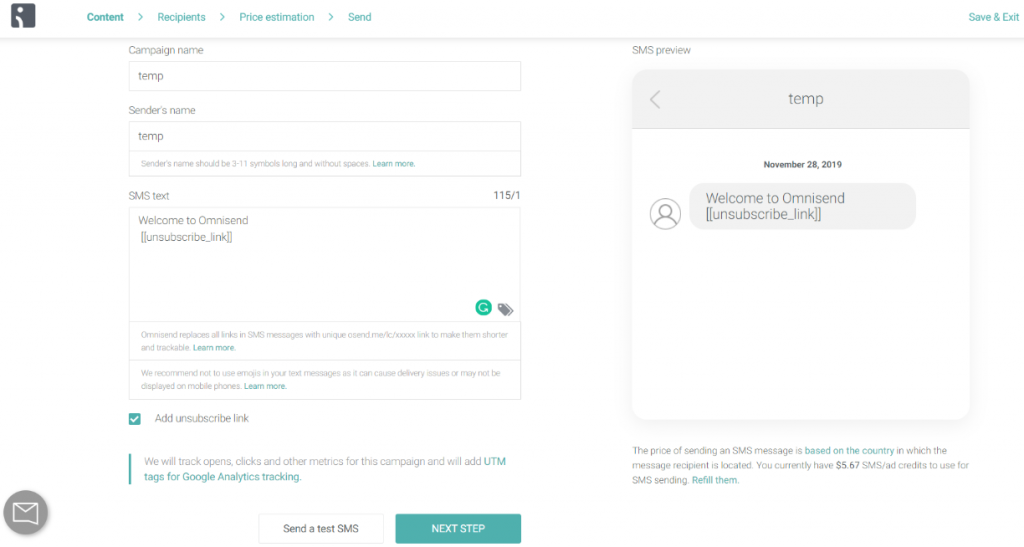 Omnisend SMS Dashboard
Features
The software comes with pre-built workflows in the SMS module that you can use for cart abandonment, birthdays, orders and shipping information.
You can use SMS in your one-off campaigns for things like flash sales, hot-selling items, seasonal sales and more.
You are not limited to one country. Reach a global audience using this global SMS marketing automation tool.
Collect user phone numbers right on your website using popups, sign-up boxes and landing pages.
The tool provides 2-way SMS messaging so your customers can contact you.
It is TCPA compliant and customers can opt out of texts any time.
You get in-depth reports about the performance of your SMS campaigns.
---
Conclusion
If SMS marketing automation isn't a core part of your strategy, it should be; you can use it to reach lots of people, it has a very high open rate and people almost always respond to texts. SMS marketing has the added advantage of being cheap, making it ideal for small and medium-sized businesses that may not have a big budget.
For it to work you need to choose the right SMS marketing automation software. It should be able to send out bulk texts, have high delivery rates and be scalable.
All the software discussed in this post can do these things. If we had to choose one, we would go with Platformly. It brings together just the right features to give your marketing a boost. It's easy to use and has a friendly user interface.
It is also affordable, and when you buy it you get a full suite of tools that you can use to automate all aspects of your marketing.