The 5 Best Shopify Alternatives for 2022 Compared
If you're reading this, there's a good chance that you're familiar with Shopify and are wondering whether there are similar eCommerce website builders that you can use instead. Shopify is a popular eCommerce platform with more than 1 million stores in over 170 countries.
Just because it's popular doesn't mean it's the best or that it will work for you. There are excellent Shopify alternatives that have similar and sometimes better features.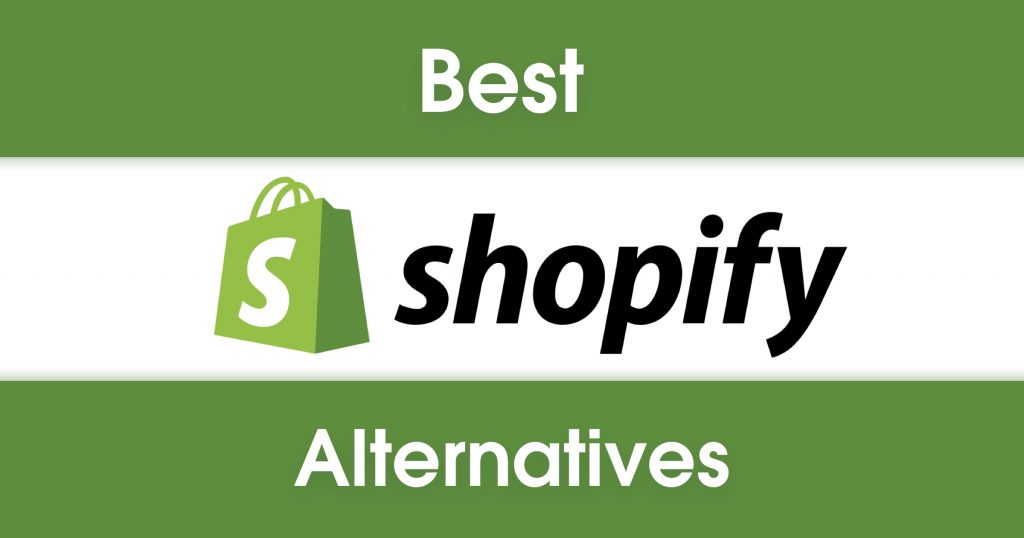 Before we look at other eCommerce platforms you can use instead of Shopify there are a few questions that are worth answering briefly:
What is Shopify and why should you choose it?
What are the pros and cons of Shopify?
Why should you look into alternatives?
---
What is Shopify?
It is an eCommerce platform that allows you to build and run an online store. You can use it to build a website, add and remove products, product descriptions and prices.
You can also use it to calculate shipping costs and other costs that are associated with your store. The software allows you to market your products or services across multiple platforms.
It works on an SaaS model. This means that you pay a monthly fee to access the service. After a 14 day trial, you can choose from 3 available packages – Basic, Shopify and Advanced Shopify. The first two are recommended for small businesses, while Advanced is for enterprise.
Why Should You Choose Shopify? (Shopify Pros)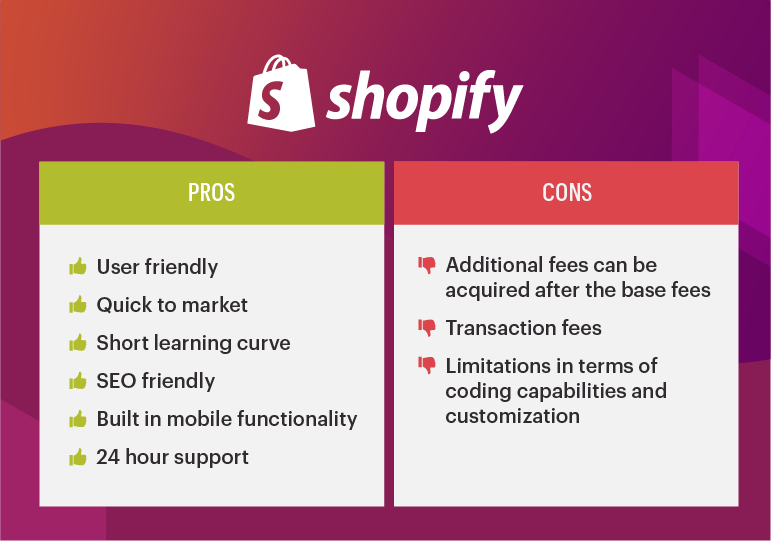 There are reasons why Shopify is so popular. Just because you are looking for alternatives doesn't mean you shouldn't be familiar with the benefits of Shopify.
It is easy to set up, and it makes visually appealing online stores. It also has many app integrations and Shopify partners, and it is reliable and secure. The platform comes with marketing tools and doing SEO isn't complicated.
The software creates mobile responsive stores, and it offers 24/7 customer support.
Cons of Shopify
Although there are many good things about this software, people seek alternatives because it comes with several drawbacks that are hard to overlook:
It uses third parties to process card payments, adding unnecessary complications to an otherwise simple process.
You will have a hard time creating good content pages with this platform.
If you have a multilingual store you have to use an app – it doesn't accommodate different languages.
Some people find its SEO options rigid and confining.
---
Reasons You May be Looking into Shopify Alternatives
Most people who are looking for alternatives cite one, or a combination, of the following reasons:
They don't want to deal with the complications that come with the payment gateway. If you don't use their proprietary gateway, you can incur up to 2% for each payment that is processed. Also, you give up a host of important features, such as the ability to process multiple currencies.
It limits how much control you have over SEO. The platform has a good SEO module, but it is limited in several important ways. For example, you cannot tell search engines which pages you would like to show up in search results. This may not matter when your store is still small, but as it grows it becomes significant.
The platform cannot handle products that have many options for shoppers. You are limited to 100 SKUs. SKUs are unique strings of numbers and letters that identify each item in an online shop.
Shopify pricing is unattractive to some. They compare it to WooCommerce, a leading eCommerce platform that is completely free, and only requires that you pay for hosting, plugins and themes.
---
What to Look For in an eCommerce Platform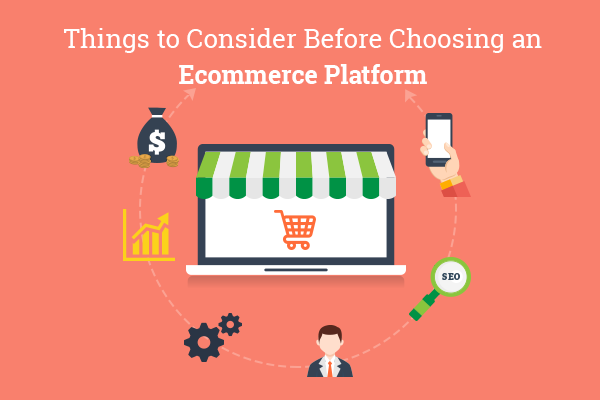 We have curated the 5 best Shopify alternatives, but what criteria did we use to find them? Here are the critical factors that we took into account:
Low (or no) cost of entry.
Multiple payment options that are easy to for both buyer and seller.
An ability to customize your store.
No need for technical or coding expertise to start and grow an online store.
Scalability – you can grow your store over time.
Hosting – you can get a domain name and it provides excellent uptime and lots of bandwidth.
A good eCommerce tool should have an in-built website builder with lots of free themes to personalize your store.
You should be able to create a mobile-friendly store.
It should allow easy inventory management, and allow you to see across all sales channels.
It should have a good SEO module that you can use to rank your store.
Important features like discounts and promos should be included, and it should also have an analytics program.
Cart recovery tools are a must.
The platform must provide great customer service.
The Shopify competitors we will talk about have these features and more.
---
Best Shopify Alternatives for Your Online Store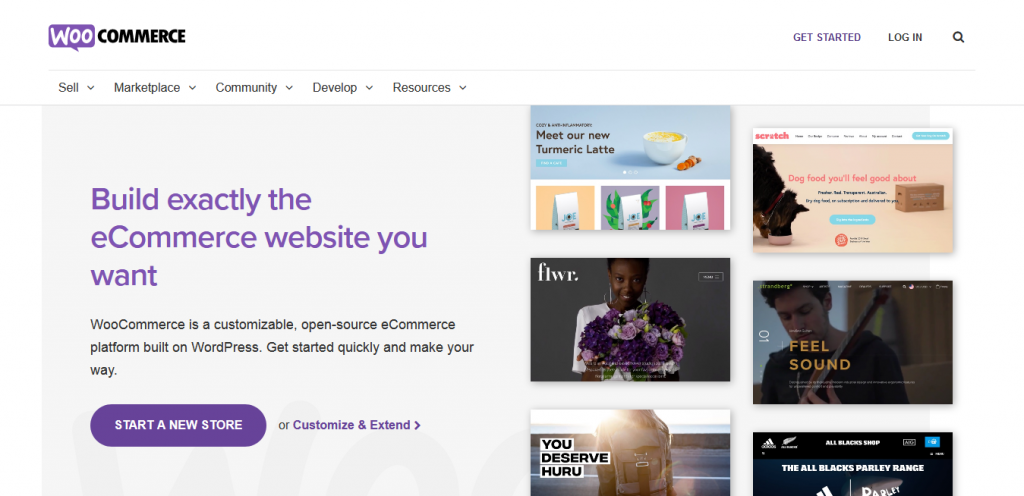 WooCommerce is a free, open-source plugin that you can use to turn an ordinary WordPress website into an eCommerce website.
If you are already familiar with WordPress, it is an excellent alternative to Shopify. Even if you aren't, it has an easy dashboard and a short learning curve.
Although it is a simple plugin, it has a vast array of features that you can use to create a store that can start selling right away. It is designed for serious eCommerce entrepreneurs            – those who want full control of their sites' content without paying a lot of money for the platform.
The plugin comes with many features already included, but if these aren't enough you can extend functionality through a vast array of additional plugins. Some of these are free and some are paid, so it depends on your budget.
You should also look at compatibility between additional plugins and other plugins you may already be using or planning to use.
Although it is free, you still need to pay for hosting. WooCart solves this problem for you. It is built specifically to host WooCommerce stores (more on this in a moment).
Pros of WooCommerce
It is free and you have complete control of your eCommerce store and all the content in it.
You can choose between different payment processors.
It creates fully customizable stores through hundreds of free and paid plugins.
You get a huge variety of templates to choose from.
It works very well when stores scale – it has ample resources to support large stores.
Are there cons of WooCommerce? The only problem with it is the need for familiarity with WordPress.
WooCommerce vs. Shopify
WooCommerce is completely free. You will have to pay for hosting, but even when you factor in those costs it's still cheaper than Shopify.
You have more options to customize your store with a vast selection of plugins.
You have thousands of design themes – way more than Shopify.
There are no transaction fees on sales.
---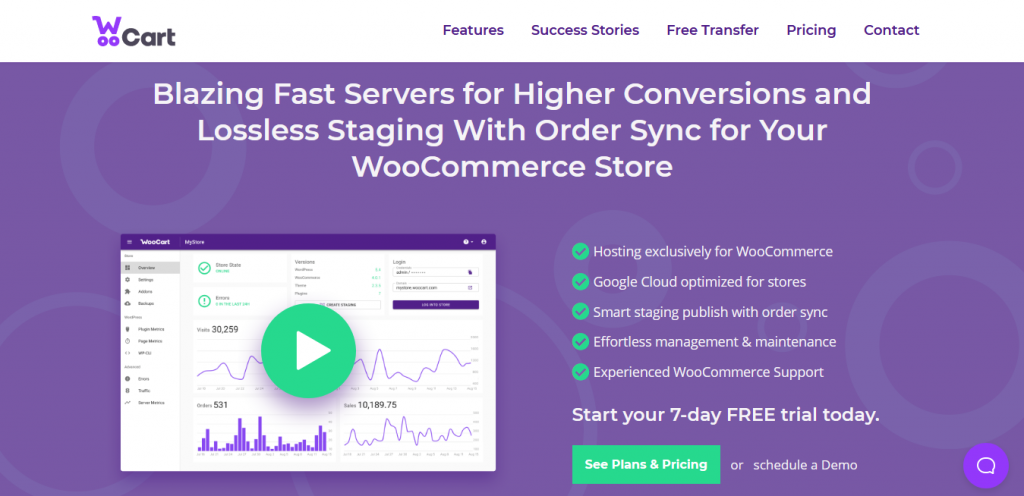 WooCart is a hosting service for WooCommerce stores. It was built specifically for WooCommerce users, so it has been optimized to provide excellent service. Sites hosted on WooCart are more stable, faster and more secure. It offers several additional and essential services:
Website building and maintenance tools.
Easy testing – during testing, make a copy of your store that keeps running as you test the new version.
The smushing image optimization feature ensures product images render perfectly on devices and have minimum load time.
CDN access – your store's files are stored in multiple servers across the globe so that they can be physically close to users.
Plugin analysis – running a simple test to show which plugins may be slowing down your store.
A troubleshooting module and error reporting system make store maintenance easier.
When you combine WooCommerce and WooCart, they are a much better option than Shopify. They are cheaper, have lots more features and options to customize your store and make for easier maintenance and management.  
---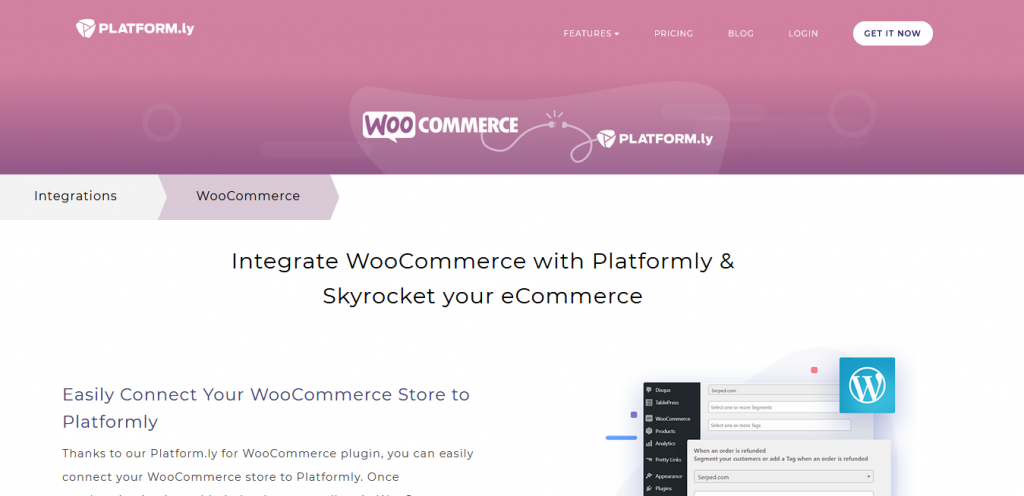 If you are looking to supercharge your eCommerce store the Platformly WooCommerce plugin comes highly recommended. It allows you to import all your data into Platformly, send out automated marketing emails and provides access to detailed reports.
Platformly for WooCommerce can do so much more. You can use it to quickly set up abandoned cart campaigns and increase conversion rates. The software allows you to insert product information and descriptions into emails, and you can import and analyze customer data.
What is Platformly? It is powerful marketing software that can help you take your eCommerce store to the top with its abundance of features. It has detailed business dashboards that show real-time data and provide in-depth analytics, a powerful CRM module, lead capture tools, marketing integration and more.
You can learn more about Platformly here.
Get Platformly's WooCommerce Plugin Now
---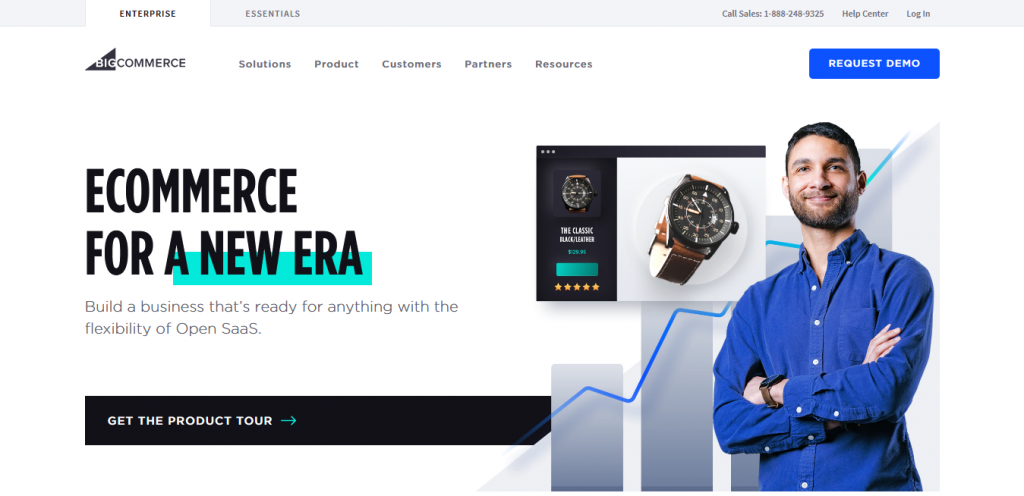 BigCommerce competes well with Shopify – it comes with hosting included and gets regular software updates. It is an SaaS platform so you need to pay monthly or yearly.
Some people have described BigCommerce as the next step after Shopify. You can start your store using Shopify because it's easy to use and provides all the basic features, but if you want to scale, BigCommerce has just what you need.
It may be a little more complex and a bit more difficult to use, but that's the trade-off you make for all the added functionality.
BigCommerce Features
It is the only eCommerce platform that allows users to sell physical products, services and digital products without an app.
It doesn't lock you in with a payment gateway. In fact, it offers more than 65 options and doesn't charge additional fees. The company has pre-negotiated fees with some of the biggest payment processors (including PayPal) and the longer you use it and move through the different plans, the less you pay.
It comes with a variety of shipping options. You can get huge discounts on DHL, USPS and FedEx if you install the shipping app. It provides options that make shipping easy. You can print shipping labels, provide customers with tracking numbers and provide next-day and in-store delivery. It automates shipping for eCommerce stores and you can manage all operations from a single screen.
Security – this eCommerce platform has the biggest number of in-built security features of any eCommerce platform.
The software offers abandoned cart recovery and multi-channel selling. You can sell on major retailers such as Amazon and eBay and on social media sites like Facebook, Instagram and Pinterest.
The app store has more than 600 apps you can use to modify your store.
It has more than 100 themes you can choose from. 12 are free and the rest are paid. They are grouped by layout and by industry.
The Store Design Tools makes it easy to customize your store.
You get 24/7 phone and chat support.
---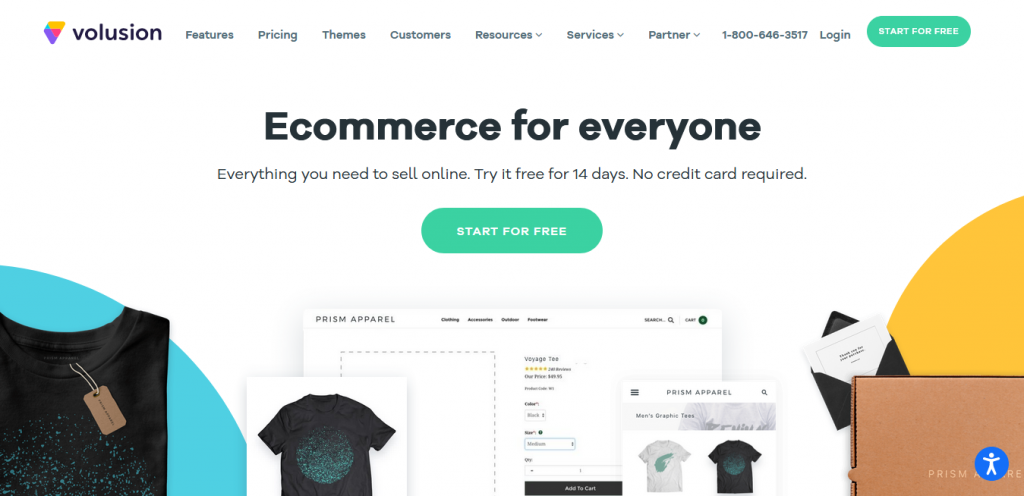 In terms of pricing Volusion compares closely with Shopify. However, it provides robust features for those who have little experience with running an online store and are looking to step things up and increase sales.
It is especially good if you want to use promos to increase sales you can use the Deal of the Day feature that sends them to an exclusive deal page.
Volusion Features
It has over 300 themes, both free and paid. While they may not be as many as Shopify or WooCommerce, they are enough to create a customized store.
SEO – the Volusion SEO feature offers useful suggestions to help stores rank.
It integrates with MailChimp, an all-in-one marketing platform and takes email marketing to a higher level.
Volusion servers are designed to handle heavy loads and sites are faster.
A customer dashboard makes it easy to manage and track customer contacts and track their history. You can use it to build more impactful marketing campaigns.
Stores on this platform are mobile-friendly.
Adding new products and product descriptions is easy. The software walks you through the process and tells you how to write the most compelling descriptions.
The software has an onboarding campaign to help you determine which type of eCommerce store is best for your chosen niche.
This eCommerce platform is easy to use. It is divided into neat categories and the intuitive process of setting up a website eliminates the guesswork.
---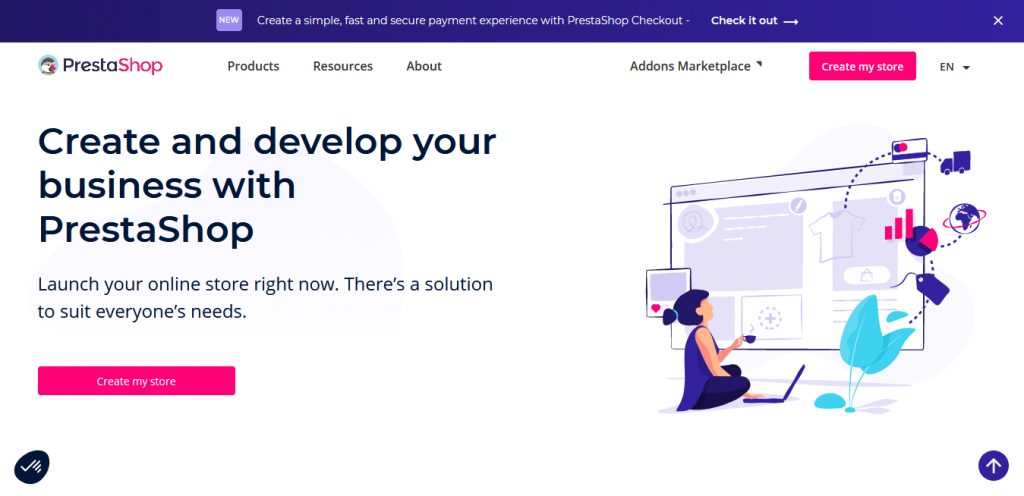 You don't need to pay for PrestaShop, but you need to pay for hosting, plugins, and themes like other free platforms in this category. It's worth mentioning that PrestaShop is most commonly used in Europe – it's the platform for more than 250,000 stores in Italy and Spain.
One of the reasons why people choose PrestaShop is that it has a strong community which can be very useful if you are building an online store for the first time. Talking to other PrestaShop users will give you ideas and provide solutions to problems. It also has paid support, and many users are happy to pay for it.
PrestaShop Features
It offers unlimited product listings and flexible management. You can track items and you get alerts when items are out of stock.
It has a good in-built SEO module.
The software comes with a healthy variety of payment options including PayPal, Stripe, Skrill and WorldPay.
You get precise shipping information to share with your customers.
You can use PrestaShop to send out automated emails.
Use it to create custom promotions and increase sales.
It provides important metrics – visitor statistics, sales and order numbers and more.
It supports 75 languages.
You get cart abandonment notifications.
PrestaShop integrates with many apps and 3rd party applications.
---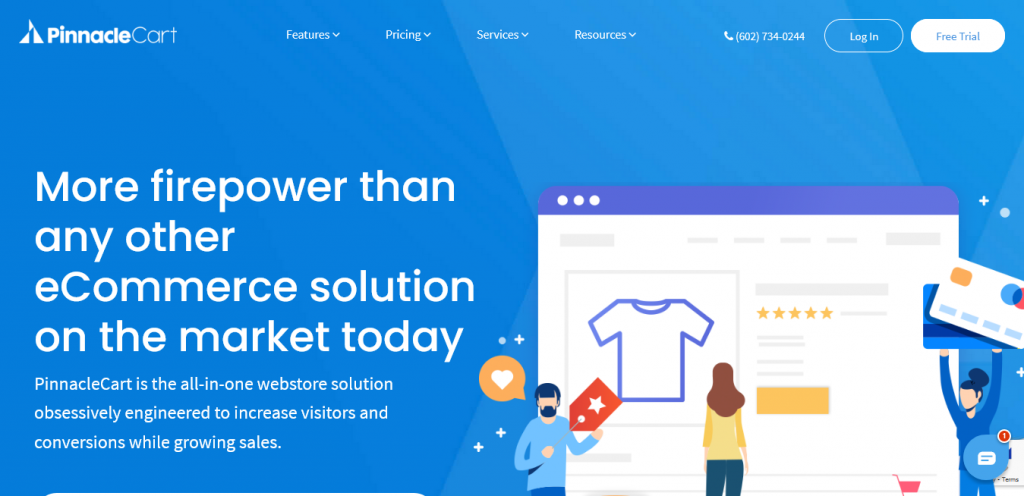 PinnacleCart is not free – it attracts monthly costs just like Volusion and Shopify. It markets itself as a "one-stop solution" for eCommerce.
It's a good fit for beginners because everything they need to get started comes bundled together. They get to choose their hosting service and POS platform, but all this is made easy through a step-by-step guide.
Marketers choose PinnacleCart for 3 reasons: they have beautiful, customizable templates, a good set of SEO tools and ready-to-use email marketing.
PinnacleCart Features
It offers pre-designed storefronts that are customizable, but you're free to create your own.
You can host your store with them or choose your own hosting.
Customers can list their stores on all major retailers including Amazon and Google Shopping. You can also market through social media sites.
An intuitive and easy-to-use dashboard makes it easy to design and maintain stores.
There are 30 payment gateways. You start with PayPal and Stripe. As your store grows you can add more payment gateways.
It doesn't charge transaction fees.
You can integrate with popular marketing, CRM and accounting tools. It also integrates with Google Analytics, Google Adwords and Search Console.
It has a solid SEO module that gives users the option to run a product-related blog.
PinnacleCart supports all major shipping carriers and users can set up additional ones.
---
Conclusion
There are many Shopify alternatives, and the one you choose depends on what your store needs to be fully functional and deliver a good customer experience. If you are keen on using an eCommerce platform other than Shopify, any of the ones discussed here will do quite well.
They all have a variety of templates, offer many different payment gateways, make it easy to set up a storefront and paid or free, can be used to showcase hundreds or even thousands of products.
That said, our favorite is WooCommerce. We like it because of its abundance of features – it has everything you need to have a profitable store up and running. The fact that it's free is a big bonus.
The WooCart hosting option makes it the perfect choice. It's a platform built to host WooCommerce stores, and it comes with lots of features to help you run, maintain and scale your store.
If you choose a reliable marketing and CRM tool like Platformly to complement WooCommerce and WooCart you'll be able to supercharge your store, reach your target market and become profitable. The Platformly WooCommerce plugin automates email marketing, provides in-depth customer reports and you can use it to create effective cart abandonment campaigns. The Platformly marketing suite can be used with any of the Shopify alternatives in this post.