The 7 Best Sales Pipeline CRM of 2022
Do you need sales pipeline CRM? Better yet, what is it, how does it work and what can it do for your online business?
Research has shown a positive correlation between opportunities in a sales pipeline and higher revenues. In other words, the more opportunities within your sales pipeline, the higher your sales.
The obvious question is, why aren't more online marketers keeping an eye on their sales pipeline? The simple answer is that it isn't all that easy to know what opportunities exist in your sales funnel at any one time.
Hence the need for a sales pipeline CRM. Understanding your sales pipeline can make a difference between whether you succeed or fail in your online business. It helps you see where the leads are, track each's status, and focus on high-value opportunities.
If you aren't convinced, consider the following CRM pipeline statistics:
According to Nucleus Research, for every dollar you spend on CRM, you can expect to recoup around $9.
Research conducted by Aberdeen Group shows that the most effective sales organizations consistently use sales pipeline CRM software.
The use of CRM software can increase sales by 30%, forecast accuracy by 42% and productivity by 35%.
Research by Software Advice shows that 75% of CRM users report better access to customer data, making it easier to identify opportunities.
Another research by the same company shows that salespeople who use CRM can shorten their sales cycles by up to 15%.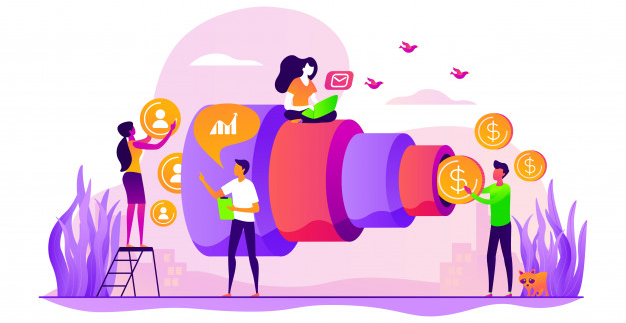 ---
What is Sales Pipeline in CRM?
It is a way of keeping track of every lead within your sales pipeline. CRM stands for customer relationship management.
Many of the leads in your sales pipeline may not be customers yet, but you need to keep a careful eye on them so that you can take steps to convert them or drop them altogether.
Think about all the leads you gather through your website every month. Can you accurately tell where within the sales cycle each leads is? Do you know how many of them are genuinely interested in your products or are they passing visitors on your website? Do you know which of those leads have converted into actual buying customers?
It can be tedious to find this information, and that's why pipeline CRM software exists.
If you get the right kind of pipeline CRM software it will provide all this information about each lead at a glance.
How Does Sales Pipeline CRM Work?
There are several things that sales pipeline CRM will do for your business: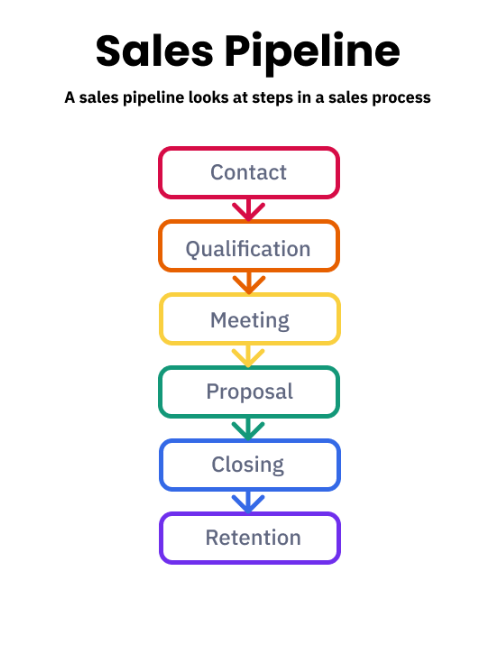 It helps you define your sales process. For many online marketers, the sales process isn't defined. They know how many leads they have and how many of those they have converted in any given month. That's not enough. By defining your pipeline CRM you get to know at what stage of the sales each lead is and what steps you can take to convert them.
A pipeline CRM highlights your most valuable leads so that you can focus your efforts in the right places.
You can use pipeline CRM to set reminders, which is extremely useful when you have a sales team with many different tasks to undertake each day.
You can see your most profitable geographic areas at a glance. This helps you direct your advertising dollars to the right locations.
Good pipeline CRM allows you to filter data using different criteria.
You can create excellent, detailed reports that guide future strategy.
What Are The Stages of a Sales Pipeline?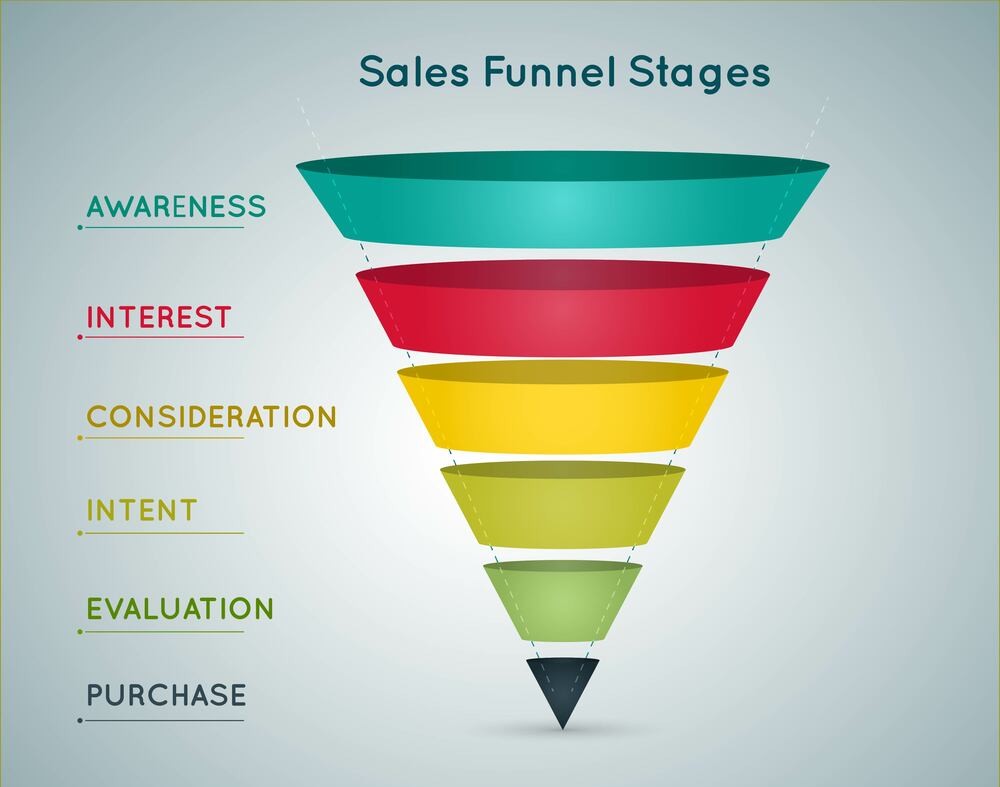 These steps cover the distance from when a user becomes a lead to when he becomes a customer.
They are:
New opportunity
Contacting leads
Engaging leads
Qualifying leads
Custom stages (free trials, free samples etc.)
Closing the deal
Identify won or lost opportunities
---
What is The Best CRM Pipeline Software For Your Business?
Platformly, a leading marketing and CRM software has introduced a sales CRM module. It's designed to help you capture and nurture leads, contact them and close sales.
The Platformly sales pipeline CRM module is customizable; there are no fixed sales funnel stages. Rather, you create whatever stages you feel are most suitable for your business. You can even create multiple sales pipelines if that works better for you.
The software allows you to create deals and deal activities, and you can add as many activities as necessary to a deal. Activities can include meetings, phone calls, tasks, emails and so on. Each activity is scheduled so that nothing slips through the cracks.
For B2B sales pipelines, there is an "Organizations" section that lets you view all contacts and activities for business leads.
With Platformly sales CRM you can allocate particular pipelines to specific account managers.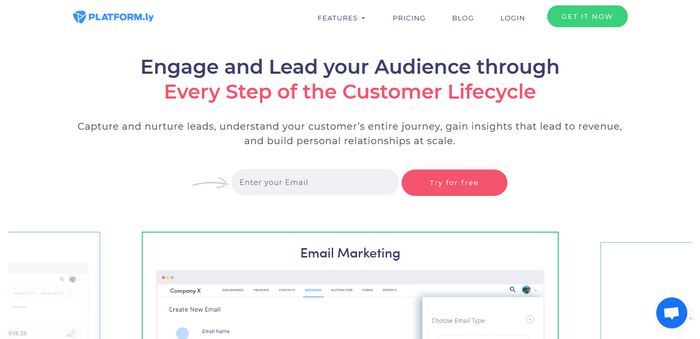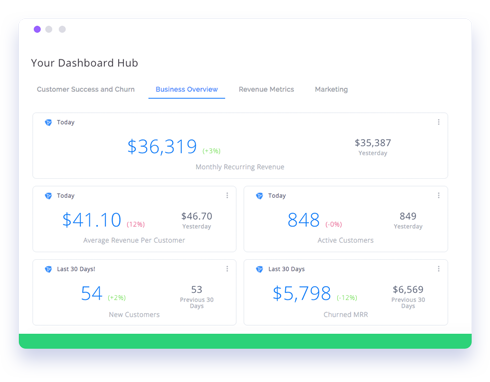 Features
The software has dashboards that show you the status of each lead at a glance.
You can track links to see how much money you make from each sales channel.
The CRM module gives you all the insights necessary to ensure you understand every lead. This is invaluable for successful sales pipeline.
Generate leads with the page builder and opt-in form builder that are designed for optimal conversion.
The messaging module lets you create targeted email sequences that you can trigger with just a few clicks of your mouse. The powerful drag-and-drop feature lets you create emails in just minutes, and you have lots of templates to choose from.
Use Platformly to automate every aspect of your marketing process, from Welcome emails to Thank You messages after a purchase.
Platformly integrates with a host of marketing software and apps to create a seamless business platform.
You can use it to generate all kinds of reports to see how your sales pipelines are performing.
You can only get the Platformly sales CRM module if you buy the complete suite of Platformly software.
---
How to Choose The Best Sales Pipeline CRM
There is no shortage of CRM pipeline software. How do you know you're choosing the right one for your business? There are some rules of thumb that you can use as a guide when choosing sales pipeline CRM:
It should highlight opportunities within the sales funnel. At a glance, you should see the most profitable leads and what stage they are at in the sales funnel.
It should have a strong analytics module. A good pipeline CRM allows you to analyze existing data so that you can focus your attention in the right places.
Integrations – this is very important. Good pipeline CRM should work well with existing software.
Contact management is very important in sales pipeline software. Not only should you be able to quickly build and send emails, it should also keep a log of those emails so that you can see what communication each lead has received.
It should have a productivity management module. This includes things like a scheduling calendar, reminders, task tracker and more.
---
Pipedrive is all about helping you visualize the sales process and keep track of your leads so that you can get more done. Its premise is simple – if you can control your activities, you can control your results. By allowing to schedule, complete and track activities the software lets you know exactly what you need to do in your sales pipeline, and what results you can expect.
Pipedrive is used by more than 90,000 companies across the world, including Amazon, Vimeo and Festo. It comes with a 14-day free trial that allows access to all features.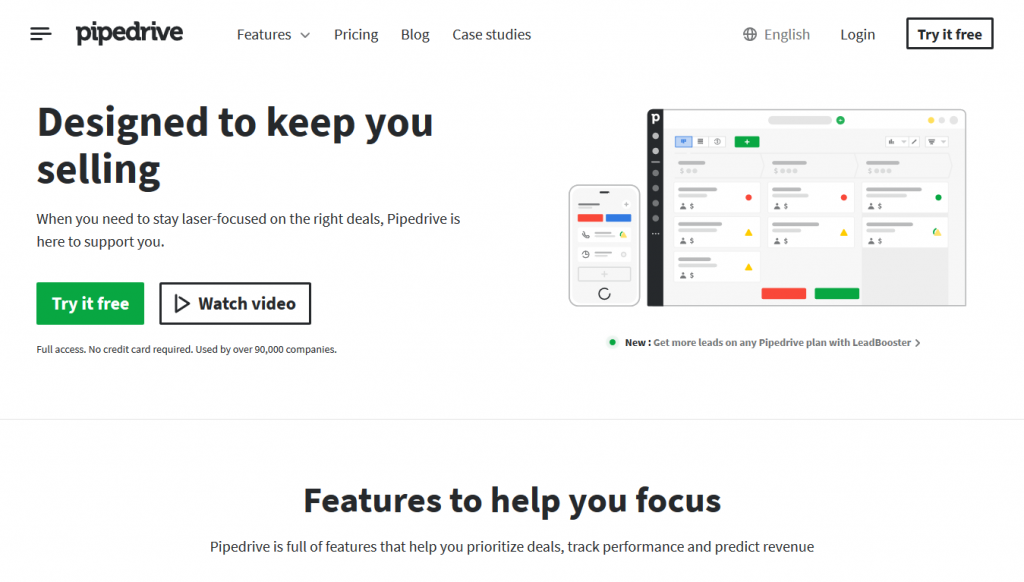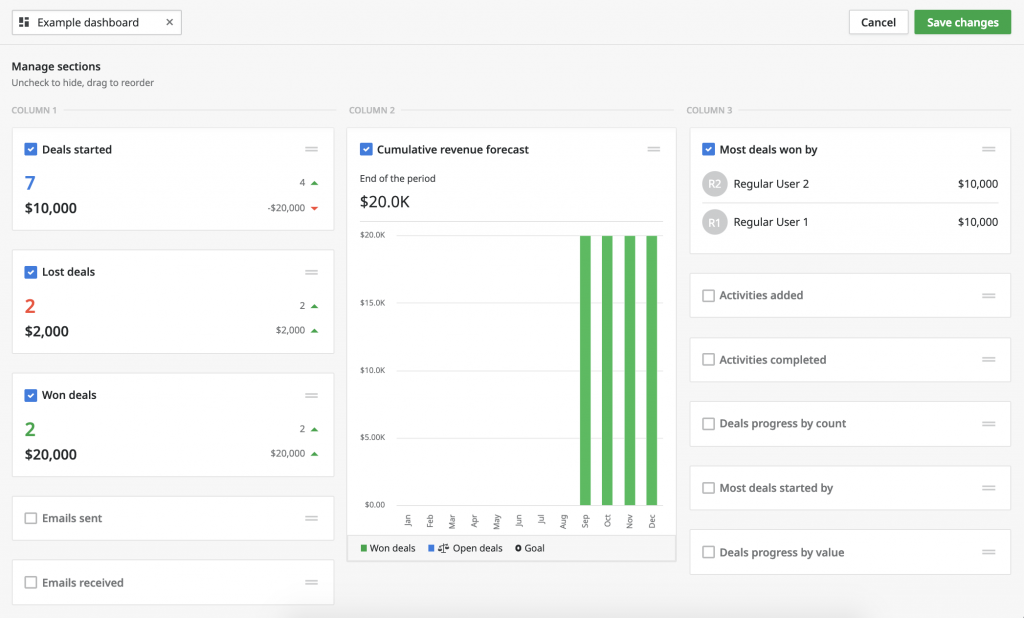 Features
Activities overview – you can see all activities associated with a lead on an hour-by-hour basis so nothing falls through the cracks. This is also helpful when you are planning your daily schedule.
Custom columns and filters allow you to see whatever data you choose within your sales pipeline. You can check by lead, by deal, by week, by month and more.
The software has customizable email templates that are designed to help you convert leads.
You can log lead-ins, and you never have to be overwhelmed with too much information. You can customize your data so that you see only the best leads and their most important information.
The Revenue Projection module shows you whether a sales pipeline strategy will work right from the beginning.
Pipedrive has a powerful scheduler to help you keep track of each activity for each lead. Team activities can be merged, showing you the overall timetable of the team.
The reporting module can produce customizable and detailed reports.
---
Salesforce pipeline CRM is all about opportunity management. It shows you the most important leads in your pipeline, who you may be competing against and what you need to do to close each lead.
The software allows you to customize your CRM pipeline to suit your business. It's linked to your products, and you can track price and quantities and generate quotes on the fly.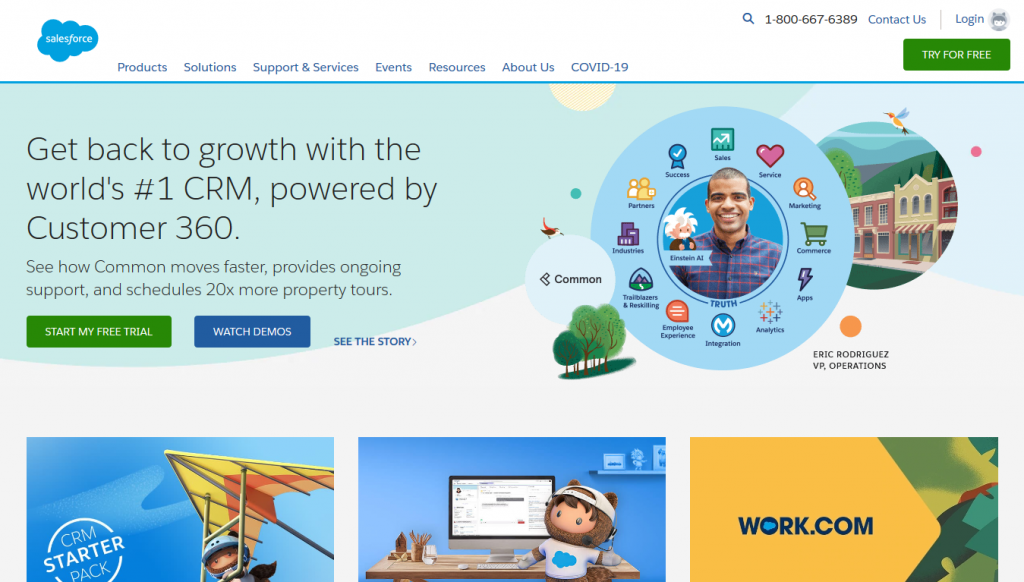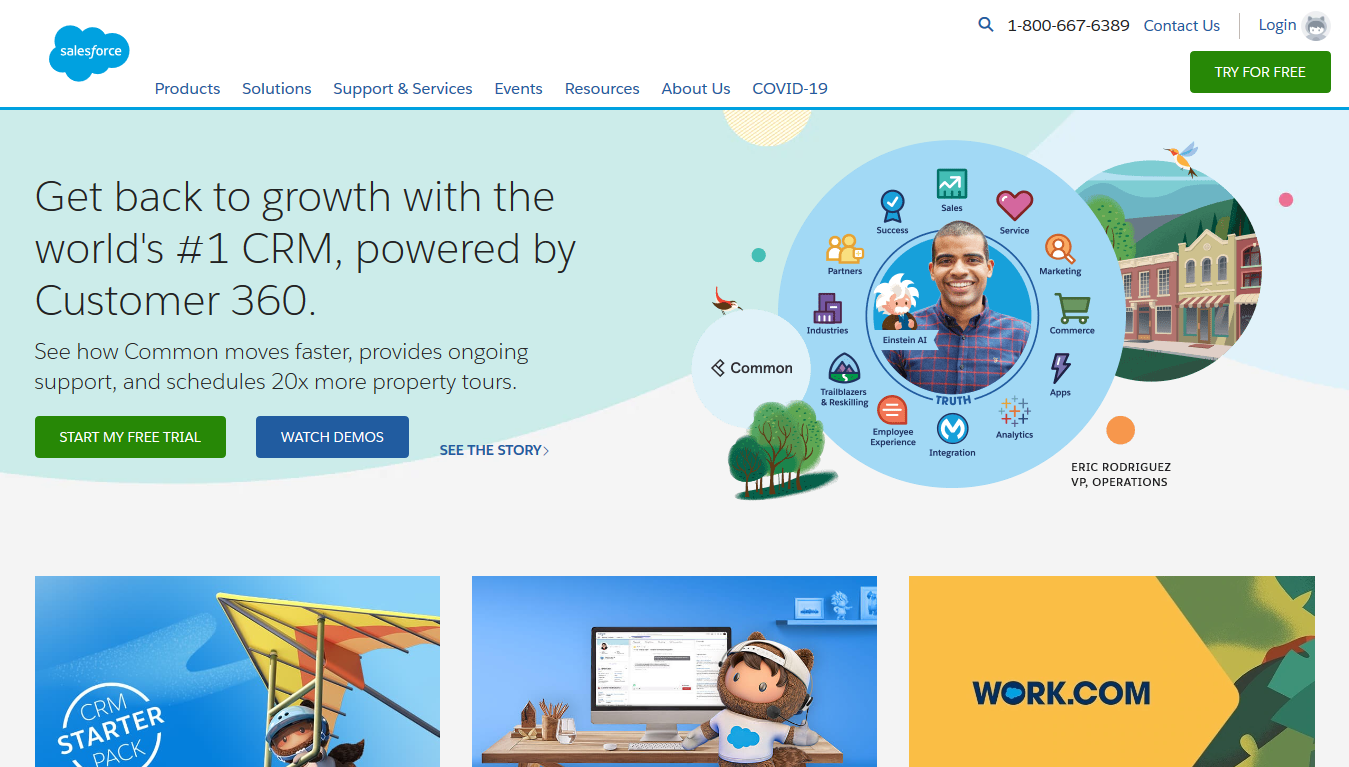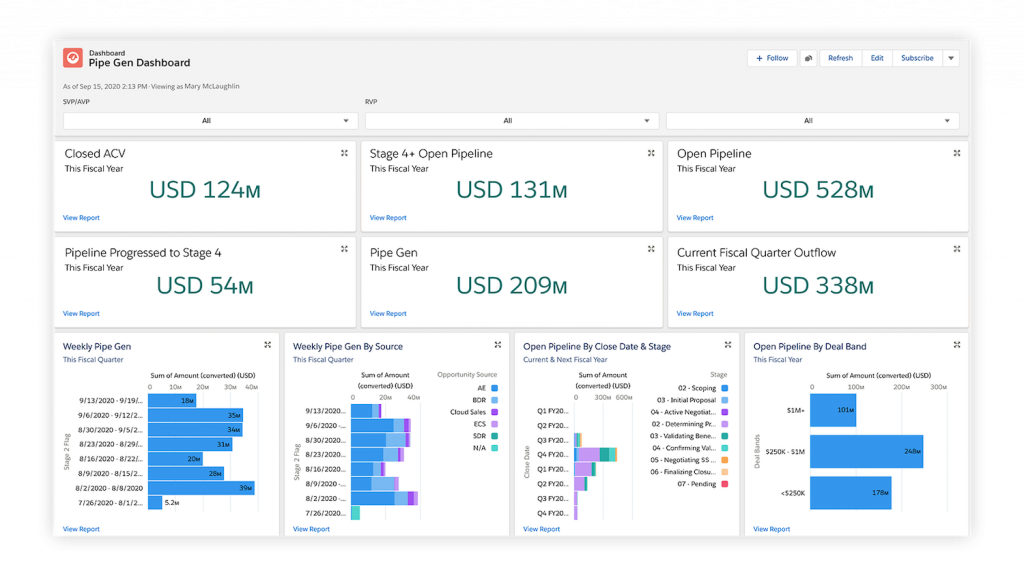 Features
The contact management feature shows you all the leads in your sales funnel, and you can tap into their social media activity to get a better sense of what products you should offer them.
The opportunity management feature lets you focus on important leads and provides everything you need to close each deal.
Lead management helps you identify the most viable leads and convert them into sales.
A powerful sales forecasting feature allows you to see your whole pipeline and what you can expect in sales for specific periods. You can also see your top salespeople and set them revised goals when they hit existing ones.
The mobile app has a social feed for teams to keep in touch, share progress and concerns.
The sales data and intelligence module allows you to find contacts and contact information fast, you can clean up lists to eliminate low-quality leads and it brings you the most important information necessary for closing deals.
---
What makes Salesflare unique as a pipeline CRM is that instead of relying on manual data entry like other software in this category, it delves into emails, calendars, social media, call records, servers and databases to automatically obtain information for your pipeline.
The software also alerts you of new activity, ensuring you're up to date on what your leads are up to. You can use this new information to present them with products that are more likely to appeal to them.
Salesflare relies heavily on AI to do this, and you can run it on PC, mobile, laptops and mobiles.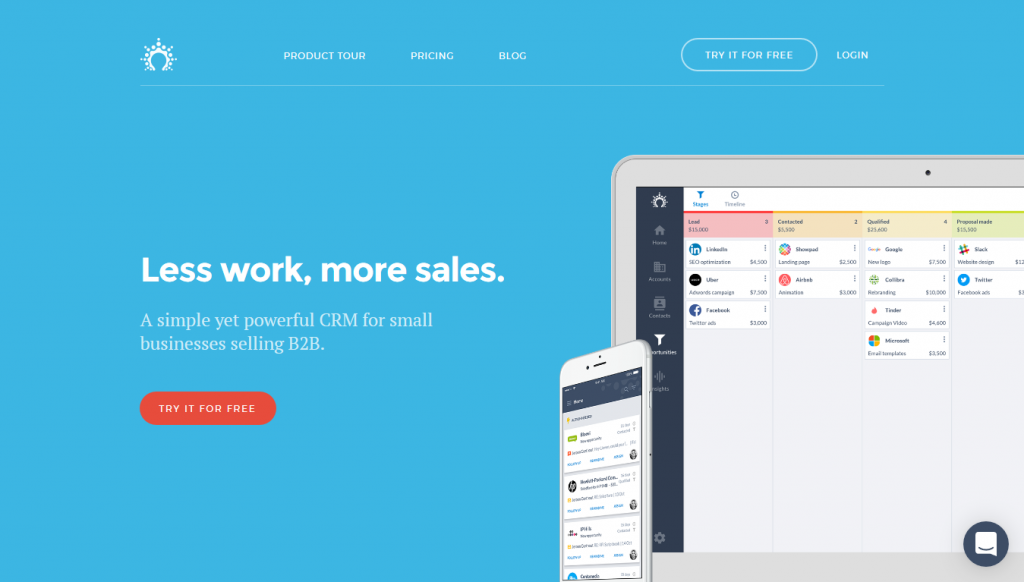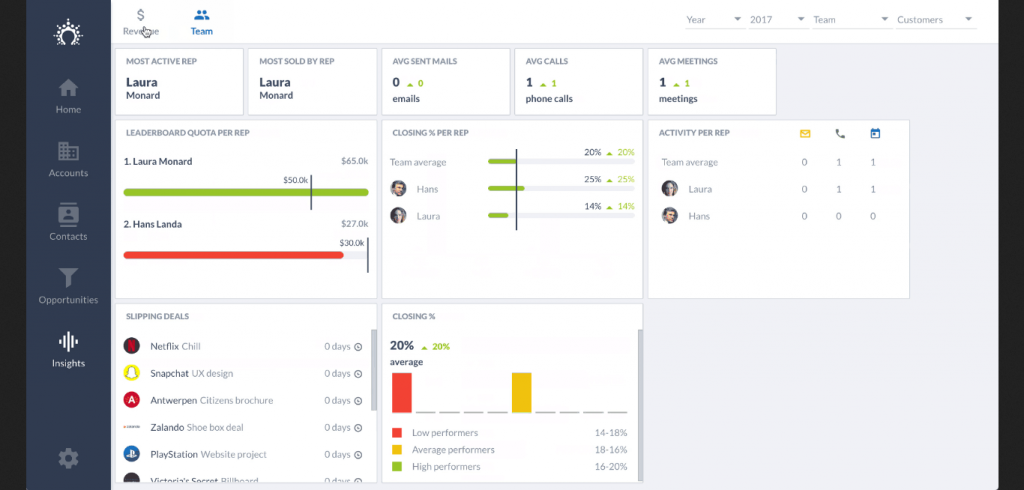 Features
You can filter your customers any way you like using the Advanced Filtering module.
Explore each lead quickly by clicking on it; all information appears on the right hand side of your screen in an instant.
The in-built email client lets you send emails from within the software. It has all the necessary email marketing features and you can track each email you send. You can use existing templates or create your own.
Use the software to scan business cards of new contacts and they will be uploaded to your email list right away.
No need to scroll through records to find what you are looking for. For each contact you can filter for notes, emails meetings, phone calls and more.
Planning is easier with Salesflare because you can see exactly how many contacts you have, and how many tasks are outstanding for any period.
Important notes for each lead are displayed prominently to ensure they don't escape your eye.
---
Agile CRM helps you generate more leads and drive them through the pipeline until they are ready to close. You can create milestones, trigger automatic follow-ups and predict future revenue.
The dashboard shows you new contacts, emails sent, how many deals you've won and how much they're worth, all open deals, milestones reached and more.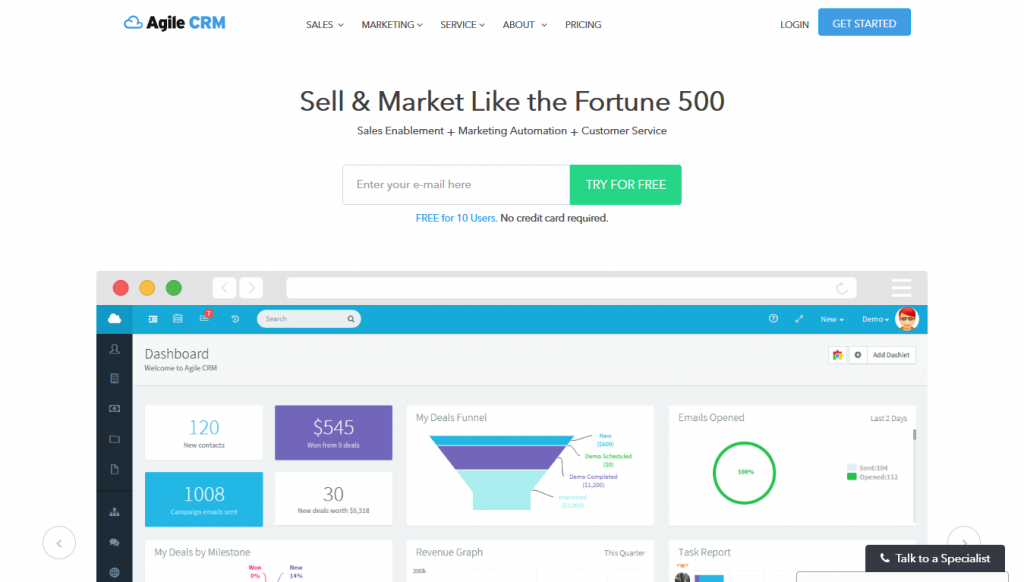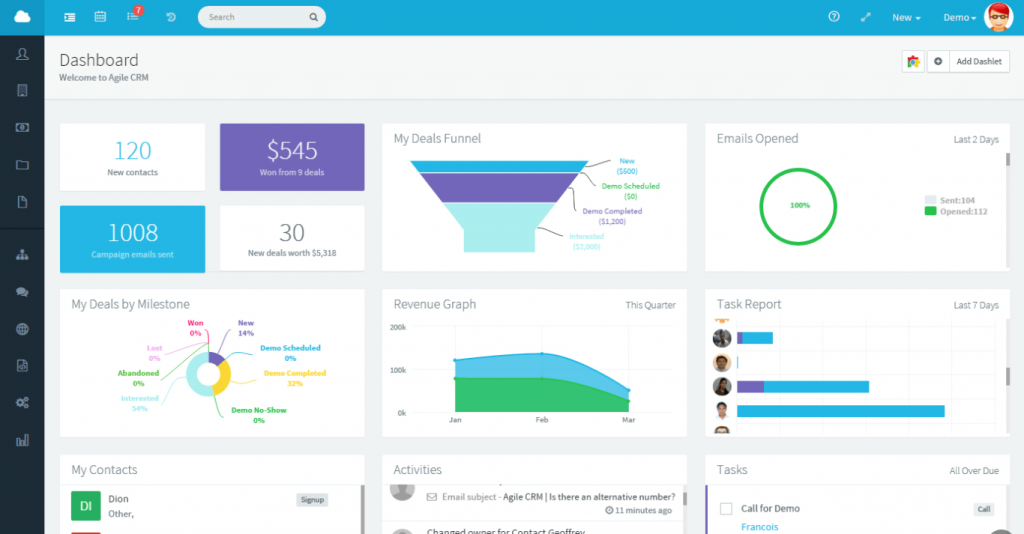 Features
You can manage all your contacts on a single screen. See their names, companies or businesses and tag them accordingly.
Create and track multiple deals and for each, create milestones and trigger automatic follow-ups.
Take advantage of the advanced telephony module to keep in touch with your contacts.
The online appointment scheduling software helps you keep track of all activities associated with a contact.
The project management feature is easy to use and you can create tasks using drag-and-drop. You can see all projects on one screen and track your team activities from there.
A gamification module makes lead generation and conversion easier and faster.
It has a complete email marketing suite, and you can track each email to gauge performance.
The software integrates seamlessly with a host of third party service providers, websites and apps.
---
Funnel CRM is a sales pipeline and CRM tool for growing businesses. You can use it to create contact form for your website. Each time a lead signs up it's delivered into the sales funnel from where you can keep a close eye on it.
You can see whether or not they receive your emails, whether they read them and you'll see when they make a purchase. All contacts generated through your website are delivered into a contact database.
Funnel CRM is popular with a variety of professionals because it's affordable, easy to use and efficient at capturing and converting leads.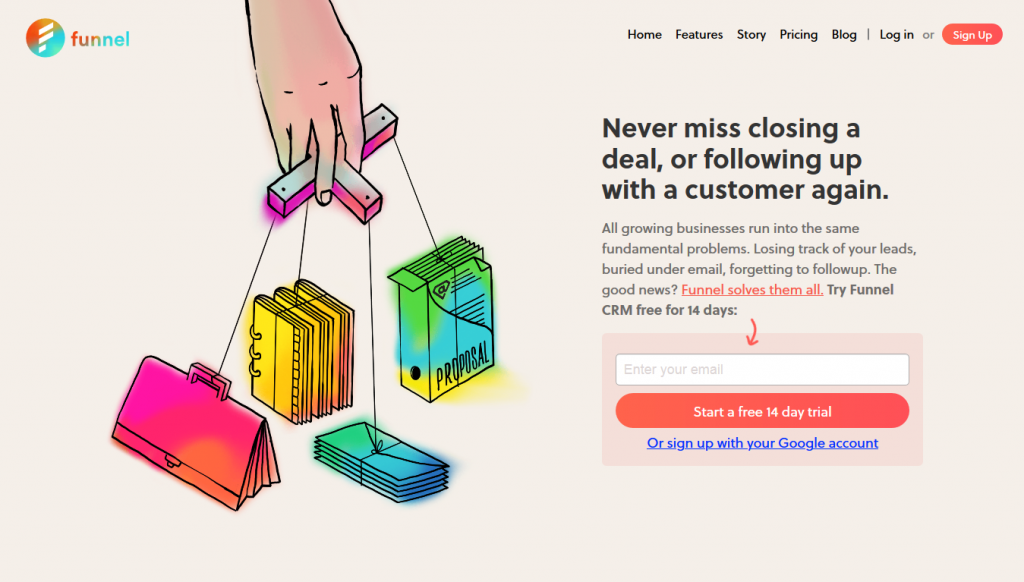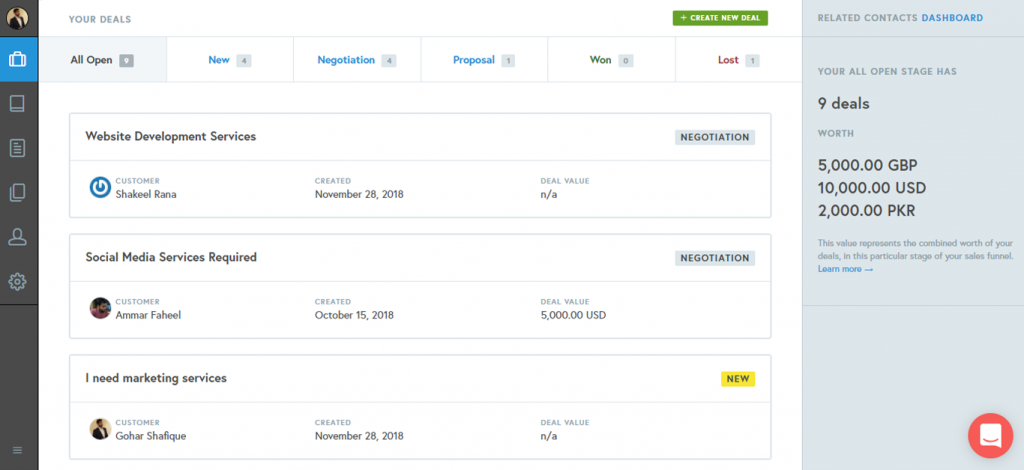 Features
You can build contact forms quickly and you don't need any technical expertise.
Each inquiry is converted into a deal and labelled. As deals move through different stages of the sales cycle their labels change accordingly.
You can easily grow your email base with this software. All information provided in contact forms is updated to a database that you can update at any time.
Use Funnel CRM to send professional proposals that are more likely to close the deal.
The Tasks and Activities module updates activities automatically, and you can track leads from one central location.
It's designed with multiple user permissions for growing teams.
---
Close CRM is a sales automation tool that helps you manage relationships with customers. The software is cloud-based, easy to use and affordable. Although it's designed for small and medium-sized businesses, it is scalable, with bulk options for those businesses that have high volumes of leads.
What makes Close pipeline CRM a little different from the software discussed here is that it is focused on calling, SMS and email for lead management. Once the leads are in your pipeline, this software has the tools to help you follow up and convert.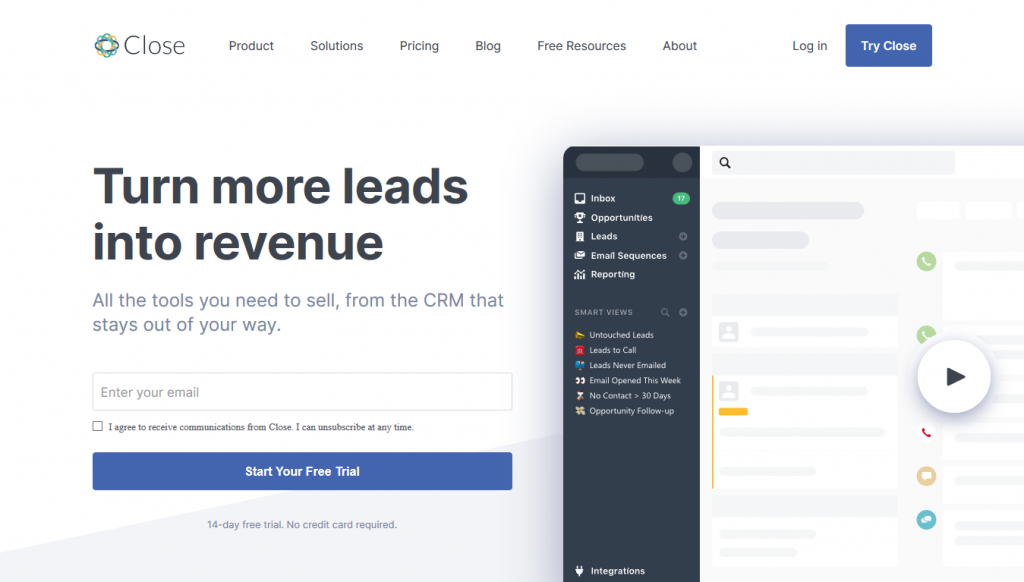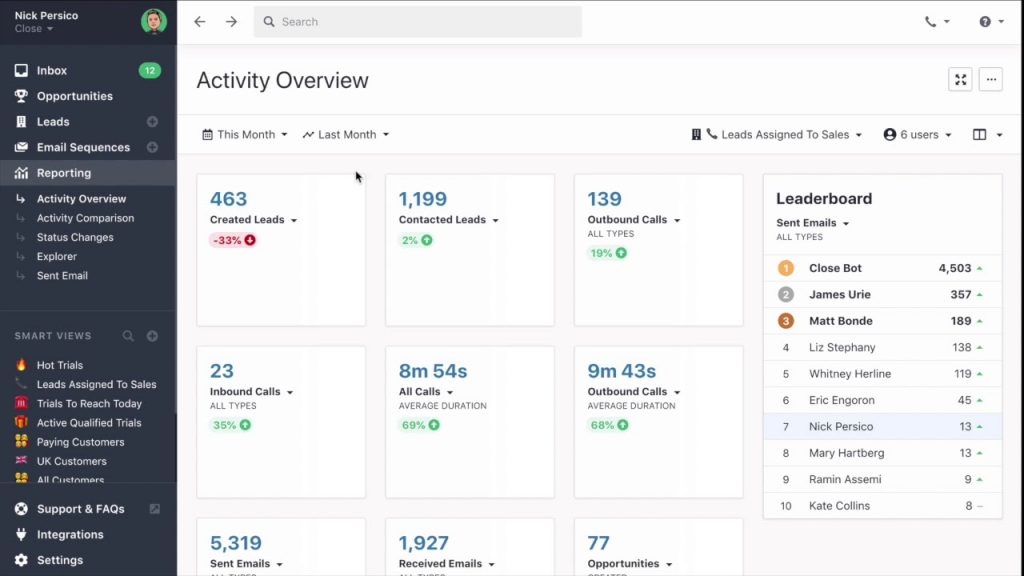 Features
Call management – Close uses VOPI to manage calls, and contacts are easily accessible on a single dashboard. You can automate outgoing calls as well as record all conversations for future reference.
The email marketing feature allows you to create emails quickly, and you can set up drip email marketing campaigns. You can schedule and track each email so that you know the status of each lead.
A detailed reporting module allows you to see individual leads' performance and see the whole team's performance.
The SMS module can send texts to the United States, Canada, Great Britain and Australia. You can see the texting history for each lead.
The software integrates with essential online marketing software. It works well with Zapier, which allows you to integrate a lot of other apps, as well as Slack, Facebook, Mailchimp, Hubspot and others.
---
Conclusion
Understanding your sales pipeline is essential but it's not enough. As the number of leads in your business grows, you'll need to manage them from the moment of capture until they are converted.
The best way to do that is with good pipeline CRM software. After testing the ones discussed here, our choice is Platformly.
The Platformly sales CRM module can handle bulk leads and has all the tools necessary to track and convert them into sales. The dashboard allows you to see each lead's status, and you can see your overall performance on one screen. The powerful reports you can generate with this software allows you to plan better marketing campaigns in the future.
That's not to say that you shouldn't look into the others. If, for example, your business relies on calls for lead conversion, you should look into Close, because it has excellent calling features.
In other words, as you choose pipeline CRM software, think about your specific needs and what you'd like the software to help you achieve.