The 7 Best Sales CRM in 2022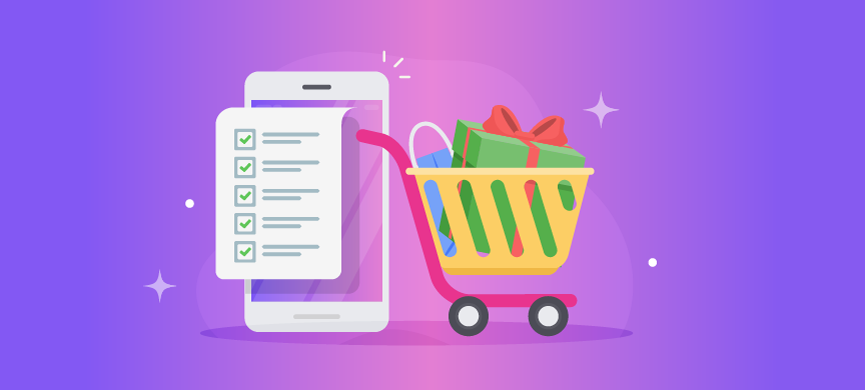 No matter your business, pipeline sales management has likely become a part of your daily concerns. This applies especially to B2B sales, but sales pipeline building has become an important part of any sales strategy. 
To help you achieve the ideal sales pipeline, a sales CRM software is essential. And it is not an easy feat to discover the right one for you: there are plenty of sales CRM software you can choose from. You might be interested in a sales CRM for a small business, or you might need a more comprehensive solution that encompasses the growth of your operations. 
However, how do you know which sales CRM software is the best one for your business? This varies from business to business, but it will mainly depend on the activities that are included in your sales process, the kind of product you sell, what kind of information you need from prospects, and many other details.
In order to make this choice less challenging for you, in this article, we'll review a few sales CRM software options. Let's go!
---
What's The Best Sales CRM?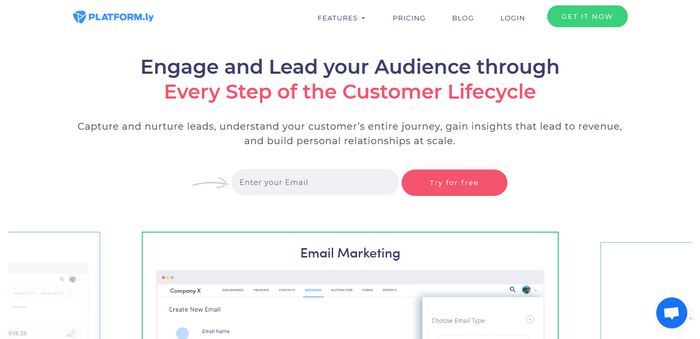 Platformly is a marketing automation software that includes not only email marketing, text message campaigns, business dashboards, link tracking, lead capture, and reporting, but also a fully functional sales CRM. 
The sales pipeline features of Platformly were recently released, but they integrate perfectly with the rest of the tools in this suite. Platformly also has integrations with other useful services such as Zapier, Google Analytics, SERPed.net, WooCommerce, and many more. 
Why should you choose Platformly? Well, its sales pipeline building tool integrates everything you need, such as triggers, automatic messaging, and much more. All of it in an easy to use drag and drop builder, which allows you to fully customize your sales pipelines. You can create as many as you need, using the already included steps or you can customize them to better fit your business. 
You can add Organizations to your sales CRM, which will keep all the contacts for a specific organization in the same place. This helps to organize your sales efforts in order to keep everything running smoothly. 
Along with sales pipelines, you can also create deals, and deal activities. Deal activities help you define what steps each prospect needs to go through in order to move inside the pipeline.
All of this integrates into the many automations you can set, using a variety of triggers and conditions according to the pipeline stage your prospect is in.
Platformly's sales pipeline building makes it the best sales CRM for small businesses, and you'll love it too. If you have any questions, there are many tutorials on Youtube that explain exactly how to use this tool to your advantage. 
Plans for Platformly start at $19 per month.
---
Runners-up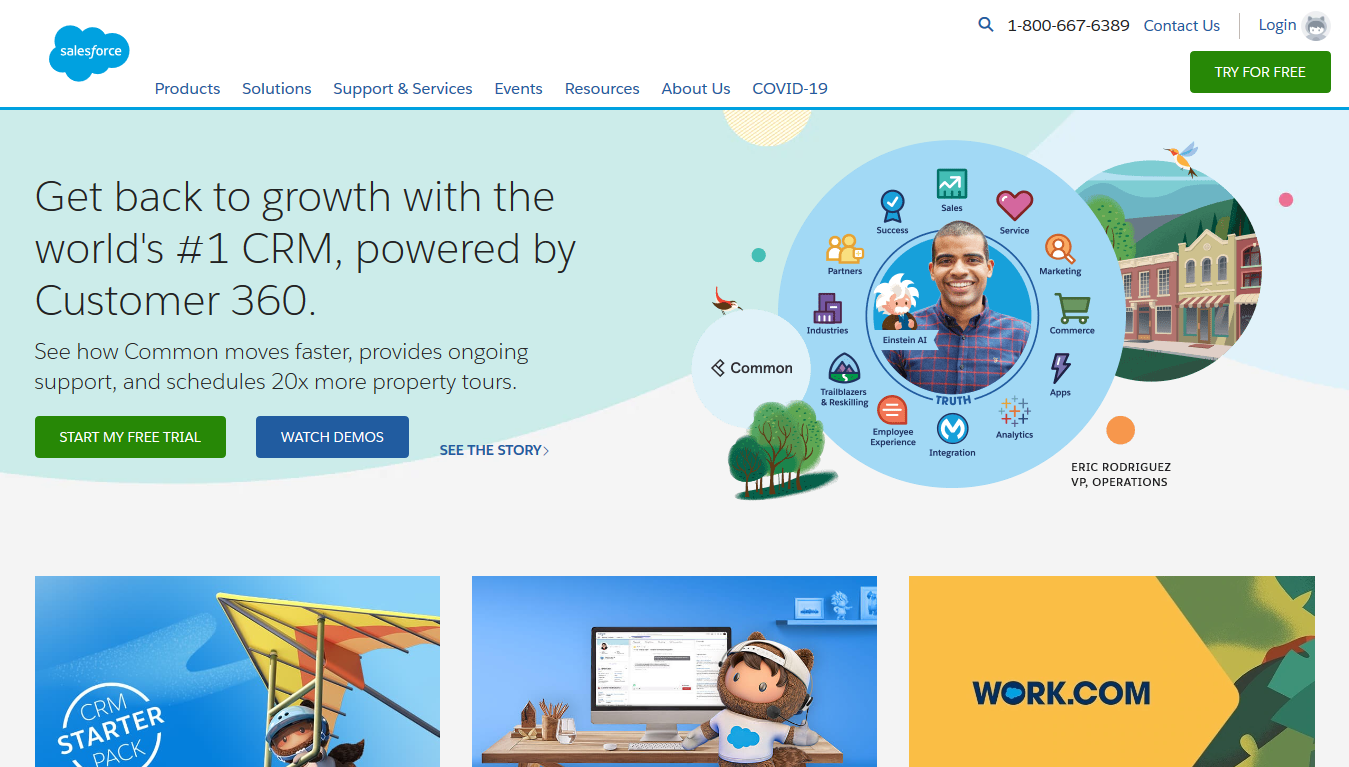 Salesforce has been in the SaaS industry for a long time now – the company was founded in 1999. Therefore, their tools are well consolidated for larger teams. 
Salesforce Sales Cloud makes it easy to manage the relationships with prospects, clients, suppliers, and partners. Its features include client tracking, forecasting, quotes and proposals, contract management, project management, and sales pipeline management. 
Many companies around the world are powered by Sales Cloud, and being a long-term player, its reputation precedes it. If you need heavy customization, this is a great tool – however, it comes with a steep learning curve. You'll most likely need help from customer support when you are first implementing Salesforce Sales Cloud, since Sales Cloud is quite a comprehensive tool with plenty of customization options. All these options make Salesforce difficult to set up.
Nonetheless, if you have complex sales pipeline needs, Salesforce might be a good option for you. Keep in mind that plans may get quite expensive, with prices starting at $25 per user.
---
View Listing

Pipedrive CRM, as the name suggests, focuses on sales pipeline building, especially deals. Deals are at the center of this tool and it has a fairly intuitive setup and automation process.
It is not one of the biggest players in the industry, but it has been around since 2010, and that gives it some authority in sales CRM software ranks. It has been dedicated to customer relationship management ever since its inception, so it's not as comprehensive as other tools in this list. 
It does integrate account management too, simplifying the sales process. It tracks and optimizes the points of contact with customers, synchronizing information across devices. It also has a very simple way of showing your pipelines from start to finish, which makes it easier for sales teams to make decisions regarding the next steps without having to second-guess. 
However, there are a few limitations that might not make Pipedrive CRM the right choice for every business. The platform limits your contact list to 1000 names, which is good enough when you are just starting but you may find that this is not enough once your business starts to grow. Its pricing plans start at $12.50 per month. 
Although it has its limitations, some users love Pipedrive CRM and swear by it, so it had to make this list.
---
View Listing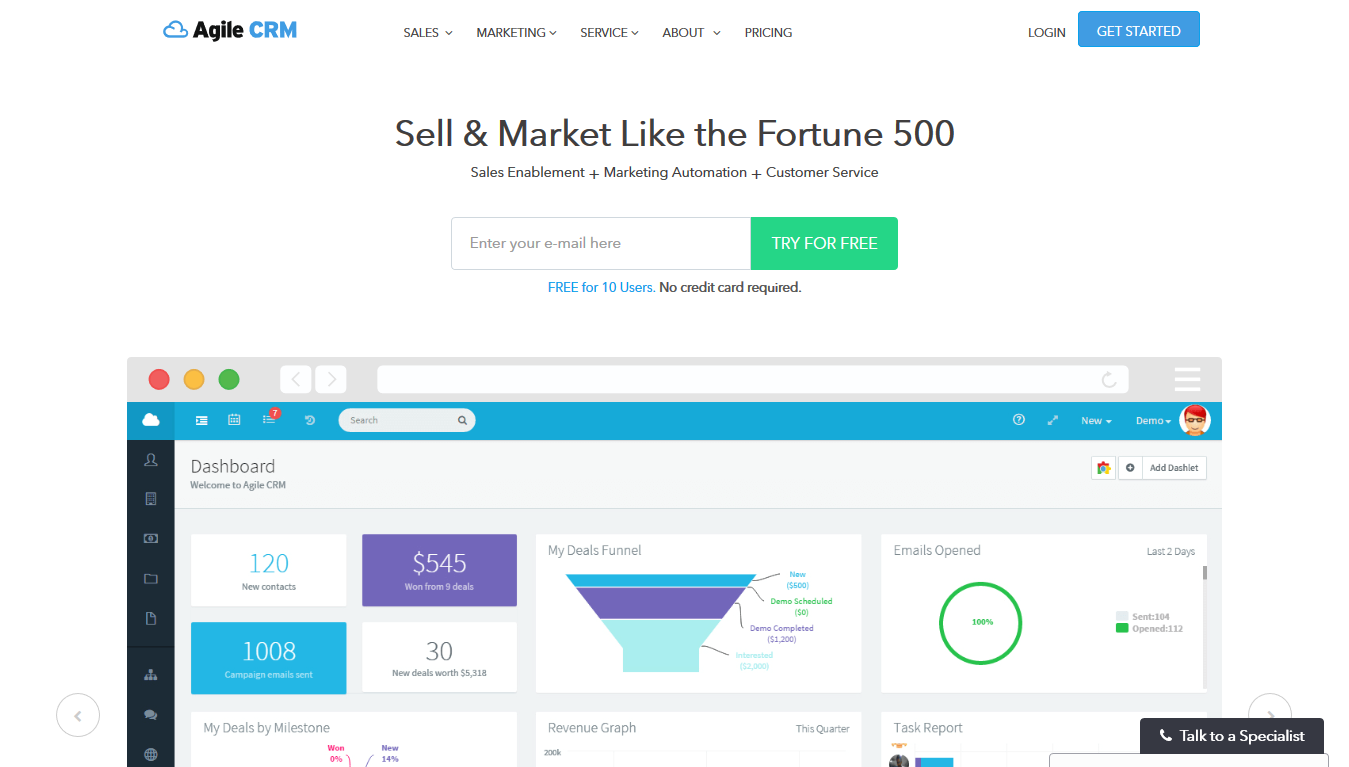 Unlike Salesforce, Agile CRM hasn't been around for as long as the behemoths of MarTech. However, even though it had some catching up to do, it is a powerful tool for modern businesses. It has its eye on SaaS and B2B startups and companies, so its tools reflect that kind of outlook. 
This is a sales CRM software that focuses on tracking, service, and marketing as well. Their main target audience is small and medium businesses, and their free plan helps small businesses that are just starting out, or have a quite low budget. Their Enterprise plan allows you to integrate apps like Shopify and Stripe, which is great for eCommerce as well. 
Companies that struggle to provide customer support will enjoy their automatic reply setting, which provides quick engagement with users. 
Project management is also a breeze with Agile CRM, since it connects all tasks related to prospects and clients, recording interactions from a holistic perspective. 
When it comes to deals, Agile CRM offers predictions that help you refine sales goals and tasks for your team. 
Another feature that we find quite relevant is telephony. Yes, you can make calls through Agile CRM: you can also use it to take notes while on a call, which is something you don't usually find in this type of tool. It's more of a curiosity for most, but it might be relevant for your business. 
With Agile CRM, you can get a free plan for 10 users, which is a good option for a startup. If you need more than ten users, you'll have to subscribe to a paid plan, which starts at $8.99 a month. 
---
View Listing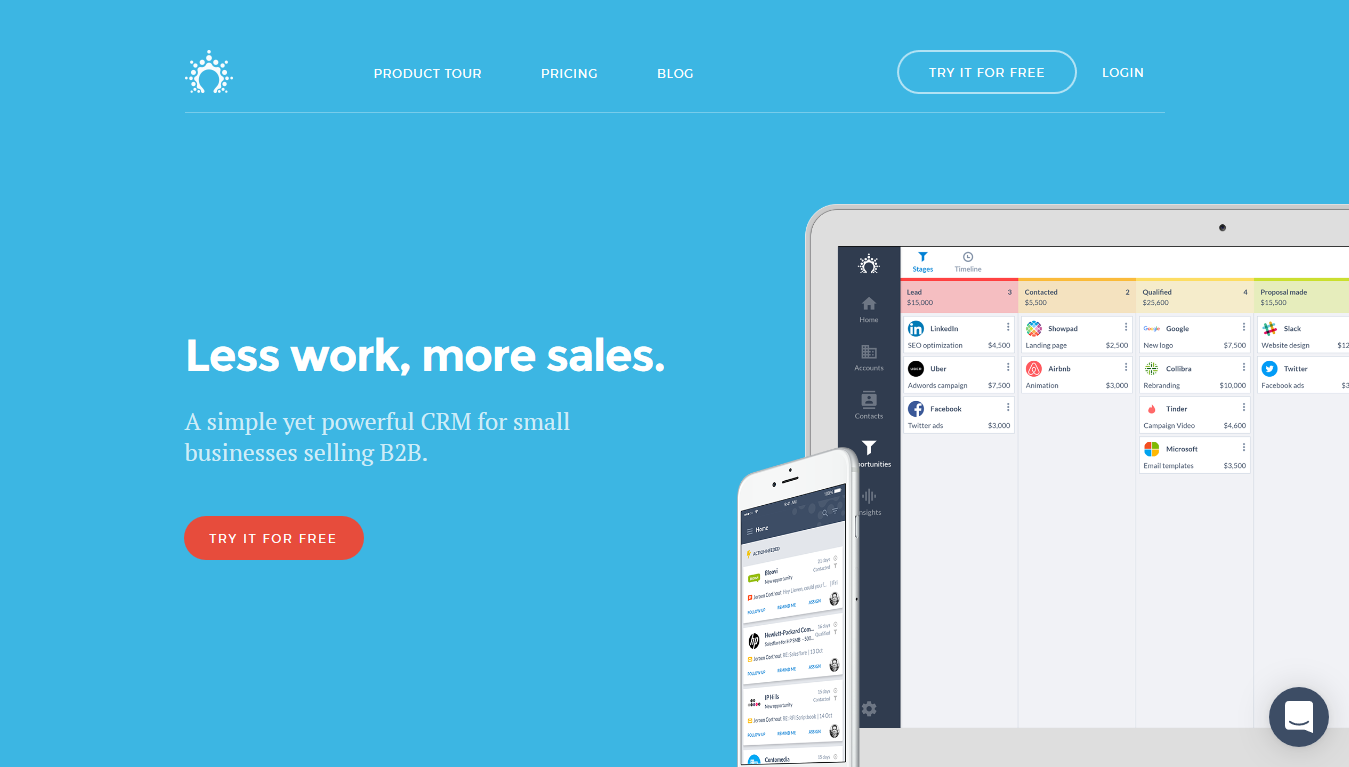 Salesflare is a new player in the MarTech game, but don't let that deter you from trying this tool. It has several advanced features such as collecting contact info from emails and calls automatically, a 360º view of your follow-ups, and other functions that help users improve their team effort when it comes to customer relationship management.
This tool also integrates with Zapier, which makes it easier to have all the details you need in one place. In our opinion, it could offer more integrations than just Zapier, since Zapier's API can be difficult to set up. It is one step in the right direction, though.
Users report seeing a surge in their productivity using Salesflare, so they've got to be onto something with this sales CRM software.
Another feature we enjoy about Salesflare is that it creates a folder for each client, in which all the documents related to that client are attached so each team member can access them easily and be up to date with meetings, phone calls, and any other actions related to that client.
Follow-ups are also based on customer reactions. If your customers aren't interacting with your emails, another tactic will be suggested. This avoids being annoying towards your customers, and at the same time prevents them from falling through the cracks.
Price is decent for Salesflare, however, you pay per user – which can get quite expensive if you have a big team. Billed annually, their software will set you back $29 per user, per month.
---
View Listing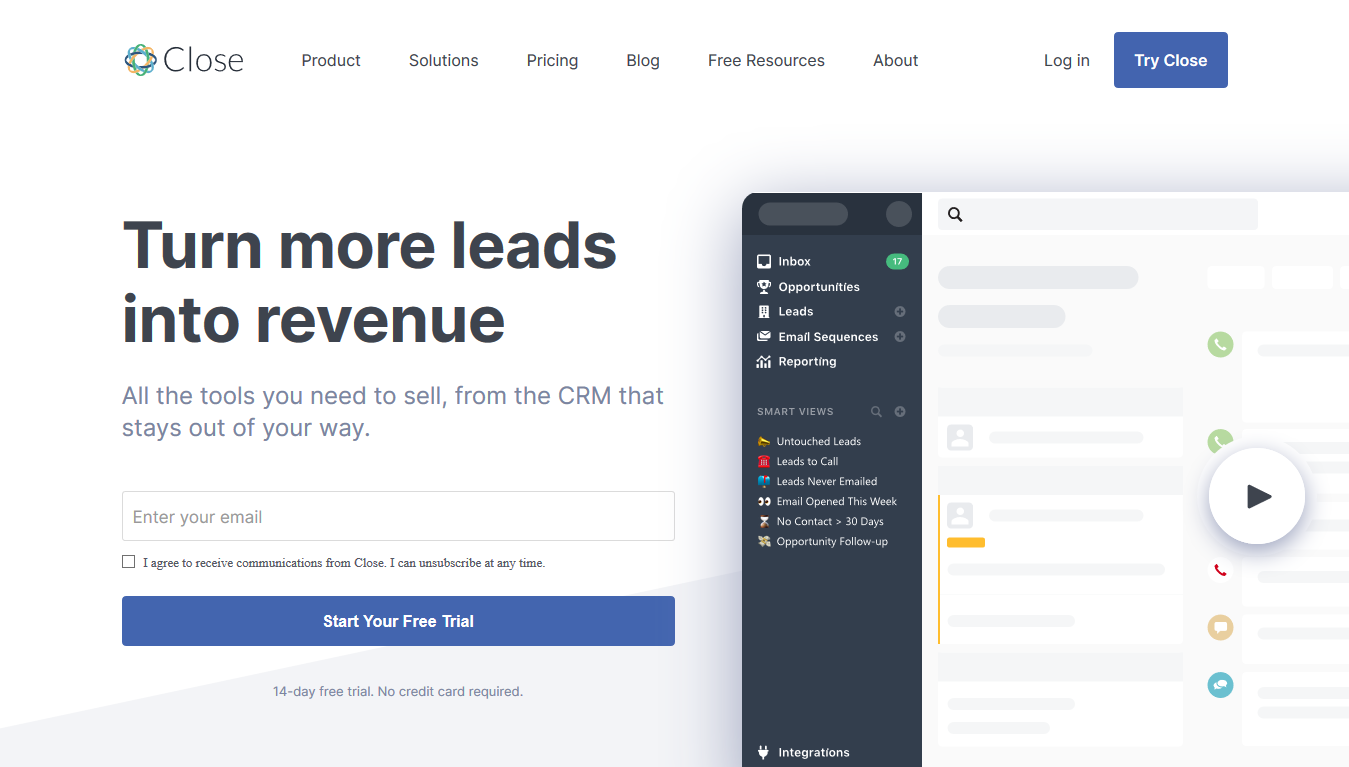 Close comes up with a quite ambitious proposition: to help you close more deals using their sales CRM software. This tool is aimed at small and medium businesses, and it has one quite relevant advantage that we just can't ignore – you can email, call and send SMS all from inside Close, without needing any integration with other platforms in order to ensure this feature.
This is extremely important because it helps your sales team to keep in touch with customers without having to check several tools. All your contacts with a specific customer will be registered in the tool without you needing to input any information. Of course, this makes Close a sales CRM software that saves you time while keeping track of all interactions.
Users also like their follow-up email templates, which help close sales faster and more easily. However, users complain about their visual reporting – definitely, something Close should improve in order to become a stronger contestant for the best sales CRM software title.
Other than that, Zapier integration is another feature, which can be used for reporting as well. It lacks other integrations that could be helpful, such as Google Analytics or Gmail (just to mention a few).
However, this is a tool that's grown since their inception and which has stood the test of time. Prices for Close start at $29.75 per user, per month.
---
View Listing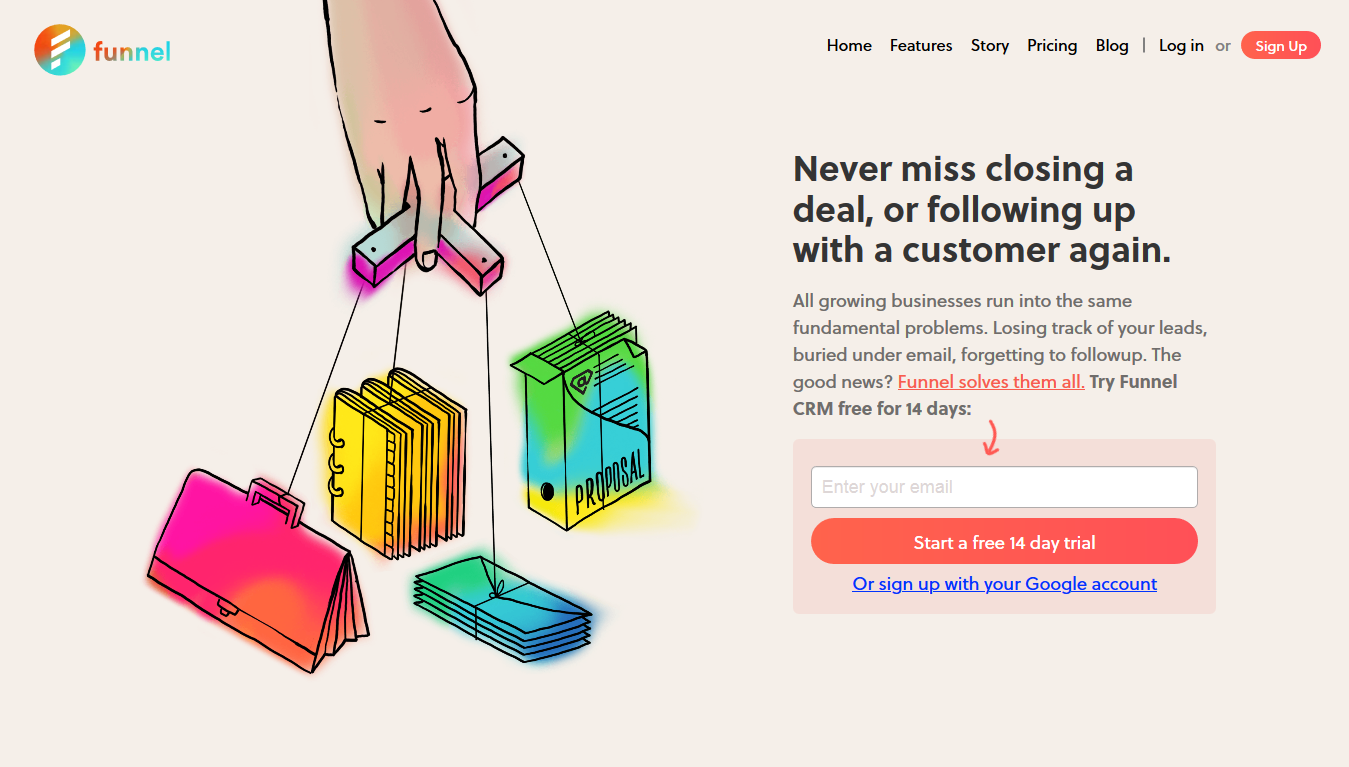 Funnel CRM, when compared to other tools in this list, is not as popular, but it is still a great tool that deserves more of the spotlight. This sales CRM software is geared towards freelancers and small entrepreneurs, which might be a reason why it is not as well-known as other tools we mentioned previously.
All that Funnel CRM needs to work is a website with a contact form. From there, you can track your deals and your customers, send proposals, as well as communicate easily with prospects. This software also helps you create your contact form, using templates that can be converted into code and pasted into your website.
One advantage of this tool is that it tracks interactions from other platforms such as Gmail without needing to open Funnel just to send one message. This is definitely important in our eyes, as too many platforms force you to use them for every message in order to track interactions.
The goal of Funnel CRM, according to their website, is to offer a bare-bones CRM that does not need the heavy customization a large company requires. If you are a freelancer, solopreneur, or you have a very small company, this is a great sales CRM tool.
Prices start at $10 per month for the cheapest package, however, the Standard plan does not allow for add-ons, which can be a problem. If you are willing to go the extra mile, we recommend the Pro package at $39 per month.
---
Wrapping Up
When considering which sales CRM software to use, going for the cheaper option might not be advisable. Each of the tools on this list has its advantages and disadvantages, and, according to your needs as a business, you might need some time to evaluate each of the tools we mentioned.
Free plans might be tempting, but you need to know what is going to happen once your company grows beyond the limit of the free plan. Is upgrading to the next plan an option for you? Or do you have to start again with a different tool?
That's why we recommend Platformly. Although it's not one of the cheaper sales CRM out there, its integrations and automation features make it worthwhile, and no plan is forever: you can scale up as your business grows. 
All these tools have their audiences and the potential to work for your business. So, we recommend their trial periods in order to find the software that fits best with your business.