The 4 Best CRM for Small Businesses in 2022
The latest statistics show that CRM for small business offers a return of $8.71 for every dollar spent. With this kind of ROI, it's no wonder that the use of CRM software grew from 56% in 2018 to 74% in 2019.

Your business is small; you have a tight budget and you do much of the work yourself. Do you really need CRM for small business? Why not use the spreadsheets and other available tools to manage customers?
This post will tell you the reason you need CRM software. We'll look at what is CRM, its benefits and the features of a good CRM tool. We'll also look at the current CRM trends and how they affect your business. At the end, we'll answer some FAQs about CRM.
---
What is a CRM? What Does it Do?
CRM is Customer Relationship Software. It is an all-in-one tool that you use to manage customer information and relationships. You can use it to record customer notes, set up appointments and reminders, send emails and more.
In a nutshell, CRM software for small business helps you manage relationships with potential and existing customers and ensures that nothing falls through the cracks.
By improving relationships you get the most out of each customer because you are able to see where each person is within the customer lifecycle. Nothing is left to chance.
A CRM system will help you manage a customer from the moment they arrive on your site. Everyone in your team should have access to your CRM system so that you can streamline operations, and so that you are all reading from the same script.
With a clear view of what is happening with each customer your team saves effort – they can see a customer's previous history and the recommended actions.
---
Why Does Your Business Need a CRM?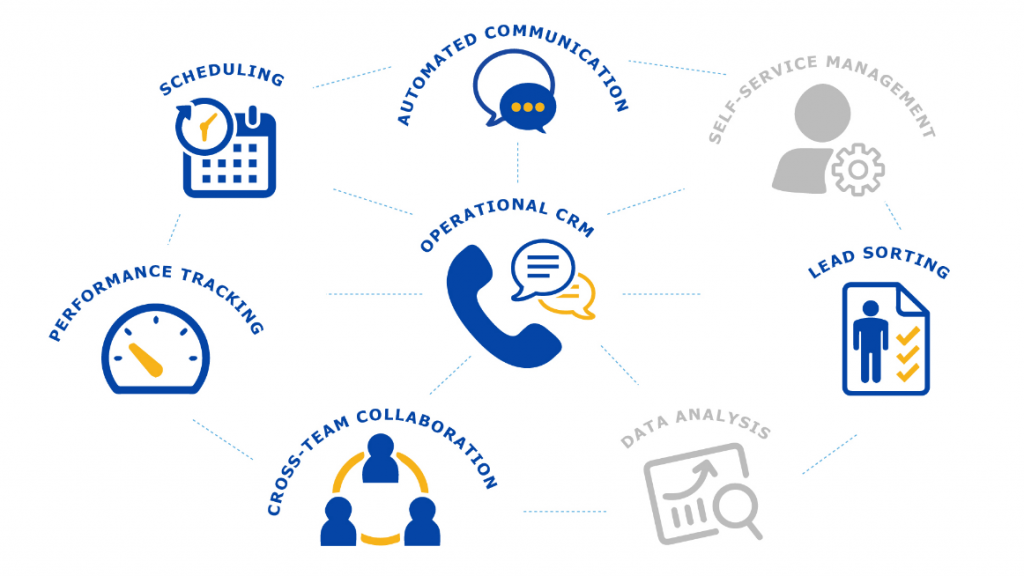 To understand why every business needs a CRM it may be worthwhile to consider what happens when you do things without one.
If you don't have a CRM system in place all customer interactions have to be managed manually. Every time you acquire a new customer you have to manually input their details on a spreadsheet, and every contact you make with them also has to be typed into your spreadsheet.
Keeping track of their purchase history is difficult as it's a time consuming process especially for a small business that doesn't have many employees. Think about it – time that should have been spent bringing in new customers is spent updating databases and tables.
The other problem of not using small business CRM is lack of coordination between team members. They are never on the same page, and so they may end up repeating the same actions for the same customers. It's a waste of time, it's inefficient and you may end up losing customers.
Creating comprehensive reports without a CRM is also tedious. You have to analyze rafts of data and try to understand what every metric means.
If you have the best software for small business reports are generated automatically and all the different metrics are simplified, with next steps and recommendations provided.

---
What Does The Best CRM Software For Small Business Do?
It helps you connect business information silos. All team members and other relevant players read from a single dashboard.
CRMs for small business have shown tangible results. For sales, they improve lead conversion by 30%, deal size by 15% and win rate by 22%. For customer service, you can improve customer retention by nearly 30%, customer satisfaction by the same and reduce customer attrition by 16%.
You can identify and quickly categorize leads with the right CRM. This way you can focus your attention where it's most likely to yield fruit.
The best CRM for small business helps increase customer lifetime value. It's one of the most effective, efficient and affordable ways to get customers to come back again and again.
You can offer better customer support and resolve issues faster.
If you have a high quality CRM you'll be able to improve products and services all the time.
A CRM helps you prepare for any eventualities. Customer not happy? Just check the CRM to see their interactions and purchases. A product isn't selling well? Look at its purchase history and whether there have been customer complaints.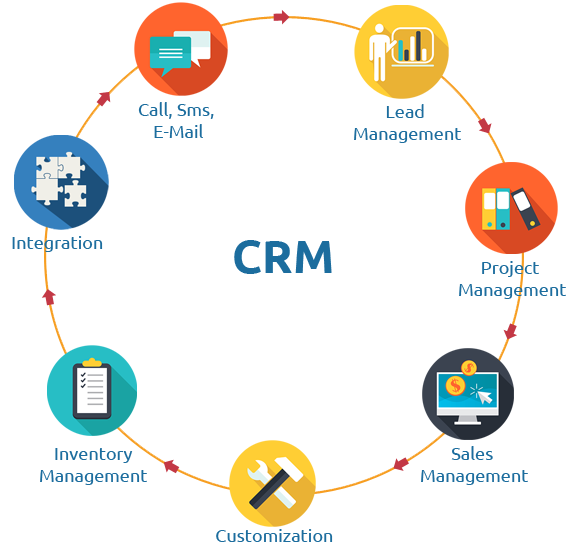 ---
How Can You Tell That a Business Needs a CRM?
If you're not able to keep up with leads and keep losing new business.
When customer data becomes hard to locate and you spend hours looking for small pieces of information.
You're struggling to keep up with what your team are doing.
If your customer service keeps falling short of expectations.
When you establish valuable accounts and want to keep them for the long term.
Producing reports becomes complicated and time consuming.
---
What Are The Features of Good CRM Software?
Before we look at the features of the best CRM software for small business it's important to talk about your CRM strategy.
Do you fully understand the customer journey from beginning to end? If you do, you can streamline it and make customer interactions effortless.
Think about the kind of customer experience you want to offer and then choose a CRM to match. You should consider where you are now in terms of customer acquisition and management and where you want to go so that you can choose software that aligns with your goals.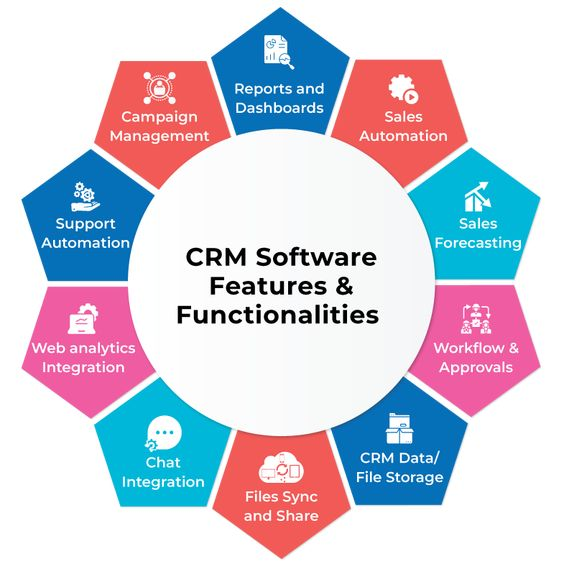 Also, think about the challenges that customers in your niche face and then look for the best CRM for small business to tackle those challenges.
There are standard features that all the best CRMs have in common:
Lead management and sales
In-depth reporting
A marketing module
Workflows
Ability to link to call center software
A unifying dashboard that's accessible to all team members
Ability to integrate with eCommerce modules
---
Benefits of a Good CRM
Sales and marketing is more effective because you know what customers are looking for and can improve their experience.
It speeds up lead generation and conversion.
It helps you build customer loyalty and trust.



---
Are There Drawbacks to CRM?
The biggest drawback with CRM systems is uptake especially if they are not introduced early in the business.
There is also a minor concern about centralization of large amounts of customer data, but if you have proper safeguards in place data should be safe at all times.
The cost of CRM software for small business is also a problem for some. However, there are CRMs that offer basic features at an affordable price; you can pay more to add features as your business grows.
---
Helping Your Team Get on Board With CRM Software

As this is one of the biggest hurdles faced with CRM software, it's worth taking a moment to talk about to get around it.
Initial buy-in is critical. You can make it easier for your team to transition to a CRM by involving them in the selection process. Talk to them about their needs so that you buy a CRM that they'll want to use.
After you buy the software take time to train and educate those who'll be using it. They should understand it's features and strengths and how to get them to work for the business.
Once they start using the CRM you should follow up to find out about any particular problems they may be experiencing. Listen to their suggestions about how to streamline the software.
---
CRM Trends for 2021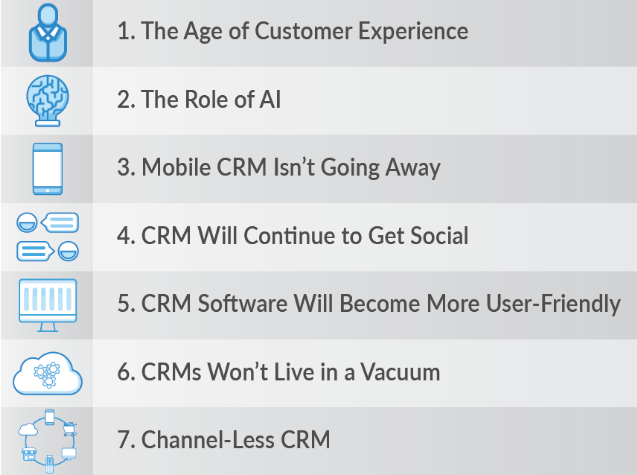 What are the trends in CRM? In the coming months, you can expect users to be especially focussed on the following:
Customer experience – users are demanding more from businesses and only those that provide winning interactions are able to keep growing.
Increased automation – sellers are relying more and more on artificial intelligence to streamline their businesses and make the customer experience flawless.
Analytics – understanding the data that your CRM produces is now more important than ever.
Mobile experience – you can have the best CRM for small business but if users cannot access your website on mobile you're losing potential business.
Simplicity and usability – most people are shopping online now and they seek out websites that make browsing and purchasing easy.
Integration – marketers are moving towards software that integrates with your existing infrastructure.
Channel-less CRM – this means that customers don't have to choose what channel they use to communicate with a business. One piece of software unifies all channels and ensures that each customer communication is received.
---
The Best CRM For Small Business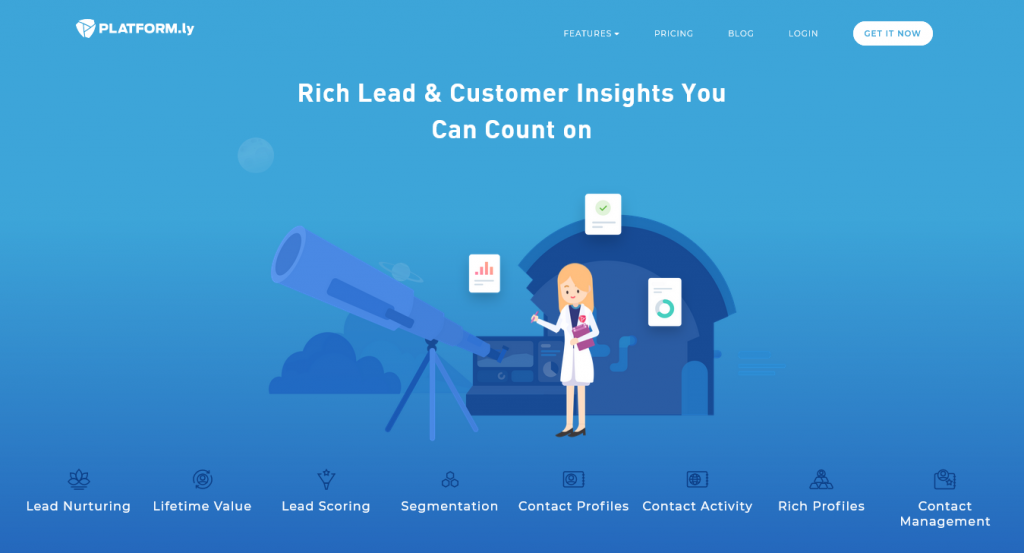 Platformly is a CRM system that's feature-packed to help you manage customer relationships. Right from the moment you capture a lead, Platformly provides tools that you can use to manage interactions until the lead converts into a sale.
The lead scoring system helps identify leads that have the highest potential right away and focus your best efforts on them.
Rich Profiles Data allows you to uncover important information about potential customers that can help you convert them faster. It scrapes data from Google, Twitter, Facebook and other sites and provides insights into potential customers so that you can reach out with offers that they are more likely to accept.
Platformly shows you the lifetime value of each customer, the interactions you've had with them and their past purchases.
The software is customizable and well supported. It has an eCommerce module, integrates with popular marketing software and can scale as your business grows.
---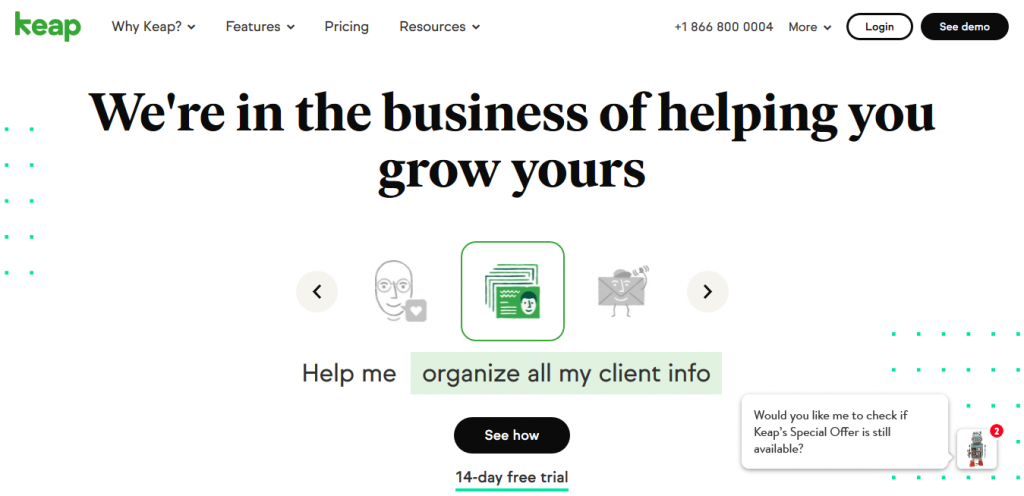 Keap is client management software for small and medium businesses. It will help you organize and manage client relationships so that you can improve customer relationships and increase efficiency.
All contacts and communications are stored in a central location that's accessible to the team. You can see all activity relating to any contact and you can also see what each team member is doing.
Instead of spending time updating databases you're able to focus your attention where it's most needed – generating new leads and coming up with conversion strategies.
---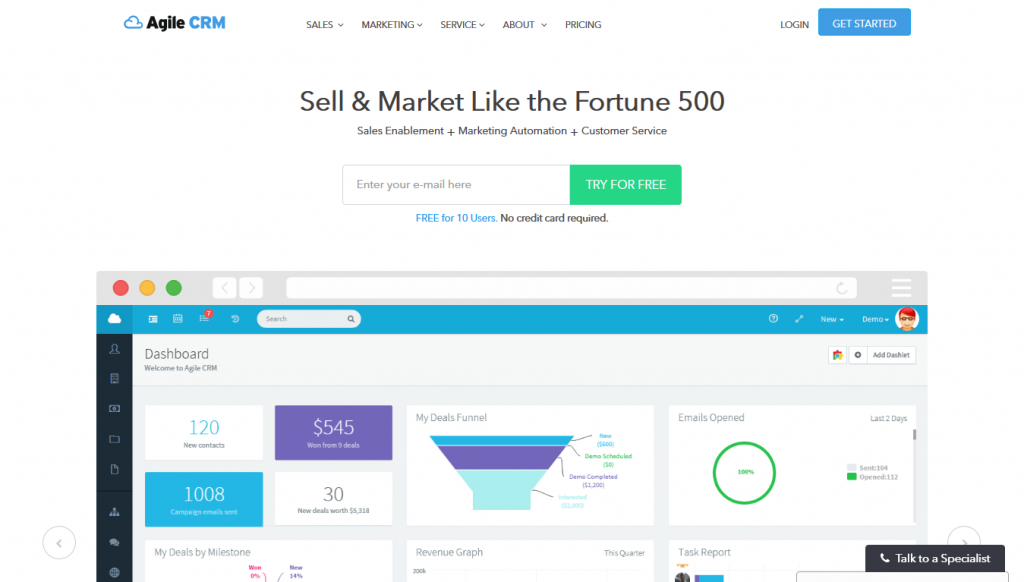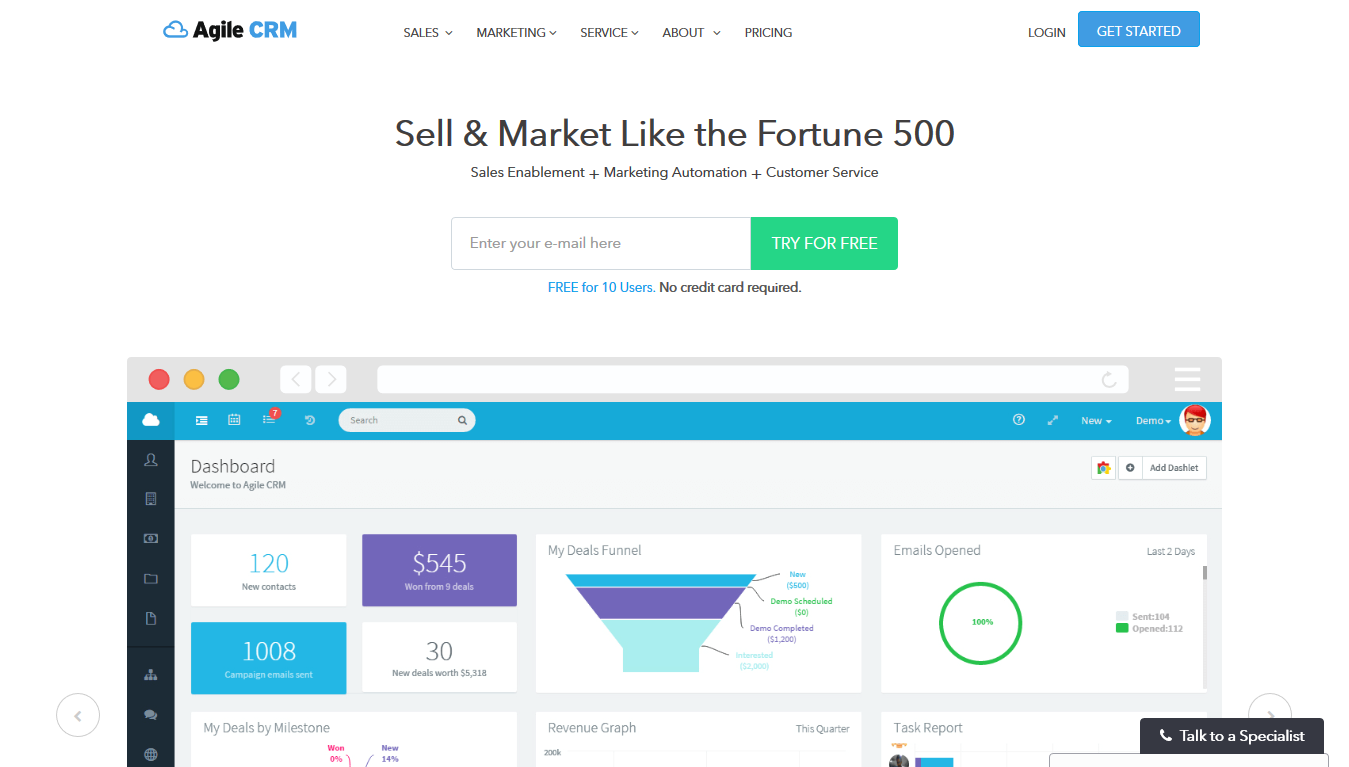 You can automate all of your business on one platform using Agile CRM. It helps with contact management and call management. You can use it to track deals and see where you are at any point in the process.
This software has features to take you through the whole customer life cycle. You can use it to build a landing page, create, send and track automated emails, market on mobile, create exit intent popups and more.
The software provides complete contact view works well for project management. You can run many campaigns at the same time and see what team members are working on at all times.
Agile CRM is for free for up to 10 users.
---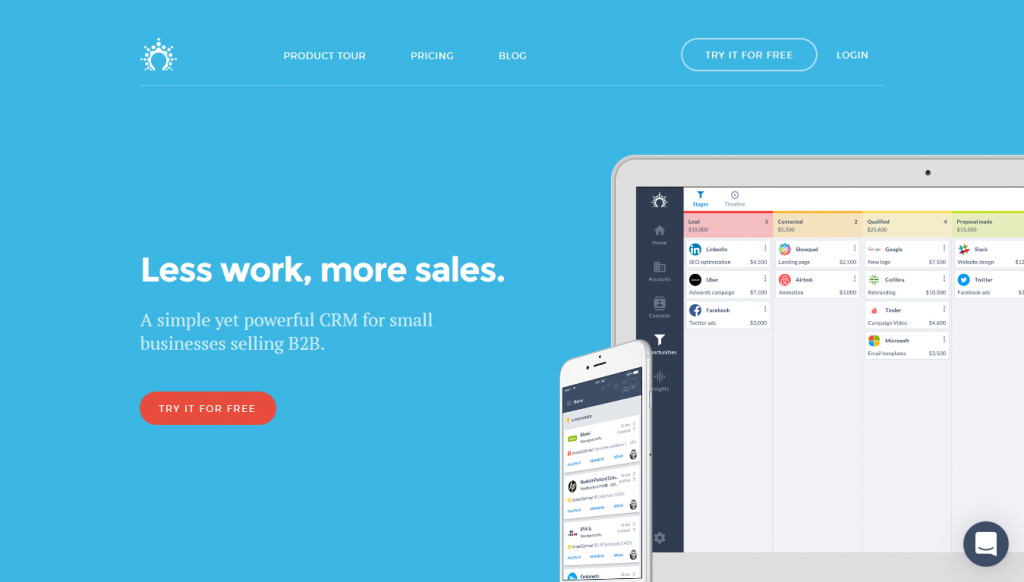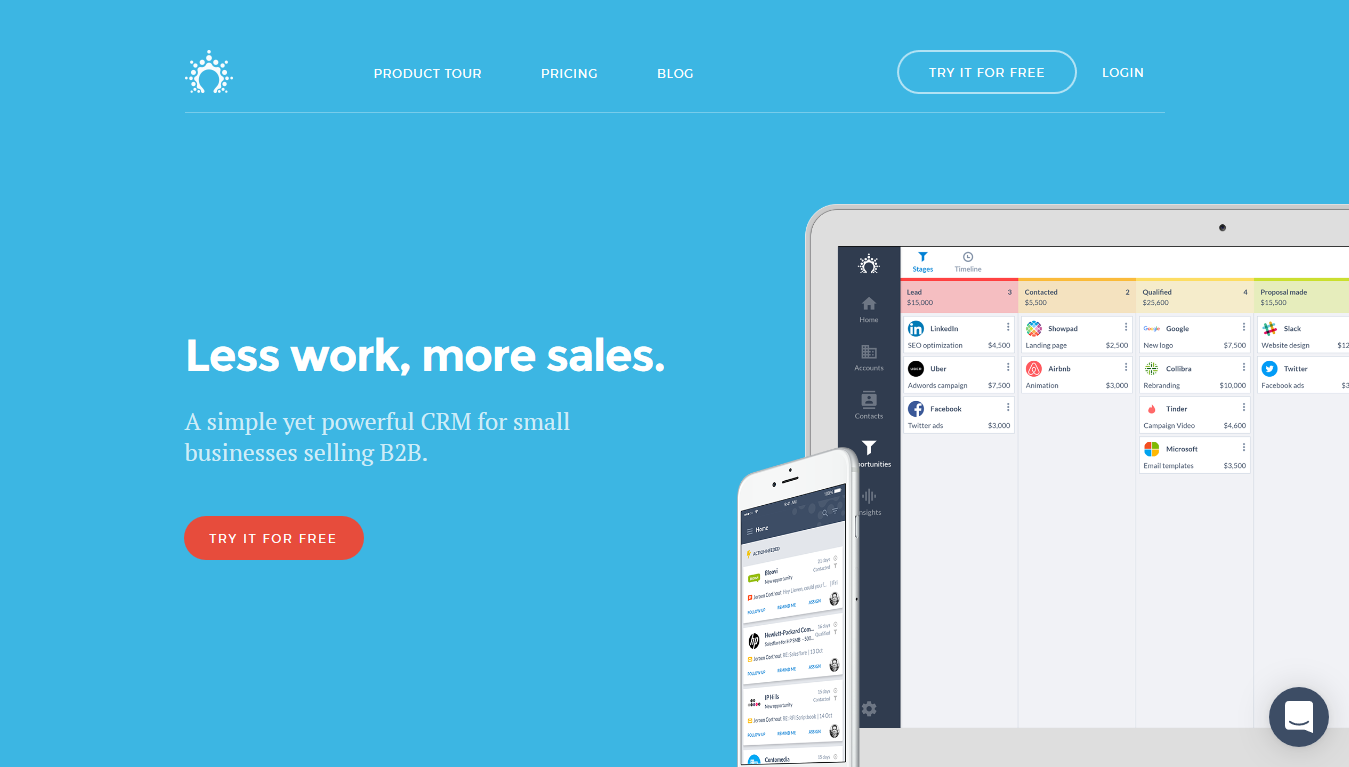 Salesflare's promise is "less work, more sales". It fully automates contact information collection and schedules meetings and calls so that nothing falls through the cracks. It connects your calendar and mobile phone and logs meetings and other events.
Each lead has their own folder where all their information – contact and interactions – is stored. Anyone with the relevant permissions can access customer folders.
For each contact, the software gathers information from the internet, relevant databases and email accounts. This kind of data helps you provide the right products to the right leads at the right time.
The team works as a single unit and can access all the information they need on a single dashboard.
---
FAQ
What is the difference between CRM software, ERP software and marketing automation software?
CRM software helps you manage relationships between your business and customers. ERP software is more about internal management. It encompasses areas like accounting, HR, inventory and staff management.
Marketing automation does just that – it automates the marketing process. A good example of marketing automation is drip emails which are sent out automatically at pre-determined times. The best CRM for small business will have a marketing automation module.
What types of businesses need CRM software?
Every small and growing business needs CRM software. So long as you are acquiring leads you'll need to track them to make sure that you convert them and that's most easily done with a good CRM tool.
Should I use free CRM software?
There is free CRM software out there that has some good features, but most vendors impose certain limitations. You can, for example, only use it to manage very few contacts or for a limited period.
If you want to enjoy the full benefits of a CRM system you should look for a paid one. Any of the four discussed in this post are sufficient for most small and medium businesses.
Is CRM software available to field staff?
Ideally it should be. Buy a CRM that they can access so long as they have an internet connections. It allows them to stay up to date and they can upload fresh information as they receive it.
---
Conclusion
It's important to understand the value of CRM software for small business. Not only does it increase efficiency, it helps you develop and nurture customer relationships that convert into revenue.
With so many different types of CRM software in the market choosing the right one may not be easy. You need to think about what your business needs.
Include your team when you are choosing because they understand best the challenges they face in lead acquisition, management and conversion.
If we had to choose one it would be Platformly, simply because it's so feature rich. It has everything you need to acquire leads and turn them into customers. It also has an automated marketing module and produces detailed reports.
We like that it's well supported. The team adds new features all the time and you'll have an abundance of tools to grow and manage your business.
---
Best CRM For Small Businesses in 2022
| | | | | | | |
| --- | --- | --- | --- | --- | --- | --- |
| CRM | Customization | Workflow Automation | Third-party Integration | Real-time Data | Analytics & Reporting | Pricing (Monthly) |
| Platformly | Yes | Yes | Yes | Yes | Yes | $19.00 |
| Keap | Yes | Yes | Yes | Yes | Yes | $40.00 |
| Agile CRM | Yes | Yes | Yes | Yes | Yes | $14.99 |
| Salesflare | Yes | Yes | Yes | Yes | Yes | $35.00 |
| Hubspot | Yes | Yes | Yes | Yes | Yes | $50.00 |
| Zoho CRM | Yes | Yes | Yes | Yes | Yes | $18.00 |
| Freshworks CRM | Yes | Yes | Yes | Yes | Yes | $35.00 |
| Salesforce | Yes | Yes | Yes | Yes | Yes | Contact Salesforce Team |
| Pipedrive | Yes | Yes | Yes | Yes | Yes | $15.00 |
| Zendesk Sell | Yes | Yes | Yes | Yes | Yes | $19/ Yearly |