10 Best Autoresponder Email Marketing Services & Software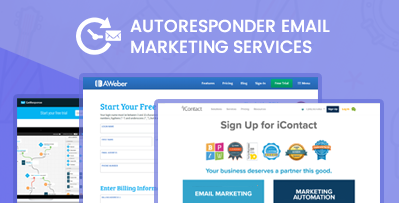 Autoresponders are automatic emails sent to your subscribers when triggered by events you determined. They can be used to say hello to new subscribers, confirm their registration, inform them about new products, or even wish them a happy birthday. Basically, any task that is repeated with multiple customers.
Try out MailGet Bolt, a highy productive & recommeded tool that promotional industries are using, and reviewing it as a hassleless marketing software.


Explore out all the top rated email marketing service providers in the following article Email Marketing Services 2017. Also go through the email marketing plugins which are available for free – Best Free WordPress Email Marketing Plugins


How about having the smartest WordPress template for your email marketing business?
Try out Email Marketing WordPress Theme. 
As a key aspect of your business, autoresponder services are very important for developing a loyal customer base, and for improving your sales.
So what should you consider when choosing an email marketing tool?
The level of deliverability, options to integrate your list management with a shopping cart, and to import offline contacts are among some of those. Another important feature is, of course, the price. Monthly fees can range from low prices to hundreds of dollars.
To help you decide, here are ten of the best autoresponder email marketing services on the market. Start visiting these services and choose the one that fulfils your requirements.
---
The Best Autoresponder Email Marketing Services
Compared (in full)
Check all the services in detail as per your needs and choose service wisely – by the end, you'll know exactly which one is the right option for you.
---
---
---
---
---
---
---
---
---
---
Conclusion
Market of autoresponder email marketing tools is ever increasing, and there is an option for everyone. Whether you are a small business or a large enterprise, this list gives you more than enough options to choose a reliable autoresponder service.
For users looking to get a full range of features and a robust analysis system, options such as MailGet, iContact are an excellent choice, while start-ups and smaller companies will benefit more from cheaper options or even some free ones which require only a first time payment, such as Arpreach.
So determine your needs, and your budget, and get started with your email marketing plan.
---